Coronavirus live update: World's infections surpasses 2.1 millions, Japan declares nationwide state of emergency
Coronavirus today updates April 17 sees at least 2,107,443 patients worldwide, nearly 137,000 deaths. Meanwhile in Japan, Prime Minister Shinzo Abe on Thursday expanded a state of emergency from seven prefectures to all 47 prefectures in the nation. 
The COVID-19 pandemic has spread to 210 countries and territories (Photo: Freepik)
Coronavirus today updates: the US
The U.S. has more deaths and cases than any country in the world, with more than 644,815 diagnosed cases and at least 30,985 deaths.
Many municipalities have begun counting probable deaths caused by COVID-19, including New York City, the epicenter of the disease in the United States.
New York is the No.1 state with the highest number of infections, 214,698 cases in total, which has surpassed Spain, the second worst-hit country in the world and 14,064 deaths.
New Jersey comes second with 71,030 cases and 3,156 deaths. Connecticut is the third vulnerable state with 14,755 infections, 868 deaths have been reported.
Coronavirus today updates: US explores possibility that coronavirus started in Chinese lab, not a market
An intelligence official familiar with the government analysis said a theory US intelligence officials are investigating is that the virus originated in a laboratory in Wuhan, China, and was accidentally released to the public. Other sources told CNN that US intelligence hasn't been able to corroborate the theory but is trying to discern whether someone was infected in the lab through an accident or poor handling of materials and may have then infected others.
Trump to discuss coronavirus with G-7 leaders
President Donald Trump is set to discuss the coronavirus pandemic with G-7 leaders in a conference call on Thursday morning.
He will be joined by the leaders of the U.K., France, Germany, Italy, Canada and Japan.
Trump last spoke with the group as a whole on a conference call on March 16. Much has changed in the world since then, when fewer than 100 people had died in the U.S.
The U.S. was set to host this year's G-7, which was to be held at Camp David in June, before Trump canceled the gathering three days after that last videoconference in March, WBAR reported.
Coronavirus today updates: The UK reports an additional 4,617 new cases within 24 hours, raising total infections to 103,093. Meanwhile, with over 860 new deaths, the country's deaths tally is standing at 13,739.
Germany: has 135,549 infections nationwide, at least 3,850 patients have died. The country sees 77,000 patients have recovered, while there are still 54,699 active patients.
France: 147,863 infections have been reported, 17,167 people have died.
France announces €1,500 bonus for health workers on Covid-19 front line
Healthcare staff working in areas most impacted by the new coronavirus would receive a bonus of 1,500 euros ($1,637) as well as higher pay than usual for their extra hours, France's Prime Minister Edouard Philippe said on Wednesday.
This plan includes 24 billion euros ($26 billion) for workers on partial unemployment because their companies have shut down amid the country's lockdown since March 17. It also includes 8 billion euros (8.7 billion) for emergency health expenses, including masks and medical equipment, and a special aid allocated to French poorest households.
Russia: continues see a surge in new cases (over 3,450) and another 34 people have died. At the moment, the country has a total of 27,938 patients, and 1,010 deaths.
Coronavirus today updates: Japan's Abe Declares Nationwide State of Emergency
Japan has 8,626 diagnosed COVID-19 cases and 178 fatalities, according to data compiled by Johns Hopkins. This includes figures from the Diamond Princess cruise ship, which was forced to dock in Japan when an outbreak on the ship spread, abc news reported.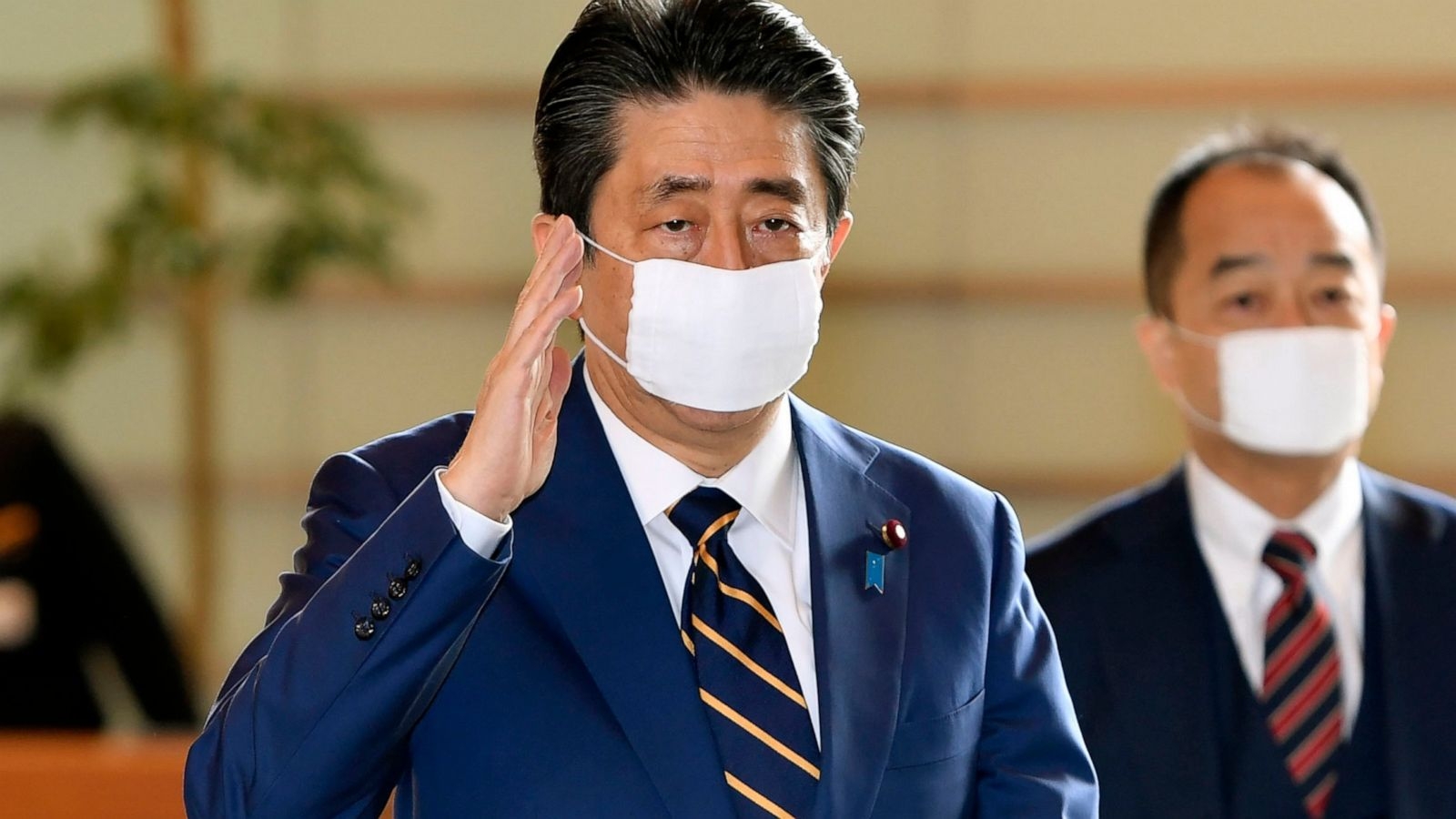 Japan's Abe Declares Nationwide State of Emergency April 16 (Photo: Abc news)
Prime minister also plans legislation to give cash to every person in Japan to counteract the blow from the tighter coronavirus restrictions, widening earlier planJapanese Prime Minister Shinzo Abe on Thursday expanded a state of emergency from seven prefectures to all 47 prefectures in the nation in an attempt to prevent COVID-19 from spreading further.
Tokyo, Osaka, and five other prefectures had been under a state of emergency since April 7. Japanese authorities plan to ease restrictions on May 6.
Coronavirus today updates in ASEAN countries: Indonesia becomes the region's second hardest-hit country, new infections in Singapore surges.
ASEAN countries report a total of top 23.375 nCoV patients, an increase of over 1,100 cases within 24 hours. 1,005 lives have been claimed.
On April 17, the Philippines has been the No.1 country in the region with the highest total infections for four consecutive days. Its infections stand at 5,660, an increase of 207 new cases.
Indonesia has overtaken Malaysia's second place to stand second in the list with 5,516 cases. Malaysia's infections follows with over 300 cases fewer. Singapore reports 3,699 cases, with 447 new cases. Thailand reports 2,672.
Vietnam, Brunei, and Campuchia are the three ASEAN countries with three-figures cases, which are 268, 136, 122 respectively, Brunei and Campuchia reports no new infection.
With a pretty high number of new infections (10) compared with previous days, Timor-Leste now has 18 infections in total, no death reported.
Regarding death tolls, Indonesia still has the highest (498), the Philipines (362), Malaysia (84), Thailand (46), Singapore (10).
All ASEAN countries report a total of 46 deaths, in which 29 cases belong to Indonesia, 13 belongs to the Philippines. Thailand has 3 new deaths and Malaysia reports one death. No one died today in the 7 remaining countries.
Four countries with no deaths reported since the outbreak are Vietnam, Campuchia, Laos, and Timor-Leste.
Leaders of ASEAN countries today warned that the regional economy could suffer heavy losses due to COVID-19, calling for re-opening of trade routes to ensure employment, food supply as well as medical equipment storage.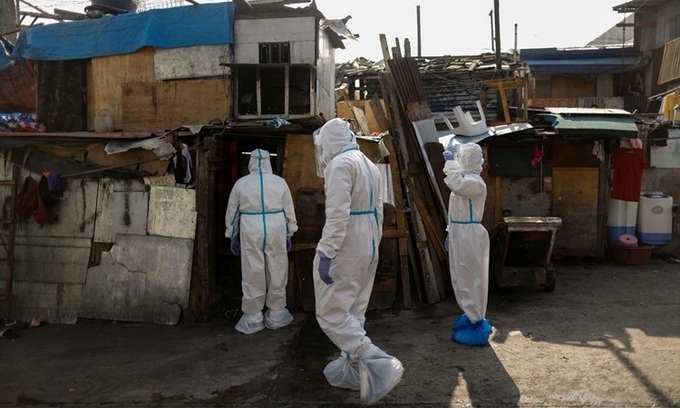 Medics at a slum in Manila, the Philippines (Photo: Reuters)
Coronavirus today updates

: Vietnam's infections tally stands at 268

No new coronavirus infections were confirmed in Vietnam Thursday evening, keeping the national tally of active cases at 91.

The country has confirmed 268 COVID-19 cases so far, of whom 177 have been discharged after treatment.

Of the total, around 40 percent were cases of community transmission, while the rest were those coming into Vietnam from other countries.

The latest COVID-19 patient, confirmed Thursday morning, is a 16-year-old Hmong girl from the mountainous province of Ha Giang, which borders China.

Around 68,000 people are currently under quarantine in Vietnam, about 12,000 in quarantine zones and the rest at home.

The government Wednesday decided that the social distancing campaign will continue until April 22 in Hanoi, Ho Chi Minh City and 10 other localities deemed to be at high risk of the Covid-19 virus spreading further.