Coronavius update: Thailand's daily COVID infections hit 1,300 cases
On Wednesday, Thailand reported more than 1,300 new COVID-19 infections, setting another daily record and adding pressure on the government to take control of the situation as the country is in celebration of its traditional New Year festival.
Thailand hits over 1,300 daily COVID-19 cases after new year travels
Thailand's daily COVID-19 cases hit a new record of 1,335 Wednesday. This is the biggest daily rise since the start of the coronavirus pandemic and the third record rise this week, as the Southeast Asian country struggles with a new wave of infections.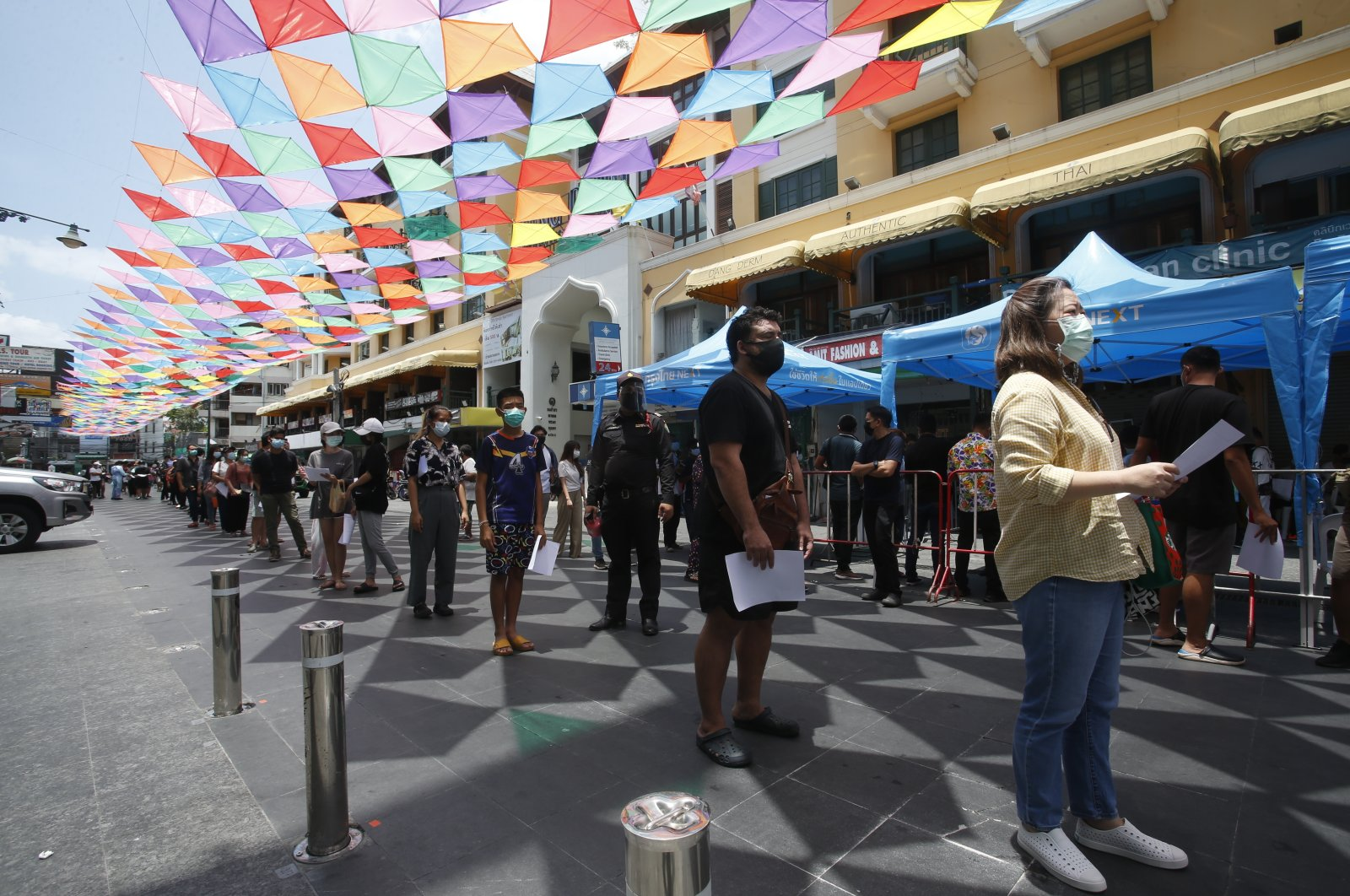 People wait in line for Covid-19 swab tests in Khaosan Road, Bangkok, Thailand (Photo: AP)
The spike in cases comes as Thais celebrate the Songkran New Year holidays as authorities urge people to avoid unnecessary travel and reduce gatherings to help limit the outbreak, which includes the highly transmissible B.1.1.7 variant first identified in Britain, according to Reuters.
"The period after Songkran is a critical time to control the outbreak, if not we could see 10,000 to 20,000 cases per day," senior health official, Opas Karnkawinpong, said, urging people to work from home for two weeks after the holidays.
Thailand has up until now managed to keep case numbers relatively contained compared to many other countries, though its vaccine rollout has been relatively slow.
The country's total caseload is now at 35,910 and deaths at 97.
The country so far has received 2 million Sinovac doses and 117,300 shots from AstraZeneca.
Thailand's main vaccination drive is expected to start in June, using locally-produced AstraZeneca shots with the aim of inoculating half of its adult population by the end of the year.
Cambodia on the verge of national tragedy, WHO warns
The World Health Organisation (WHO) in Cambodia warned that the country had reached another critical point amid a sudden, huge surge in community transmission cases and deaths.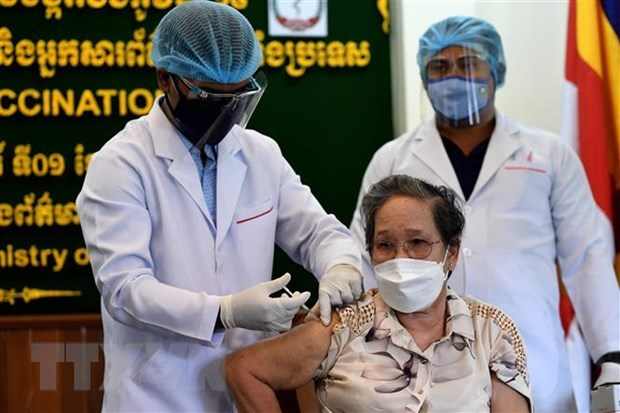 An official of the Cambodian Ministry of Information is vaccinated against COVID-19 in Phnom Penh on April 1 (Photo: AFP/VNA)
"We stand on the brink of a national tragedy because of Covid-19. Despite our best efforts, we are struggling to control the virus, according to Phnompenh post.
"New cases occur every day and we are racing against the virus. Unless we can stop the outbreak, Cambodia's health system is at high risk of being overwhelmed, which would have disastrous consequences," said WHO Representative to Cambodia Li Ailan.
Li commended a series of measures taken by the government including non-pharmaceutical interventions, such as an inter-provincial travel ban and nighttime curfew, to break the chain of transmission.
Li suggested that people stay home during the Khmer New Year holiday to minimise risks of infection.
Health officials said in the last two weeks, the coronavirus had spread in restaurants, markets and other places where people could gather for drinks, prompting the Phnom Penh Municipal Hall to impose a two-week ban on dine-in at eateries and sales of alcoholic beverage across the capital. The municipality has also placed parts of the city in lockdown.
Denmark stops AstraZeneca vaccine rollout completely
Danish officials said that all 2.4 million doses of the AstraZeneca vaccine would be withdrawn until further notice.
The Danish Health Authority said studies had shown a higher than expected frequency of blood clots following doses, affecting about one in 40,000 people.
Photo: EPA
It comes after two cases of thrombosis in Denmark were linked to vaccinations, AFP reported. One of the cases, in a 60-year-old woman, was fatal.
Director General Soren Brostrom said it had been a "difficult decision" but Denmark had other vaccines available and the epidemic there was currently under control.
"The upcoming target groups for vaccination are less likely to become severely ill from Covid-19," he said. "We must weigh this against the fact that we now have a known risk of severe adverse effects from vaccination with AstraZeneca, even if the risk in absolute terms is slight."
However, the authority said it could not rule out using it again at another time.
During the press conference the head of Denmark's Medicines Agency, Tanja Erichsen, fainted and was taken to hospital as a precaution. The agency later tweeted that she had recovered.
Almost one million people in Denmark have been vaccinated, with approximately 150,000 of them receiving the AstraZeneca jab. The Pfizer/BioNTech and Moderna vaccines are also in use.