COVID-19: Iran reports 7 more deaths - highest toll outside China
Iran's Health Ministry on Thursday (Feb 27) confirmed seven more deaths from COVID-19, taking the total to 26, the highest toll outside China as a total of 106 cases were confirmed in the last 24 hours.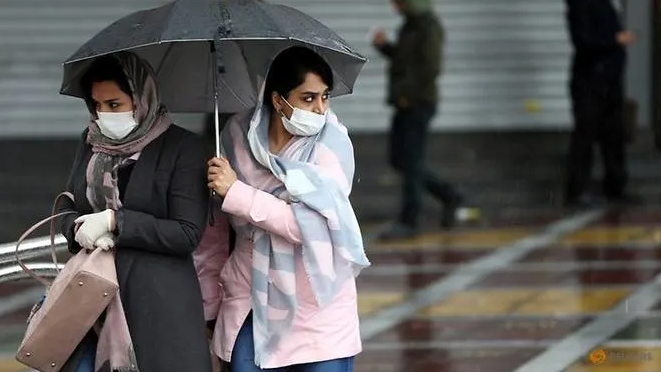 Iranian women wear protective masks to prevent contracting coronavirus, as they walk in the street in Tehran, Iran February 25, 2020. WANA (West Asia News Agency)/Nazanin Tabatabaee via REUTERS
This brings the number of those infected by the coronavirus to 245.
The outbreak prompted authorities to call off Friday prayers in several cities including Tehran, state TV later reported, while state news agency IRNA said Iran has banned Chinese citizens from entering the country.
Iran has been trying to contain COVID-19 since Wednesday last week when it announced the first two deaths in Qom, a centre for Islamic studies and pilgrims that attracts scholars from abroad.
Its authorities have closed schools, universities, cultural centres, sporting events and deployed teams of sanitary workers to disinfect buses, trains and public spaces.
A second high-profile politician announced that he had been infected with the coronavirus.
The announcement by the chairman of the Iranian parliament's national security and foreign affairs committee Mojtaba Zolnour follows that of deputy health minister Iraj Harirchi, the head of the government's coronavirus task force, on Tuesday.
A Shi'ite cleric, Zolnour is a member of parliament for the central shrine city of Qom, where Iran's first COVID-19 case was detected on Feb 19.
Health Ministry spokesman Kianush Jahanpur told state TV, calling on Iranians to avoid "unnecessary trips inside the country".
Jahanpur said there were plans to impose some restrictions at Shi'ite Muslim holy sites and cancel some sermons on Friday, the Islamic Republic's traditional day of public prayer.
"But it needs the approval of the president before being carried out," he said, adding that hundreds of those suspected of being infected by the virus had recovered and been discharged from hospital.
Meanwhile, Iran's Foreign Ministry said "some 20,000 coronavirus test kits and some other material" would be delivered to Iran on Friday from China.
"A Mahan Air plane will transfer this cargo, which has been prepared by China's Red Crescent, to Iran," said the ministry's spokesman Abbas Mousavi, according to state TV.
The death rate among confirmed cases of the virus has been much higher in Iran than elsewhere. The World Health Organization has said this was likely due to the country's surveillance systems not yet picking up mild cases.
On Wednesday, Iranian authorities announced domestic travel restrictions for people with confirmed or suspected infections.
They also placed curbs on access to major Shi'ite pilgrimage sites, including the Imam Reza shrine in second city Mashhad and the Fatima Masumeh shrine in Qom.
International health experts have expressed concern about Iran's handling of the outbreak.
But Jahanpour insisted Wednesday that the situation was "improving".
'Decisive point'
The new coronavirus epidemic is at a "decisive point" globally, WHO chief Tedros Adhanom Ghebreyesus said Thursday, urging affected countries to "move swiftly" to contain the disease.
Pointing to a decline in new cases in China, Tedros said: "It's what's happening in the rest of the world that's now our greatest concern".
Urging countries at the early stages of the outbreak of the COVID-19 disease to "move swiftly", he added: "If you act aggressively now, you can contain this virus, you can prevent people getting sick, you can save lives."
"There does not appear to be widespread community transmission," he added.
Tedros emphasised that all countries should ensure that their health systems were prepared for an outbreak.
"We are actually in a very delicate situation in which the outbreak can go in any direction based on how we handle it," Tedros said.
"No country should assume it won't get cases, that would be a fatal mistake, quite literally," he added.
Tedros said US President Donald Trump was "right" to advise people to take preventive measures against the coronavirus similar to those against flu, including frequent hand washing.
Trump had on Wednesday advised people worried about the coronavirus to be a germophobe like him.
"I do it a lot anyway as you've probably heard," he told a press conference in the White House, triggering laughter.
"Wash your hands, stay clean. You don't have to necessarily grab every handrail unless you have to," Trump said. "When somebody sneezes, I try to bail out."
The coronavirus is believed to have originated in the central Chinese city of Wuhan late last year before killing more than 2,700 and infecting about 80,000, mostly in China.
It has spread to more than 40 countries, and regions outside mainland China have reported infections, with cases detected for the first time in Brazil, Pakistan, Norway, Greece, Romania, Algeria and North Macedonia.​​​​​​/.​