Da Nang to develop international finance centre
A Memorandum of Understanding (MoU) on the development of an international and regional finance centre has been signed between the People's Committee of central Dang Nang city and the Import-Export Pan Pacific Group (IPPG).
An international and regional finance centre to attract investors
The People's Committee of central Da Nang city and the Import-Export Pan Pacific Group (IPPG) has signed a Memorandum of Understanding (MoU) on the development of an international and regional finance centre to attract investors in the future, Vietnamnet reported.
Director of the city's Investment Promotion Agency (IPA), Huynh Thi Lien Phuong said the MoU, which was signed late last month, aimed to build a trading centre, casino, high-end entertainment and luxury apartments in the coastal area.
She said the project would be built on an area of 84,000.sq.m on the beach-front on Vo Nguyen Giap and Vo Van Kiet streets in the Son Tra peninsula.
Phuong said Da Nang authorities would auction land-use rights for the finance-trade-casino complex in the future. She said the city was drawing up a detailed plan for the first international duty-free zone and smart urban area for investors.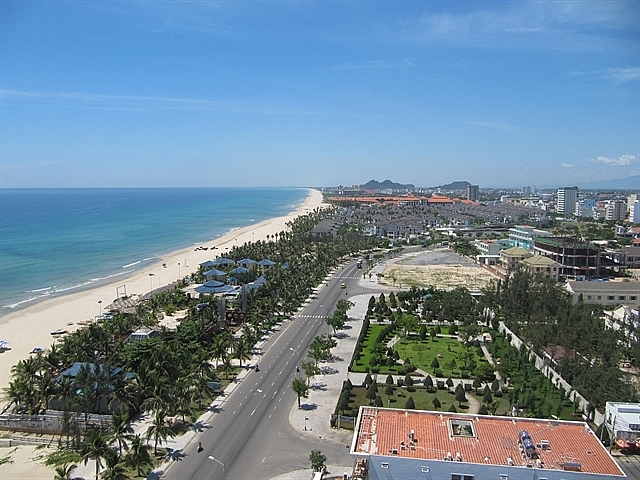 Coastal area in Sơn Trà District of Đà Nẵng will become an international finance centre project. VNS Photo Công Thành
Da Nang will build international and national-level trade centers, commercial and financial routes, a non-tariff zone located in an urban complex, aiming to become one of the major socio-economic centers of the country and Southeast Asia, Vn Express reported.
Last year, five key investors – the Import-Export Pan Pacific Group (IPPG), T&T Group, New Techco company from Vietnam, and Sakae Holding and another company from Singapore – registered for a land-use rights auction for a 2 billion USD finance-trade-casino complex in the central city.
Jonathan Hanh Nguyen, who is chairman of IPPG Group, urged the city to build an international standard duty-free zone and recreational area for tourists.
The city's Department of Natural Resources and Environment said four plots on two coastal facade Vo Van Kiet and Vo Nguyen Giap streets were reserved for finance-trade-casino complex development.
Two years ago, IPPG failed to negotiate with Trung Nam Group to make the Golden Hills area the first duty-free zone and factory outlet centre in central Vietnam.
Last month the first downtown free-duty shop, VV Mall was launched at the beach-front Crowne Plaza Da Nang resort in Ngu Hanh Son district.
The Universal Alloy Corporation (UAC) from the US has launched the first aerospace parts project, while LG Electronics began construction of its R&D centre in the city.
Da Nang, which is situated at the end of the East-West Economic Corridor, linking Laos, Thailand, Myanmar and Vietnam, is planned as a global destination of tourism, finance, logistics and hi-tech investment, Vietnam Plus reported.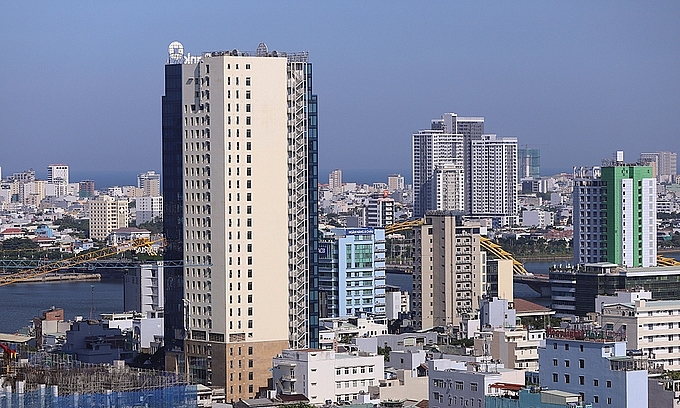 A corner of Da Nang City in central Vietnam. Photo by VnExpress/Nguyen Dong.
"Builds the nest to welcome the eagles"
The Prime Minister-approved adjustments to the Da Nang Master Plan for its major development goals to 2030, with a vision to 2045, with the goal of building Da Nang into one of the major socio-economic hubs in Viet Nam, and Southeast Asia at large, has marked a turning point for Da Nang to make more future breakthroughs during its development journey, as reported by Baodanang.
Eleven large corporations have already registered to support Da Nang to implement research projects in certain areas as prescribed in the Da Nang Master Plan.
Chairman of Imex Pan Pacific Group (IPPG) Johnathan Hanh Nguyen recently signed a memorandum of understanding to support Da Nang with implementing a research project to develop a regional financial centre in the city.
The renowned entrepreneur said that his corporation has a plan to pour more than 8 billion US$ in numerous projects in the city, with the development of a regional financial centre in tourists-packed Son Tra District viewed as a highlight.
IPPG has nurtured an ambition to build a financial centre in Viet Nam since 2016, and thanks to the debut of the Da Nang Master Plant, the group now has a chance to make its dream come true.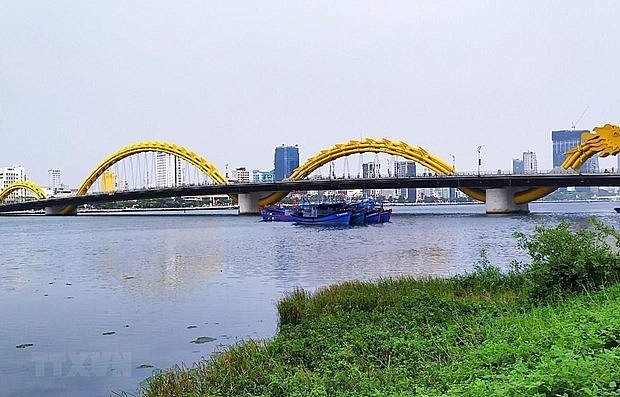 A corner of Da Nang city (Photo: VNA)
IPPG is well known as one of the biggest multi-business corporates in Viet Nam operating in different fields, including fashion, F&B, real estate, and non-aviation service.
"Whether Da Nang will have a regional financial center depends on the financial policy openness of the national government." Johnathan Hanh Nguyen said. He added that IPPG and its partners can support the city to develop a financial center in the future.
Such a financial centre showcases a full financial hub with direct access to major capital pools from banks, insurance companies, investment funds, and listed capital markets, would enable companies, institutions, and individuals from around the world to meet needs like financing supply chains and managing risks.
Likewise, BRG Group, one of Viet Nam's leading private multi-sector economic groups, has been implementing many projects in Da Nang over recent times. BRG Group will, as soon as possible, embark on funding a research project for the zoning of a high-tech agricultural area in suburb Hoa Vang District.
In a similar vein, Sun Group, a Vietnamese realty giant, also plans to build up a vision for the development of the entire western part of the city.
29 March saw the kick-off ceremony of the Lang Van resort and entertainment complex project to mark the 46th anniversary of the city's liberation, after many years of delay due to prolonged site clearance and compensation issues.
Developed by Vinpearl JSC, a subsidiary of VinGroup-the Vietnamese conglomerate, this large scale project will be carried out on an area of nearly 1,000 ha in Hoa Hiep Bac Ward, Lien Chieu District.
The five-star complex is Vinpearl's biggest project, featuring a five-star hotel with over 1,000 luxury rooms, high-end villas, a performing arts theatre, an international convention hall, a golf course, helicopter pad and other recreational facilities.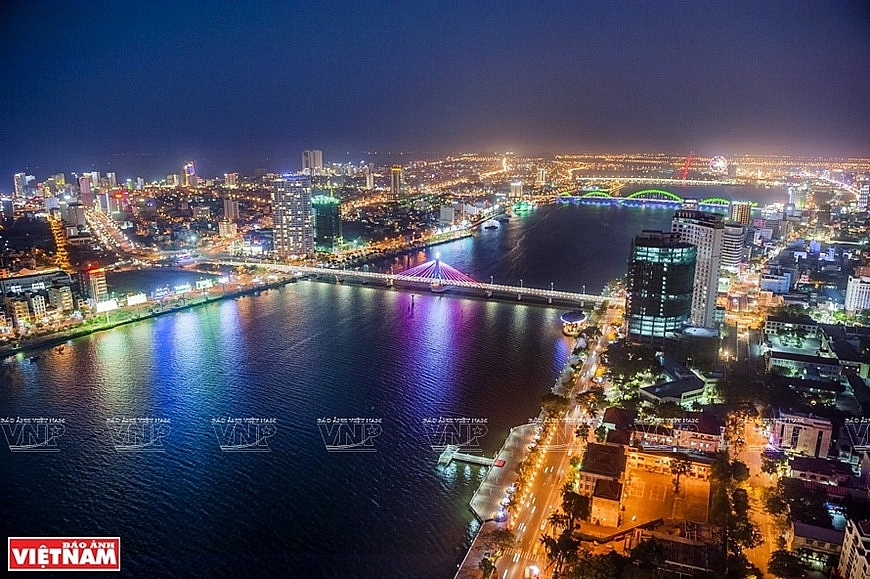 Swing bridge over Han river. Photo: VNA.
Once completed, the project is expected to offer luxury tourism experiences for travellers to Da Nang, develop a prestigious tourism service with its own identity, form a new architectural landmark for the city, create more employment for local residents and make a large contribution to the city budget.
This "eagle" plans to continue to spread its wings in the coming time. According to Nguyen Viet Quang, Deputy Chairman and CEO of Vingroup, following the successful development of a series of projects in Da Nang such as Vinpearl Luxury, Vinpearl Resort & Spa, Vinpearl Condotel Riverfront, Vinmec Da Nang Hospital, Vincom Plaza Ngo Quyen, Vingroup will continue to view Da Nang as one of its key investment locales in Viet Nam.
People's Committee Chairman Le Trung Chinh recently pledged that the city will provide investors with the general plans for further research into project development. Investment attraction will be carried out in a transparent and public manner, with no any interest groups reported.
"We put the interests of the people and the development of the city first. Da Nang will constantly strive to considerably get better, continue to pay more kind concern to long-term investors and roll "the red carpet' to welcome potential ones. Da Nang may not be the best place for investment, but it will become the land with which you are most satisfied", Chairman Chinh emphasised.
The best possible conditions would be created for investors, and functional local bodies would pen specific investment criteria for each area.
Economy
(ANI): The Union Public Service Commission (UPSC) witnessed a three percent rise in the number of Muslims candidates who cracked the most competitive exam in the country this year.
June 03, 2023 | 06:00