Delta Variant, Flooding Bearing Down China
Hundreds of people died in recent flooding in central China, while the Delta variant is posing new risks for the world's second-biggest economy.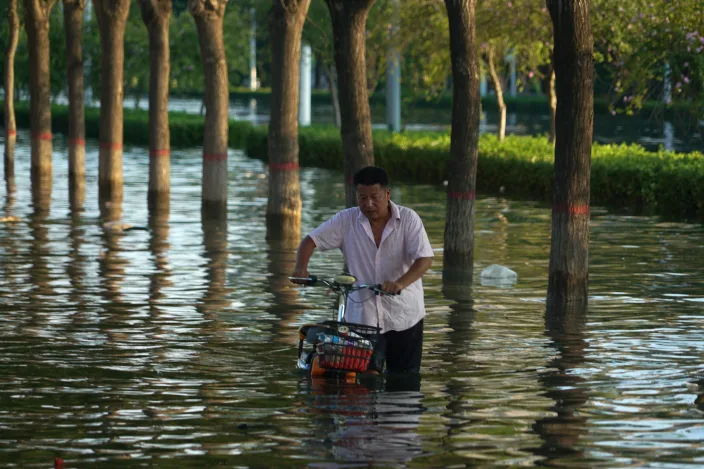 In this July 26, 2021, file photo, a man pushes a scooter through floodwaters in Xinxiang in central China's Henan Province, Monday, July 26, 2021. Photo: AP
More than 300 people died in recent flooding in central China, authorities said on August 2, three times the previously announced toll.
The Henan provincial government said 302 people died and 50 remain missing. The vast majority of the victims were in Zhengzhou, the provincial capital, where 292 died and 47 are missing. Ten others died in three other cities, AP reported.
Record rainfall inundated the city on July 20, turning streets into rushing rivers and flooding at least part of a subway line. Video posted online showed vehicles being washed away and desperate people trapped in subway cars as the waters rose. Fourteen people died in the subway flooding.
The previous death toll, announced last week, was 99.
Authorities said 189 people were killed by floods and mudslides, 54 in house collapses and 39 in underground areas such as basements and garages and including those on subway Line 5. The death toll remained at six in an expressway tunnel from which 247 vehicles were removed as it was drained.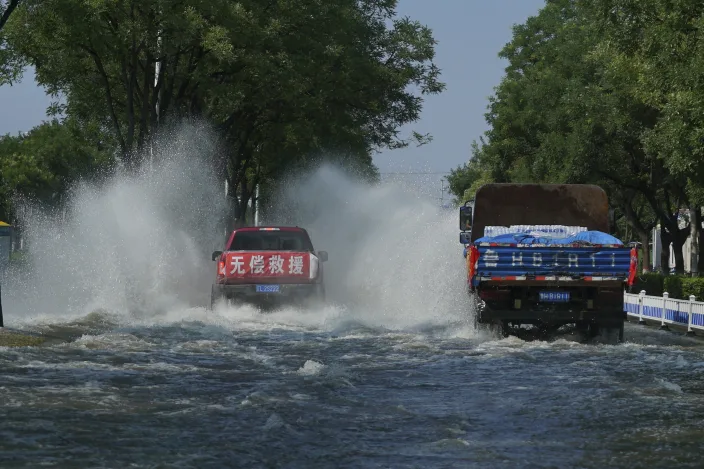 A truck with a banner which reads "Free Assistance" drives through floodwaters in Xinxiang in central China's Henan province on Sunday, July 25, 2021. Photo: AP
Wang Kai, the governor of Henan province, expressed deep condolences to the victims and sympathies to the families on behalf of the Henan Communist Party committee.
The worst came after Zhengzhou was hit by 20 centimeters (8 inches) of rain in one hour starting at 4 p.m. on July 20, overwhelming the already drenched city. Children were trapped in schools, and stranded people stayed in their workplaces overnight.
The rains headed north in the following days, hitting the Henan cities of Hebi, Anyang and Xinxiang. Seven people died and three are missing in Xinxiang, where record rains dropped more than 25 centimeters (10 inches) of water in a 19-hour period. Henan is an inland county about 620 kilometers (380 miles) southwest of Beijing.
Authorities said that about 250,000 hectares (625,000 acres) of crops were destroyed and have estimated losses at more than 90 billion yuan ($14 billion). About 1.5 million people were evacuated because of the rains and flooding.
The central government has set up an investigation team to evaluate the disaster response, summarize the lessons from it and hold accountable anyone guilty of dereliction of duty, Chinese media said.
Broadest Covid-19 outbreak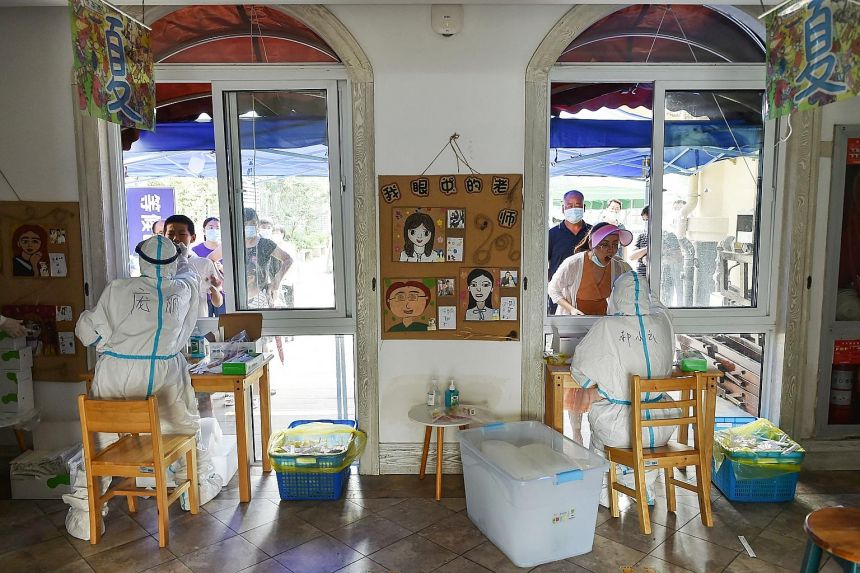 Residents in Nanjing, Jiangsu province, getting tested as China confronts its most widespread coronavirus outbreak in months. Photo: AGENCE FRANCE-PRESSE
China is confronting its broadest Covid-19 outbreak since the Coronavirus first emerged there in late 2019, with the Delta variant spreading to places that had been virus-free for months, including the original epicentre of Wuhan, Bloomberg said.
Delta has broken through the country's virus defences, which are some of the strictest in the world, and reached nearly half of China's 32 provinces in just two weeks. While the overall number of infections - more than 300 so far - is still lower than Covid resurgences elsewhere, the wide spread indicates that the variant is moving quickly.
It is the biggest challenge to China's strategy since the virus was first detected in Wuhan, the central Chinese city that saw the world's first lethal outbreak. The country's strict anti-virus measures, which include mass testing as soon as a case appears, aggressive contact tracing, widespread use of quarantines and targeted lockdowns, have crushed more than 30 previous flareups over the past year.
China reported 99 infections on August 2, including 44 who tested positive but have no symptoms. Later in the day, seven more people were found to be infected in Wuhan, plus another in Beijing. By number of cases, it is the biggest outbreak since a flareup in Hebei province in northern China in January, when 2,000 people were infected.
The broad spread is even more concerning, given the rise of cases in the highly protected capital and in Wuhan, whose virus-free status has been a source of pride in China. The seven new cases there are the first since China brought its original wave under control by locking down the city of some 11 million and the surrounding Hubei province.
Reuter said Jiangsu, the province with the second-largest economic output after Guangdong in 2020, is by far the worst-hit, accounting for about 80% of the confirmed cases.
Slow economic growth
China is confronting its broadest Covid-19 outbreak since the Coronavirus first emerged there in late 2019. Photo: VCG
China's overall economy is not invulnerable. It grew more slowly than expected in April-June, due to persistently high raw material prices, cautious consumer spending and a subdued real estate market.
"The Delta variant is the biggest test of China's zero-Covid strategy since the initial outbreak last year," said Julian Evans-Pritchard, senior China economist at Capital Economics.
"But given the country's track record in dealing with the virus so far, our assumption is that they will quash the outbreak before it gets out of control. Of course, doing so will come at some economic cost."
Yangzhou, near Nanjing, has been battling rising coronavirus cases. Many factories and logistics firms in the city of 5 million have been shut as employees joined queues of people to get tested, some up to three times a week, according to Reuters.
"We cannot deliver goods because the delivery firm informed us that they've suspended their services," said a manager of a toy factory surnamed Wang.
"In the past few days, many places have been gradually locked down. We were officially told to stop operations today, and all our employees didn't come to the factory."/.