Digital Platform Launched on Dangers of Child Marriage, Human Trafficking
A webinar to launch digital platform "Em Vui" (I'm happy) organized by the Institute for Social Development Studies in collaboration with Plan International in Vietnam was held last week.
Participants in the event included Audrey Anne Rochelemagne, a representative of the European Union to Vietnam delegation; the children's department under the Ministry of Labour, Invalids and Social Affairs; Hoang Minh Tien, deputy director of the information security department; and Nguyen Hong Hue, deputy director of the department of ethnic minority affairs.
Attendees from the four other provinces that are representatives of the project as well as Government agencies at all levels, school teachers and ethnic minority youth also attended.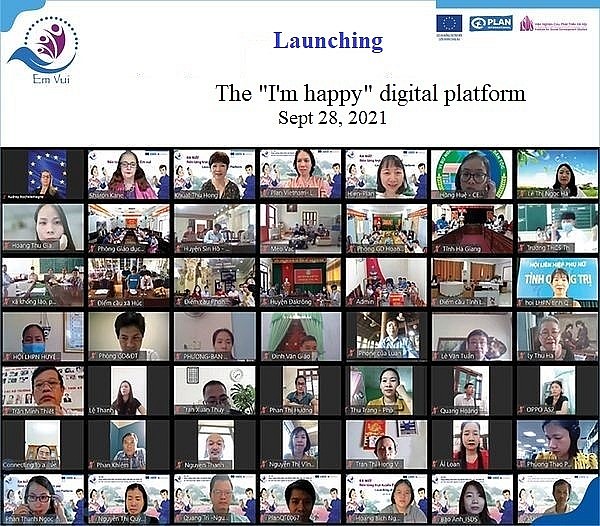 Delegates attend the platform launch
Em Vui is a digital space aiming to equip ethnic minority girls, boys and young men and women with the knowledge and skills for them to prevent child marriage and human trafficking.
The platform is built as a friendly and reliable forum with lots of useful and interesting information for young people to participate in learning, exchanging and sharing knowledge.
It is also an open space to connect and attract individuals, agencies and organizations to use and spread knowledge for teenagers across the country, as well as a forum for dialogue between ethnic minority youth and policy makers and managers from government agencies.
Em Vui is an activity within the framework of the Project "Enhancing the awareness of ethnic minority children and young people on human trafficking and child marriage through digital platforms."
The project is being implemented in 11 districts, 52 communes of four provinces including Ha Giang, Lai Chau, Quang Binh and Quang Tri over 3 years from 2020 to 2023.
The main objective of the project is to support young men and women in ethnic minority communities (aged 10 to 24) to use digital space to learn about social networking and online safety skills, as well as knowledge about child marriage and human trafficking when communicating with others for support services.
At the opening Rochelemagne said: "Preventing and ending all forms of violence against girls and women is a prerequisite for the promotion, protection and full implementation of human rights and to ensure gender equality for a stronger, more just and sustainable society. Ending gender-based and sexual violence, as well as ending child marriage and human trafficking are strong commitments of the European Union in Vietnam."
Dr. Khuat Thu Hong said: "We hope that Em Vui will be a reliable companion to help young people grow up and mature in a safer and healthier way."
"Em Vui also welcomes relevant individuals, organizations and agencies to participate in using the information provided here, spreading useful messages and knowledge to young people from all parts of the country."
Le Quynh Lan, a representative of Plan International Vietnam, Program Impact Manager and Partners, said: "The goal of the plan in the next 5 years in Vietnam is to accompany government agencies, sponsors, families and communities to support 2 million girls to learn, lead, decide and shine."
"The project to raise awareness of ethnic minority children and young people about human trafficking and child marriage through digital technology with the EMVUI Online platform, together with other projects, and help to realize our commitment in promoting gender equality and protecting children, especially children living in ethnic minority areas".
During the trial and completion period, from July 15 to Sept. 15, 2021, the Em Vui Online Platform had developed more than 30 videos and documents on knowledge related to online safety, reproductive health, and prevention of child marriage and human trafficking; 170 registered members; 5,745 hits; as well as more than 6,000 interactions, comments, lessons, downloads.
In addition there are six social media channels of Em Vui, which have posted nearly 100 articles, attracting attention from participants of social networks across the country.
Recently, Em Vui has been designed, completed and made available on popular social media platforms such as Facebook, Tiktok, Zalo, YouTube, Instagram and Twitter.
In its pilot phase Em Vui has received the participation and response of many people, including ethnic minority youth.
Nu, a H'Mong girl in Lai Chau, said: "I have installed and used Em Vui for nearly a month. I find it useful lessons integrated with many cartoon series, with many pictures of close life and interesting stories about ethnic minority youth."
At the launch, delegates gave praise and comments on Em Vui, hoping that it will become more complete, friendly and effective not only for ethnic minority youth in the project areas, but also for young people nationwide.