Domestic Travel Slowly Restarts
Central Vietnam localities to begin receiving out-of-province visitors who are partially (yellow card) or fully vaccinated (green card), while Northern and Southern provinces mainly opens for in-province travel.
Northern Provinces
Hải Phòng is reopening travel areas and destinations, as well as landmarks in the province, for in-province visitors. Visitors and guides will have to show a negative SARS-CoV-2 test, certification of full vaccination, or recovery from Covid-19. Hotels can host meals for staying guests.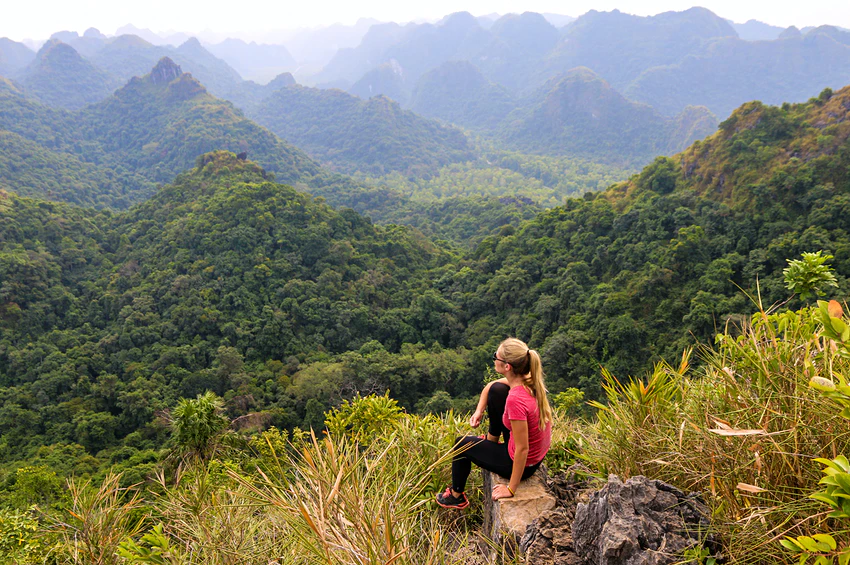 Hit the hiking trails of Cat Ba National Park © Daliusposus / Shutterstock
In Bắc Giang, many travel areas and destinations have opened since Sept. 30 to in-province visitors, including Tây Yên Tử (Sơn Động) Spiritual - Ecotourism Complex and Bản Ven community tourist destination (Xuân Lương, Yên Thế). Previously, Suối Mỡ Ecotourism complex (Lục Nam) and several golf courses in the province began operation from Sept 12.
Other localities such as Vĩnh Phúc, Quảng Ninh, and Thanh Hoá has also restarted tourism activities for in-province visitors. Several resorts in Sapa (Lào Cai) and Hoà Bình has received tourists with negative SARS-CoV-2 tests coming from green zones.
In Hanoi, dormitories and large entertainment centers have yet to be opened. However, residents can visit outdoor relaxation spots or camping grounds at Sóc Sơn, Đồng Mô, Ba Vì (outside the National Park) in groups under 10 people.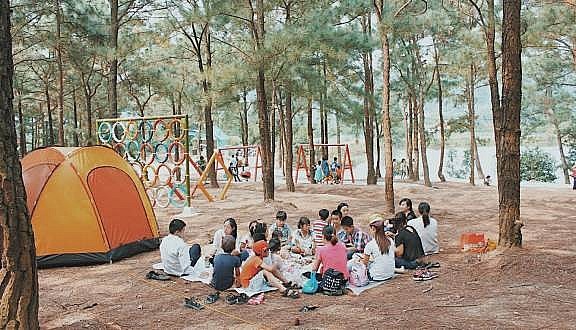 Thien Phu Lam Campground, Soc Son. Photo: Internet
Central Provinces
Khánh Hoà is welcoming yellow card or green card in-province visitors at exclusive tourism areas from Oct. 1 to 15. Registered and authorized restaurants and F&B providers are allowed to host meals.
From Oct. 16. to Nov. 15th, the province will begin to receive domestic yellow and green card visitors; restaurants and F&B providers can operate under proper Covid safety regulations. Visitors from green zones can swim at green zone beaches in groups under five people.
Similarly from Oct. 1st, Thừa Thiên Huế Province will also reopen the Imperial Palace and select Nguyen Dynasty mausoleums after 4 months of closing. Tourists can visit the outdoor areas of the Imperial Palace and the mausoleums of emperors Minh Mang, Tu Duc, and Khai Dinh. Restaurants and cafes in the province are also allowed to open after 10 p.m. at under 50% capacity.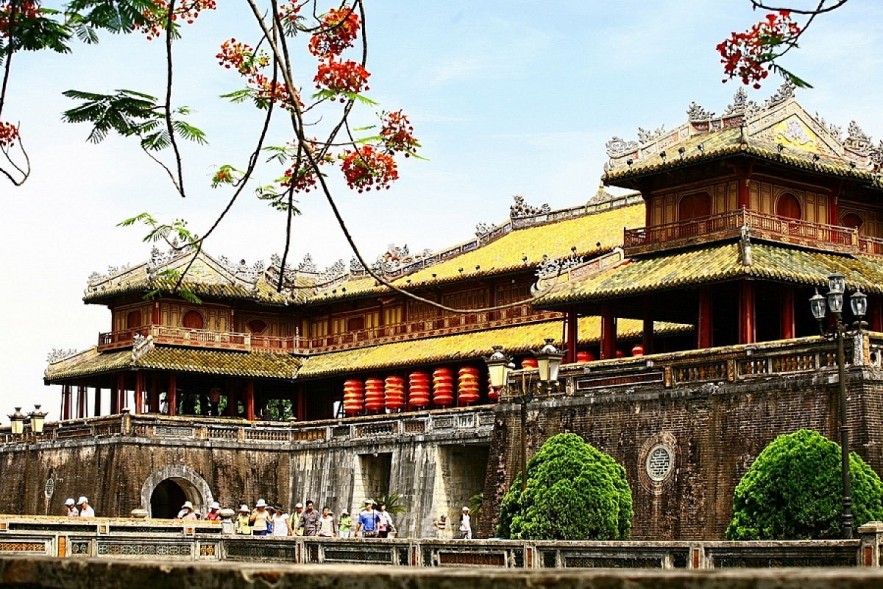 Hue Imperial Citadel (Dai Noi) in the central province of Thue Thien-Hue. Photo: VOV
From October, Quảng Bình will allow businesses to welcome vaccinated visitors on private tours, specifically green and yellow card visitors with negative quick test or RT-PCR results. These visitors will participate in private tours with no outside activities.
From midnight Sept. 30 Đà Nẵng City will allow residents to swim at beaches at set hours but they must leave immediately after; freshwater showers, gatherings, and sport activities are prohibited.
Hotels and accommodations can operate at 30% capacity; those hosting fully vaccinated visitors or those recovered from Covid can operate at 50% capacity.
In Lâm Đồng, provincial authorities reopened tourism- and F&B-related services. In-province visitors can visit landmarks, travel destinations, and accommodations of at least 2 stars; accommodations will host at most 2 people per room, at 50% capacity. Restaurants, including street food vendors, will serve at max 50% of their normal capacity and are allowed 50% of their normal seatings.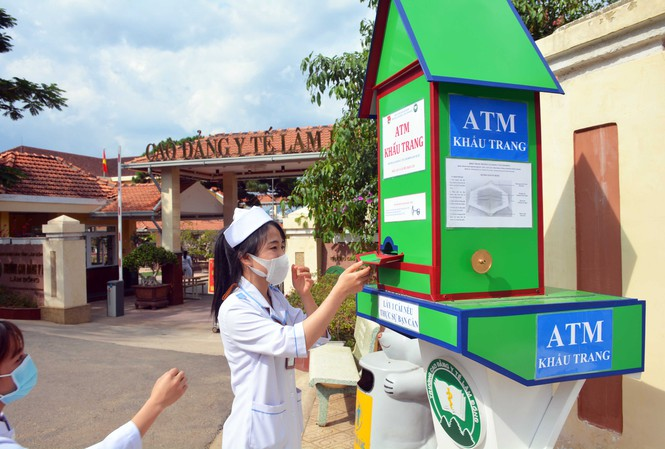 Face mask ATM in Da Lat, Lam Dong (Photo: Internet)
Bình Thuận Province will receive domestic (native and expat) travelers in a pilot program under safety criteria from Oct. 20. Hotels with 3 to 5-star certification or similar, travel services, and landmarks meeting safety criteria will be designated. The program will be ran mainly at Phan Thiet City, while other districts and towns can participate after consideration.
Southern Provinces
From Oct. 1. HCMC will remove metropolitan checkpoints, citizens are allowed to freely commute within city limits, and leaving the city is prohibited. HCMC visitors who are fully vaccinated, or confirmed to have recovered from Covid, can visit accommodations, resorts, and landmarks. Other tourism-related services for tourists can operate at 50% capacity if safety criteria are met. Restaurants within accommodations, resorts, and landmarks will only host visiting guests, and buffets are not allowed.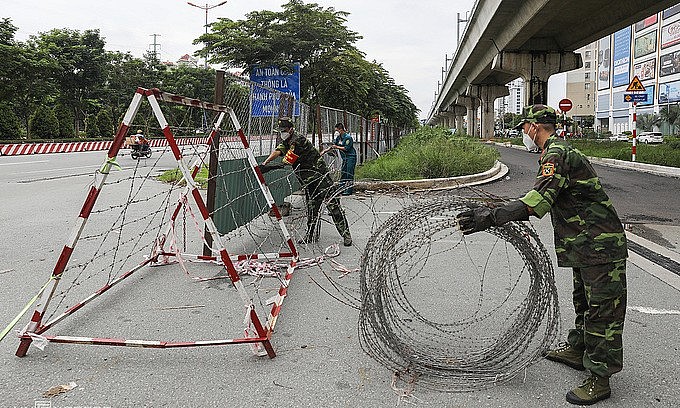 Soldiers and militia members removing checkpoints in Thao Dien Ward, Thu Duc City. Photo: VNExpress
Areas like Cu Chi and Can Gio, having generally contained the pandemic, has started their first private tours since Sept. 19, and further tours are planned in the near future.
Previously, Bà Rịa-Vũng Tàu Province has opened four resorts to welcome domestic visitors in a pilot program: Melia Hồ Tràm Resort, Bình Châu Hot Springs, The Grand Hồ Tràm Resort & Casino (Xuyên Mộc District), and Six Senses Côn Đảo Resort (Côn Đảo District) if local authority's safety requirements are met.
Visitors must be fully vaccinated for at least 14 days, are privately transported from their residences to accommodations, and must not leave the vicinity while using the accommodation's services.