Expats Eager to Enjoy Vietnamese New Year
With the coming Tet holiday, foreigners in Vietnam share their feelings to welcome in the Vietnamese New Year.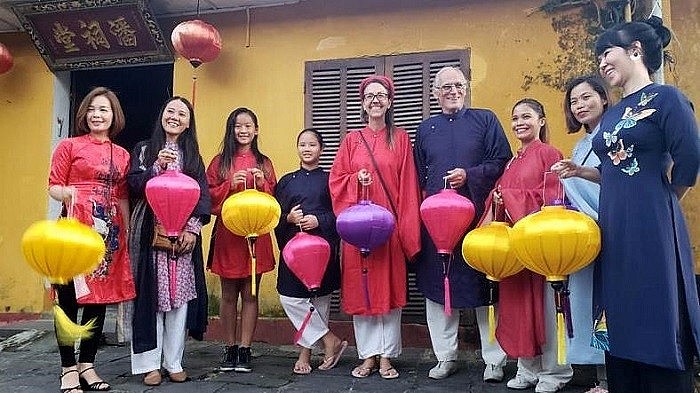 Nadine (center, in red ao dai) with her two children and friends participating in cultural activities in Hoi An. Photo: NDO
Vishwa Sharan, director in tax services: Hanoi's culture is rich in national identity
I was overwhelmed when entering the office located in Cau Giay district, as the scene that appeared in front of my eyes was a colorful room that was elaborately decorated to welcome Tet. The Tet atmosphere is everywhere.
This year, we will celebrate Tet in Hanoi, where we have been for nearly 3 years. Tet is an occasion to pay respects to ancestors, visit family members and a time for a reunion.
For most expats, Tet means returning to their homeland or discovering the stunning landscape of Vietnam.
However, this year we chose to stay in Hanoi to get a feel for the culture rich in national identity. In just a few days, when people return to their hometown to reunite with their families, Hanoi will become unusually quiet, different from the bustling daily life.
We want to feel that silence and look forward to the New Year here in Vietnam.
Paul Evo Evans, safety manager: Enjoy a quiet New Year in Hanoi
I have celebrated Tet twice in Vietnam. Before the pandemic, Tet 2019 was the first time I experienced Vietnamese traditional Tet. I found it a fascinating and wonderful experience. Working with many Vietnamese on the project, I can see how important Tet is to them and what it means to go away and come home to reunite with family.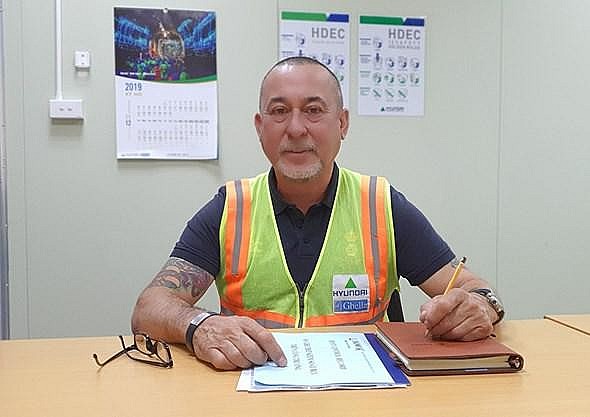 Photo: kinhtedothi
It is obvious that when so many people leave the capital to go home to celebrate Tet, I experience a quiet Hanoi, and I like that. Hanoi without the noise of car horns is something worth enjoying. I will also receive many gifts before the Tet holiday, which I am not used to in the UK. The tet atmosphere is bustling everywhere and I can feel the spirit of excitement in many people. Vietnamese people are warm, hospitable and friendly.
I have worked in many places in the world, and this is one of the warmest and most welcoming places. Despite Covid-19, I still felt the Tet atmosphere approaching.
Philippe Le Bourhis, hotel manager in Phu Quoc: Optimistic about Vietnam's economic recovery
I am looking forward to my third Tet holiday in Phu Quoc - the beautiful island of Vietnam. This is the most important time of the year for Vietnamese people when generations of families gather together to celebrate Tet.
The streets will come alive when decorated with vibrant colors - the color of hope when people welcome the new year. It was a magical atmosphere because I had the opportunity to experience Tet activities such as making banh chung for our guests and staff, and also enjoying some traditional Tet specialties.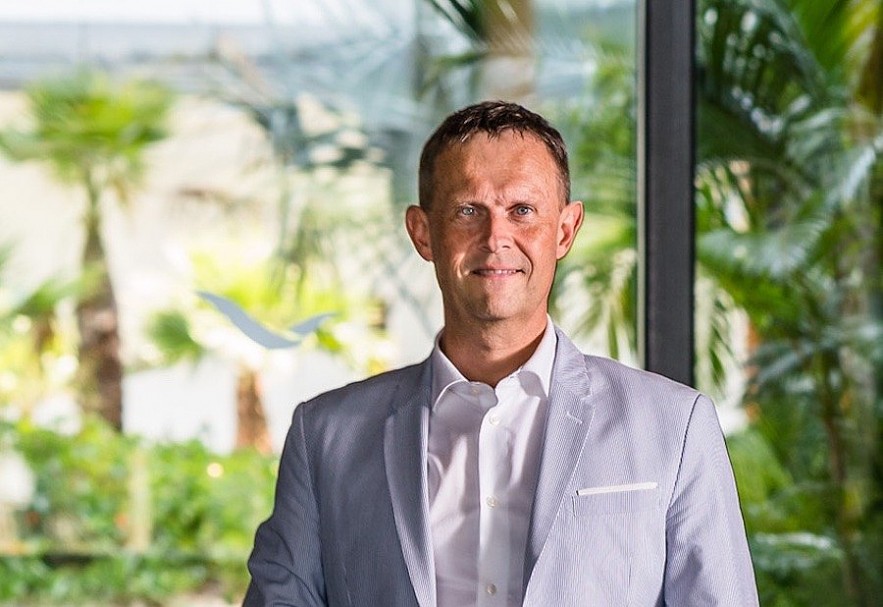 Photo: kinhtedothi
Since I am away from my family, the staff and colleagues at Mövenpick Resort are my family and I am delighted to experience this special and meaningful time of the year with them at the resort.
This year promises to be an even better one as the resort is fully booked for this time. It's nice that people are feeling more confident when traveling after months of restrictions and the vaccination program has been successfully rolled out.
Lynette Chong, head account manager: Feeling the bustling Tet atmosphere
This is my second year celebrating Tet in Vietnam. Before Covid-19, I often went to Singapore to welcome the new year, which is at the same time as Tet in Vietnam.
Due to Covid-19, I have not returned home for two years. Although I miss my family very much, I am also used to spending time with my friends and colleagues in HCMC.
Last year, I had the opportunity to visit Nguyen Hue flower street. I was interested in the scene of people wearing traditional ao dai, including men, wearing masks and posing for pictures with the whole family. I heard this street is normally busy, but I also love the peace when the area is not too crowded.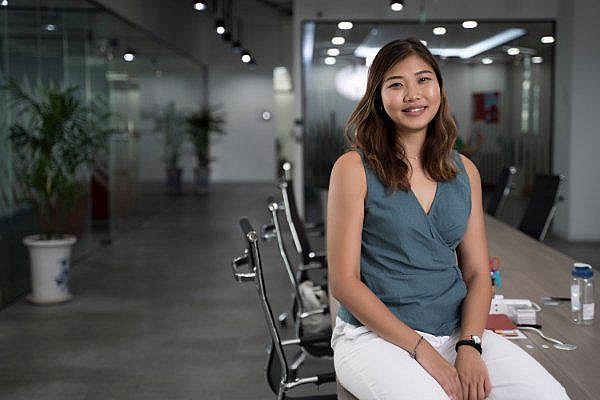 Photo: kinhtedothi
I hope Vietnam will reopen soon, travel will be easier, and foreigners can finally return to Vietnam to travel, live, and work. People far from home can return home to reunite with their families. I also hope that we will all be able to adapt to Covid-19, and everyone has good immunity to fight this virus. Together we will get through the tough times!
Min Jehong, sales manager: Hoping for a better new year
This year is my fourth Tet in Vietnam. Every Tet holiday comes, Vietnamese friends and colleagues gather with their families. I felt a bit lonely at first, but now I'm used to it and I like Vietnamese Tet.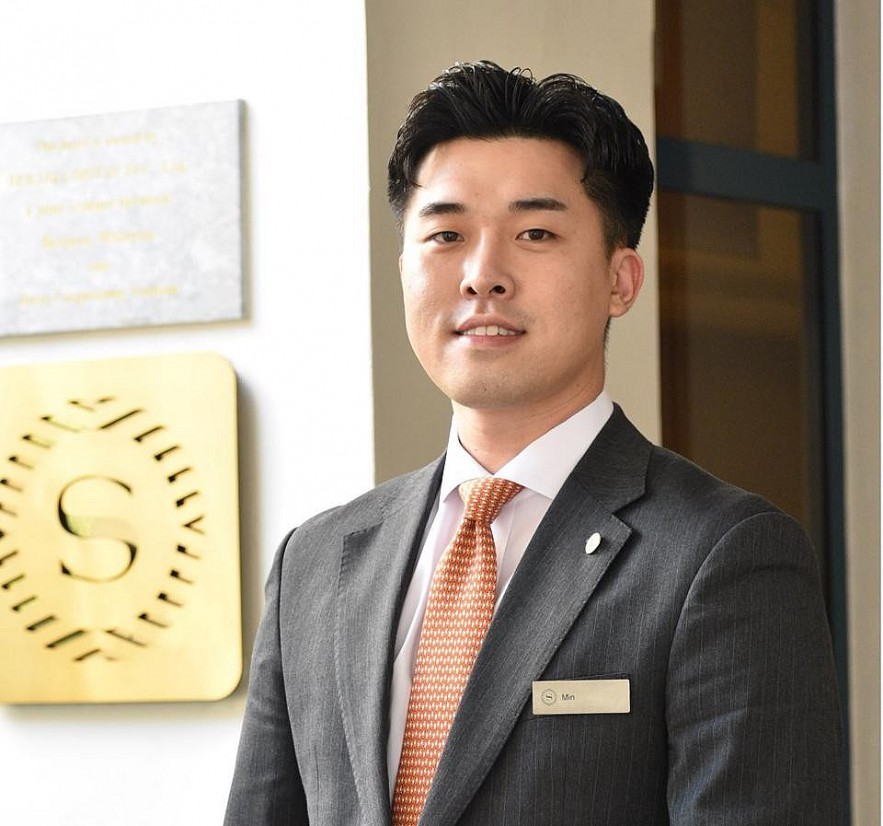 Photo: kinhtedothi
In the current context, I hope life will soon return to normal so that everyone can work and earn a living with peace of mind.
I had the opportunity to explore Vietnam and enjoy a lot of delicious food in this land. Therefore, I hope that international flights will gradually be restored, so that my friends also have the opportunity to discover and experience Vietnam.
Sonya Firsova, singer and model: Desire to contribute more to Vietnamese music
This is not the first time I celebrated New Year in Hanoi. However, perhaps this year will be quite special as Covid-19 is not over yet. It seems that the pandemic has brought people together and cared for each other more.
I am a foreigner in Vietnam, I have received warm support such as gifts, relief packages from friendship organizations in Hanoi. I have also seen a lot of people in need get help during the pandemic. That's what I see in Vietnamese people.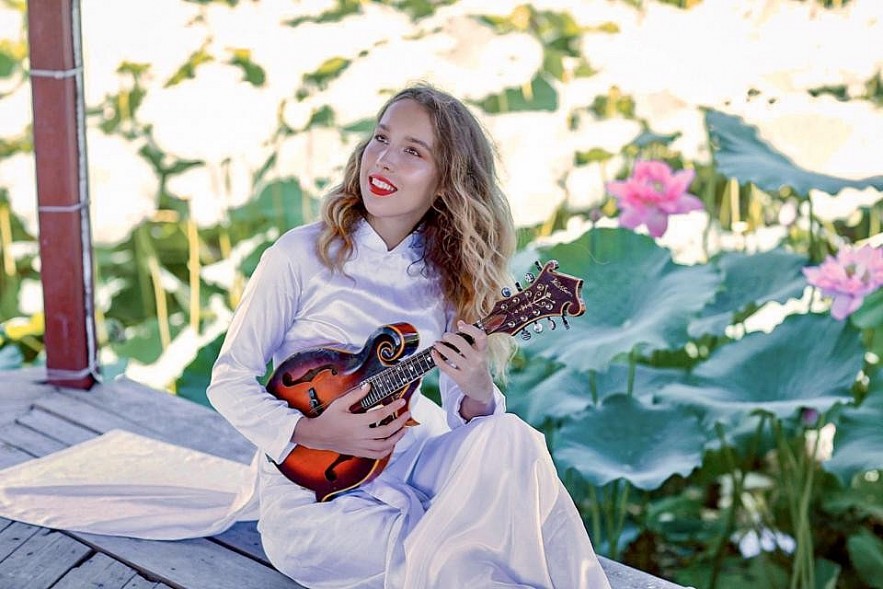 Photo: kinhtedothi
Talking about Tet, I am fortunate to live with a Vietnamese family, so I can experience typical traditional customs such as preparing offerings, votive paper offerings, and throwing rice. What I like about Vietnamese New Year is the bustling atmosphere when shopping for trees, or some simple Tet dishes such as jam, o mai or banh chung, and customs like giving lucky money to children.
As a singer, I often aim for hope, love and optimism in my life and my songs. I hope in the new year, I will be able to contribute more to the Vietnamese music industry, connect and work with talented Vietnamese people in this field, spreading positivity and creativity.