Facebook Update: Users in Vietnam Can Now Add Music to Comments
In the latest version, a limited number of Facebook users in Vietnam can comment with music.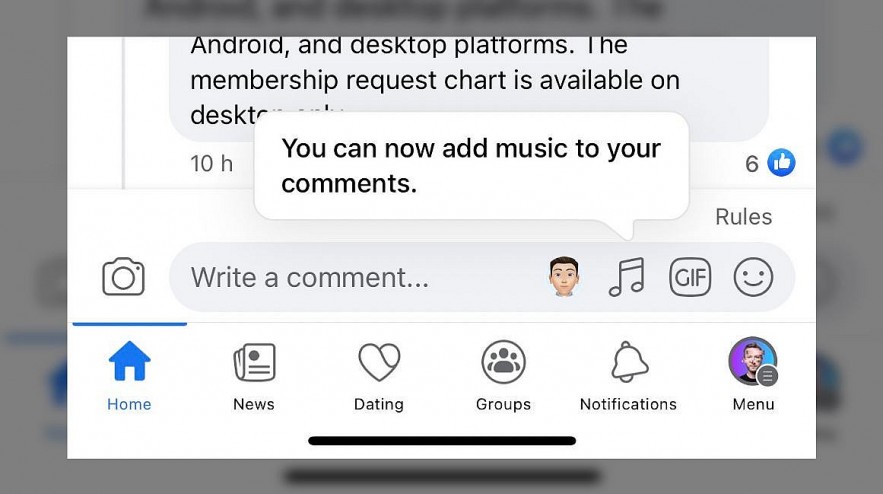 The new music note icon in the comment box. (Photo: Thanh Nien)
The music commenting feature is not yet available to all users but only a few random accounts are selected to try out. New features on Facebook have always been introduced to a small group of users before being gradually spread to all accounts in the country.
Facebook users need to update the mobile app to the latest version then let the fortune decide whether they will be selected to try out the new feature. If yes, they will see a new music note icon in the comment box.
The music clip has a default length of 30 seconds and uses the database available on Facebook. Users, after clicking on the music note icon, can search for music content classified by track names or performing artists.
If you are not selected to try music comments, you can still see and listen to the new comment form on the Facebook mobile app. Meanwhile, on the webpage version, music comments will be displayed with a message: "This content is only available with the mobile version".
The plan to launch music comment feature in Vietnam is quite surprising. However, if you find the feature somewhat familiar, then you might see it on MySpace.
MySpace was founded in 2003 and used to be the largest social network in the world from 2005 to 2009. Unlike Facebook's commenting with music, MySpace allows users to set music to run automatically every time someone visits their personal site.