First-ever mobile app to provide health care information and services to the elderly in Vietnam
The first-ever Mobile App named "S-Health" to provide free-of-charge health care information and services to the elderly, their caregivers and family members was introduced on January 28 in Hanoi.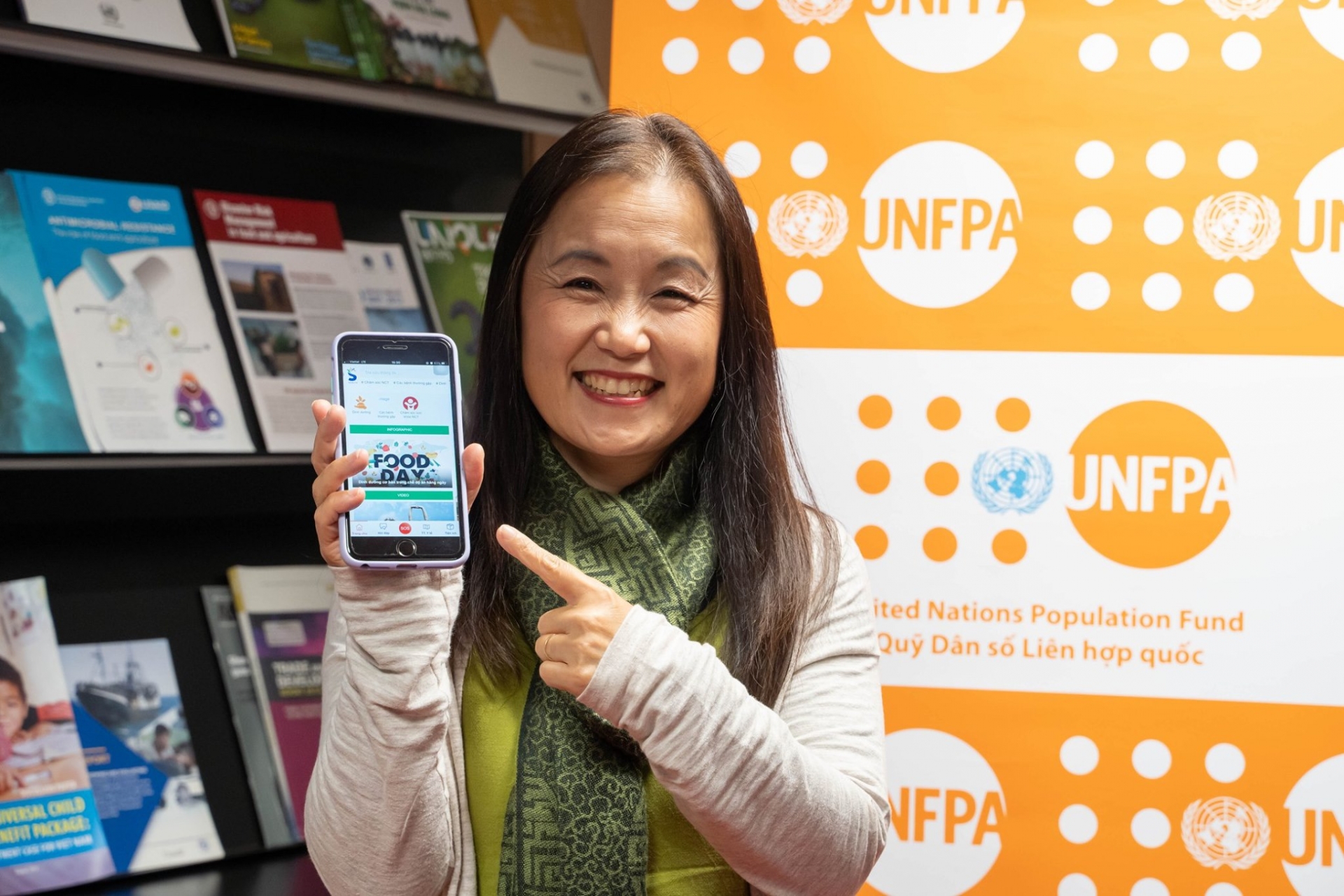 Naomi Kitahara, UNFPA Representative in Vietnam was in the media interview for the launch of UNFPA supported Mobile App S-Health to provide healthcare information and services for older persons in Vietnam. Source: UNFPA Vietnam
"S" of S-Health indicates "Silver" for older persons, and "S" takes a shape of Vietnam as a country, meaning that Vietnam's elderly is the center of the country's strength, wisdom and the sources of continued socio-economic growth.
The app was introduced at the Green One United Nations House in Hanoi by the General Office for Population and Family Planning of the Ministry of Health (MoH), the Vietnam Association of the Elderly, and the United Nations Population Fund (UNFPA) with UNFPA's financial and technical support.
Population ageing is part of the Mega Trends, and it is a global phenomenon. Between 2015 and 2050, it is estimated that the number of older persons aged 65 and above worldwide is set to increase from 703 million to about 1.5 billion, accounting for 15.5 per cent of the world's total population.
Vietnam has entered the "ageing phase" since 2011, and the number of older persons (aged 65 years and above) account for 7 per cent of the total population. By 2036, Vietnam is projected to shift from "ageing" to "aged" society. Currently, the number of older persons (65 years or over) is 7.4 million, and is expected to increase to 23 million by 2053, accounting for 20 per cent of the total population. Vietnam is one of the most rapidly ageing countries in the world. When it took a century or some decades for developed countries to transition to population aging, for instance France (115 years), Sweden (85 years), Australia (73 years), US (69 years), Canada (65 year), United Kingdom (45 years), it is estimated take only 20 years for Vietnam.
Addressing the event, Nguyen Thi Ngoc Lan, Deputy Director General of the GOPFP said, "Vietnam is one of the countries with the fastest population ageing in Asia. The transition period from the "population ageing" period to the "aged population" is about 17-20 years. This creates many difficulties in developing policies and programmes for older persons. Many older persons are still facing difficulties and challenges in their lives, and need more attention, care and support from the government and communities".
In 2020, the COVID-19 pandemic has had devastating effects on older people and put a spotlight on the health and rights of the elderly in society. While the virus spreads among persons of all ages, older persons and those with underlying medical conditions are at increased risk of developing severe conditions and having higher death rates. It is clear that the fatality rate for older persons is higher, and for those over 80, it is five times higher than the global average.
The pandemic amplifies and highlights the vulnerabilities and specific needs of older persons. Older persons must be a priority in Vietnam's efforts to overcome COVID-19 to ensure no one is left behind in humanitarian response as well as in development effort.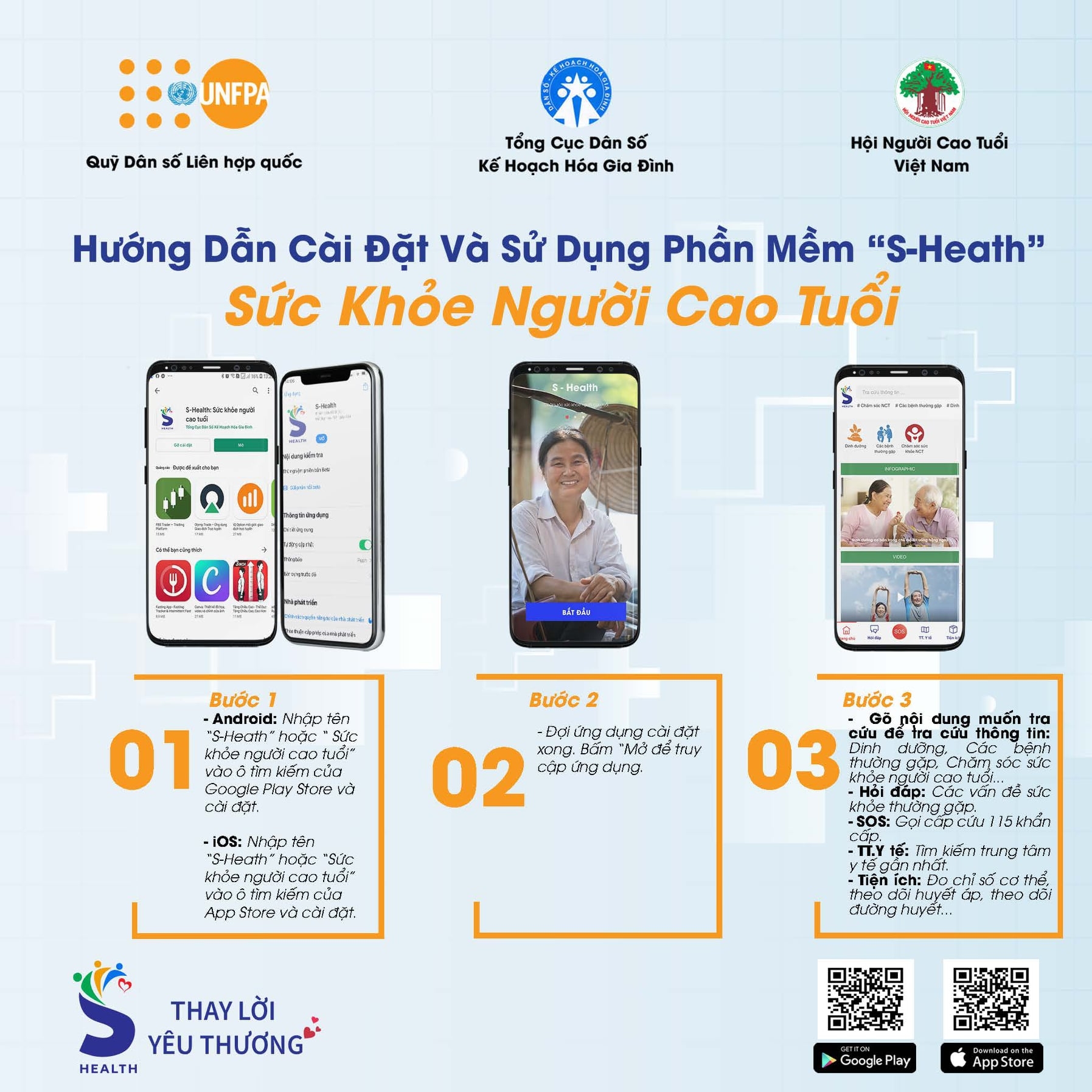 Source: UNFPA Vietnam
The S-Health app will provide: Information on common diseases of older persons, how to maintain good and relevant nutrition, as well as how to take care for older persons, using videos and pictures; Information for older persons to prepare themselves in prevention and responses to COVID-19. It is updated regularly from official information sources of MoH; Function for older persons to monitor their health indicators daily such as blood pressure or blood sugar levels; SOS button which older persons or their family members to call for ambulance or emergency support; and Directory of facilities in the neighborhood which offer health care services and equipment for the older persons. Just by entering a keyword related to the desired area, the users can promptly receive a list of qualified health facilities registered with MoH. And in the future, will connect family doctors like a "Grab" taxi network.
"As we step towards the better future we all want under the 2030 agenda for sustainable development, I believe that by joining forces and working together, we truly can make a difference and help promote meaningful responses to population ageing – responses based on values of non-discrimination and equality that advance the vision of a vigorous, happy and healthy old age. S-Health App will enable older persons to continue doing the things they value and prevent them from social isolation and care dependency," said Naomi Kitahara, UNFPA Representative in Vietnam at the event.
S-Health will go through a trial phase, and adjustments of the App will be made towards the launch of the updated and final version on the Vietnam Day of the Older Persons in June 2021.