Five Steps to Success: Setting Price
Price, which determines the company's profit margin and has a profound impact on the marketing strategy, is considered one of the most basic elements for any brand, including Tan Hiep Phat's.
Tan Hiep Phat's Deputy CEO Phuong Uyen Tran
How does someone take a good business idea, turn it into a viable company, and over time become a national, regional, or global champion? My parents created one of Vietnam's leading companies through a combination of talent, hard work, and simply being in the right place at the right time.
But there are several guiding principles all companies should abide by if they want to be successful. They may seem obvious, and yet so many companies fail to adhere to them. It normally catches up with them in the end. This part of the book explains what they are and how THP lives by them.
Setting prices is crucial
One of the most basic elements for any brand is its price, the second "P." The price determines the company's profit margin and has a profound impact on the marketing strategy it needs to deploy to sell it. When setting a price for any product, companies need to remain keenly attuned to the value customers attach to it, otherwise flown as the price-to-value ratio. It is key for this particular "P".
Getting the price-to-value ratio wrong was the fundamental mistake THP made with Laser Beer in 2004. At that point, Heineken controlled the largest share of the premium beer market, and my father wanted to compete for head-on by producing a draft beer in bottled form. Instead of going to a restaurant, consumers would be able to enjoy the fresh taste of beer at home.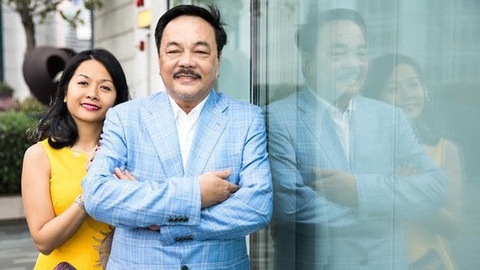 Phuong Uyen Tran and her father
He invested in aseptic bottling technology, which meant the beer did not need to be pasteurized and would retain its fresh taste. The target audience was high-income earners, and we believed they would be prepared to pay a premium. So, we priced Laser Beer at VND9,500 per bottle, compared to VND9,000 for a Heineken.
Our large investment meant we needed a pricing proposition for Laser Beer, but pricing above a competitor proved to be a challenge. Things then went from bad to worse when he found it hard to distribute the beer. Many restaurants had exclusivity contracts with competitors like Heineken, which prevented competing products from being distributed.
THP sued to overthrow the anti-competitive policies introduced laws The story was even picked up by the BBC costs of the battle would o BBC. But it soon became clear the legal outweigh the benefits. Soon after, the Vietnamese parliament. However, it took some years for re on anti-competitive practices. could be executed effectively.
In the past few years, especially in 2018, Tan Hiep Phat and Tran Uyen Phuong are among Vietnamese names in the field of business that appear the most on international media because of their stories inspiring co-startups as well as millions of consumers around the world.
That Forbes first published the book "Competing with Giants" by a Vietnamese businesswoman has help promote the name of "rich man" Tan Hiep Phat.
Afterwards, in the minds of many consumers, each water bottle is not only a drink but a crystallization of the desire to overcome difficulties and the spirit of entrepreneurship, an organic trend and Vietnam of miraculous stories.
And also from this book uncovered the aspirations of Tan Hiep Phat, as Mr. Hiroshi Otsuka, President and CEO of Musashi Seimitsu said: "An unmissable insight into how and why Vietnamese businesses are quietly growing into global players."
About author Phuong Uyen Tran
Working as a powerful businesswoman, Forbes published author, Phuong Uyen Tran is a model of success in Vietnam. Phuong Uyen Tran is also a special contributor for Vietnam Times. Her writing, including "Competing with Giants" book, and her latest articles are to advise and inspire young people to start-up, overcome challenges and reach out to the world. It is the story of a little girl taking the great responsibilities for a corporation and devoting herself to society.