Former Chilean President Michelle Bachelet's Deep Admiration for Vietnam
Former Chilean President - former United Nations High Commissioner for Human Rights Michelle Bachelet visited Vietnam on March 25. This visit was organized on the occasion of the 52nd anniversary of the establishment of diplomatic relations between Vietnam and Chile (March 25, 1971 - March 25, 2023).
Bachelet is Chile's first two-time elected female president and is also a leader who has made great contributions to the relations between the two countries. However, few people know that she has loved and had a long standing relationship with the Vietnamese people even before she held office.
During her two presidential terms (2006 - 1010 and 2014 - 2018), Bachelet officially visited and attended APEC in Vietnam in 2006 and 2017. During these visits, she has signed many agreements to further promote multi-faceted cooperation between the two countries.
During her first visit in 2006, she had a chance to meet with General Vo Nguyen Giap and was given two books. One book has been translated into Spanish titled "Unforgettable Years," the second book was in Vietnamese titled "Ho Chi Minh Thought and the Revolutionary Road." On her second visit, President Michelle Bachelet laid a wreath at the Monument to Heroes and Martyrs and visited Ho Chi Minh Mausoleum and Uncle Ho's stilt house.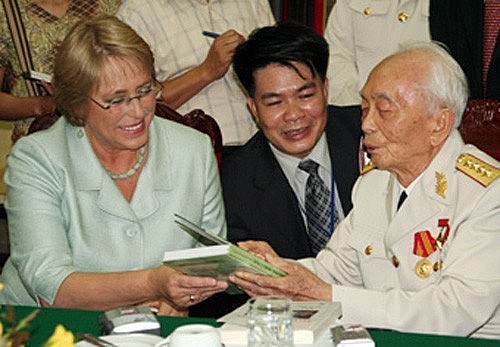 President Bachelet met with General Vo Nguyen Giap in 2006.
However, the predestined relationship between the female Chilean president and Vietnam had begun a long time ago. According to Emol newspaper (Chile), in 1969, when Vietnam was at war with the US, a wave of pro-Vietnam protests in the young community appeared across the country. "Ho Chi Minh, Ho Chi Minh, we are determined to fight to the end!" To the revolutionary music of the band Quilapayún and singer Víctor Jara, thousands of young people chanted that slogan on the streets of Chile to protest the war in Vietnam.
Among them was young Michelle Bachelet, then eighteen years old. Although she was only a high school student, she soon fought for justice and equality and expressed her support for the people of Vietnam - a group of people that is geographically distant but close in thought and values.
After the 1973 coup d'état that resulted in the death of her father, General Alberto Bachelet, she and her mother, Ángela Jeria, were arrested and tortured in 1975. Later, Lady Ángela Jeria applied for permission to go to Australia. It was during this time, in 1977, that former president Michelle Bachelet, then twenty-six years old, had the opportunity to visit Vietnam for the first time. It was a special memory for Bachelet when she witnessed with her own eyes a country at the forefront of the national liberation movement.
During a meeting with President Nguyen Minh Triet in Hanoi in 2017, Michelle Bachelet affirmed that President Ho Chi Minh of Vietnam is "one of my favorite leaders" and expressed her "deep admiration" for the poet, politician, and military man who forged independence. It was from her visits to and contact with Vietnamese leaders and people that a revolutionary determination and affection for the Vietnamese people arose within her.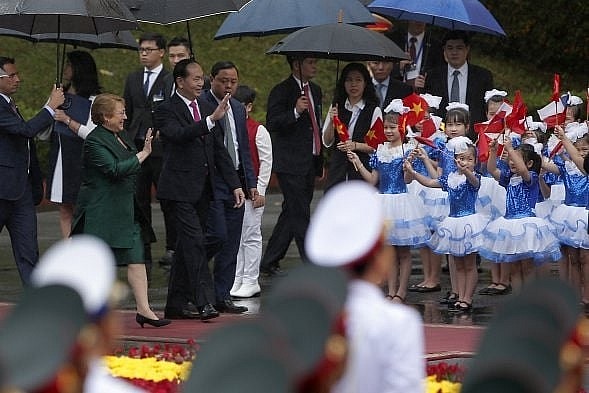 Bachelet visited Vietnam in 2017.
"Vietnam is a country that has shown wisdom in many fields and has courageously regained freedom and peace, overcomes great obstacles, and has become a prosperous country," said the former President. "It plays an important role in Southeast Asia. It is a country that, like Chile, has chosen a foreign policy of seeking peace, security, integration, and open up trade to the world as a way to progress towards development and a means to strengthen international relations."
As someone who has witnessed the changing process of Vietnam, from wartime to peacetime, Bachelet always strives to bring the people of the two countries closer together. During her last visit to Vietnam in 2017, she happily took part in the country's floruishing tourism industry, where she met her fellow countrymen.
"Many Chileans have been preparing to come to Vietnam, attracted by the charm, kindness, and generosity of the people here. I told the Chairman (Nguyen Minh Triet) as an anecdote yesterday. While walking on the streets of Hanoi, I met at least one Chilean couple on their honeymoon."
Until now, although she no longer has the duties of the head of state, she will still return to Vietnam on the upcoming 52nd anniversary of the establishment of diplomatic relations between Vietnam and Chile. With years of peaceful and productive dialogue between herself and Vietnam, Balachet has proven herself to be a true friend to the Vietnamese people.