Former Deputy PM remembers "bones and blood" sacrifice of Vietnamese people
Former Deputy Prime Minister Vu Khoan says the joy of reunification was born out of "bones and blood of Vietnamese men and women"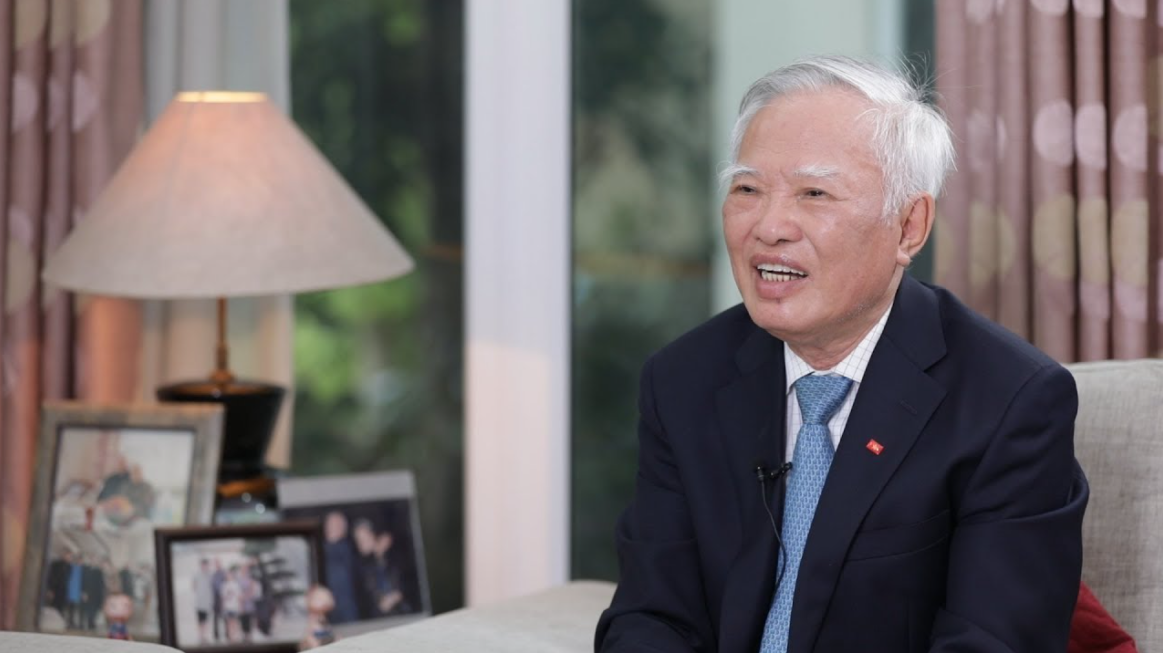 Former Deputy Prime Minister Vu Khoan. (Photo: Digital Narrative of Asia)
From the Ban Me Thuat liberation on March 10, 1975 onwards, my family was turned into a mini-combat force. Every day, people from the elderly to the young had their eyes glued to a map hanging on the wall, closely watching our army and people's rapid attack in the South. At that time, all day and all night, my comrades working at the Ministry of Foreign Affairs diligently watched international opinion and came up with responses for all kinds of people who wanted to know of our true intentions.
Then, at noon on April 30, the Voice of Vietnam radio announced our victory. A sudden joy exploded across Hanoi. The balcony of the Vietnam News Agency headquarters, which was close to my home, resounded with firecrackers. Tens of thousands of people poured out onto the Hanoi Opera House square, filling the streets around Hoan Kiem Lake and Trang Thi street, leading to Hanoi's South Gate. They headed to Ba Dinh Square and the Ho Chi Minh Mausoleum.
At that time, my comrades again rushed to collect and gather together international opinion about this historic event: receiving, translating and reporting congratulatory messages to Vietnam's leaders and people, from leaders of nations and organizations throughout globe .
To be honest, my burning wish at that time was to immediately go to the South and be immersed in the flow of fierce historic events. However, while man can make plans, God has his final say. Instead of heading south, I was assigned to go to the Soviet Union. Our Party and Government delegation, led by Politburo member, Deputy Prime Minister and Foreign Minister Nguyen Duy Trinh, attended the 30th Victory Day. I had to console myself with the fact that instead of enjoying the atmosphere of victory in my own country, I had the opportunity to witness international friends sharing the joy with our people.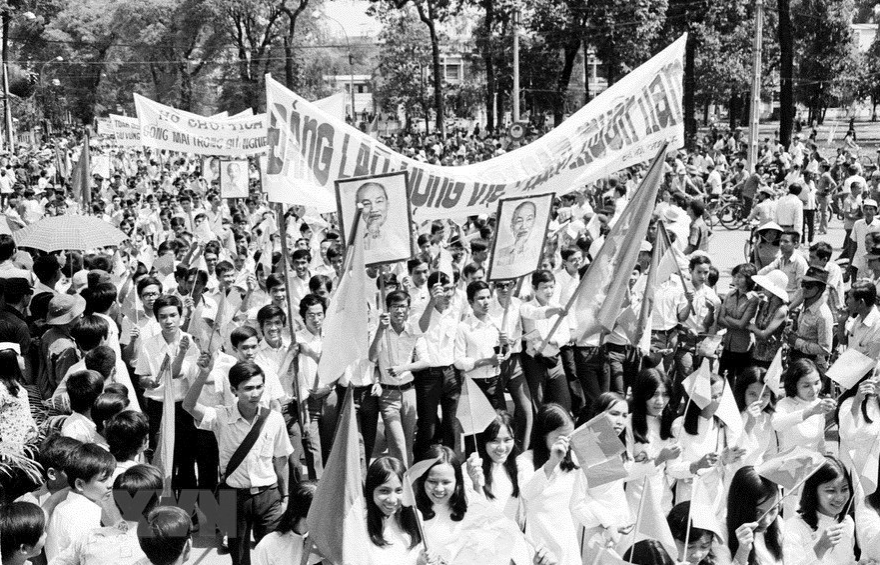 Citizens' joy on April 30, 1975. (Photo: VNA)
The Soviet Union Victory Day celebration, a gathering for hundreds of high-level delegations from different nations turned into a celebration ceremony of two great victories: the Soviet Union's on May 9 and Vietnam's on April 30.
Several thousand people in the Kremlin Congress Hall excitedly applauded and clapped their hands every time the word "Vietnam" was mentioned. Comrade Nguyen Duy Trinh's speech was repeatedly interrupted by long applause. It can be said that the April 30 victory was not only our nation's pride but also a symbol of righteousness and the desire for peace for all nations.
I did finally have a chance to visit the South. The Hien Luong bridge, despite being only hundreds of meters length, had divided the country, a tragedy for the nation and numerous families. Visiting the ruined ancient citadel of Quang Tri, I had a deeper understanding of the fact that the price of having April 30 joy was so many bones and blood of Vietnamese men and women.
The overwhelming and dumbfounded feeling when I arrived in Saigon has always followed me. It was not because of the grandeur and prosperity of the city. I have visited many others far more massive. But it was, mainly, due to my surprise that the inner-city had seen almost no damage. It was as if there had been no storm of bombs.
At that time, I suddenly remembered what the Party Central Committee First Secretary Le Duan had told his comrades when on a trip abroad long before April 30, 1975. He said we could not apply the strategy of "using the countryside to isolate the city" but must instead use the "three regions of strategy, three points of attack" (which meant constantly attacking both rural and urban areas, fighting in military, political and communication fronts) to save Saigon and the big cities. What could be seen in Saigon and Can Tho, Hue, and Da Nang convincingly demonstrated that strategic vision.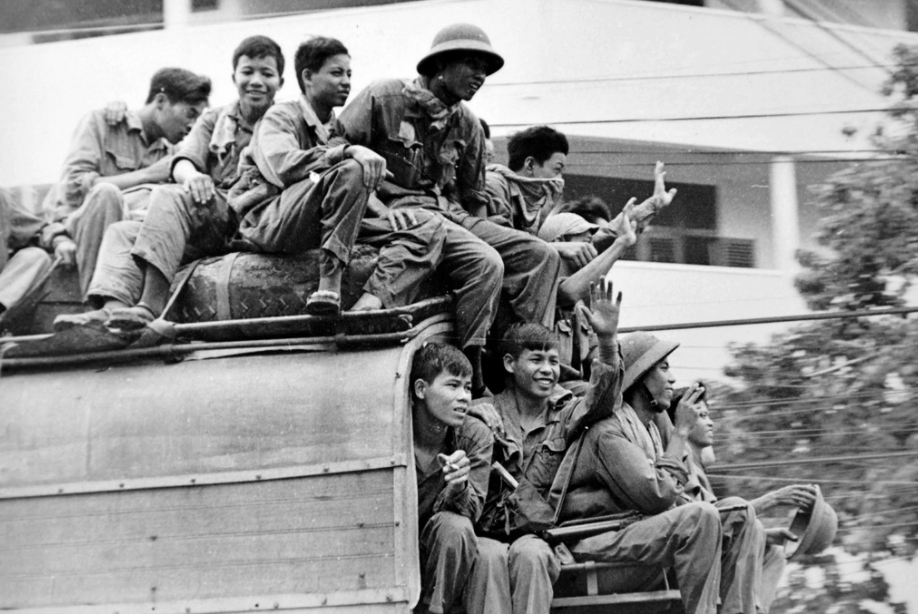 Soldiers on April 30, 1975. (Photo: VNA)
It was my first visit to the South, yet I could not understand why I found so many locations familiar. It turned out that this was due to the fact that the locations were related to fights and campaigns to protect the country, happening over decades. They had stuck in my mind.
Southern mothers leisurely chew betel in the same way as Central and Northern women do. The Southern people also share similar personalities and culture with the Northern people. Yet, they had been mercilessly separated for many decades.
In the last part of this article, I would like to share my feeling about the United States. I first came to the United States when the country had not yet normalized relations with Vietnam. When I stepped out in San Francisco Airport, a thought popped up: "It must be hard for such a powerful and modern country to accept its failure over our nation - a country of poverty and backwardness". It turned out that winning and losing were not only dependent on weapons and money, but also on soft powers: things such as cultural tradition, courage, resilience and justice. On these characteristics, our people had far more advantages.
By then, things had changed. In July 2000, U.S. President Bill Clinton received me as Vietnam's Minister of Commerce after the two countries signed a bilateral trade agreement in the United States. Standing inside the White House, he told that it was in this place where former President Roosevelt had mentioned Vietnam before we were at war. Now, the once enemies had become partners.
Only equal cooperation benefits the two countries, the regions and the world. It was a bold lesson I learned that day while standing in the White House with memories of April 30 on my mind.