Hanoi Goes Hollywood
British expat Jacob Eccleshare portays Hanoi's districts through classic films such as Alice in Wonderland, Taxi Driver, and Chinatown.
When first arriving in Hanoi, foreign guests may become overwhelmed colorful districts of Vietnam's capital city. Fortunately, British expat and artist Jacob Eccleshare has created a handy guide for tourists to better understand the varying vibes found throughout Hanoi. His paintings, entitled the Hanoi District Series, represent Tay Ho, Ba Dinh, Old Quarter, Long Bien, and Cau Giay as old-fashioned movie posters, parodying classic cinema.
Even prior to his most recent series, Eccleshare has always found artistry throughout the streets of Hanoi. He often draws images seen during everyday Vietnamese life such as lotus flowers, lucky money, and cans of Bia Hanoi. Eccleshare sees it as a perk when living in a foreign country. Creating these detailed drawings have enriched Eccleshare's time in Vietnam.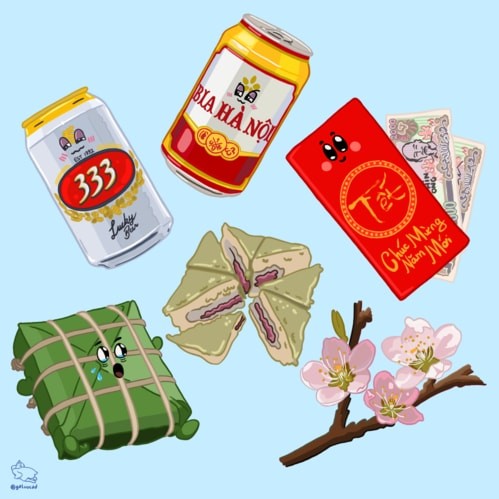 Cutesy renditions of classic Vietnamese staples.
"[Drawing] is a good way to process the things you see and to try to understand more with the culture, to connect with it in a deeper way," said Eccleshare. "I like the language, I like the daily life in Vietnam. It is a constant source of inspiration for artwork. I find it to be a rewarding experience to make content based around Vietnam."
While a deeply skilled artist, Eccleshare maintains that his art will forever remain as his hobby, not a career. "Lots of people ask me this question," he chuckles. "When something becomes a job, it takes the fun out of it."
He describes working with deadlines and specifications from clients as a chore. Content with creating art on his own schedule, he personally sells his artwork via his social media while also working as an ESL teacher. When not working, teaching, or drawing, Eccleshare explores the chaotic streets of the Vietnamese capital, looking for new ideas.
In his Hanoi District Series, Eccleshare pairs his love of Hanoi with his love of classic film. Each drawing in the series mirrors movie posters from the 1940s to the early 1980s, a time in which movie posters were heavily stylized and as captivating as the films they advertised. Eccleshare thinks of old-fashioned movie posters as a type of "lost art."
"I really like the design of old movie posters," said Eccleshare, who studied film in university. "I thought about how I could incorporate Vietnamese elements into classic posters. What would the movie poster be if it was a Vietnamese movie?"
Basing each poster on a district in Hanoi, Eccleshare introduces audiences to Hanoi through their understanding of American cinema. For example, to capture the madcap atmosphere of bustling Old Quarter, Eccleshare represents the historic area as a poster for the Disney classic, Alice in Wonderland.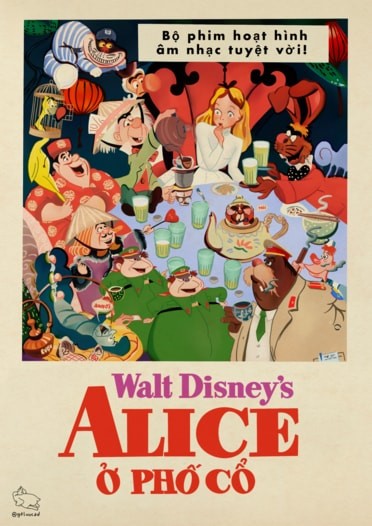 In Eccleshare's version of Alice in Wonderland, the Mad Hatter sports Vietnam's iconic non-la hat and Alice wears an elegant Ao Dai.
Many first time travelers can relate to the wonderful chaos of Old Quarter. "There's some truth in the idea that as a foreigner arriving here for the first time it can be an overwhelming experience," explains Eccleshare. "You're kind of thrown into a place which is completely weird and wonderful." The sizzle of street food, the constant rush of Hanoian traffic, and numerous beer joints paints the Old Quarter as a delightfully mad tea party just like the famous scene in the 1951 animated film.
While his "Alice" poster recently gained a lot of attention on social media, Eccleshare's first began the project four years ago with a different district and genre. His first drawing in the series takes aim at Tay Ho's boisterous expat community. Inspired by Deliverance, this poster is one Eccleshare's most provocative pieces as it portrays Tay Ho not as a multicultural oasis but as sinister watering hole that you must escape.
Tay Ho's landmark swans make an appearance in Eccleshare's parody of Deliverance.
"I think at that time I was getting tired of living around Tay Ho," admits Eccleshare. He believes the poster is his cynical response to briefly living within a bubble of foreigners.
Currently, Eccleshare lives in Ba Dinh and enjoys living amongst Vietnamese citizens. In some cases, the expat finds the Vietnamese way of life more agreeable. However, even with a good grasp of the Vietnamese language, he struggled to get a taxi during his first few years in Hanoi. Venting his frustration with the taxi drivers in his neighborhood, Eccleshare represents Ba Dinh as a parody of Taxi Driver, a 1971 drama about the crazed titular character.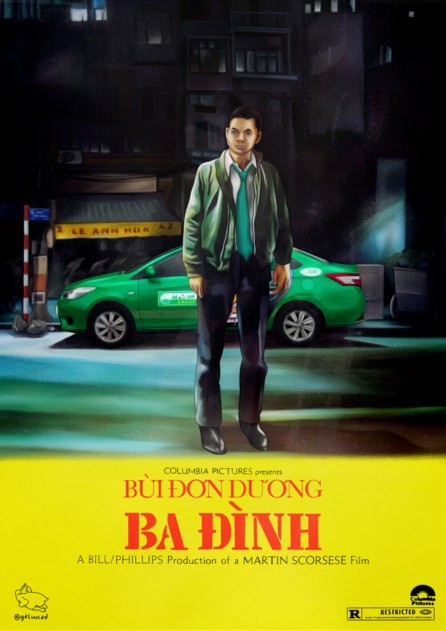 This poster imagines Robert De Niro's character as an employee of Mai Linh Taxi Group.
For Cau Giay, Eccleshare portrays the sprawling district as Chinatown, a gritty 1974 neo-noir. When commuting to work, Eccleshare always notices a large police presence, standing out from the traffic in their crisp, tan uniforms. As the American film follows a private detective, it makes sense for Eccleshare to include a Vietnamese policeman as the protagonist for his poster.
This project allows Eccleshare to flex his knowledge of both American and Vietnamese film history. For an added detail, Eccleshare modeled the leads after two legendary Vietnamese actors; Kiều Chinh as Faye Dunaway's character and Nguyễn Chánh Tín standing in for Jack Nicholson. The decision lends more authenticity to the poster, making it seem like it a classic from some alternate universe.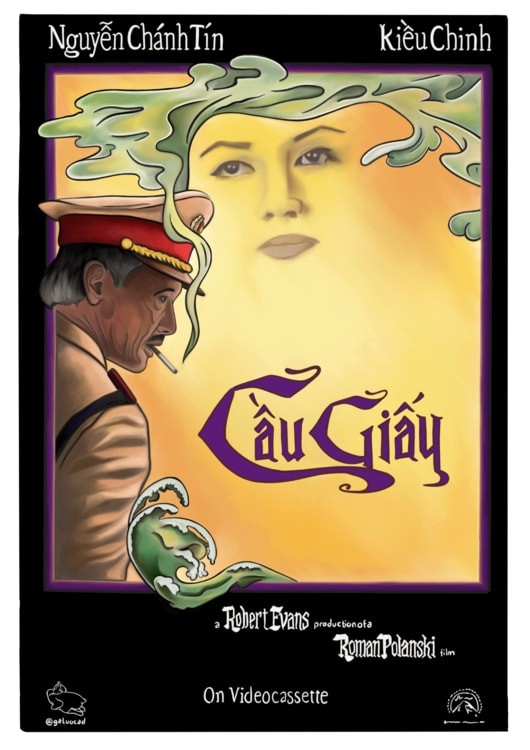 The intricate details of this Chinatown parody may cause one to do a double-take.
Eccleshare pays homage to several other highly regarded Vietnamese actors in his riff on the 1979's Manhattan. Mimicking the poster of the acclaimed romantic comedy, Eccleshare swaps New York's Queensboro Bridge for Hanoi's Long Bien Bridge. The cast list features Lý Hùng, Y Phung, Dustin Nguyen, and other Vietnamese movies stars that entertained the homeland over the generations. By highlighting these actors, Eccleshare puts a spotlight on Vietnamese artistry in his own work, thus giving back to the country that inspired him.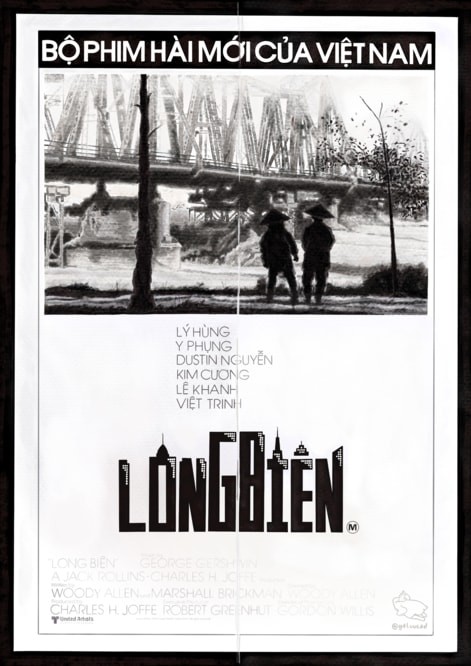 The famous black-and-white film represents the vibrant Long Bien district.
Although Eccleshare is done with the series, he may return with more parodies of other Hanoian district if inspiration strikes again. Until then, the talented artist surveys the Vietnamese capital, like a Hollywood director on gigantic film set, looking for fresh ideas.