Hanoi has finished its field hospital building in 7 days
In a quick response to Covid-19 spread and well equip treatment conditions to potential patients, Hanoi has accomplished its field hospital with 250 beds in 7 days only.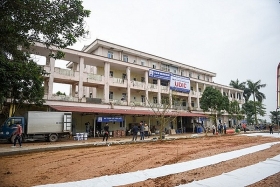 The field hospital for Covid-19 patients in Melinh has been built completedly in 7 days. (Photo: ANTĐ)
On 24 March, Hanoi People Committee Secretary Vuong Dinh Hue was working with Hanoi Management board of businesses and other corporations in Hanoi for finishing the mission of building the field hospital.
General Director of Urban Infrastructure Development Investment Corporation (UDIC) Nguyen Van Luyen said that his company was assigned to build the field hospital in Me Linh by Hanoi Chairman for Covid-19 patient treatment.
The assignment was identified to be the most important for quick respose to the disease spread, so the company has mobilized and encouraged 300-500 staffs everyday to complete the project in 7 days. On 24 March, the field hospital in Me Linh has been built completedly for 1 week sharp. The company managers said that the project had requested much effort and faced to more difficulties than ever.
He also confirmed that his corporation was assigned to build the 200-bed field hospital and the room numbers subsequently rose to 250 beds. The hospital is supposed to treat Covid-19 positive patients, not a quaratine zone, therefore more complicated technical standards are required strictly.
Hanoi Secretary expressed his impression and high appreciation to the accomplishment. He emphasized this to be considered a model of quick response to the Covid-10 disease. " To accomplish a 250-bed field hospital specializing in treatment for Covid-19 patients vin 7 days was really a challenge" he said.
vietnamtimes.org.vn