Hezbollah Risks War To Test Israel With First Rocket Attack In 15 Years
The militant Hezbollah group fired a barrage of rockets toward Israel on Friday, and Israel hit back with artillery in a significant escalation between the two sides.
Israeli artillery fires toward Lebanon from a position near the northern town of Kiryat Shmona following Hezbollah rocket fire from the Lebanese side of the border, on August 6, 2021. (Photo: AFP)
The rockets fired at northern Israel on Friday were the fifth such attack from Lebanon in three months, but the first directly and openly carried out by the Hezbollah terror group since the 2006 Second Lebanon War - indicating a clear change in the dynamics on that frontier, after 15 years in which conflict bubbled just below the surface.
The Blue Line - the unofficial but internationally recognized border between Israel and Lebanon — has largely been quiet in the decade and a half since the war, with just a handful of exceptions, even as the Israel Defense Forces and Iran-backed Hezbollah continued to wage a quieter conflict with one another elsewhere, mostly in neighboring Syria.
Generally speaking, Israel has refrained from conducting strikes in Lebanon, and Hezbollah too halted rocket fire from the land of the cedars. But in recent months, that arrangement has started to break down, according to the Times of Israel.
Footage of Hezbollah rockets being fired into Israel from southern Lebanon, August 6, 2021.
(Video credit: Al-Manar Network)
Iran's Revolutionary Guard commander Major General Hossein Salami responded to recent threats by Israeli Defense Minister Benny Gantz, who warned the IDF was "ready to attack" Iran and recommended military action, and Prime Minister Naftali Bennett, who said Israel could "act alone" against Iran, which would pay "the price" for its actions across the region.
Israel said it fired back after 19 rockets were launched from Lebanon, and Prime Minister Naftali Bennett swiftly convened a meeting with the country's top defense officials. No casualties were reported. "We do not wish to escalate to a full war, yet of course we are very prepared for that," said Lt. Col. Amnon Shefler, spokesman for the Israel Defense Forces.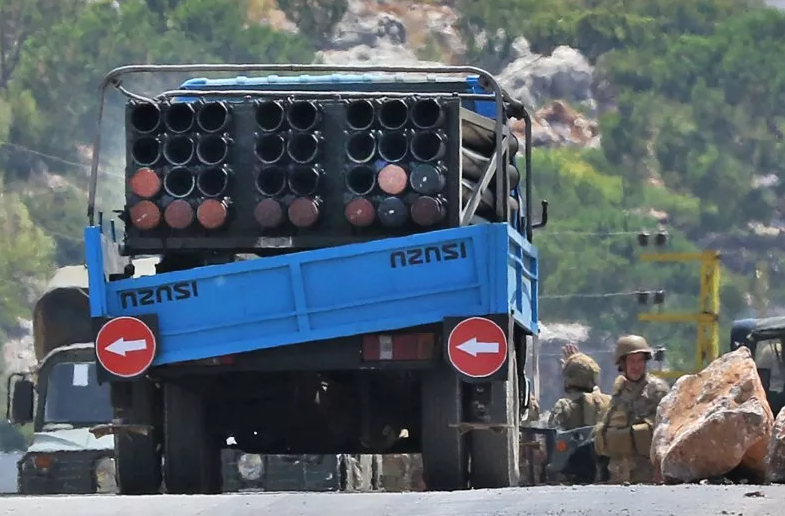 Lebanese soldiers stand next to a truck carrying a multiple rocket launcher after confiscating it, in the southern village of Chouaya, on August 6. (Photo: Getty)
Long-standing conflict
Israel has long considered Hezbollah, which is based in Lebanon, its most serious and immediate military threat. The tensions come at a politically sensitive time in Israel, where a new eight-party governing coalition is already trying to keep the peace on another border under a fragile cease-fire that ended an 11-day war with Hamas' militant rulers in Gaza, said AP.
During May's conflict between Israel and terror groups in the Gaza Strip, Palestinian factions in Lebanon fired rockets at northern Israel three times, apparently with the tacit approval of Hezbollah, which maintains strict control over southern Lebanon. A Palestinian group again fired rockets at northern Israel earlier this week.
Israel estimates Hezbollah possesses over 130,000 rockets and missiles capable of striking anywhere in the country. In recent years, Israel also has expressed concerns that the group is trying to import or develop an arsenal of precision-guided missiles.
Israel has repeatedly threatened to attack Lebanese border villages where it accuses Hezbollah of hiding rockets. An Israeli security official said Friday the military was carrying out airstrikes unlike any in years and was planning for more options. The official spoke on condition of anonymity to discuss military policy.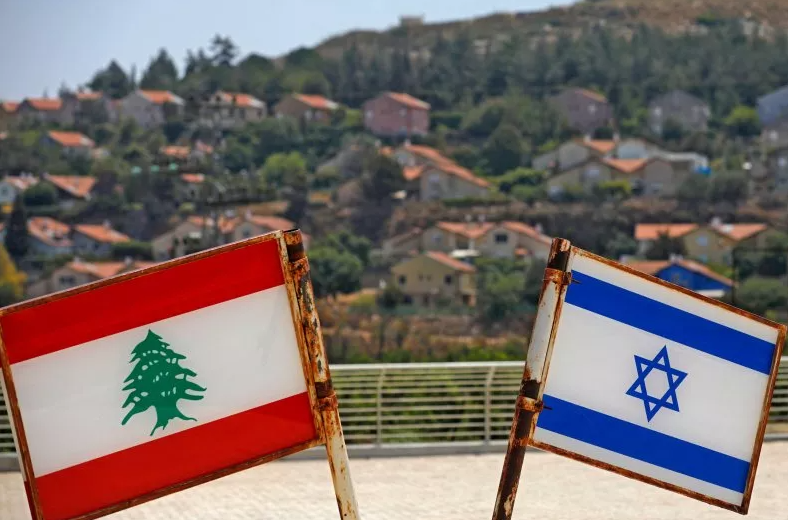 A picture taken on August 5 from the northern Israeli town of Metula near the border with Lebanon, shows the flags of Lebanon and Israel flags. (Photo: Getty)
International effort to control tension
The U.N. peacekeeping force said it was working with both sides to draw down the tensions and avoid further hostilities.
"UNIFIL is actively engaging with the parties through all formal and informal liaison and coordination mechanisms to prevent the situation from spiraling out of control," the statement said. "We are coordinating with the Lebanese Armed Forces to strengthen security measures throughout the area of operations."
Also speaking on behalf of the U.N., Special Coordinator for Lebanon Joanna Wronecka expressed "great concern" in a separate statement. The statement called on "all sides to refrain from violence and restore calm, in full respect of Resolution 1701 (2006)," the U.N. Security Council decision that ended the last Israel-Lebanon war, "and to preserve security and stability."
The United States has also blamed Iran for the attack on Mercer Street, one of a series of maritime incidents to play out in the periphery of the Persian Gulf since 2019. Still, the White House has repeatedly backed Israel's "right to defend itself," including in response to Wednesday's airstrikes on Lebanon. "The United States condemns in the strongest terms Hizballah's rocket attacks into Israel," spokesperson Ned Price said. "This violence puts Israelis and Lebanese at risk and jeopardizes Lebanon's stability and sovereignty."