Ho Chi Minh City Extends More Support to Expats During Pandemic
Expats in HCMC are given essential goods, accommodation and financial supports from local authorities and organizations
HCMC People's Committee has issued a plan to provide accommodation for foreigners facing difficulties during the pandemic. The needy expats will be transferred to a quarantine center in Nha Be district and given healthcare, meals and daily necessity. Authorities will return them and give financial aid once the pandemic in their localities improves, making sure all have a stable place to live and enough foodstuffs.
The city has asked the People's Committee of all districts and Thu Duc City to review and compile lists of all expats having struggling times, especially with accommodation, for timely support during the social distancing time.
The Department of Foreign Affairs will work with foreign representative agencies in the city to make sure no needy foreigners are left behind.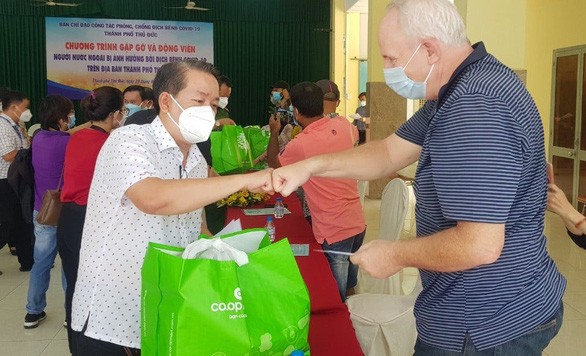 A Thu Duc City official gives aid portion to an expat. Photo courtesy of Thu Duc city
No one is left behind
Meanwhile, many organizations and enterprises also lend a helping hand.
Khang Dien House Trading and Investment Jsc. has recently partnered with Vietnam Youth Union in HCMC to launch the program "Joining to Support Anti-pandemic Efforts". The program aims to help city dwellers struggling in the pandemic, including expats.
Volunteers fluent in English, French, Chinese, Korea, Japanese will help collect information from foreigners in need of help and hand over them aid packages, which include essential goods worth US$ 18 and US$ 66 in cash.
"Many foreigners are stranded in the city due to the coronavirus and barely have anyone to lean on. We want to offer them a hand. This is the humane tradition of Vietnamese people," a representative of Khang Dien company told Tuoi Tre.
Le Anthony, from the US, was among the first three expats to benefit from the "Joining to Support Anti-pandemic Efforts" program.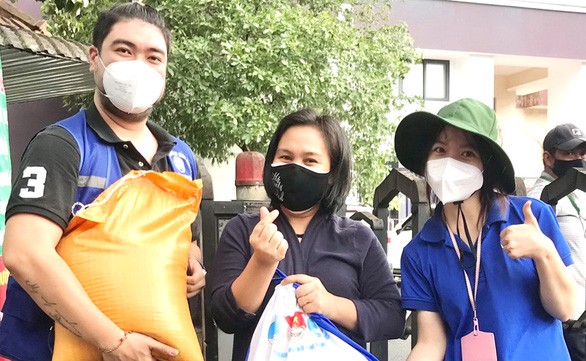 Volunteers at "Joining to Support Anti-pandemic Efforts" program. Photo: Tuoi Tre
"I was very surprised I was invited to the gift-giving ceremony of such a socially meaningful program," Anthony said. "From the bottom of my heart, I feel thankful for the help. I have been struggling a lot in the last few months after my teaching job."
Jwyanza Hobson, another American national living in HCMC's District 1, also expressed his gratitude for the care and support he got from city officials and organizations.
"Even though the social distancing order keeps me staying at home, I still hope one day I can join the volunteers to contribute to the pandemic fight," the expat said.
Meanwhile, Ukrainian expat Andrii Buhaiov has virtually connected with other foreigners in District 4 after getting Covid supports from the program. The group will report any struggling expat to "Joining to Support Anti-pandemic Efforts" organizers after collecting their initial information.
Thousands of Recipients
"Joining to Support Anti-pandemic Efforts" program has so far handed aid packages to over 1,000 expats living across the city. Another 1,000 Vietnamese people heavily affected by the latest outbreak also received essential goods rations, each worth over US$ 13. Frontline workers at field hospitals, quarantine centers and blockaded areas also benefit from the charitable program.
A health worker instructs a Covid-19 patient on how to do physical therapies to restore lung functions in HCMC's District 8, September 21, 2021. Photo: VNE
HCMC, Vietnam's biggest epicenter since the fourth outbreak started on April 27, starts to ease its four-month-long social distancing order on October 1. Most public and private production and service facilities are allowed to reopen, except for some sectors considered as posing high Covid infection risk.
On the list of those that can resume operations starting Oct. 1 are:
- Production facilities inside industrial parks, export processing zones, hi-tech parks in 21 districts and Thu Duc City as well as the Quang Trung Software Park in District 12;
- Cooperatives and households engaged in agricultural, forestry and fisheries production and trading, agricultural production support services, and veterinary practice;
- Traffic and construction works;
- Facilities providing medical examination and treatment, rehabilitation, physical therapy, establishments trading in pharmaceuticals, medical supplies and equipment, hospitals and clinics providing aesthetic services, general and specialized clinics;
- Firms engaged in the supply of food and foodstuffs, shopping malls, mini marts, convenience stores, wholesale markets, and traditional markets;
- Petrol stations, chemical traders, electricity and water, fuel, repair and maintenance service providers;
- Public and security service providers, public utilities like water drainage, environmental sanitation, environmental monitoring and treatment, and maintenance of public parks and trees, technical infrastructure; car and motorbike wash services; funeral services; and transport;
- Foreign representative offices, credit institutions, bank branches, treasury, business establishments directly related to credit activities, logistics, securities, notaries, lawyers, bailiffs, businesses providing auctioning, commercial arbitration, commercial mediation, legal advice and other judicial services;
- Post and telecommunication services, publishing, businesses using e-commerce platforms; books and stationery stores, libraries, galleries, art exhibitions, photography services, businesses providing school supplies, tools, eyewear products and informatics equipment;
- Warehouses and facilities for stockpiling, gathering, and transiting goods, supporting services for transporting, exporting and importing goods; commercial centers, supermarkets, convenience stores; grocery stores, goods retail establishments, wholesale and traditional markets.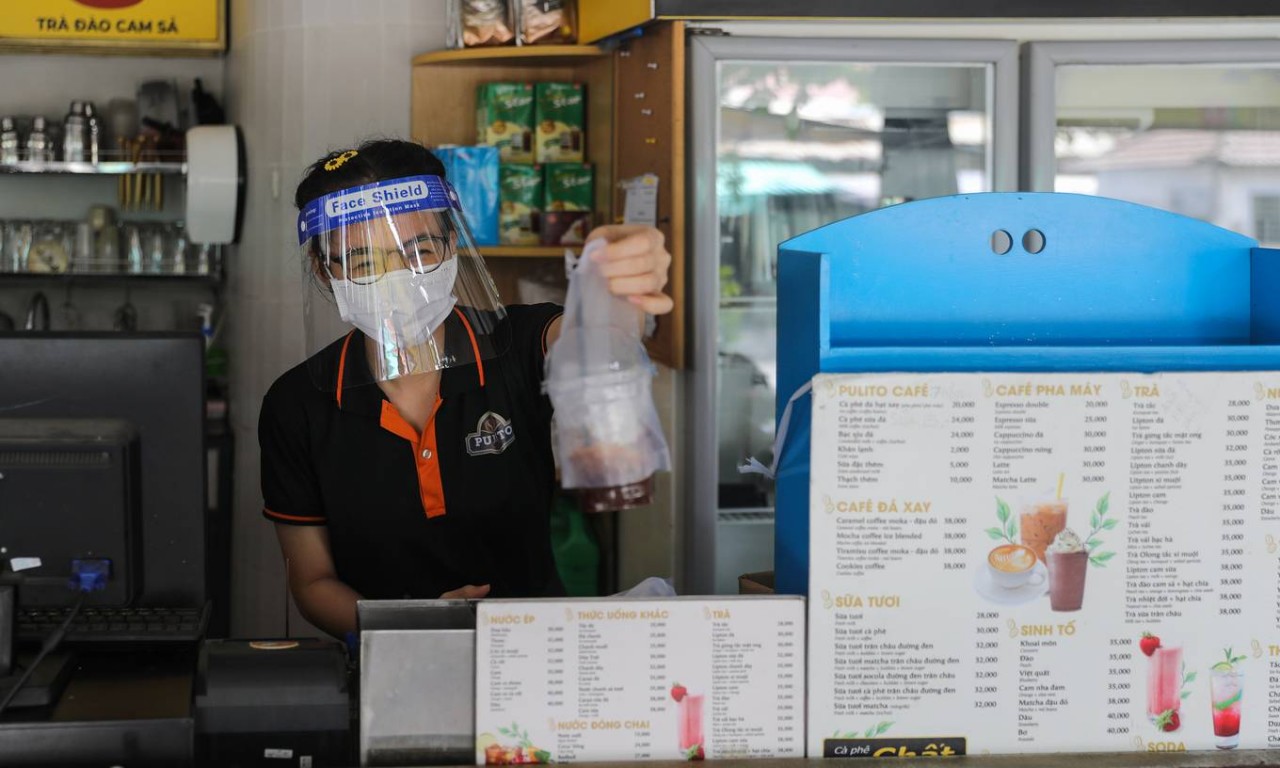 A coffee house offers takeaways in HCMC's District 7, September 16, 2021. Photo: VNE
Restaurants and eateries, meanwhile can only continue to serve takeaways, unless they are authorized by competent authorities to provide onsite services.
Hair salons can resume operations at half capacity, VNE reported.
Museums can receive up to 10 visitors at once.
Arts and sports events can be held at a maximum scale of 70 people and all participants must be fully vaccinated or have contracted and recovered from Covid-19, meaning carrying green pass.
Residents can engage in physical exercises but all such activities can have no more than 100 in one place if all participants have the green pass. Otherwise, the number of participants must be limited to 15.
Resorts and establishments providing sightseeing tours can resume activities at 50 percent of their capacities but have to meet the Health Ministry's set of criteria for safety assessment of Covid-19 prevention and control.
Religious events can have no more than 70 in one place if all participants have the green pass. Otherwise, the number of participants must be limited to 10.
Indoor meetings are subject to the same limit. While the maximum scale for outdoor events are 100 if all participants are green pass holders, and 15 otherwise.
Weddings and funerals can gather up to 20 people at once.
The city continues to let all schools hold online classes, for now. Education units that involve fully vaccinated teachers and students can organize in-person classes that meet Covid safety requirements.
Public passenger transport by road, rail, and waterway can resume operations at half their maximum capacity.
Transportation of goods between HCMC and other localities can operate as usual, but all parties must ensure Covid-19 prevention measures and all drivers must present a QR code that allows them to travel on specific routes.
Activities and businesses that continue to be suspended include bars, spas, karaoke and massage parlors, beauty care services, on-site catering services, cinemas, discos, video games, events, cultural, artistic, launching ceremonies (unless permitted by competent agencies), street vendors, including lottery ticket vendors.