In photo and video: Lifelike clock paintings made of glue, sand and stone
Using resin glue, gravel, sand, a Vietnamese creates unique and lifelike handmade clock paintings with images of islands and seas.
The beautiful sea and islands of Vietnam in the clock's picture. Photo: ThanhNien
After two years of studying the art of pouring resin glue, which requires a lot of meticulousness and creativity, Le Quang Hung, 38 years old, residing in Hanoi can create the first unique watch painting showing the sea and lively island.
Use dryer to create waves
Looking at clock paintings of long sandy beaches, white foaming waves, mossy rocks to the green trees on the island, some people do not believe they are completely handmade with resin glue, acrylic color and some other materials such as stone, plaster, sand.
Hung shared that a number of products is inspired by real-life landscapes, such as Cau My - Co To stone beach (Quang Ninh province), Da Dia Reef (Phu Yen province).
The clock paintings of the beach and natural scenery were built from Hung's imagination or based on historical plots and events. "I also made a clock painting to simulate the event that the explorer Christopher Columbus' ship discovered America," Hung said.
Hung made his own clock with blue sea and white sand from glue and simple materials. Video: ThanhNien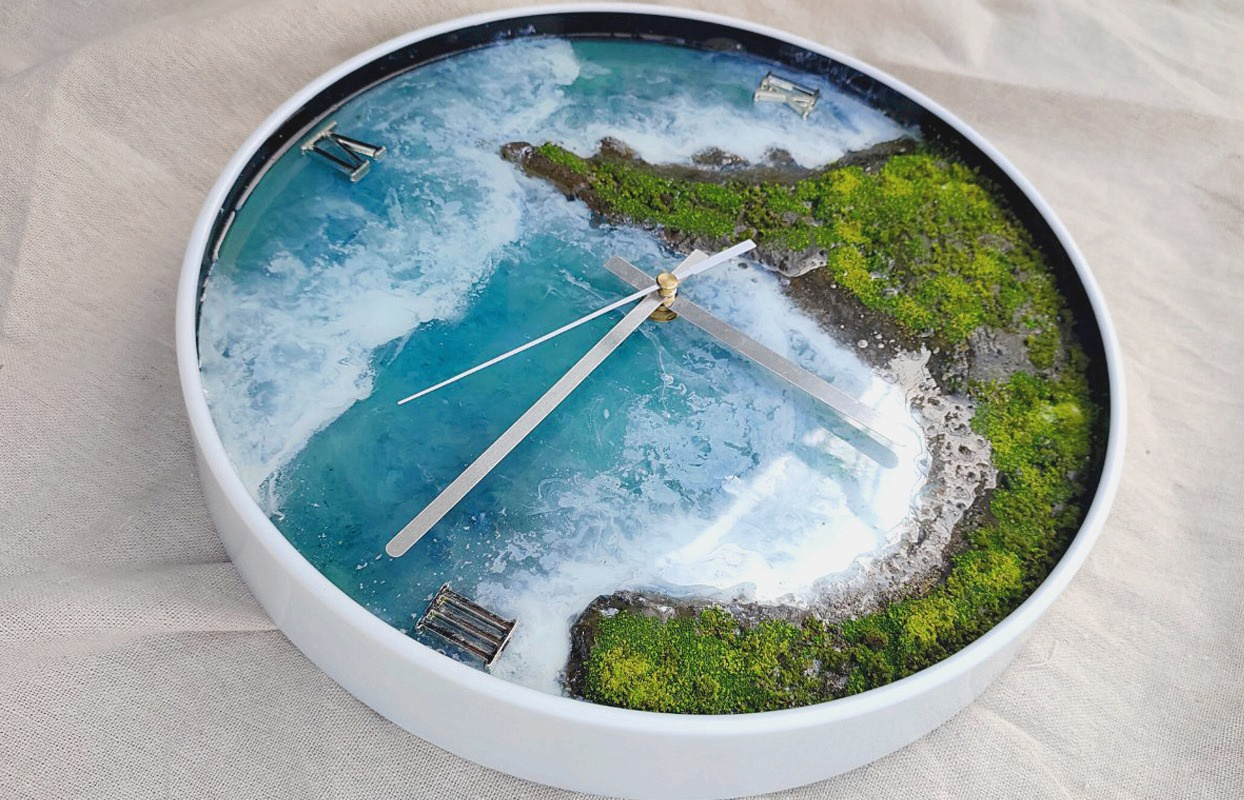 Photo: ThanhNien
Photo: ThanhNien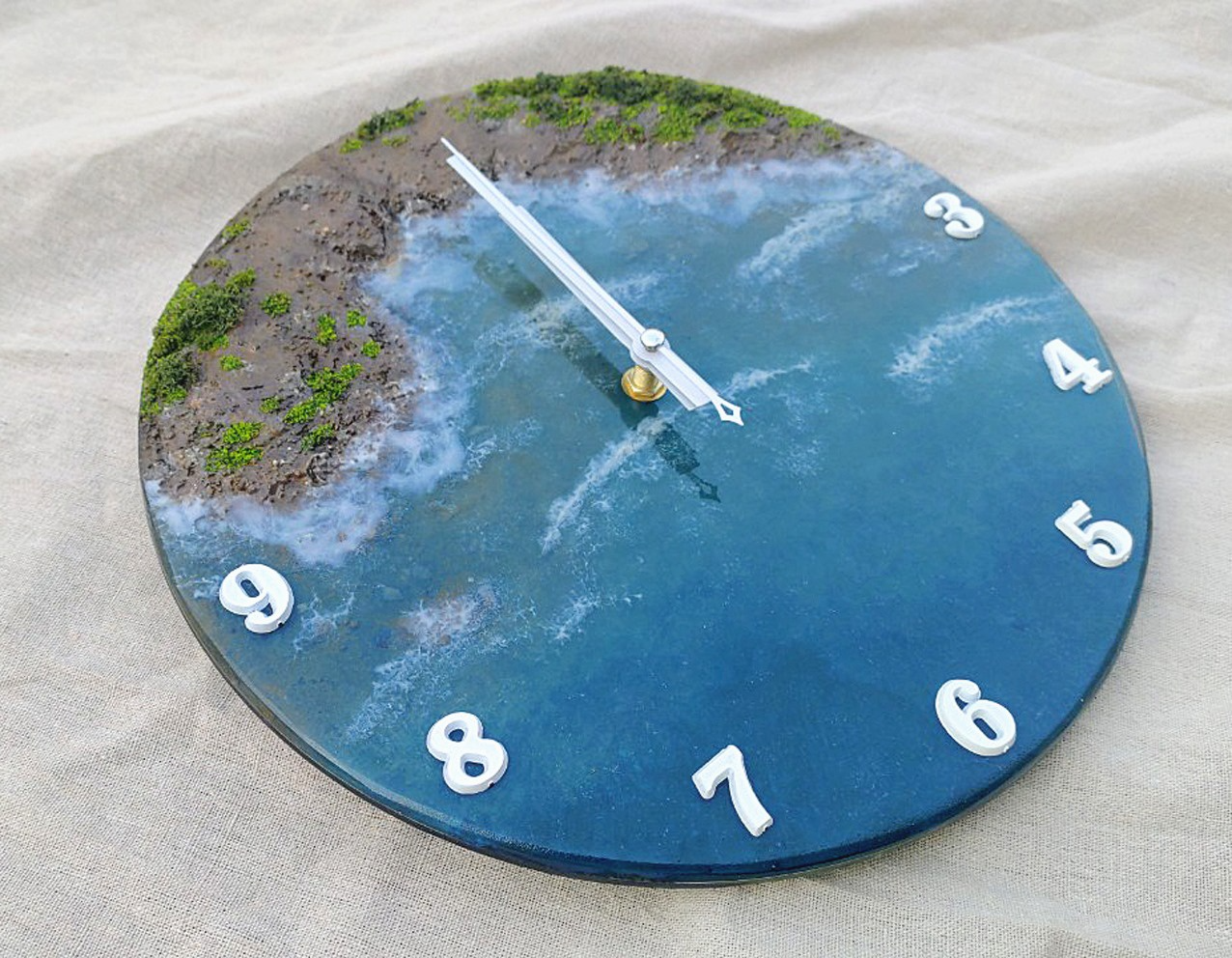 Hung makes clocks with images of the sea, islands from glue, and other materials. Photo: ThanhNien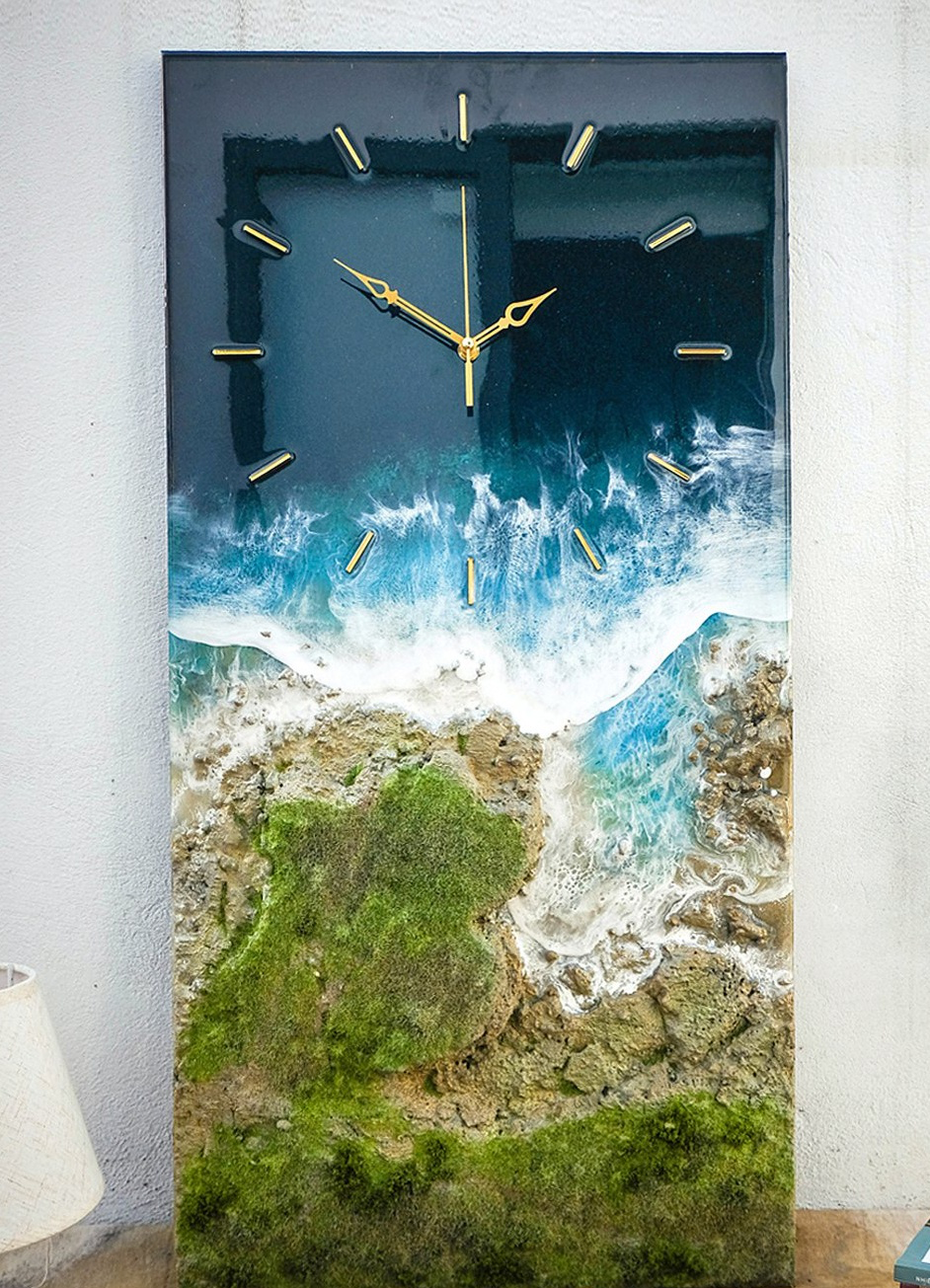 One of three clock paintings simulating Cau My - Co To beach (Quang Ninh province). Photo: ThanhNien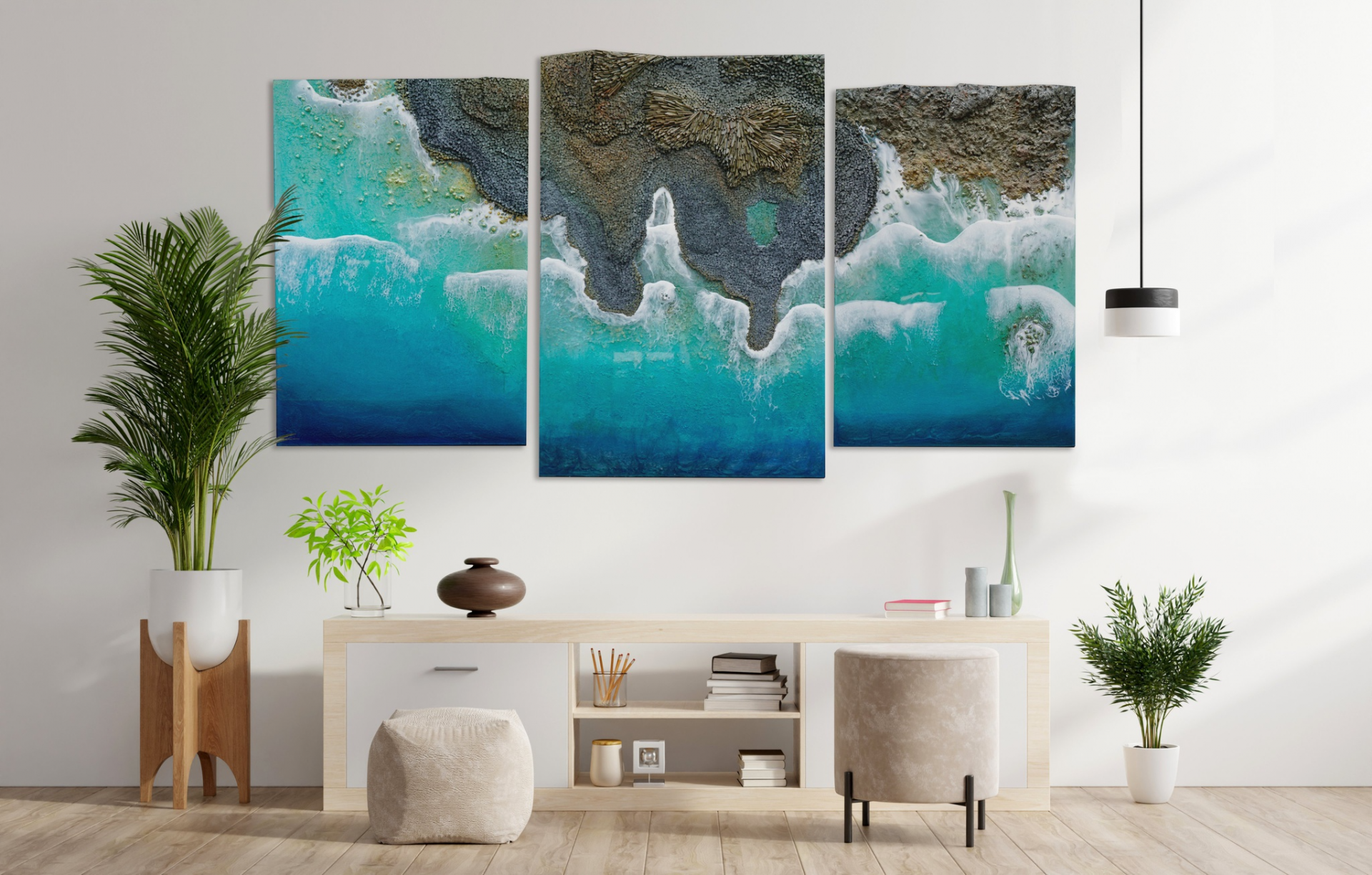 Set of clock paintings of Da Dia Reef. Photo: ThanhNien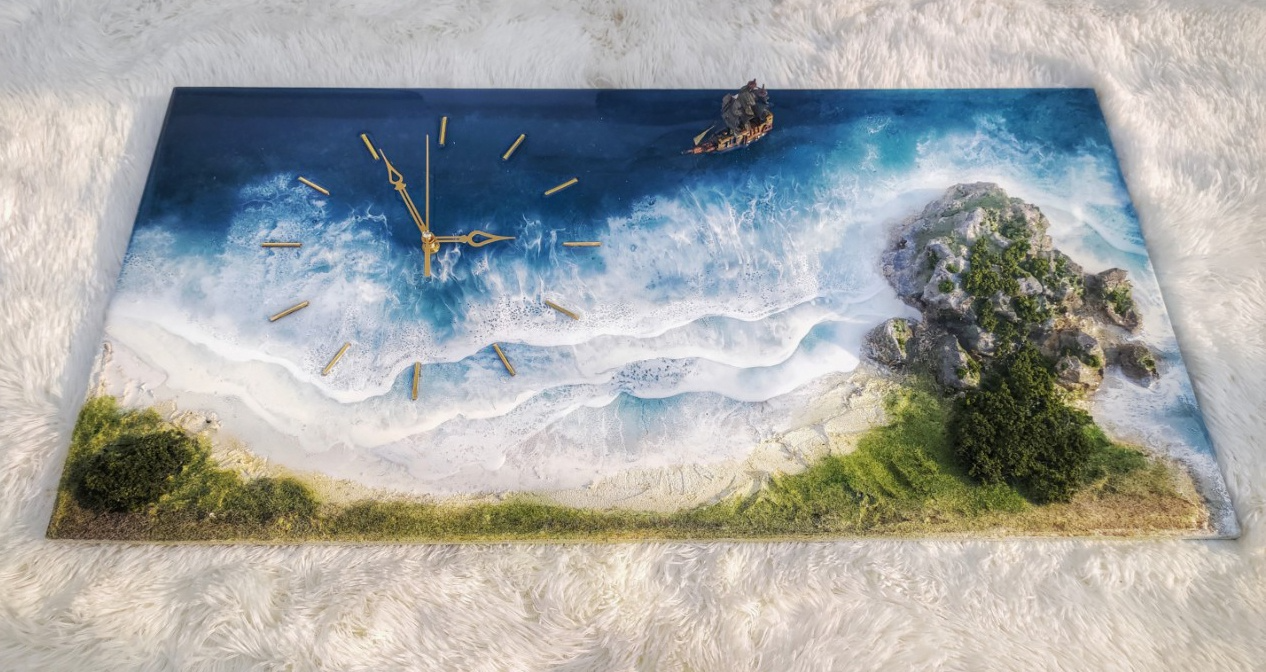 Recreating the story of Columbus' ship finding the America. Photo: ThanhNien
In the picture of a clock with blue sea and a complete island, to create a lifelike layer of waves, Hung used to take up to four months to do it over and over again to succeed.
"The part of creating waves is the most time consuming, because I have to be picky about choosing materials such as resin glue, mixing color and calculating the bonding time. I use a hair dryer to create waves. To make it look like the real thing, it is necessary to create a layer for each wave so that it is soft," Hung said.
Notably, Hung did not go to school for industrial art or architecture and was only taught by his father and brother about fine art and photography.
What is the art of pouring resin glue?
Glue resin (Epoxy Resin) is a new shaping material capable of creating diverse and creative shapes.
Using resin as a creative art material was first developed in the US and Europe, and then developed in Asia.
Using resin glue to create many highly artistic products (3D table tops, furniture, jewelry, interior decorations, wall paintings, 3D floors) is familiar to many countries from 8 to 10 years ago.
In Vietnam, this type has only been introduced for about two years. Some young people have used resin glue to create vivid 3D fish paintings.
Photo: ThanhNien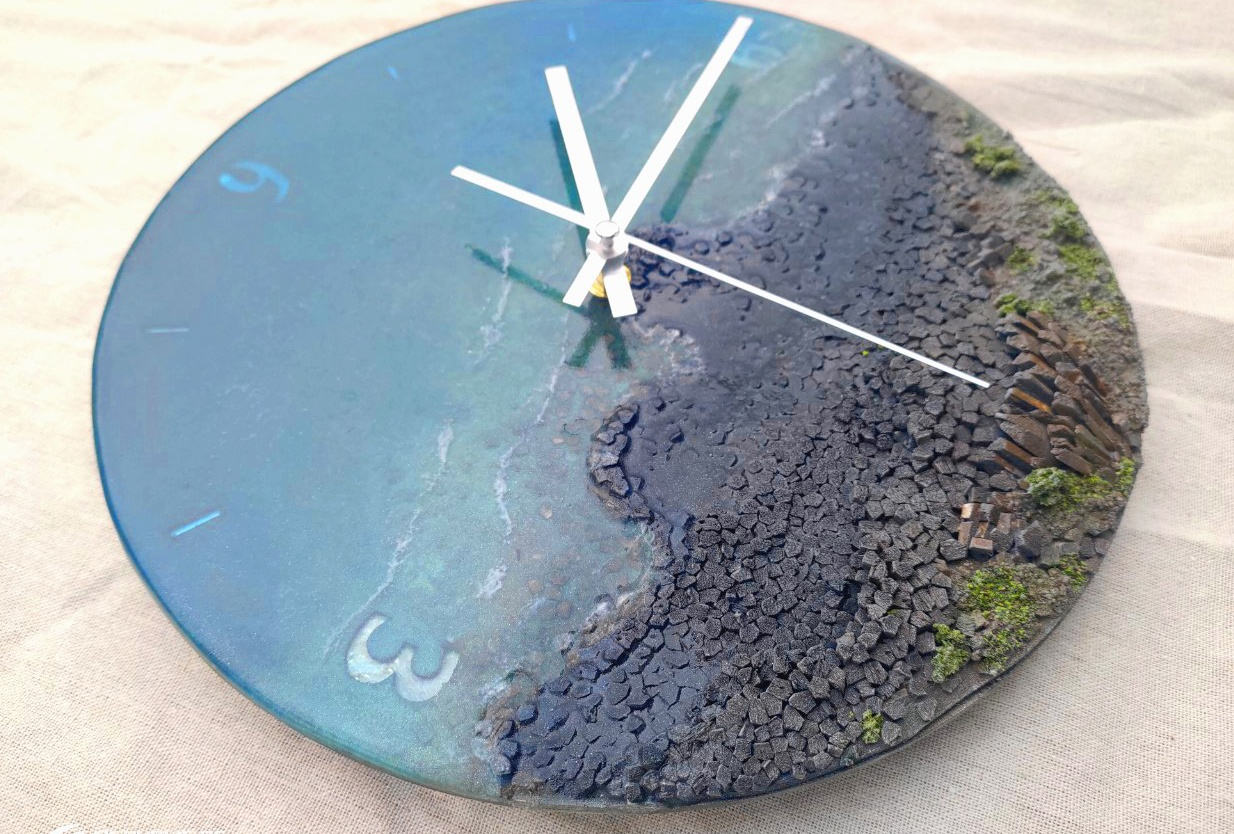 Clock painting of Da Dia Reef. Photo: ThanhNien
The love for Vietnam's sea and islands
Many of Hung's decorative clock paintings depict beautiful and majestic nature images through the azure waters and islands.
"I always wish to have more time to explore all the beautiful beaches and clear blue waters of Vietnam so that I can reproduce different natural beauty on clock paintings. Through the products, I want to let people feel peace, relax and have more love for nature," Hung said.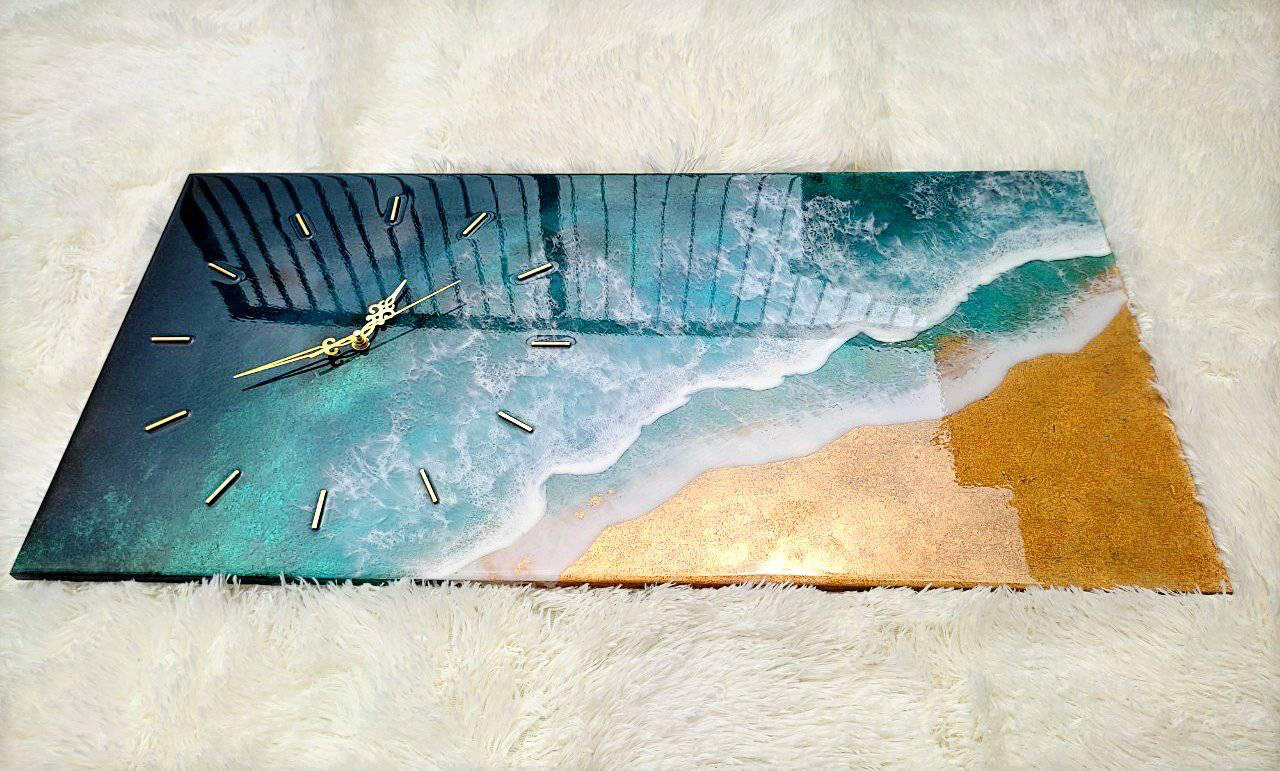 Photo: ThanhNien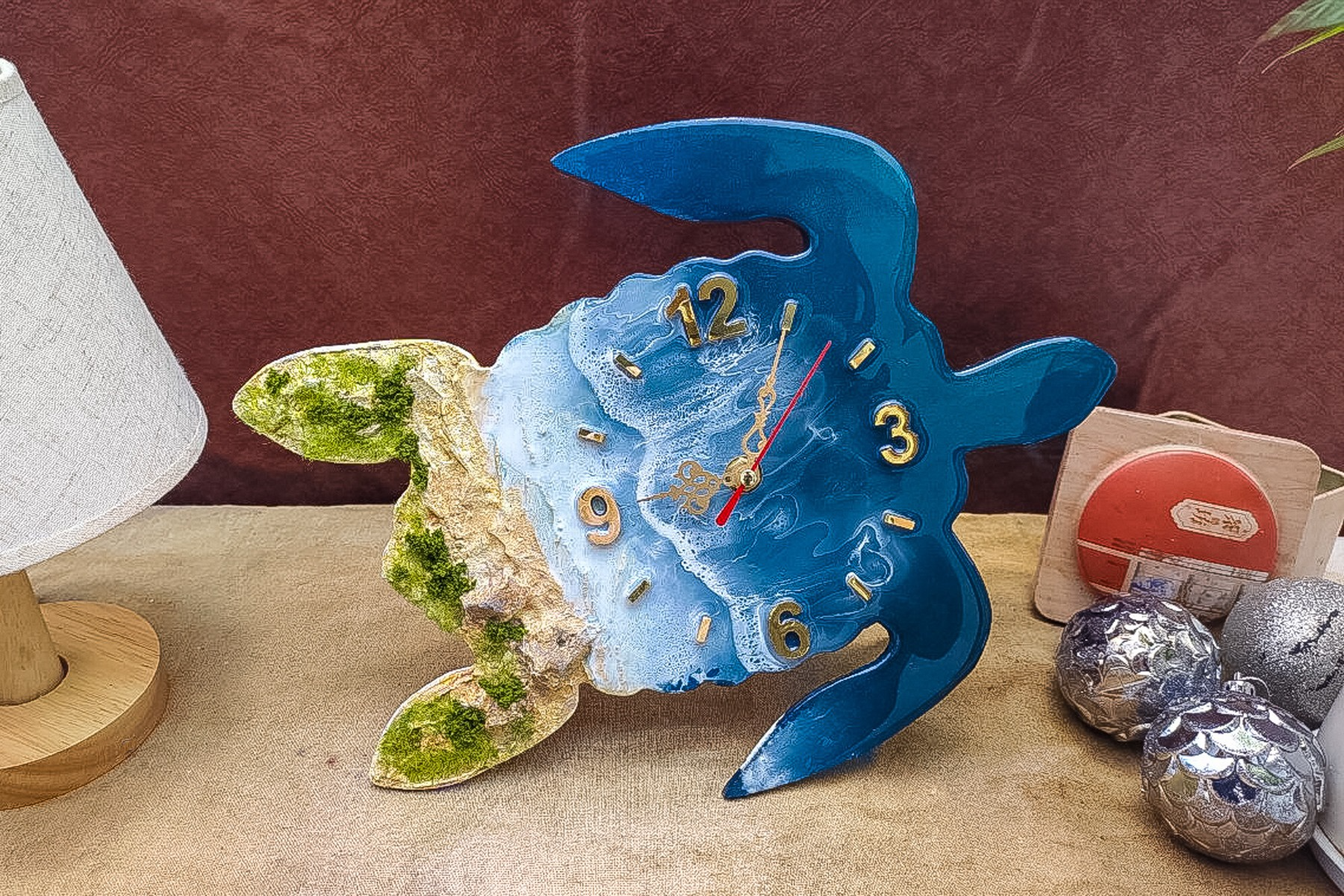 Photo: ThanhNien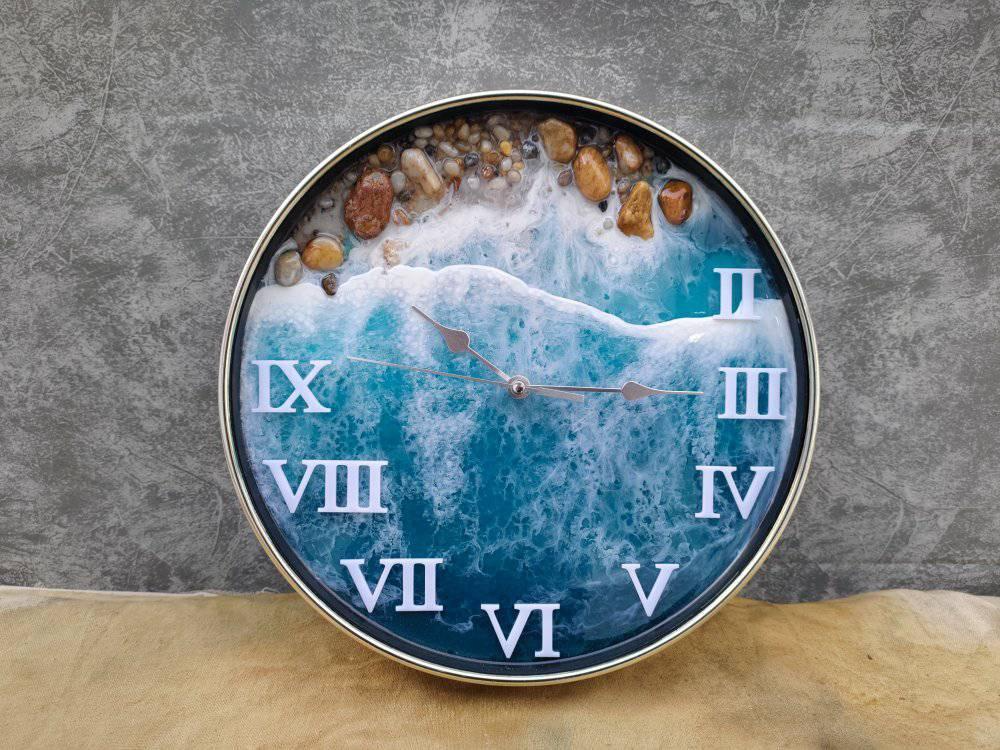 Photo: ThanhNien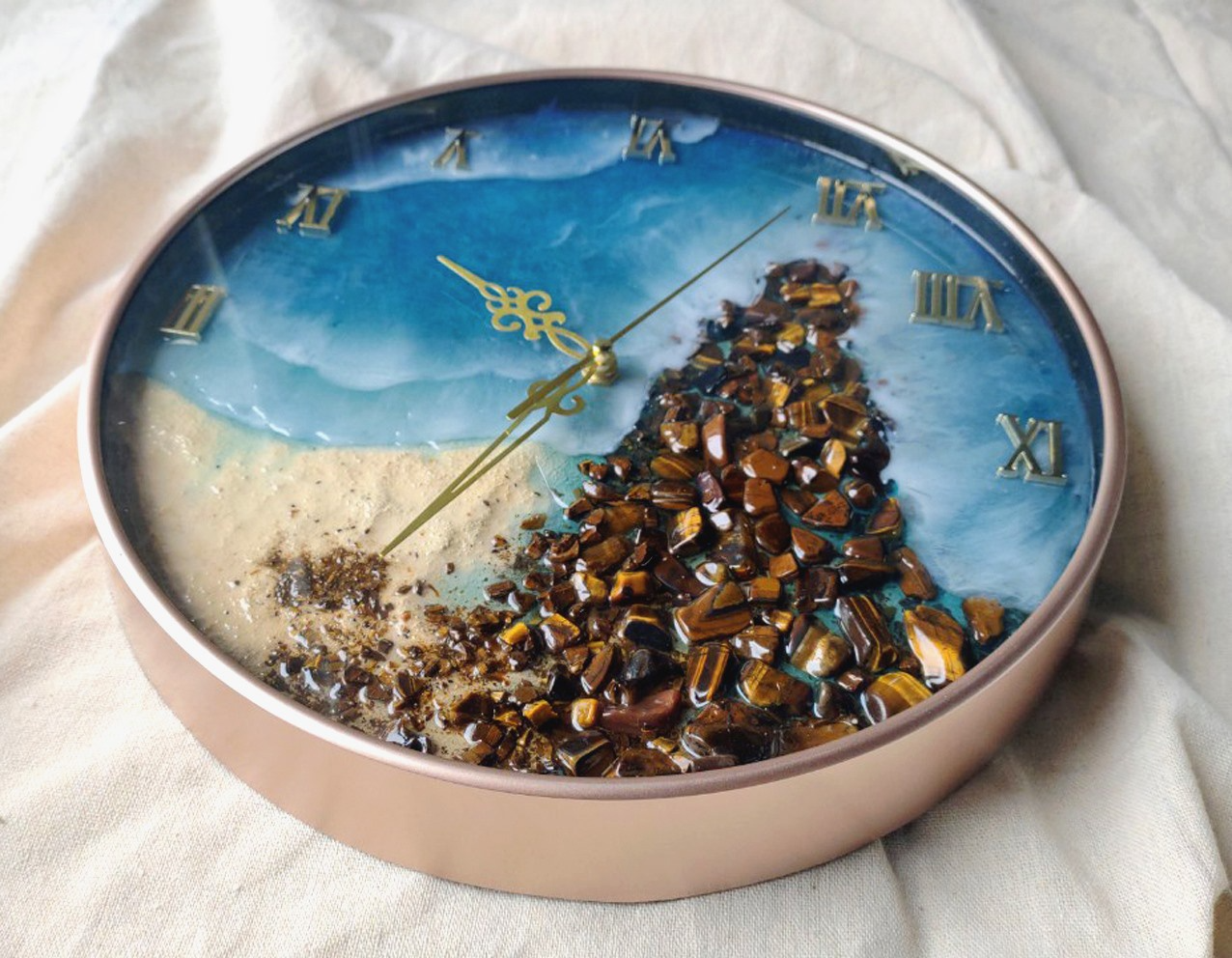 Photo: ThanhNien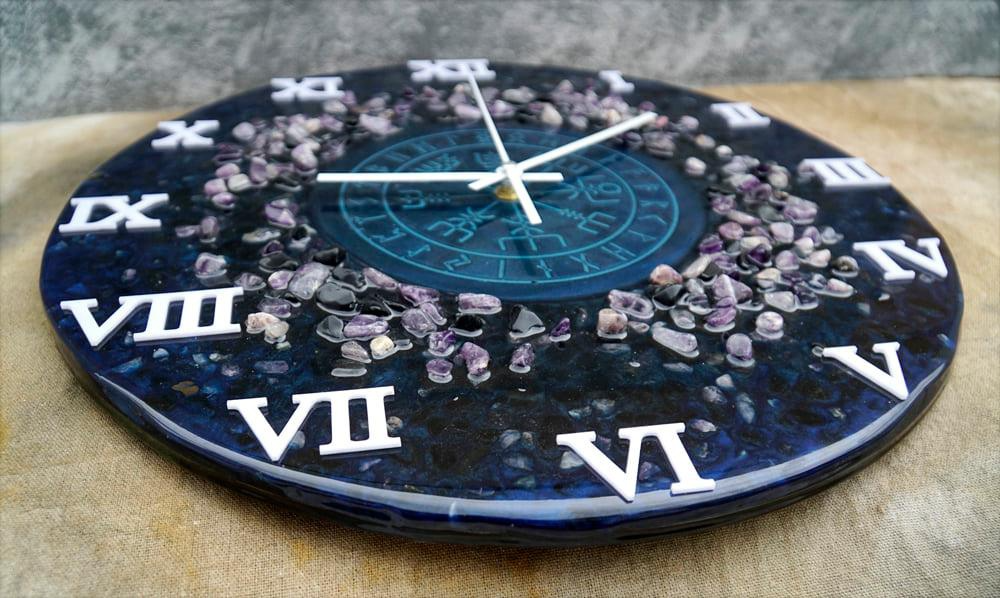 Photo: ThanhNien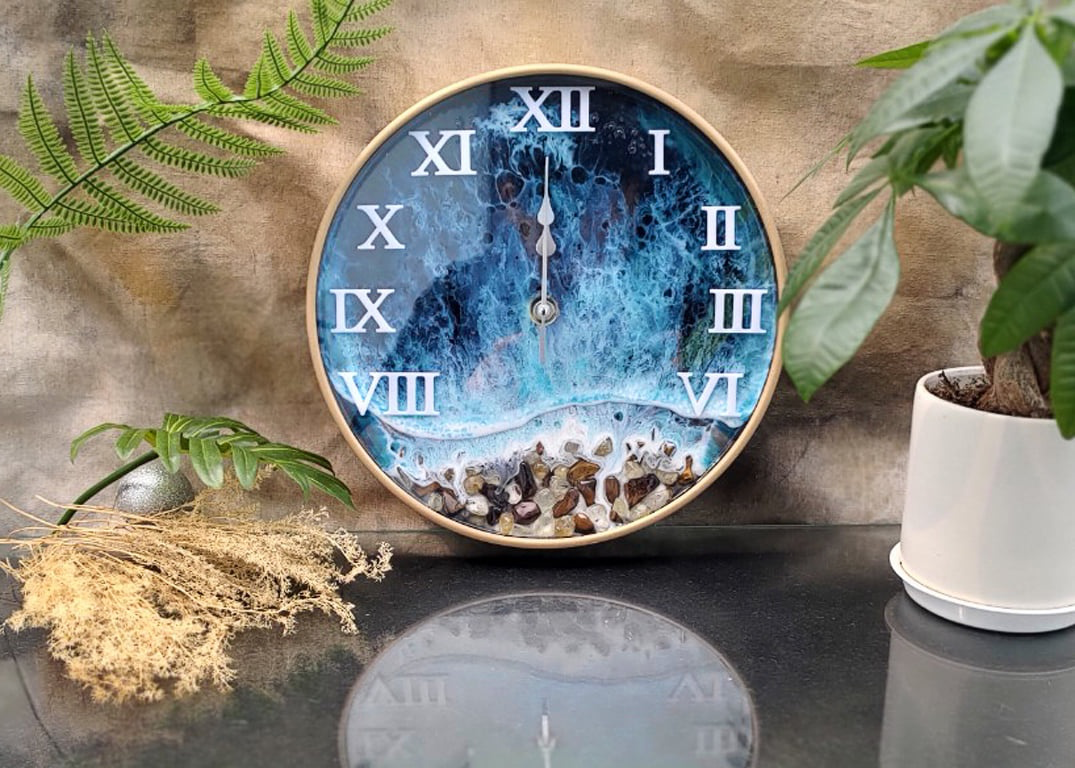 The love of the blue sea, white sand and islands helps Hung create beautiful clock paintings. Photo: ThanhNien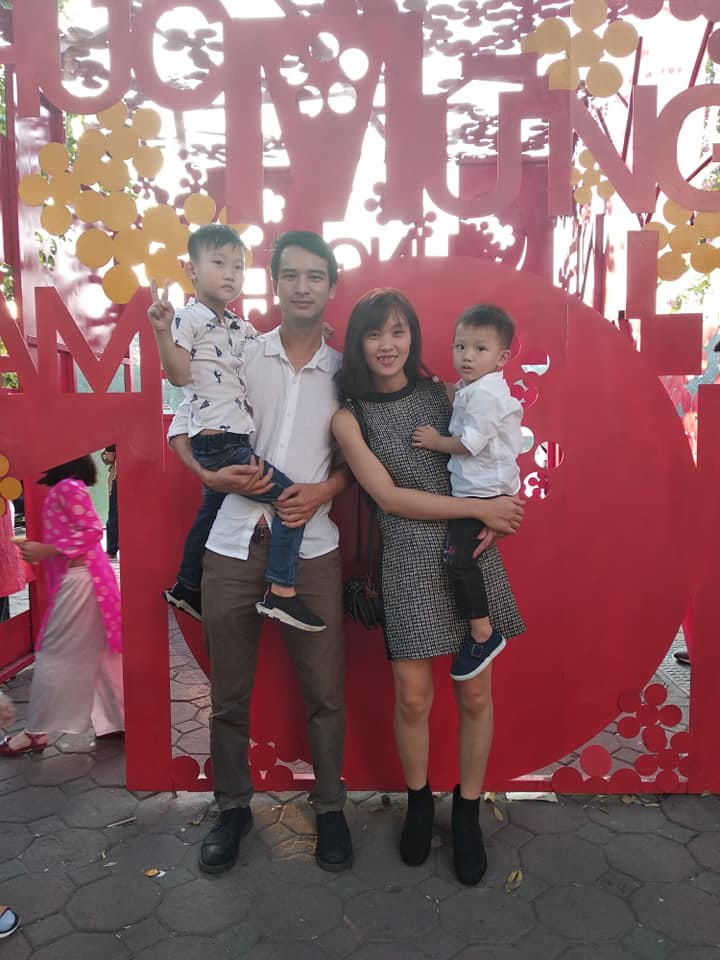 Hung, who specializes in clockwork, and his happy family. Photo: ThanhNien