India Covid-19 Daily Update (April 30): India COVID cases cross 18 million
India's total Covid-19 cases passed 18 million on Thursday after another world record number of daily infections, and flames crackle over the wails and prayers of grieving families as they mourn loved ones laid on funeral pyres that burn through the night in New Delhi.
India COVID cases cross 18 million, gravediggers work round the clock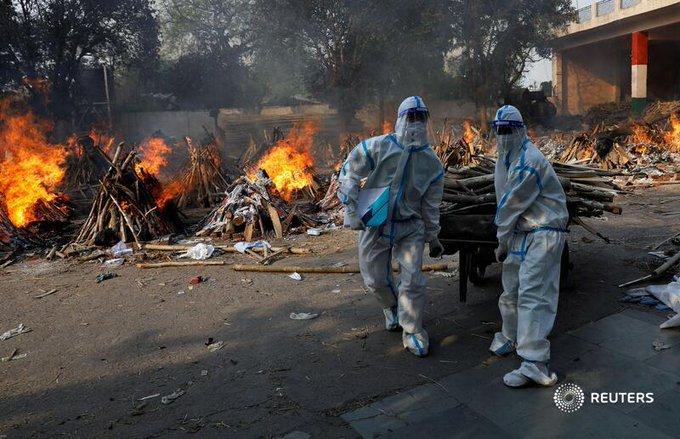 Photo: Reuters
India's total COVID-19 cases passed 18 million on Thursday after another world record number of daily infections, as gravediggers worked around the clock to bury victims and hundreds more were cremated in makeshift pyres in parks and parking lots, according to Reuters.
India reported 379,257 new infections and 3,645 new deaths on Thursday, health ministry data showed,the highest number of fatalities in a single day since the start of the pandemic.
The world's second most populous nation is in deep crisis, with hospitals and morgues overwhelmed.
Mumbai gravedigger Sayyed Munir Kamruddin, 52, said he and his colleagues were working non-stop to bury victims.
"I'm not scared of COVID, I've worked with courage. It's all about courage, not about fear," he said. "This is our only job. Getting the body, removing it from the ambulance, and then burying it."
Each day, thousands of Indians search frantically for hospital beds and life-saving oxygen for sick relatives, using social media apps and personal contacts. Hospital beds that become available, especially in intensive care units (ICUs), are snapped up in minutes.
India's military has begun moving key supplies, such as oxygen, across the nation and will open its healthcare facilities to civilians.
The oxygen crisis is expected to ease by mid-May, a top industry executive told Reuters, with output rising by 25% and transport systems ready to cope.
Medical aid from other countries starts arriving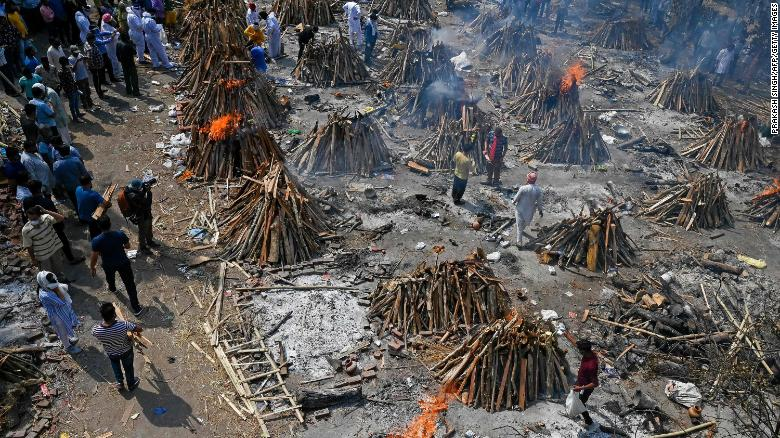 Burning funeral pyres of Covid-19 victims at a crematorium in India's capital on April 27. (Photo: CNN)
India expects close to 550 oxygen generating facilities from around the world as medical aid starts pouring in, Foreign Secretary Harsh Vardhan Shringla said on Thursday.
Two planes from Russia, carrying 20 oxygen concentrators, 75 ventilators, 150 bedside monitors, and 22 tonnes of medicine, have arrived in Delhi.
The United States is sending supplies worth more than $100 million, including 1,000 oxygen cylinders, 15 million N95 masks and 1 million rapid diagnostic tests, the White House said on Wednesday.
The United States also has redirected its own order of AstraZeneca (AZN.L) manufacturing supplies to India, to allow it to make more than 20 million doses, the White House said.
India will receive a first batch of Russia's Sputnik V vaccine on May 1. Russia's RDIF sovereign wealth fund, which markets Sputnik V globally, has signed deals with five Indian manufacturers for more than 850 million vaccine doses a year.
Bangladesh said it would send about 10,000 vials of anti-viral medicines and 30,000 PPE kits.
Germany will send 120 ventilators on Saturday, and a mobile oxygen production facility next week, its defence ministry said.
India Blames a Virus Variant as Its Covid-19 Crisis Deepens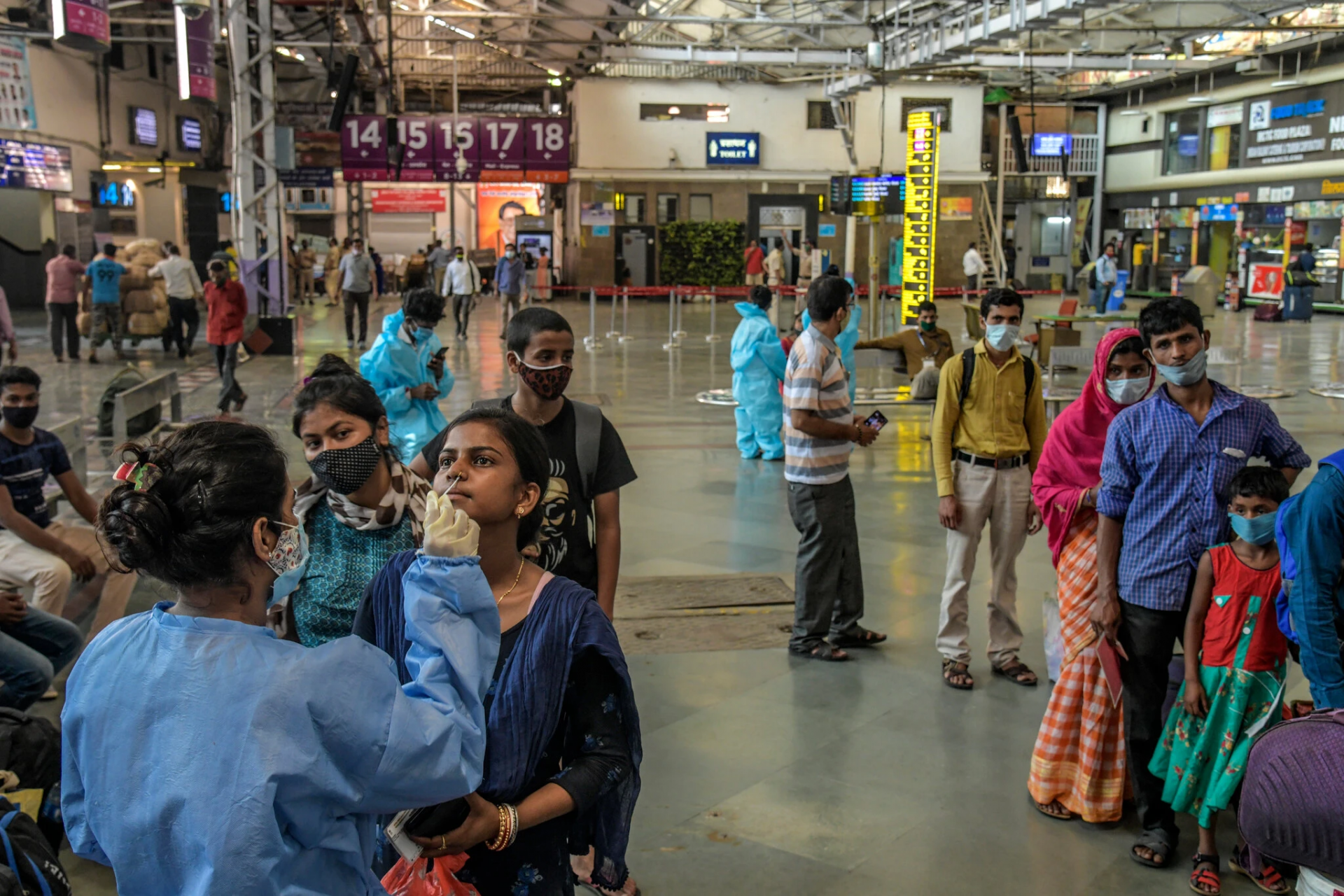 Health workers testing recent arrivals at a train station in Mumbai earlier this month. (Photo: New York Times)
Doctors, the public and the media point to anecdotal evidence of infections even among the vaccinated. Scientists say the data is too thin and cite other reasons behind the country's second wave.
India's outbreak worsened even further on Wednesday, as the authorities reported nearly 3,300 daily deaths. That brings the official total to nearly 201,200 people lost, though experts believe the true figure is much higher. Daily new infections also surged to nearly 357,700, another record, according to New York Times.
As supplies run dangerously low and hospitals are forced to turn away the sick, scientists are trying to determine what role variants of the virus might be playing. They are working with precious little data. India, like many other countries, has not built up a robust system to track viruses.
India's worries have focused on a homegrown variant called B.1.617. The public, the popular press and many doctors have concluded that it is responsible for the severity of the second wave.
Researchers outside of India say the limited data so far suggests instead that a better-known variant called B.1.1.7 may be a more considerable factor. That variant walloped Britain late last year, hit much of Europe and is now the most common source of new infection in the United States.
Beyond the variants, scientists believe there are other, possibly more obvious factors that could be powering India's deadly second wave.
India has just scraped the surface in terms of vaccinating its population, with less than 2 percent fully vaccinated. Experts also blame lax public behavior after last year's first wave and missteps by Prime Minister Narendra Modi, such as recently holding large political rallies that may have spread the disease and sent a message to the people that the worst was over.
As India's Covid crisis and variant spreads, neighboring countries go on high alert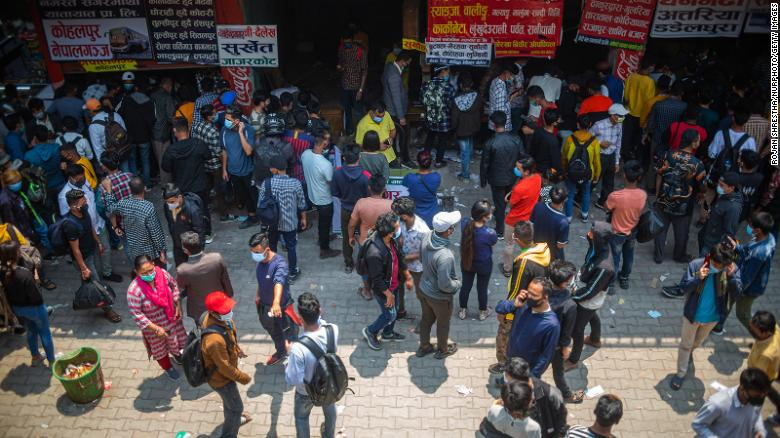 People wait to board a bus back to their home villages after new government restrictions in Kathmandu, Nepal, on April 27. (Photo: CNN)
As India continues to grapple with an unrelenting second wave of Covid-19, some neighboring countries in South Asia are seeing their own surges in case numbers, prompting border closures and travel bans.
India is now reporting approximately 1 million new coronavirus cases every three days, with the daily death toll exceeding 3,293 on Wednesday, according to data from the Indian Ministry of Health, CNN reported.
The outbreak has pushed the country's healthcare system to near breaking point. With no space left in hospitals, patients are being left to die at home, in ambulances and outside clinics. Even those who are given a bed remain in danger, with hospitals running out of oxygen and asking patients' families to bring their own.
In an address Saturday, Iranian President Hassan Rouhani warned that should the Indian variant arrive in Iran, the country "will have a big problem."
India shares land borders with Pakistan, Nepal, Myanmar, Bhutan and Bangladesh. Some of these borders are porous, with residents crossing back and forth every day.
Several of these countries are grappling with their own surges in case numbers, despite closing borders and imposing restrictions. Nepal, which has identified cases of the Indian variant, has limited health care infrastructure and access to life-saving resources, raising fears it is ill-equipped to deal with a massive outbreak like the one ravaging India.