International Beer Day: History, Significance and Celebration
Being a special day for beer lovers everywhere, International Beer Day is celebrated on the first Friday of August each year. This year, International Beer Day will be observed on August 6.
International Beer Day is always celebrated on the first Friday of August each year. It started in 2007 and is now being celebrated all around the world. The aim of this day is to gather friends and families together so that they may enjoy drinking beer together. It also aims to recognize those people who brew and serve beer. It also sheds light to the different kinds of beers being made all over the world. Even though the celebration of this day started out small as a local event, it has quickly spread across many countries and is now an international celebration.
International Beer Day: History
Celebrating mankind's common thirst for what is likely the world's oldest and most beloved beverage is what International Beer Day is all about. Humans have been fascinated with beer since the first grains were accidentally discovered to have fermented, producing a bubbly aromatic product that someone dared to taste then drink, did not die but instead felt a lovely little buzz, smiled and said, "Wow." Mankind has been obsessed ever since with perfecting beer recipes and brewing processes in pursuit of the next "Wow."
Beer has been consumed by almost every culture throughout human history. The oldest evidence of man's obsession with brewing beer dates back to ancient Babylonia and Mesopotamia. Archaeologists have unearthed recipes for beer that were written on clay tablets in 4300 B.C., and ceramic vessels from 3400 B.C. that are still sticky with beer residue. Everyone drank beer in ancient Egypt: pharaohs, peasants, priests, even children, as part of their everyday diet.
What may be the first song about beer, "Hymn to Ninkasi"—an ode to the Sumerian goddess of beer—dates back to 1800 B.C. and includes a recipe for a beer brewed by female priestesses.
By the Middle Ages, Christian monks were brewing beers, and introduced the use of hops. Until then, beers were brewed with local additives like dates and olive oils to add flavor. Today's beers continue to be brewed with hops, herbs, or fruits that add flavor. Macro, micro, or craft, the art of brewing beer today remains a craft that employs age-old techniques carefully perfected over centuries and millennium.
The proponent or pioneer of this event is Jesse Avshalomov back in 2007. However, the International Beer Day as a holiday is founded by Evan Hamilton, Richard Hernande, and Aaron Araki in Santa Cruz, California. They convinced a local bar to celebrate the day. they even made a website for the celebration wherein they gave all sorts of thanks to the beer industry. But what these people did not realize was how quickly the event will take off all over the world.
Almost immediately afterwards, they started to receive lots of emails from people who found out about their website. These people shared how they started out their own versions of the celebration. Some of these people even came from places as far away as the United Kingdom and Africa. Nowadays, the event is being celebrated in the 6 continents of the world, for almost 60 countries and over 210 cities.
During the 2012 inception of this event, it was celebrated on the 5th of August. But that changed in 2013 when fans of the day suggested to make it the first Friday of August, as reported by Dayfinders.
How is Beer brewed?
Beer is an alcoholic beverage made by the fermentation of grain. The vast majority of the world's beers, the grain that is used as the base is barley. The brewing process for the beer begins with malted barley that has been germinated and then roasted. The malt is heated with water in a large kettle called a "Mash tun." The starches in the malt get broken down into simple sugars at the end of mashing and result in a sweet liquid known as Wort.
The malt is then rinsed and strained to get the last of the sugars into solution. The used malt will now be called "spent grain," which is useless for beer, but still good for baking, or for animal feed. The wort is then piped into the brew kettle, the next large tank. Hops, that is green, cone-like flowers are added and boiled with the liquid, providing bitterness and aroma. It is then rapidly cooled and yeast is added for fermentation. Yeast consumes the sugar and releases alcohol and carbon dioxide. After fermentation, the young beer is processed in a conditioning tank from a few days to several weeks or even for years depending on the style.
International Beer Day: Significance
According to Nationalday, the first Friday in August brings a toast to ales, lagers, and pilsners that put the international in International Beer Day.
Perhaps there's a porter or a Belgian in your glass. Whether yours is fermented or not, dark or pale, hoppy, bitter, smooth, raise your mug. Lift it high among friends around the world, thanking those who work at brewing delicious beer in your local area. Why? Because International Beer Day brings the world together, celebrating the beers of all cultures on one remarkable day.
Did you know, this is a day for beer lovers everywhere. In backyards, taverns, pubs, and breweries all over, people celebrate beer's greatness while showing gratitude to their bartender and waitstaff.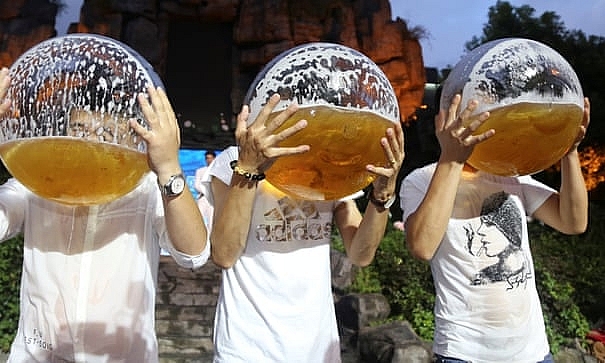 People at a beer drinking competition in Hangzhou in China. Alcohol intake per head has increased 70% in the country since 1990. Photograph: China Stringer Network/Reuters
Besides, there are three more reasons why we love International Beer Day, as listed by Nationaltoday:
A beer for every budget
We make no judgement when it comes to your taste in beer. Whether you pick up cheap macro brews on the way home from work, or savor craft brews at the taproom, we're just happy there is a beer for every budget to enjoy on International Beer Day.
Memories
Beer. The adult beverage of choice at reunions, backyard cookouts, and get-togethers with friends and family for centuries. Someone always offers to bring the beer. We think today is a fine day to open a cold one and enjoy reminiscing about days gone by with a toast to those whose memories we love and cherish.
Another reason to drink beer
Oh, come on! Who doesn't love waking up and seeing today is devoted to beer? We admit we don't need a reason to enjoy a beer today. But knowing there are millions of beer lovers all around the world bending elbows together to enjoy a brewski makes us feel like family on International Beer Day. Remember: Drink responsibly.
International Beer Day: Celebration
Celebrating International Beer Day can be loads of fun! Try out these interesting ideas for enjoying the day as suggested by Dayoftheyear and National Today:
1. Start By Toasting The Beer Makers
Many folks can agree that the perfect place to begin celebrating this day is just raising a glass, tankard, bottle or can and toasting those that make the amazing brew possible. Whether it is at a bar, club, pub, or even just a cook-out, it is easy enough to find a place to get a brew or two.
2. Learn Some Beer Trivia
Beer has an interesting history and unique fun facts that can be thrown around with a group of friends, especially on Beer Day! For instance, maybe everyone doesn't know it was the 18th Amendment to the US Constitution that made alcohol illegal in 1919!
3. Join In On a Beer Day Event
Most places that hold Beer Day events do so by tapping new, or in some cases rare, beers. Other places might celebrate by hosting a happy hour that lasts all day, or putting on trivia events and games–with prizes involving beer gear, of course! Grab some friends (being responsible) and share the wonders of beer with those nearby.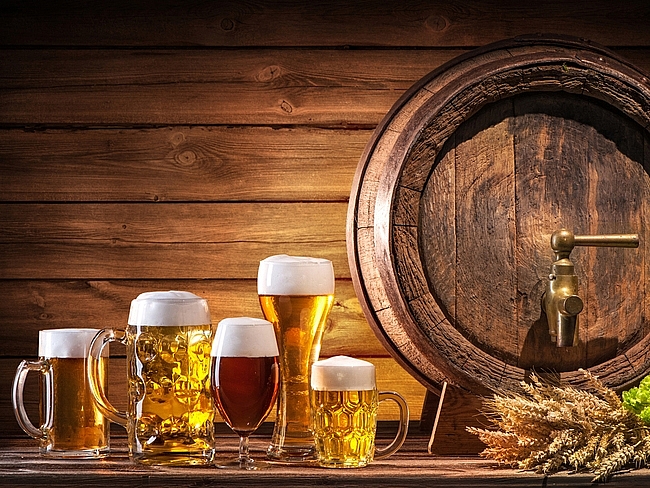 Photo: economictimes.
4. Try a New Kind of Beer
In honor of the day, consider hoisting up a different type of beer than the usual fare, to expand those horizons.With more than 100 different styles (and sub styles) of beer in the world, and literally thousands of different brands, there is always an opportunity to try something new!
Beer Day is the perfect time to try out one of these unusual styles of beer:
-Gruit: This beer might especially cater to lovers of Tolkein's fantasy world as it takes on a medieval flare, with herbs and spices that with names like mugwort and horehound. Try a variety such as Posca Rustica from Brassier Dupont, Tourpes Belgium.
-Oyster Stout: Hailing back to rumors of a tradition in New Zealand and England where some brewers were believed to use oysters in beer for "health purposes". A few modern breweries have taken this up, like The Porterhouse Brewing Company in Dublin, Ireland.
-Gose: This one, coming from ancient brewing antics in Leipzig, Germany, is brewed with salted water that produces a briny flavor. Upright Brewing in Portland, Oregon, is one of a few brewers that have started reviving the tradition with their own versions of this salted beer.
Even if it is just a more average type of beer you have never tried before, give it that much at least. Sometime, somewhere, a brewer spent time to get that beer right, and to market it to the public.
5. Sing beer songs at Karaoke
Tune up the twang in your voice and head out to your nearest Karaoke venue to pay tribute to beer. Nobody sings about beer like American country music artists. Don't worry about being able to carry a tune on International Beer Day. Just add a little southern drawl to that twang, and everyone will be singing along with you, celebrating your good taste in music…and beer.
6. Earn your wings
Earn your wings with a test flight of beers, that is, at a local taproom. It's a big beer world, so step out and try something new on International Beer Day. Better yet, why not make a day of it? Tour the brewery first to learn about the science behind brewing beer and then do some flight testing.
7. Be Generous
If you are a regular at your local pub, tavern or taproom, leave an extra generous tip at the bar today. Tell your bartender how much you appreciate him or her. Take their photo and post it on your social media sites with lots of kisses and hugs. And please remember to drink and post responsibly.
International Beer Day By The Numbers
50 billion – the gallons of beer consumed every year all over the world.
8% – the percentage increase in brewing jobs in the U.S. since 2016.
$328.4 billion – the number of dollars contributed towards the economy by the beer industry in 2018.
2.2 million – the number of people employed by the beer industry.
$503,300 – the price of the world's most expensive beer — Allsopp's Arctic Ale.
$1.9 billion – the number of dollars contributed to the U.S. economy by Oregon's beer industry.
1.6% – the percentage of gross domestic product the beer industry in the U.S. contributed in 2018.
912,092 – the number of people who work in malt-beverage retail.
7–10°C – the temperature at which lagers should be stored.
40% – the percentage decrease in the risk of developing kidney stones by drinking beer moderately.