Japan aids Vietnam with Covid vaccine storage system worth 1.84 million USD
Japanese Prime Minister Suga Yoshihide announced non-refundable aid of 200 million JPY for a Covid-19 vaccine cold storage system for Vietnam, during a phone talk with State President Nguyen Xuan Phuc
Japanese Prime Minister Suga Yoshihide said Japan treasured relations with Vietnam and pledged to continue closely cooperating with and support the country to develop in the time ahead, during a phone call with Vietnamese State President Nguyen Xuan Phuc.
In that spirit, the Japanese government decided to provide Vietnam with non-refundable aid of 200 million JPY (1.84 million U.S. dollars) for a Covid-19 vaccine cold storage system. It will also present Vietnam marine scientific research vessels and open its Consulate General in Da Nang City in 2022.
President Nguyen Xuan Phuc said he highly appreciated PM Suga's selection of Vietnam as his first overseas trip after taking office last October and expressed his delight at the strong and comprehensive development of Vietnam-Japan ties.
Phuc affirmed that Vietnam always considered Japan as a strategic, long-term and leading important partner and highly spoke of Japan's effective and practical cooperation for Vietnam's socio-economic development, including the cold vaccine storage system.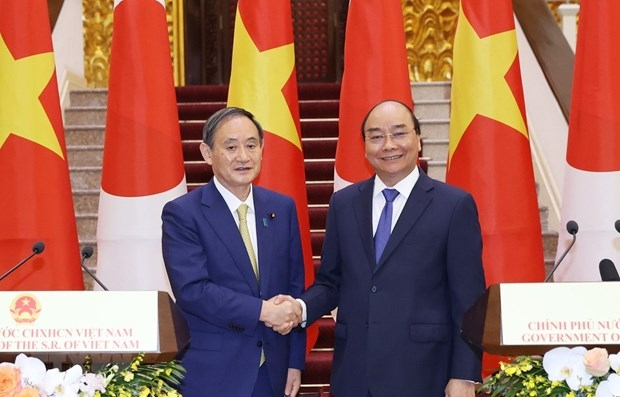 Prime Minister Nguyen Xuan Phuc (R) and Japanese PM Suga Yoshihide (Photo: VNA)
He also requested for Japan to collaborate and assist Vietnam in Covid-19 vaccines as well as provide support for the Vietnamese community in Japan.
PM Suga asserted that Japan would support and cooperate with Vietnam to ensure necessary vaccines and continue assisting Vietnamese trainees in his country.
The two leaders agreed to beef up exchanges and meetings at all levels, especially at high levels, enhancing the efficiency of cooperation mechanisms. They will also closely work with each other to implement the Comprehensive and Progressive Agreement for Trans-Pacific Partnership.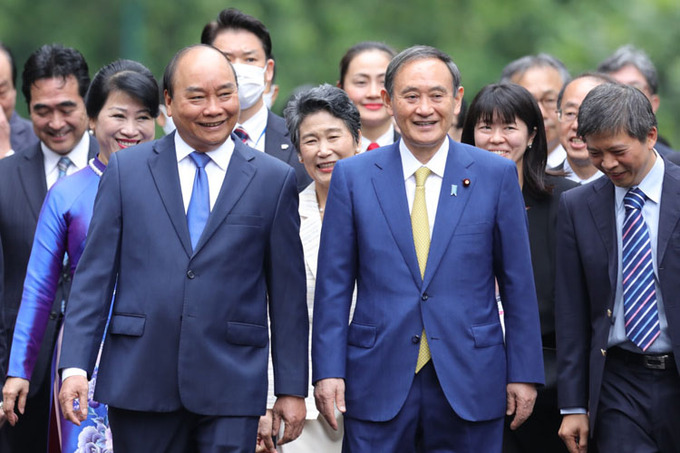 Photo: VnExpress
In the context that Vietnam is a non-permanent member of the United Nations Security Council in the 2020-2021 term and coordinator for ASEAN-Japan relations in 2018-2021, the two leaders consented that the two countries need to continue closely cooperating at multilateral forums, especially the UN and ASEAN as well as fostering collaboration within the Mekong-Japan framework.
The two sides also exchanged views on regional and international issues of mutual concern, including the Bien Dong Sea (South China Sea) issue.
Japan to fund 2.8 USD million project for Vietnamese vulnerable to Covid-19
Four at risk groups in 14 provinces and cities will receive support from a one-year project worth 2.8 million U.S dollars funded by the Japanese government, VnExpress reported.
The project "Mitigating Covid-19 impacts on vulnerable populations, ensuring national progress to achieve SDGs in Vietnam" was launched in Hanoi.
The project will be implemented from April 2021 to March 2022. The beneficiaries are people from Thai Nguyen, Dien Bien, Lao Cai provinces in the north, Thanh Hoa, Nghe An, Ha Tinh, Da Nang, Quang Tri, Quang Nam, Dak Lak in central Vietnam, and An Giang, Can Tho, Vinh Long and Ho Chi Minh City in the south.
It will be co-implemented by the United Nations Population Fund (UNFPA) and Vietnam's Ministry of Labour, Invalids and Social Affairs, Ministry of Culture, Sports and Tourism, Ministry of Health, and Ministry of Home Affairs.
Naomi Kitahara, a representative of UNFPA, said at a conference to launch the project that although Vietnam's response to Covid-19 had been one of the most effective in the world, the socio-economic consequences of the pandemic were still a matter of great concern. Many people continue to be impacted by the multiple effects of the pandemic, which disproportionately affects the most vulnerable and disadvantaged populations, including women and girls, the elderly and youth.