Japanese beverage firm supports Vietnam's coffee growers
Japanese beverage company Kirin Holdings is stepping up support for coffee growers in Vietnam, amid a growing consumer demand for sustainable products.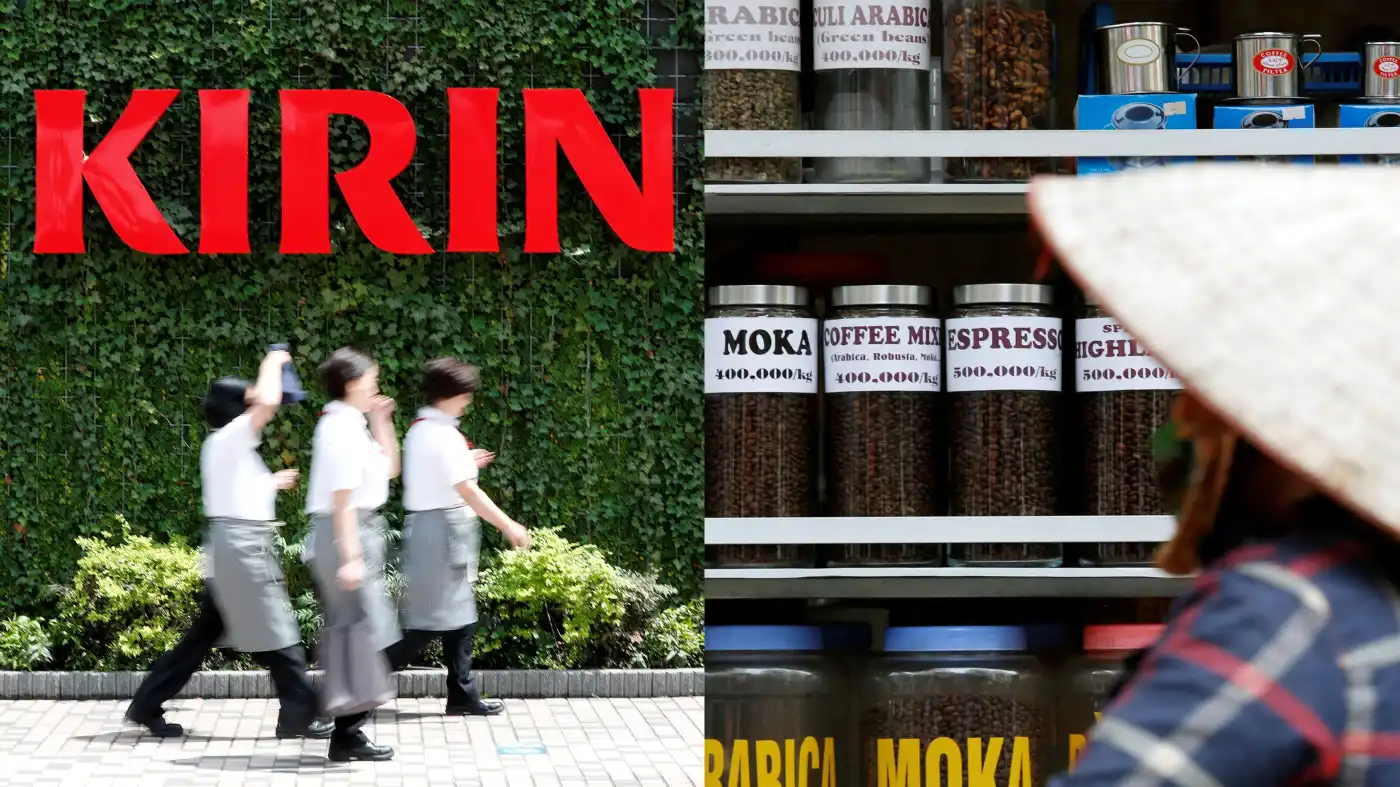 Japanese beverage maker Kirin Holdings is helping coffee farmers in Vietnam obtain a sustainability certification from an international NGO. Photo: Reuters
Japanese newspaper Nikkei Asia reported that the company is training farmers in sustainable production methods, including soil management, helping them obtain certification from an international accreditation organization that promotes sustainable farming.
Kirin aims to extend support to farms in 700 locations, double the current figure, by the end of the year.
The firm helps Vietnamese coffee growers get certification from the Rainforest Alliance, a US-based non-governmental organisation. To be certified, farmers must not only refrain from using excessive amounts of agrochemicals and work to protect biodiversity but also enhance production efficiency and quality, and improve conditions for farmworkers.
Since last year, Kirin has supported 350 Vietnamese coffee farms, helping growers conserve water, protect rivers from pollution and introduce better cultivation methods for areas with low sunlight.
Vietnam is the world's second-largest coffee bean producer after Brazil. Vietnamese coffee represents about 30 percent of the ingredients Kirin uses in its products, such as canned coffee beverages.
Thanks to increased consumer awareness, sales of beans certified by the Rainforest Alliance grew sharply around the world last year, rising 15 percent from the previous year.
Vietnam exported 428,000 tonnes of coffee in the first quarter of 2021
According to the Ministry of Agriculture and Rural Development, Vietnam exported 428,000 tonnes of coffee worth US$771 million in the first quarter of 2021, a decrease of 17% in volume and 11.3% in value compared to the same period last year.
However, the prices of exported coffee still increased. Generally in the first quarter, the average coffee export price reached US$1.801 trillion per tonne, up 6.8% over the same period in 2020.
In the early days of May, the domestic robusta coffee market has seen many flourishes with the sales price remaining in the range off VND32,000 (US$1.40) to VND34,000 (US$1.49) per kilogramme. Specifically, the coffee price in Di Linh, Bao Loc and Lam Ha Districts (in the Central Highland Province of Lam Dong) was VND33,200 (US$1.45) per kilogramme on May 6. Coffee was sold at the price of VND33,900 (US$1.48) per kilogramme in Cu M'gar District in Dak Lak Province and VND33,900 and VND33,800 (US$1.48) in Gia Nghia and Dak R'lap District in Dak Nong Province, respectively.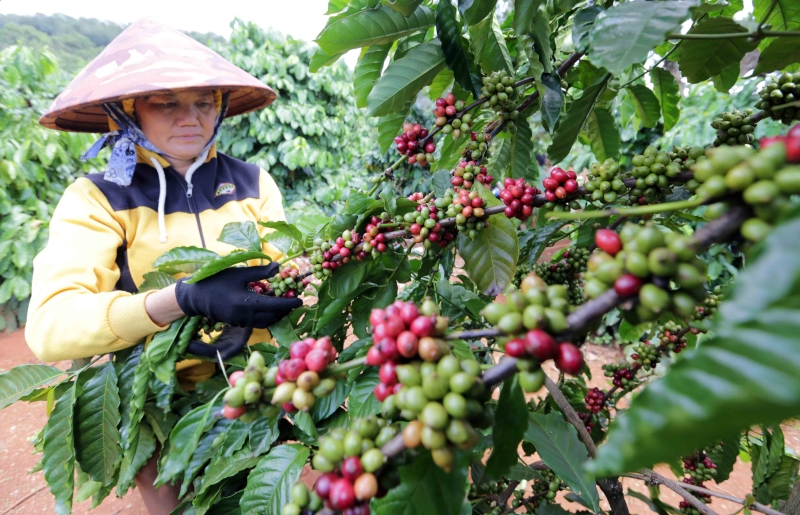 A farmer in Iakla commune, Duc Co district, Gia Lai province caring for her coffee garden. Photo: NDO
Over the years, selling prices have continuously plunged, so the signals of price increases in the past few days will serve as great motivation for coffee growers. Explaining the reason for the price increase, many economists say that the coffee market has gone through a cycle of price decline for four consecutive years. Therefore, in many countries, including Vietnam, people have used part of their coffee cultivation area for other crops, leading to a reduction in coffee output. In addition, the COVID-19 outbreak has made the export of robusta coffee in many Asian countries slow down, Nhan Dan Newspaper reported.
It is a fact that coffee growers often suffer from insecurity in terms of sales prices. Low quality and low selling prices have been shortcomings of the coffee industry for many years. The country's coffee products have been exported to over 80 countries and territories around the world, accounting for 14.2% the global green coffee export market share, ranking second only to Brazil. Vietnam produced over 1.5 million tonnes of coffee on average, but this was mainly green coffee (accounting for around 90%). Therefore, added value was low and profit was not commensurate with the volume of exports. In fact, the prices of green coffee in the domestic market have increased recently mainly thanks to objective reasons, not necessarily a sharp improvement of the coffee's quality.
In order to increase export value, firstly, it is crucial to improve product quality. The time has come for the coffee sector to make high-quality products right from the beginning. The rebound of coffee prices could act as a "lever" for coffee growers to pay more attention to caring for and re-investing in their crops. On this basis, authorities should develop a stricter standard from production to harvest, towards improving coffee yield and quality.