Lebanon explosion: Government steps down, experts fear of dangerous chemicals remain
Lebanon's government stepped down on Monday night after tens of thousands of demonstrators poured into central Beirut calling for "revenge" against the ruling class of politicians widely held responsible for the explosion in the city.
Prime Minister Hassan Diab addressed the nation, announcing his resignation and that of his government in the wake of the blast, which he called a "disaster beyond measure."
In an impassioned speech, Diab berated Lebanon's ruling political elite for fostering what he called "an apparatus of corruption bigger than the state."
"We have fought valiantly and with dignity," he said, referring to members of his cabinet. "Between us and change is big powerful barrier."
Diab compared Tuesday's explosion to an "earthquake that rocked the country" prompting his government to resign. "We have decided to stand with the people," he said.
Three cabinet ministers had already quit, along with seven members of parliament.
Lebanon was already in dire economic straits before an explosion wiped out Beirut's port area and damaged buildings across the city. At least 158 people were killed and dozens remain missing. More than 6,000 people were injured, according to CNN.
As grief turned to anger, tens of thousands of demonstrators poured into central Beirut calling for "revenge" against the ruling class of politicians widely held responsible for the explosion.
The foreign ministry, the environment ministry and the economy ministry were occupied by angry demonstrators who called for the downfall of Lebanon's ruling elite five days after a blast ripped through the Lebanese capital causing widespread destruction.
(Photo: ABC)
Thousands of demonstrators were converging on Parliament Square and nearby Martyr's Square, said Reuters.
"We want to destroy and kill the government," said Nissan Ghrawi, a 19-year-old unemployed demonstrator. "They gave us no jobs or rights."
The country's top Christian Maronite cleric, Patriarch Bechara Boutros al-Rai, said the cabinet should resign as it cannot "change the way it governs".
"The resignation of an MP or a minister is not enough ... the whole government should resign as it is unable to help the country recover," CNBC reported.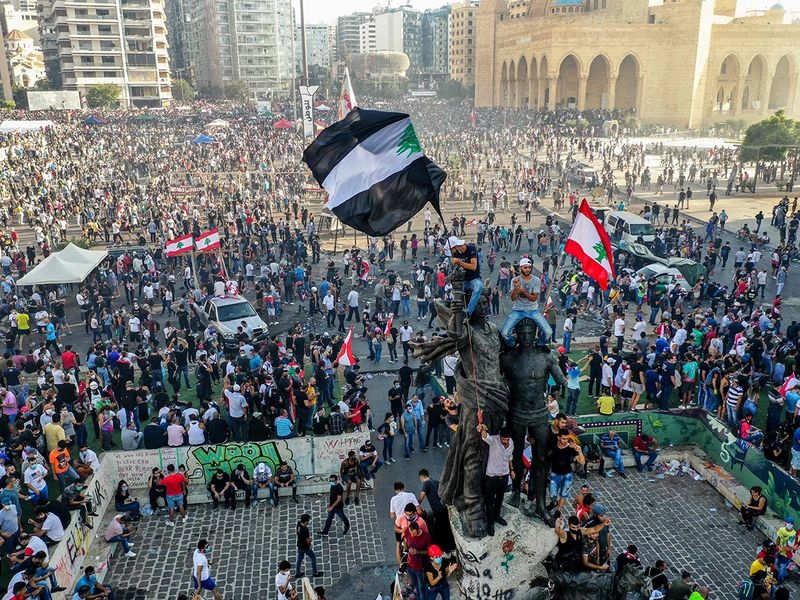 (Photo: Gulf News)
The Banking Association, which protesters blame for the country's worsening banking crisis, was also taken over by protesters and set ablaze.
Hours after the protests first rocked Beirut, Lebanon's Prime Minister Hassan Diab has vowed to hold early elections as his beleaguered government faces calls to resign.
Diab said he would introduce a law calling for early elections and said he would remain in government for two months until major parties can reach an agreement.
Police fired tear gas and rubber bullets as protesters hurled stones and fireworks at security forces. Parts of the central district were set ablaze and when the protesters took over the Foreign Ministry, the first in a succession of popular takeovers, they declared it the "headquarters of the revolution."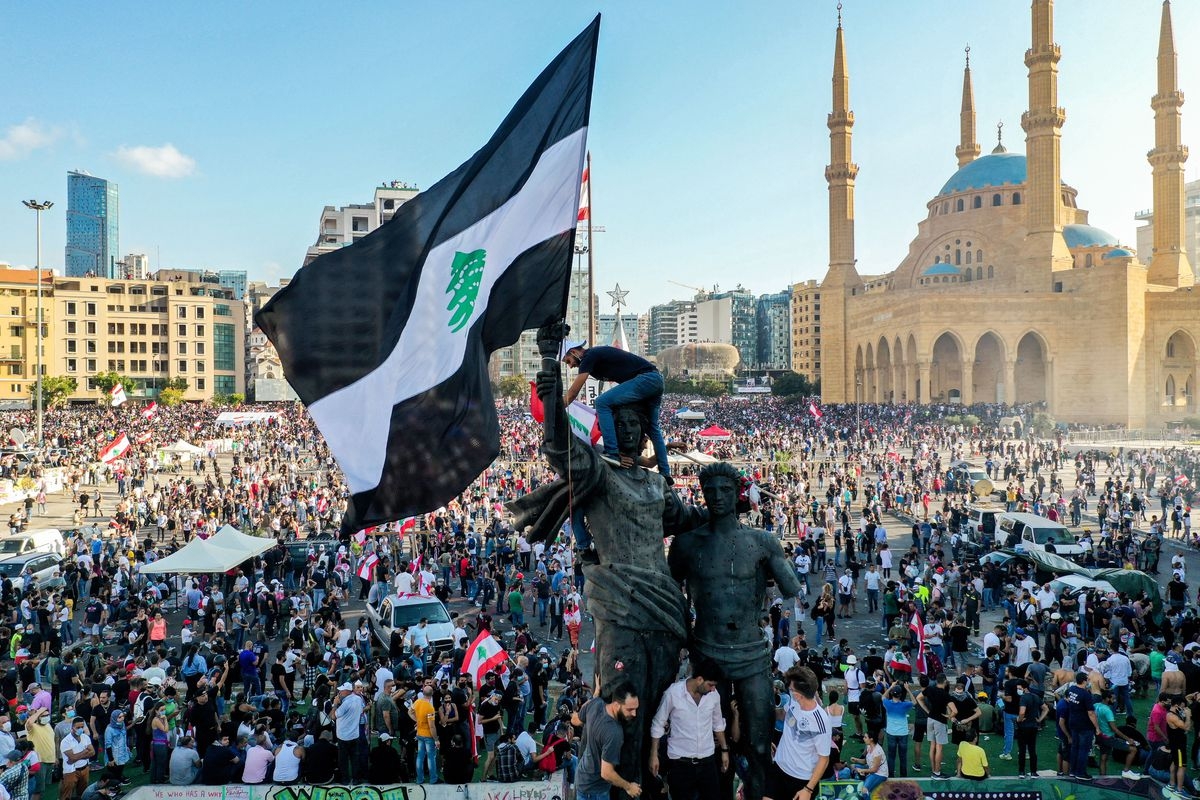 (Photo: Vox)
The US embassy in Beirut voiced support for peaceful protesters. "The Lebanese people have suffered too much and deserve to have leaders who listen to them and change course to respond to popular demands for transparency and accountability," the embassy tweeted on Saturday night. "We support them in their right to peaceful protest, and encourage all involved to refrain from violence."
French President Emmanuel Macron urged everyone "to come together in support of Lebanon and its people," as he opened an international donors' conference Sunday, five days after the devastating explosion that ripped through Beirut.
Macron told world leaders, including US President Donald Trump, that "the objective is to pool our resources to meet the needs of the population of Beirut."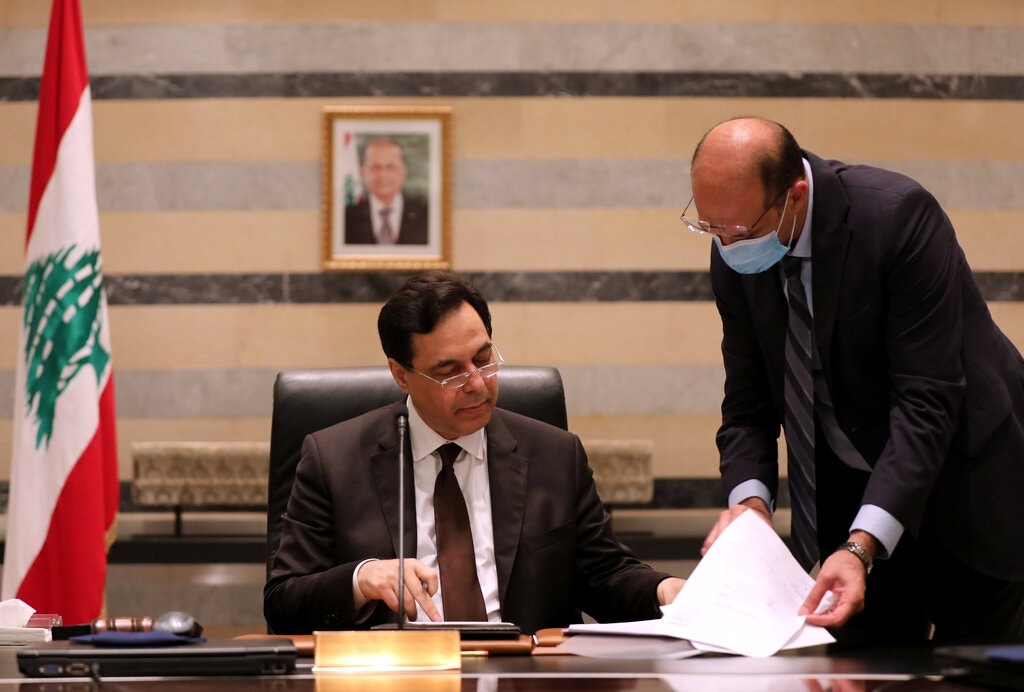 Hamad Hassan, Lebanon's health minister, right, and Prime Minister Hassan Diab on Monday during a cabinet meeting in Beirut (Photo: Reuters)
Lebanese Prime Minister Hassan Diab on Monday announced the resignation of his government nearly a week after a devastating explosion in Beirut that stirred public outrage and spurred a string of ministers to step down, according to CBC.
Diab announced the resignation of the entire cabinet in a televised evening address to the nation, characterizing the detonation of highly explosive material warehoused at the capital's port for the past seven years as being "the result of endemic corruption."
"Today, we follow the will of the people in their demand to hold accountable those responsible for the disaster that has been in hiding for seven years, and their desire for real change," he said. "In the face of this reality … I am announcing today the resignation of this government."
Dangerous chemicals remain in Beirut port
Chemical experts and firefighters are working to secure at least 20 potentially dangerous chemical containers at the explosion-shattered port of Beirut, after finding one that was leaking, according to a member of a French clean-up team, AP reported.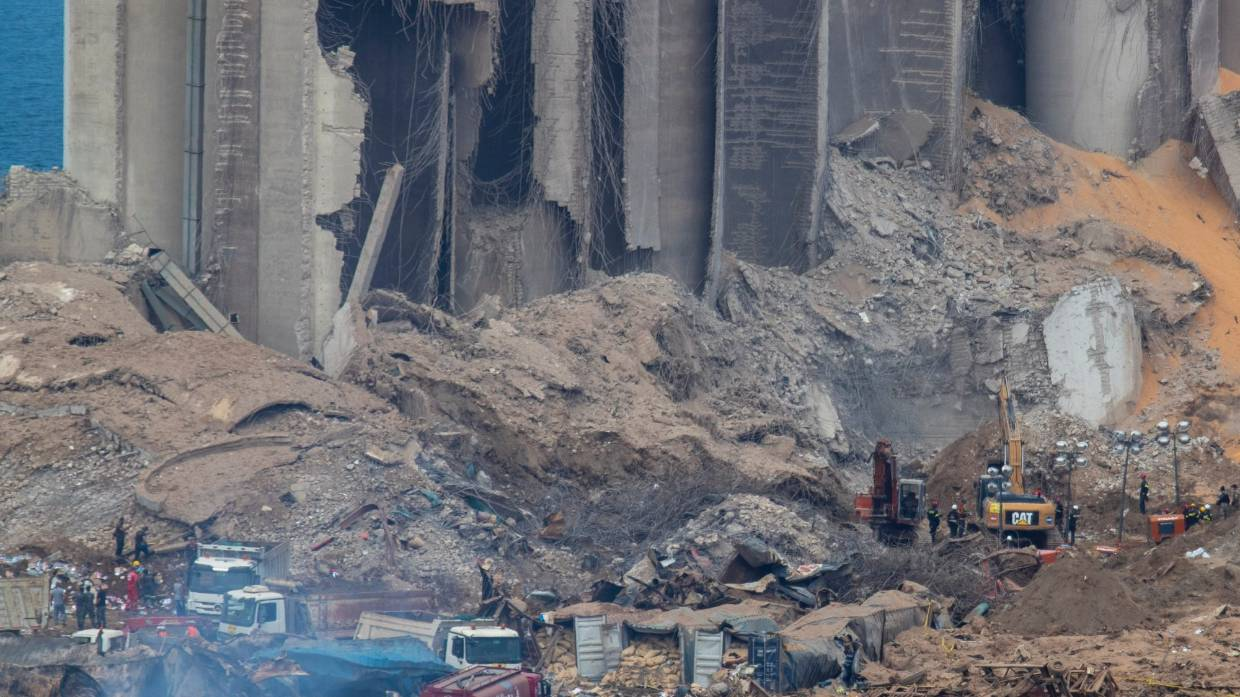 Rescue teams survey the site of the massive explosion in the port of Beirut.
Some of the containers were punctured when last week's deadly blast ripped through the port and the Lebanese capital, said Lieutenant Anthony, a French chemical expert at the site who was not authorized to be identified by his full name according to government policy.
French and Italian chemical experts working amid the remains of the port have so far identified more than 20 containers carrying dangerous chemicals, Anthony said. "We noted the presence of containers with the chemical danger symbol. And then noted that one of the containers was leaking," he told The Associated Press in a TV interview today.