New grocery tech helps thousands of grocers during pandemic
Providing a one-touch import platform and a convenient, contactless, cashless payment experience for customers, VinShop is becoming the ideal choice for grocers to sell in the complicated context of Covid-19.
Grocery stores meet difficulties in epidemic
Vietnam is facing the fourth wave of the Covid-19 epidemic with a new strain, causing a higher rate of spread. Experts recognize that small businesses, including grocers, are at risk due to direct contact with a variety of buyers and sellers.
"Importing goods increases the risk of being unsafe at this time," said Nguyen Thi Hanh (Nam Tu Liem District, Hanoi). The grocery store is right on the main road, the sales are good, but having to meet dozens of marketing staff from brands every day makes Hanh feel unsafe in the current epidemic context.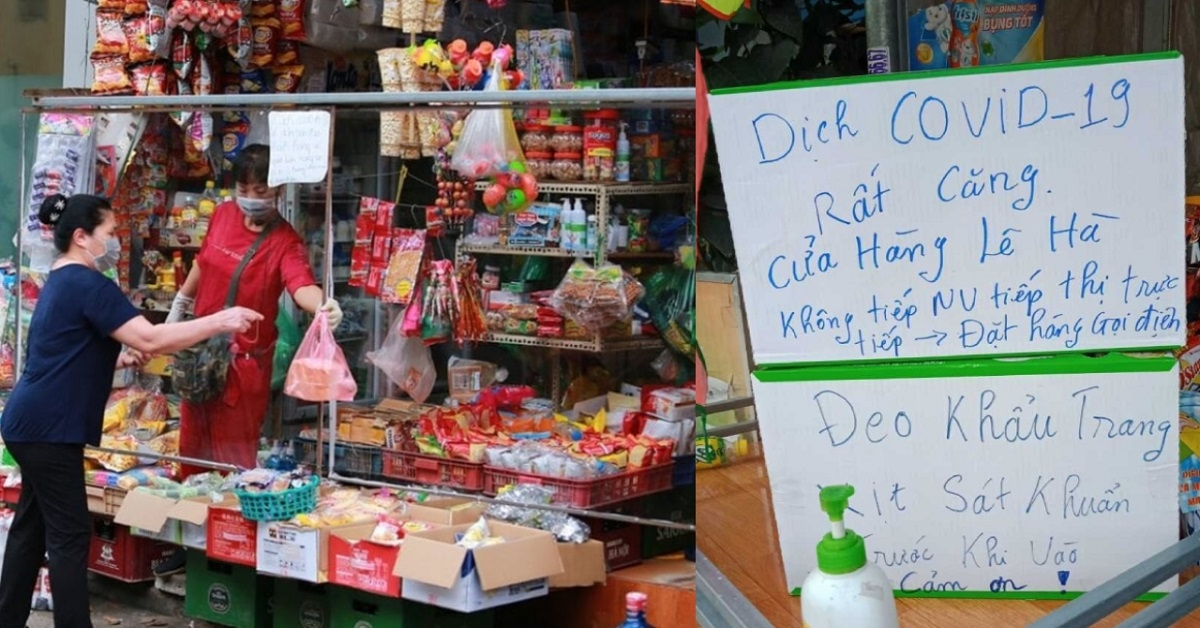 Many grocers are concerned about their health when importing goods in the traditional way. (Photo: VOV)
Le Ha store in Hanoi has hung a sign in front of the door announcing that the staff will not meet with marketing staff or customers directly due to fear of direct contact when importing goods. However, calling to import goods is a costly option.
Despite meeting 85% of people's shopping needs (according to Kantar Worldpanel Vietnam), more than 1.4 million grocery stores in Vietnam are still operating according to the old method that has existed for decades. They import goods mainly through the marketing staff of the brands, customers use cash to buy goods. Sharing on grocery groups and communities, many small traders said that although there are still many customers buying, the risk of unsafe contact is "holding them back".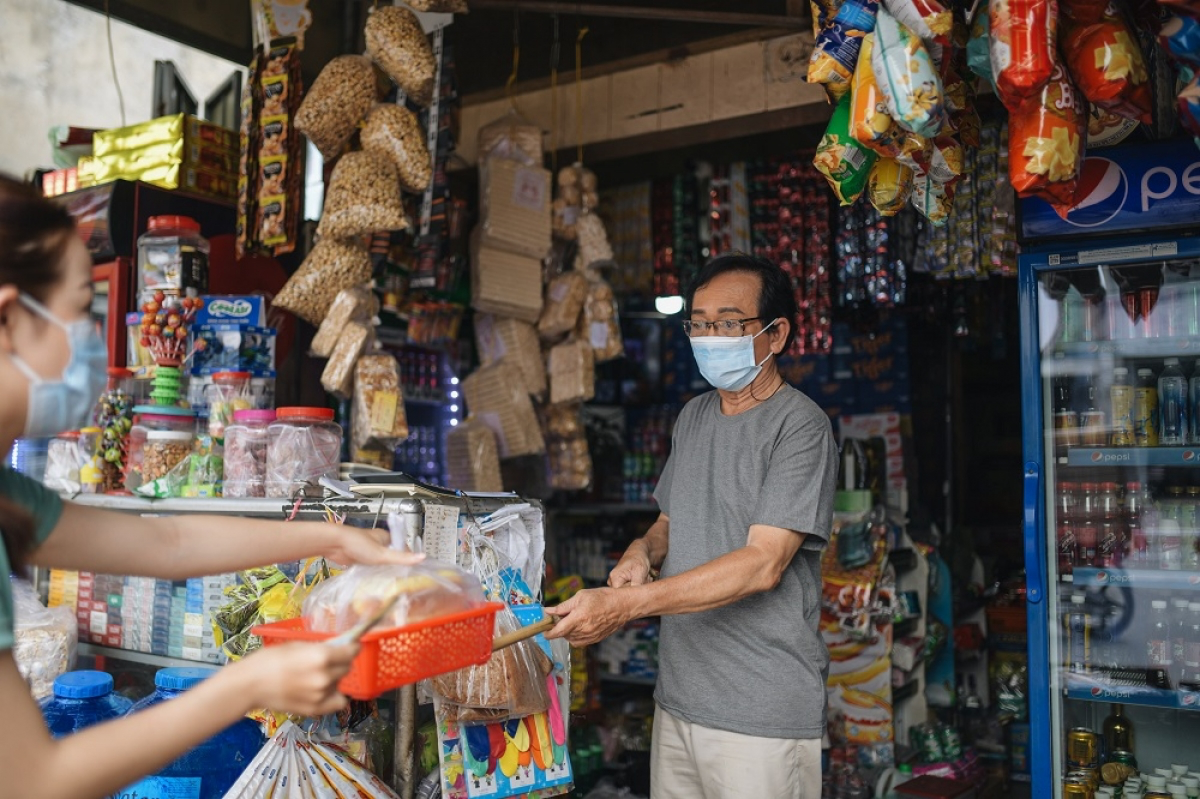 Grocery owners are at risk of infection due to direct contact with a variety of buyers and sellers. (Photo: VOV)
Recently, many grocers have quickly "upgraded" technology to solve difficulties in trading. In particular, VinShop, the first B2B2C platform in Vietnam, is being recognized as the platform that brings the most practical solutions, helping to protect the health of both groceries as well as customers.
Traditional grocers feel secure selling during Covid-19 thanks to technology
The revolution called VinShop is changing the way traditional stores operate. As described by Nikkei, in the past, traditional grocery stores had a wide variety of product options from hundreds of brands every day, facing great risks from the diverse exposure of marketing teams. But now, a VinShop van arrives every morning and delivers almost every item needed, all neatly packed.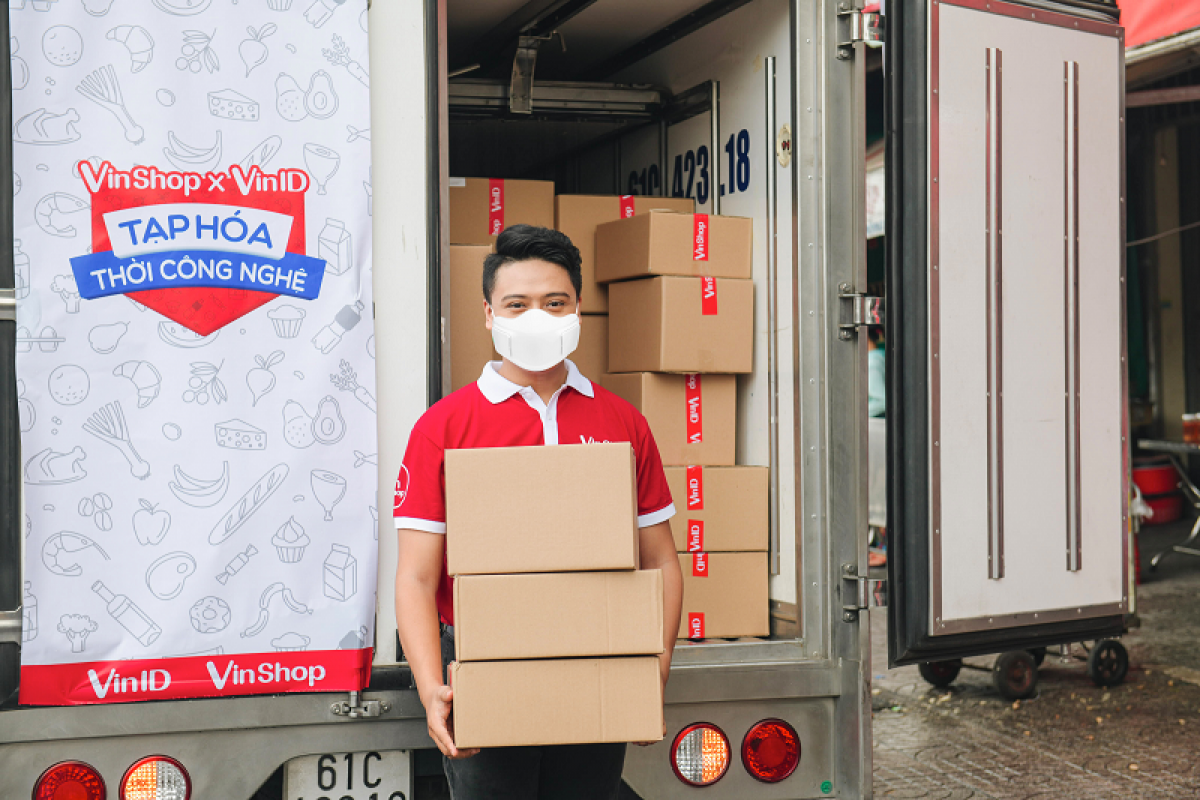 VinShop's delivery team complies with the safety rules of the Ministry of Health. (Photo: VOV)
VinShop said that they are providing a ordering and delivery platform to 14 cities and provinces, continuing to expand in the near future. In the middle of Covid-19, grocery stores receive orders within two days from the time of placing the order. The import platform has also issued a set of strict standards when receiving and delivering goods to groceries in accordance with the principles of disease prevention from the health ministry: Transport drivers are required to wear 100% masks, prepare hand sanitizer at each point, regularly measure body temperature, check the transport driver's journey, require standard distances as 2 metres upon delivery.
Not only keeping grocery owners safe when importing goods with one touch, VinShop links with VinID Pay e-wallet to provide a fast cashless payment platform. Grocery owners can also transfer money to pay for orders quickly. Buying and selling between groceries and customers is now as simple as scanning the code and receiving the goods, limiting contact, helping both buyers and sellers feel secure about their health.
"Convenient checkout helps the store attract more customers. My customers love a modern shopping experience like being in a supermarket right at a familiar grocery store near their house," said Hoang Van Hanh (Cau Giay District, Hanoi).
According to Tech In Asia, VinShop is well solving existing problems of traditional retail channels with its technological capabilities, turning a traditional grocery store into a mini supermarket without any additional costs, equipment or operating system. Many grocery owners said that they earn about 10 million VND more per month since linking with VinShop.
"Drastic changes are taking place, although groceries still have an old look," concludes Nikkei. Joining with VinShop marks a major change in the system of these traditional stores.
Economy
Vietnam is the biggest economic partner of Poland in Southeast Asia, and the potential for stronger cooperation remains huge.
June 09, 2023 | 18:45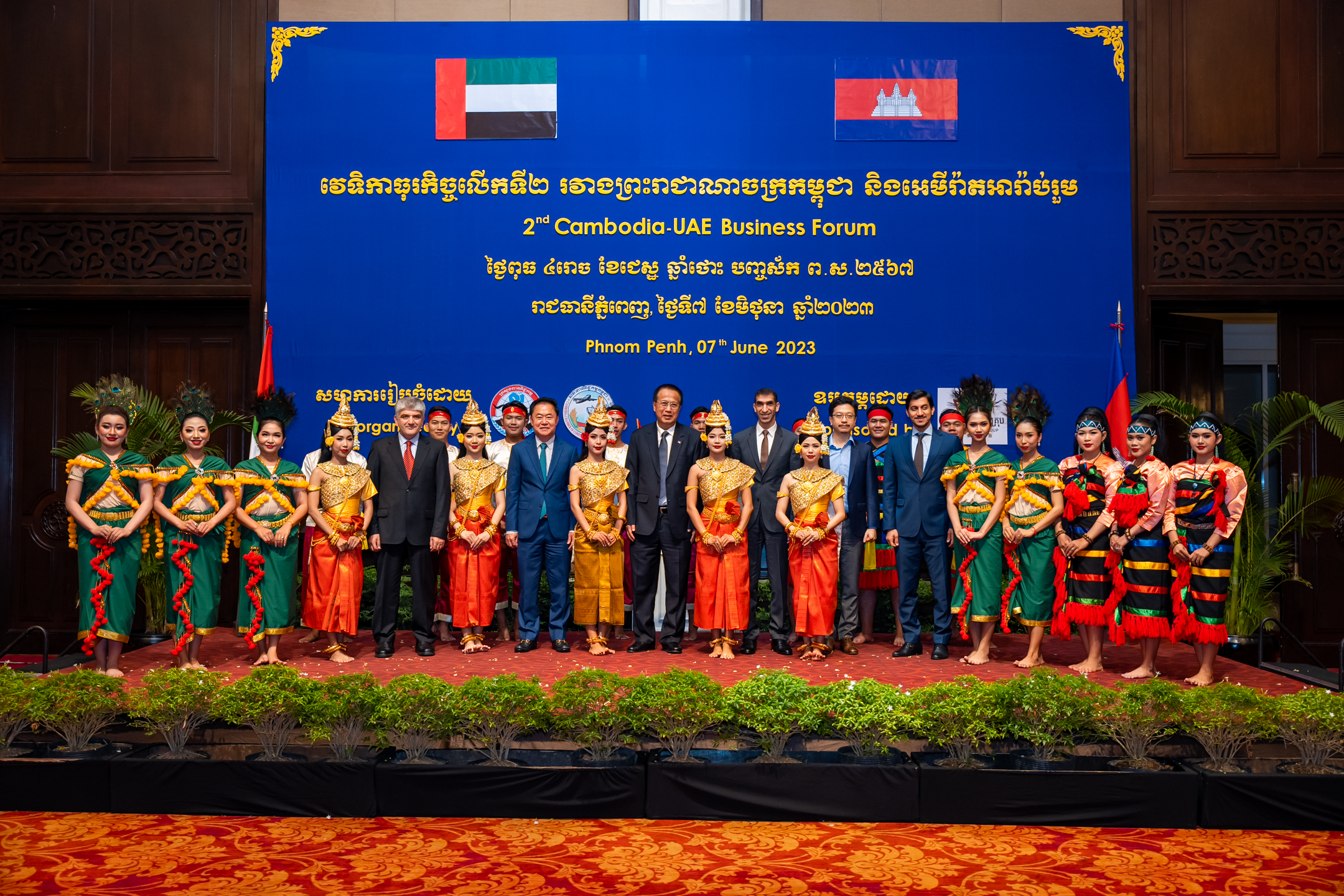 Economy
Prince Holding Group (PHG) recently participated in the 2nd Cambodia-UAE Business Forum, co-organized by the Ministry of Commerce Cambodia and the Cambodia Chamber of Commerce (CCC) at Sofitel Phnom Penh.
June 09, 2023 | 18:10
Economy
Born and raised in the HMT area of Srinagar in Jammu and Kashmir, Taha Mughal, a Cambridge alumnus and winner of the prestigious Fulbright scholarship for 2022-23, stands at the intersection of art, writing, and architecture.
June 09, 2023 | 07:00