Oxford-Astra Zeneca to become first authorized COVID-19 vaccine in Vietnam
Vietnam's Ministry of Health (MOH) on January 30 authorized the use of UK's Oxford-Astra Zeneca vaccine in COVID-19 treatment. The country is expecting 50,000 doses in the First Quarter of 2021.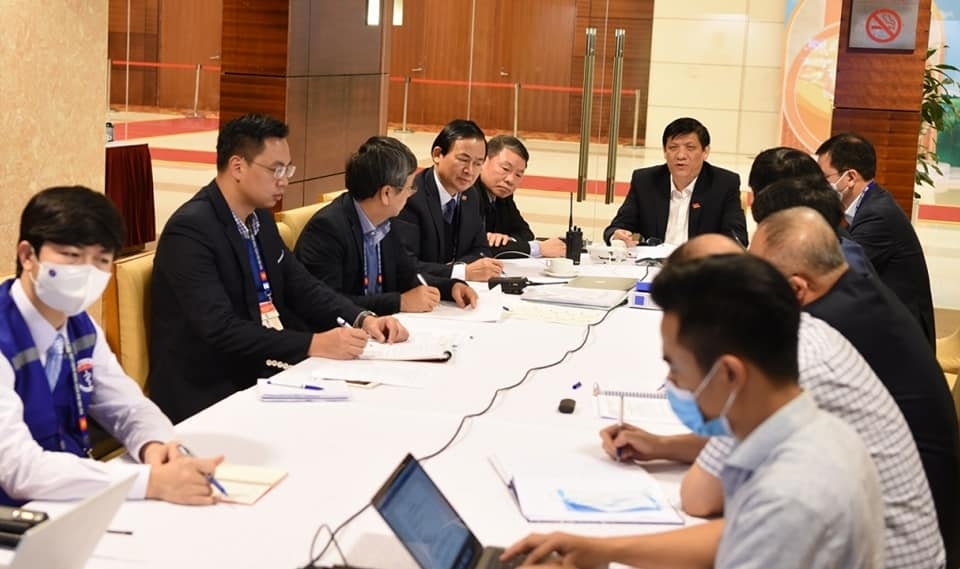 The MOH meeting to issue the authorization (Photo: Bao Tin Tuc)
According to Thanh Nien, the MOH's Advisory Council for the Grant of Circulation Registration Numbers for Drugs granted Oxford-Astra Zeneca vaccine the circulation permit for emergency prevention, anti-epidemic in Vietnam.
Vietnam is expected to receive the first 50,000 Oxford-Astra Zeneca doses in the first three months into 2021. The UK-based pharmaceutical company has earlier committed to providing Vietnam around 30 million doses in 2021. The MOH is also negotiating with other vaccine manufacturers with potential candidates including Pfizer and Moderna, hoping to purchase more COVID-19 vaccines for Vietnam.
Oxford- AstraZeneca was pronounced 90 percent effective in preventing nCoV contraction, with no serious side effects reported, Oxford university and its partner AstraZeneca said in late November. The vaccine was authorized by the UK regulators on December 31.
Oxford-Astra Zeneca COVID-19 vaccine will be available in Vietnam starting February (Photo: Financial Times)
Vietnam is currently having two locally-produce COVID-19 vaccines under human trails, namely NanoCovax (produced by Nanogencomapany) and COVIVAC (produced by the Institute of Vaccines and Medical Biologicals). The MOH continues to direct and require the different units to actively and urgently carry out research, clinical trials to churn out vaccine as soon as possible.
Two other made-in-Vietnam vaccine candidates are studied and produced by Vabiotech, Polyvac, both are still under evaluation on animals.
Nanogen's NanoCovax has completed the phase of 1 of the clinical trial and is scheduled to enter the phase 2 in the beginning of February. Meanwhile, IVAC 's COVIVAC was first tested on volunteers on January 21 and is expected to last until late February before entering the next phase in March.
.Advantages of Oxford- AstraZeneca vaccine over other candidates
With affordable and favorable storing conditions, the UK's Oxford – AstraZeneca Covid-19 vaccine that the Vietnamese government plans to purchase has certain edges over other candidates.
Oxford – AstraZeneca vaccine is reasonably priced at US$3-4 per dose, while Pfizer-BioNTech and Moderna vaccine is respectively charged at US$20 and US$30 per dose.
On top of that, the vaccine is easily delivered given the fact that it only requires storage temperatures from 2-8 degrees Celcius and can last for 6 months inside the normal medical refrigerator.
At the other end of the spectrum, the Pfizer-BioNTech vaccine must be stored and transported at minus 70 degrees Celcius and kept in the normal medical refrigerator at 2-8 degrees C for up to only 5 days.
(Table: The Conversation)
How does the AstraZeneca-Oxford vaccine work?
The vaccine – called ChAdOx1 nCoV-19 – uses a harmless, weakened version of a common virus that causes a cold in chimpanzees, according to the Irish Examiner. The virus is genetically modified so that it is impossible for it to grow in humans.
Scientists have transferred the genetic instructions for coronavirus's specific "spike protein" – which it needs to invade cells – to the vaccine.
When the vaccine enters cells inside the body, it uses this genetic code to produce the surface spike protein of the coronavirus.
This induces an immune response, priming the immune system to attack coronavirus if it infects the body.
Vaccines development around the world
Russia is the world's first nation to submit its vaccine Sputnik V for emergency approval since the pandemic broke out. The country has started vaccination program as soon as August on over 100,000 residents. On November 24, Sputnik V was pronounced with 91.4 percent effective.
In late November, US's Moderna also announced their Covid-19 vaccine candidate to be 94.1 percent. Two vaccine manufacturers Johnson & Johnson and Novavax are planning to release their trial data in early 2021.
On December 3, the UK became the first nation in the world to ever roll out its Pfizer-BioNTech vaccine for mass vaccination. The US, Canada, Singapore, Baren, Mexico, France and EU had followed suit. Pfizer-BioNTech vaccine is over 90 percent effective though, its harsh storing and transport requirements (minus 70 degrees Celcius) make a big drawback for the candidate.