Phuong Uyen Tran: Overcoming Adversity with the Power of Positivty
CEO Phuong Uyen Tran faced adversity, change, and some worries for THP to move forward amid the pandemic. Thankfully, the buisnesswoman's efforts paid off.
Vietnam has been experiencing the "fourth wave" of COVID-19 cases since the end of April 2021. Many firms and businesses in across the country struggled to survive. They are short-staffed and does not have the sufficient financial resources to continue the production. Many failed to adapt and adjust their businesses in order to move forward in difficult time. Leaders and mangers cannot find ways to attract employees back to work.
CEO Phuong Uyen Tran of Tan Hiep Phat faced these challenges with a new approach. Nothing is impossible. There are no limits to what we can accomplish, said Tran.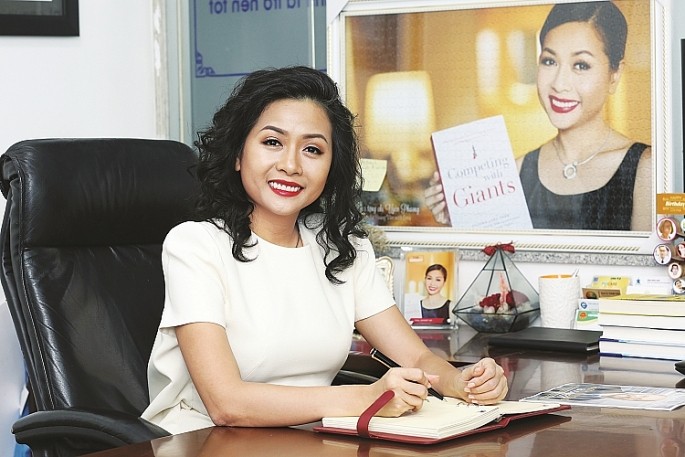 CEO Phuong Uyen Tran. Photo: Businessman Sai Gon
Her resilient mindset allows her to do whatever it takes for her company and employees. This positive attitude is crucial for CEOs in this unprecedented age.
Turning adversity into opportunity
CEO Phuong Uyen Tran decided that coronavirus infection is the most critical adversary she will spare no mercy. The caring leader works side by side with to make sure they have the safest working environment.
With the aim to maintain the dual goals of supply chain development and epidemic prevention, she arranged healthy employees to continue work, eat, and sleep on-site. This model is called "three-on-the-spot", or "3T". Additonally, the factories arranged one transportation route between the accommodation location and the workplace. All employees have negative SARS-CoV-2 virus test results before getting into the concentrated accommodation area.
She ensures that transportation plans for employees from the concentrated accommodation to the workplace not only meets the all the safety requirements but also the shortest route.
THP Group's factories are in many provinces that were significantly affected by COVID-19, but thanks to Phuong Uyen Tran, workers in the 3T model feel reassured and healthy. They know that THP Group put their employees first and gained more respects for their employees leader.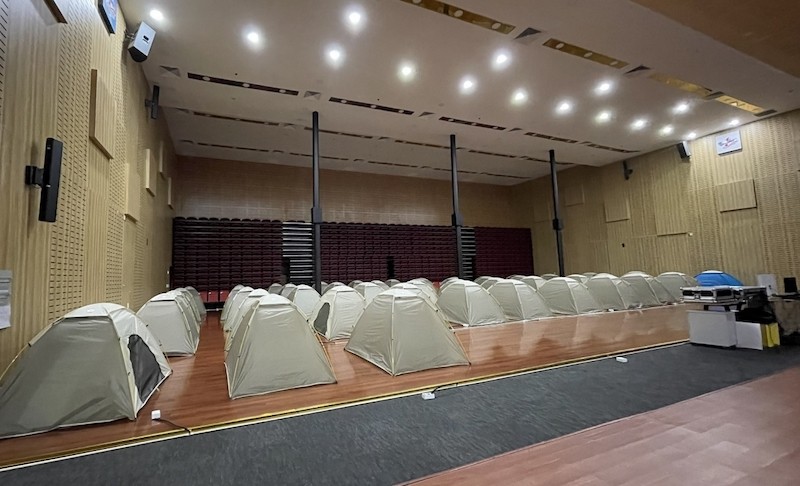 THP employees to continue work, eat and sleep on-site. Photo: VOV
Besides concentrated accommodation and separate working places for who employees work in the area; CEO Phuong Uyen Tran prioritized social distancing and took the practice to the new level.
THP Group invests in technology application and implements smart tracking wristbands. CEO Phuong Uyen Tran insists on using wristbands because this initiative helped save time and enhance the infection prevention level. It can check body temperature as well as record exact location of bearers. Thus, managers can systematically monitor the work environment. They also have Vihelm - a special type of helmet for social distancing that THP employees can use outside of work.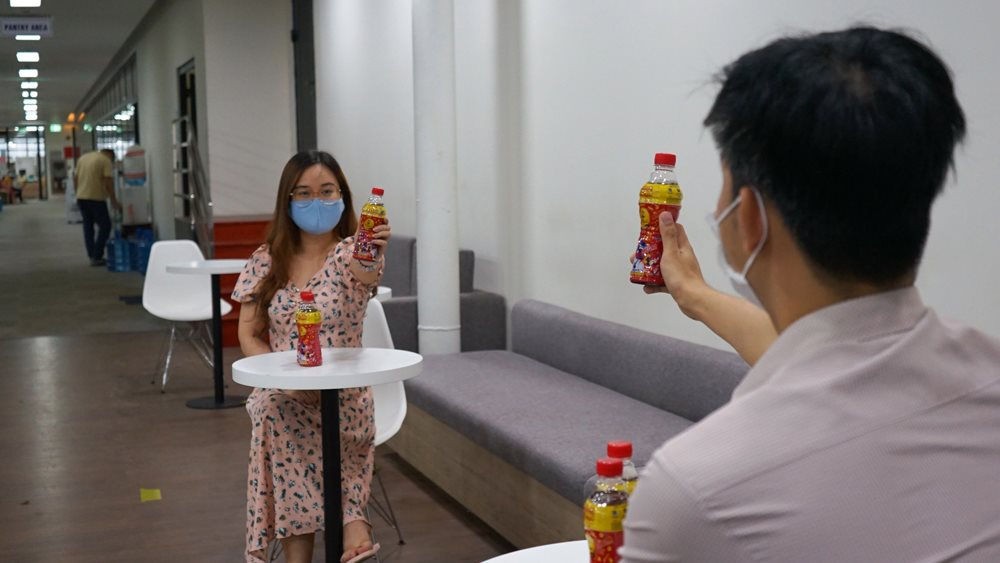 CEO Phuong Uyen Tran prioritizes social distancing at workplace. Photo: Bao Tai Nguyen & Moi Truong
THP Group is among a few enterprises employ high-tech applications for coronavirus prevention. Tran is also the leader of the research team. To decide on the most suitable smart devices, she listens to employees' concerns and decided on what is the best for thousand of employees at THP Group. It is a major responsibility that only a great leader can handle.
Thanks to Tran, all 1000 employees working in Binh Duong province has resumed the production line for about 2 months.
Strategic planning makes new vantage point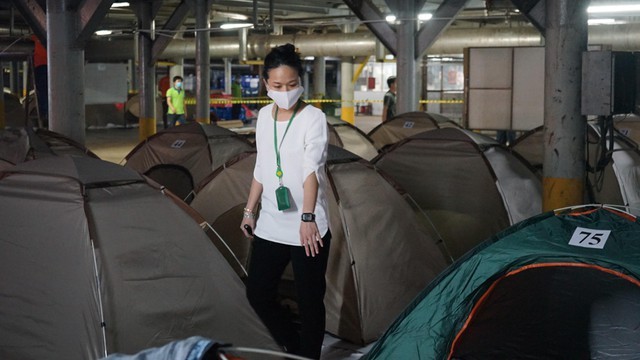 CEO Phuong Uyen Tran works side by side with employees to make sure they have the safest working environment. Photo: Quick News Chung Wait
CEO Phuong Uyen Tran learned from the examples of many enterprises who failed to survive the impacts of Covid-19. The key is the quick response from the top level management, said Tran.
First, she instructed the decentralization of management so that provincial and retail leaders can make timely decisions. Her strategic moves helped THP Group transform to adapt, from distribution channels to pricing policy.
THP Group changes its previous business method now that the epidemic makes consumers more price-sensitive. They tend to be more loyal to familiar products. The female CEO of Tan Hiep Phat aims for a visionary yet realistic business strategy that will keep THP strong during the difficult time.
Therefore, in order to maintain the retail system, Tan Hiep Phat extends the time of promotions and discounts to ensure that the retail system remains profitable. Adapting to the change of consumption behavior, Tran focuses on increasing online sales. Thanks to these improvements, THP products still have stable outputs and
All of the above improvements require financial resources of the business. Entrepreneur Tran Uyen Phuong affirmed: "Tan Hiep Phat is ready to sacrifice short-term benefits for long-term goals".
That is how CEO Phuong Uyen Tran led Tan Hiep Phat to new vantage point in the midst of many challenges caused by the Covid-19 pandemic.
About CEO Phuong Uyen Tran of Tan Hiep Phat
Both a powerful business woman and published author, Phuong Uyen Tran is a model of success in Vietnam. Phuong Uyen Tran is also a special contributor for Vietnam Times. Her writing, including "Competing with Giants," and her latest articles are to advise and inspire young people to start-up, overcome challenges and reach out to the world. It is the story of a business woman taking the great responsibilities for a corporation and devoting herself to society.
Economy
Vietnam is the biggest economic partner of Poland in Southeast Asia, and the potential for stronger cooperation remains huge.
June 09, 2023 | 18:45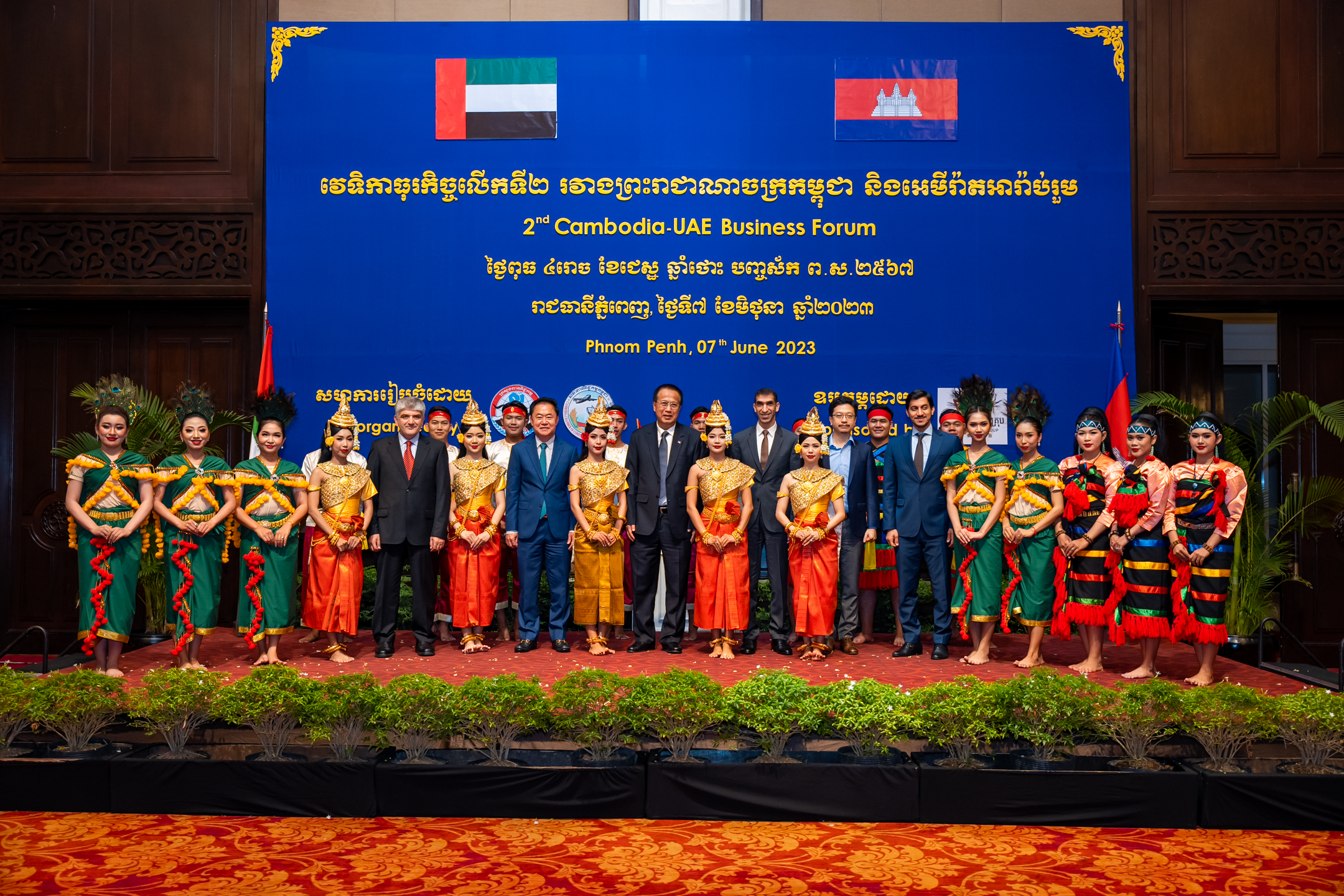 Economy
Prince Holding Group (PHG) recently participated in the 2nd Cambodia-UAE Business Forum, co-organized by the Ministry of Commerce Cambodia and the Cambodia Chamber of Commerce (CCC) at Sofitel Phnom Penh.
June 09, 2023 | 18:10
Economy
Born and raised in the HMT area of Srinagar in Jammu and Kashmir, Taha Mughal, a Cambridge alumnus and winner of the prestigious Fulbright scholarship for 2022-23, stands at the intersection of art, writing, and architecture.
June 09, 2023 | 07:00