Plan helping people hit by disasters ahead of Tet
"After receiving these food packages, I am very happy, I will make sticky rice and banh chung to worship at the beginning of the year," Chi, 39 years old, shared the joy of receiving the support package from Plan International Vietnam on the day near Tet holiday.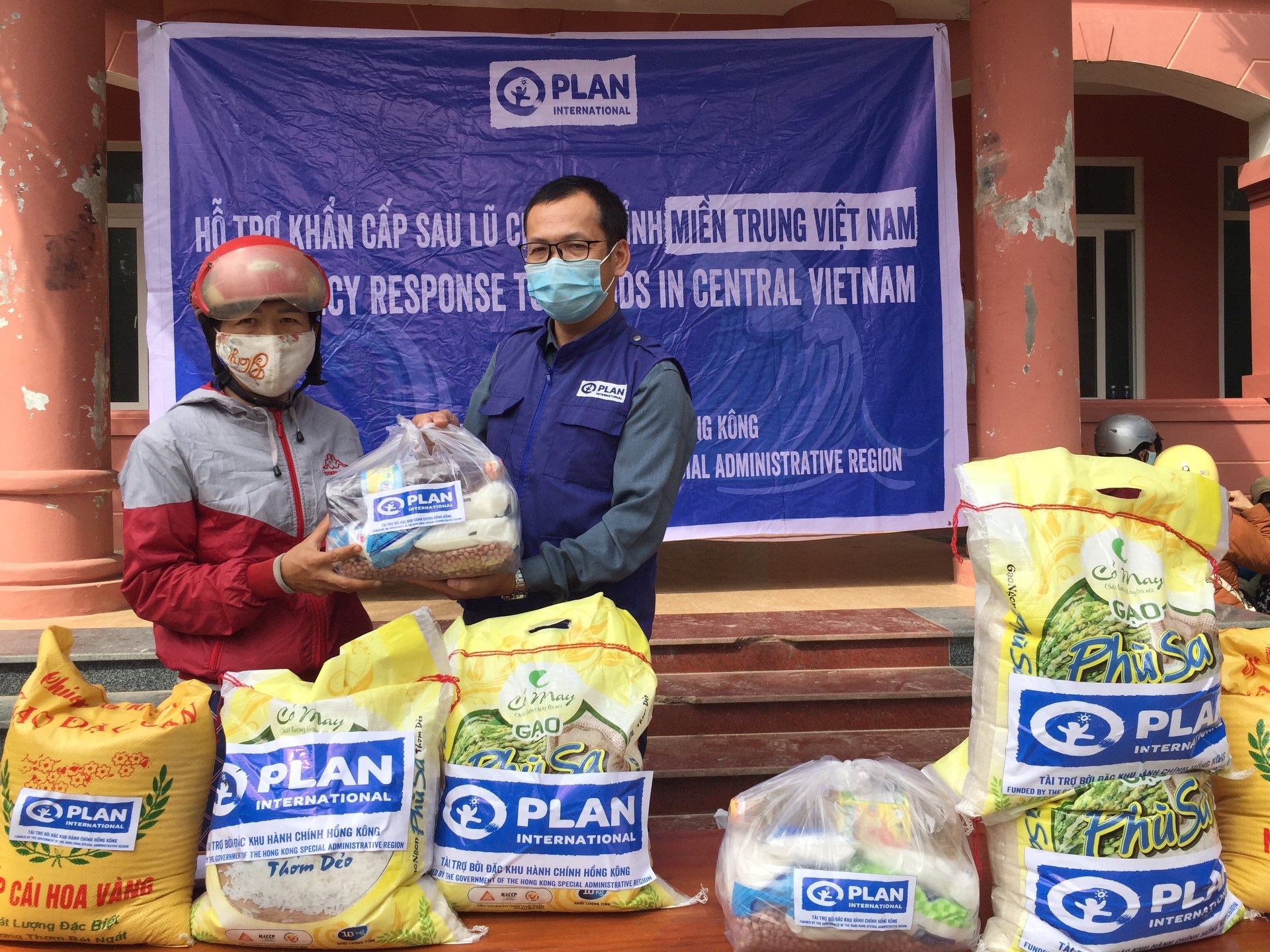 Plan hopes that these packages will partly help families affected by the floods to have a warm and joyful Tet. Source: Plan International Vietnam
Chi, with tears in her eyes, recalled the flood night in October 2020. Every year, the flood water does not rise too high, the furniture in the family that can be put on the high shelves to avoid damage. However, this year the floodwaters were significantly high, her house was flooded 2.5m up to the top and she only kept some important papers before she had to run to the homes of other people in the area to take refuge. When she returned home, all the furniture in the house was gone. The family lost 70 baskets of rice (equivalent to VND 8 million), a flock of swans and more than 20 chickens also lost all.
In the family with three children who are still in school age, there is nothing left of their personal school supplies. Since the flood has passed until now, families can only rely on relief packages from humanitarian organizations or philanthropists.
Recently, she was hired to take care of a rice field for another family while her husband worked as a carpenter. The amount of money that both husband and wife have earned is not enough to support their 3 children to attend school.
"Now I don't need much, I have to work hard to earn money for my children to have a good education," Chi shared.
Chi is one of the families with heavy losses in Quang Binh province. During the relief packages distribution on February 3, her family received a package of essential food support.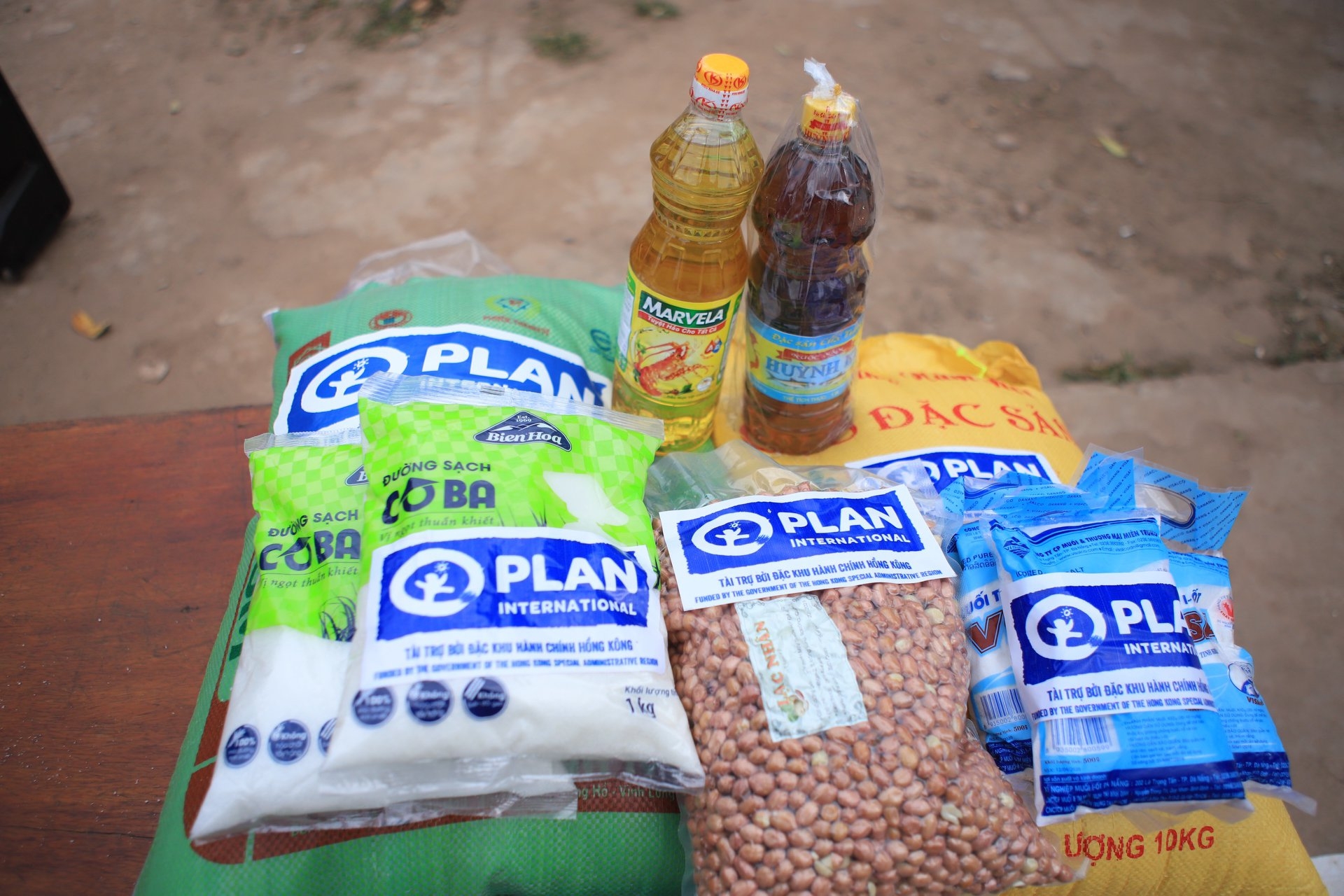 This pre-Tet relief package distribution continues to focus on essential foods. Source: Plan International Vietnam
Also in the same flood-hit province, Ha, 11 years old, born and raised in Duy Ninh commune of Quanh Ninh district, said that this was the first time she saw such a devastating flood. Her whole family had to run to a neighbor's house on higher ground to take refuge. "The floodwaters rose very quickly so my whole family just got a few packs of clothes and important papers," Ha recalled of the historic flood night.
The next morning after returning home, almost all of the furniture in the house was washed away by the floodwaters, al that was left in the house was bed frames and some plastic chairs. The two sisters' school supplies and books, which were not washed away by the floodwater, were also damaged and could not be used. Not only household appliances, nearly 30 chickens and gooses and 3 packs of rice were left with nothing.
Since then, even though the family has received support from individuals and organizations, it is still not enough for life to return to normal. Despite the difficulties, the whole family still help each other. Ha's parents do small jobs to support their children and family. "I know that my parents have been working hard to earn money for the family, so I volunteered to receive the gift to support," Ha said happily.
"So this Tet, my family has rice to eat and enough sticky rice for two packs of banh chung," Ha said after received the relief package from Plan.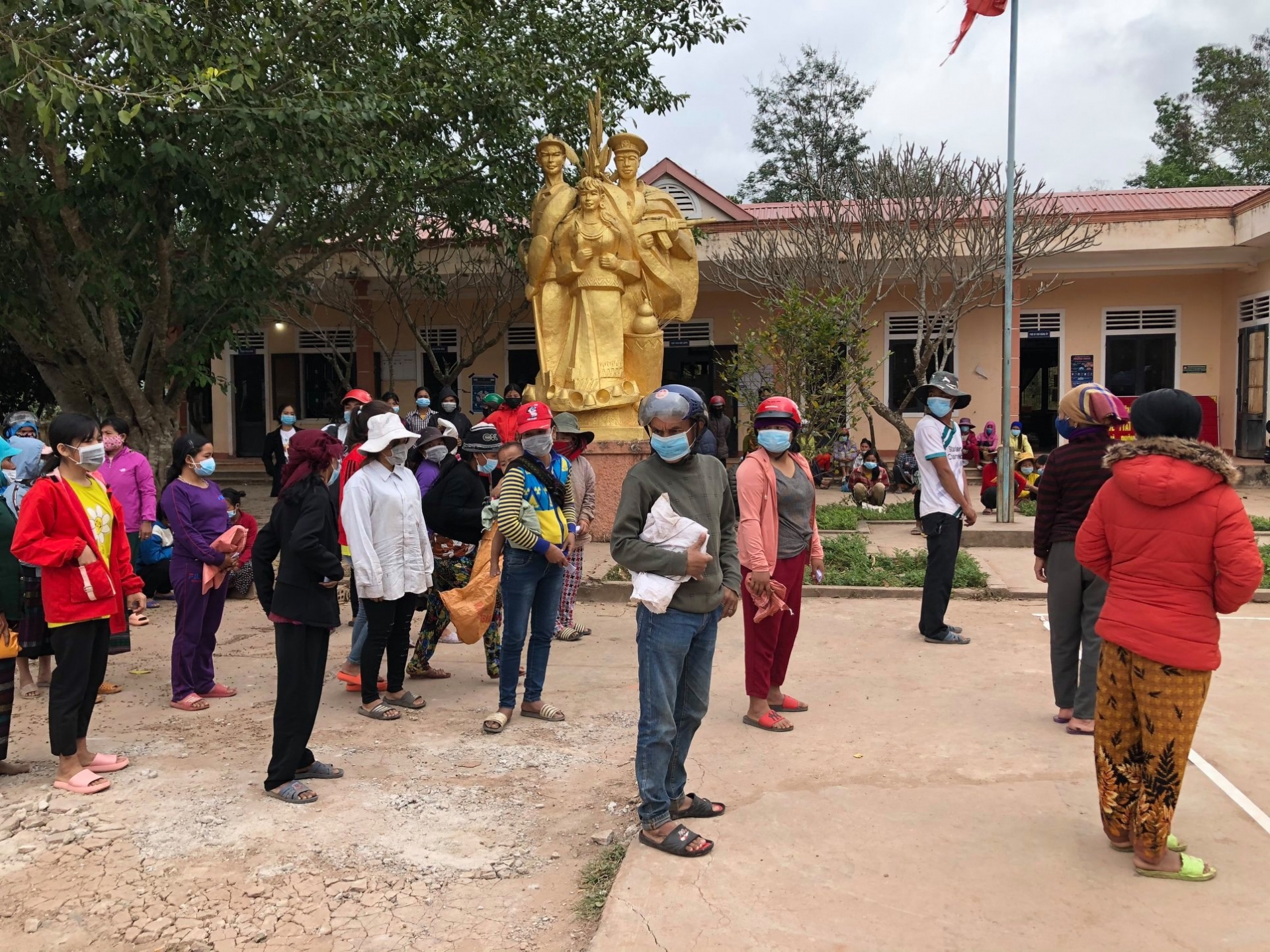 Due to the complicated development of the COVID-19 epidemic, all Plan staff and people receiving the goods strictly abide by the anti-epidemic regulations such as measuring temperature, keeping a safe distance, disinfecting hands and wearing masks. Source: Plan International Vietnam
On February 3-4, Plan also promptly supported people in Quang Binh and Quang Tri with essential food packages before Tet. Plan will still commit to support flood-affected households in all three provinces of Quang Binh, Quang Tri and Kon Tum to restore their livelihoods after Luner New Year (Tet) holiday.
As of January 28, Plan International Vietnam has reached out and provided emergency assistance to 191,932 individuals (27,048 households) in severely affected communes in three provinces of Quang Binh, Quang Tri and Kon Tum. The total amount of the fundraising has reached over EUR 1,6 million (VND 44.4 billion) which has been appropriately allocated to support people with food, household hygiene items, and livelihood restoration support.
In addition to household support, the money is also used to support schools to encourage students to return to school after the floods. Plan has also supported girls with personal hygiene packages to help them protect and maintain their personal health during and after the flood.
Plan hopes that this support will help her and her family have a fulfilled Tet holiday./.