Saigon Heat Places Second in the Southeast Asian Professional Basketball League
The Saigon Heat basketball team was expected to pull off a miracle, but will have to settle for second place at the ABL 2023 basketball championship.
The third match's final round, which will determine the winner of the Southeast Asian professional basketball tournament 2023 (ABL 2023) took place evening, March 14, at Nguyen Du Gymnasium (HCMC).
About all of the seats were filled with fans rooting for the home team Saigon Heat and hoping they defeat rival Hong Kong Eastern (Hong Kong, China).
The team from Hong Kong-China received the ABL 2023 championship trophy at Nguyen Du Gymnasium (HCMC). Photo: BR.TV
On the court, Saigon Heat's chances are not great. It's important to note that Saigon Heat head coach Matt Van Pelt was unable to supervise the team for this game due to personal obligations, and assistant coach David John Grice stepped in to lead the team.
O'Darien Bassett and Dominic Gilbert continued to be successful players for the Hong Kong - China side, and at times the away team put the Saigon Heat defender in an uncomfortable defensive position. Despite attempts to score by Hassan Thomas, Jeremy Combs, and Evan Gilyard, Saigon Heat ultimately fell to Hong Kong Eastern by a score of 60–73.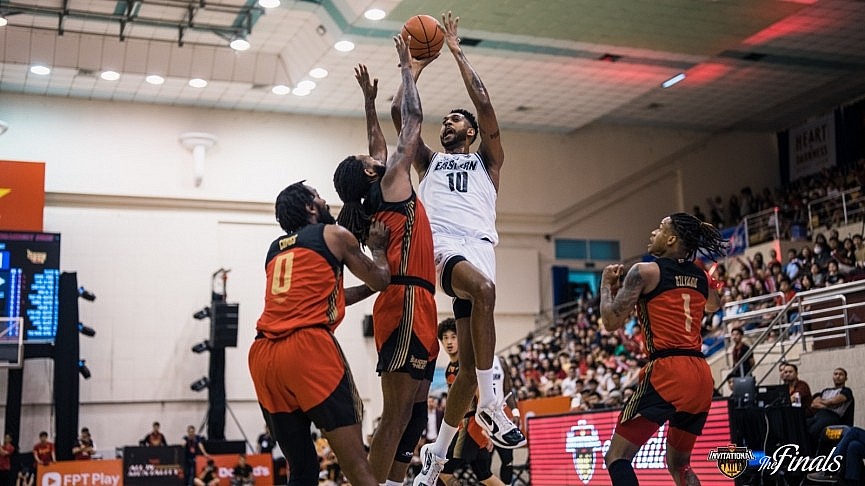 Saigon Heat scoring. Photo: The Thao 247
When the remaining three games of the ABL 2023 were added together, Hong Kong Eastern prevailed 2-1 to claim the championship trophy. At Nguyen Du Gymnasium (HCMC), Saigon Heat players made history by becoming the first team to go to the tournament's final.
During the final game, the Saigon Heat basketball team praised the coaching staff, players, and spectators for their support throughout the tournament and promised to return better than ever.