Second round of coronavirus stimulus checks, what we should know
Following a direct check of US$1,200 to millions of Americans impacted by the coronavirus pandemic, the Trump administration has recently unveiled a US$3 trillion relief package called  Health and Economic Recovery Omnibus Emergency Solutions Act or HEROES Act earlier this week that is slated to hand over adults, children and the disabled. The payments would be capped at $6,000 per household.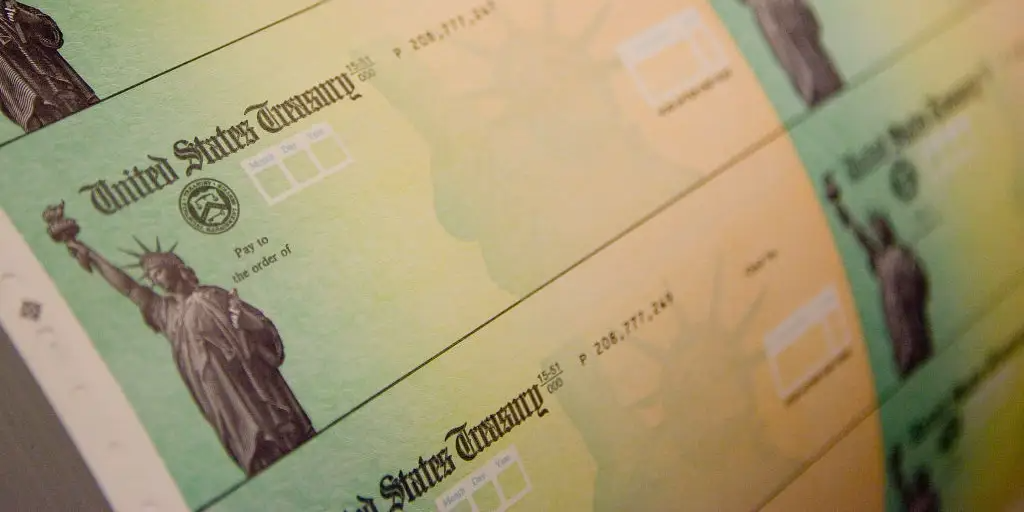 Economic stimulus checks are prepared for printing at the Philadelphia Financial Center May 8, 2008 in Philadelphia, Pennsylvania. Jeff Fusco/Stringer
According to Fox News, Republicans have not yet released a relief bill, but Senate Majority Leader Mitch McConnell said Tuesday it could include enhanced medical malpractice protections for health care providers on COVID-19 cases and new legal protections for businesses, nonprofits and government agencies.
According to Business Insider, McConnell and other Republicans have expressed disapproval for the bill. At the bill's release on Thursday, McConnell said it was a "big laundry list of pet priorities" and that it has "no chance of becoming law." They want to pause and allow the nearly $3 trillion in spending already approved to begin trickling through the economy before passing additional aid.
On Wednesday, Federal Reserve Chairman Jerome Powell, a Republican, issued a stark warning about the state of the U.S. economy, warning the recession could become "prolonged" if the federal government does not pass additional policy measures. He did not specify which policies should be considered.
HEROES Act identified and corrected some perceived shortcomings in the CARES Act
So far, Congress has passed four massivestimulus packages totaling nearly $3 trillion to blunt the economic pain from the virus outbreak. That includes the $2.2 trillion CARES Act signed into law at the end of March, which sent one-time payments of up to $1,200 to Americans who earn less than $99,000, according to Forbes.
Some Democrats have taken a different approach to stimulus measures. Sens. Kamala Harris, D-Calif., Bernie Sanders, I-Vt., and Ed Markey, D-Mass. unveiled a bill earlier this month that would give most Americans a monthly payment of $2,000 until the virus outbreak begins to fade.
Similar to a House bill proposed in mid-April, the senators called for $2,000 cash payments to every American who earns less than $120,000 it would expand to $4,000 for married couples and also provided an extra $2,000 for each child up to three.
Next stimulus check could be a monthly check
According to Forbes, there have been three separate stimulus proposals that are calling for monthly checks of up to $2,000 per person and additional payments for dependents.
The monthly stimulus check proposals have received a lot of press, but they are unlikely to be passed in their present form due to the sheer cost of the programs. Estimates put the cost of those programs in the range of $3 trillion up to $10 trillion.
The sticker shock alone will most likely prevent these from being passed.
Your next stimulus check will most likely be a one-time payment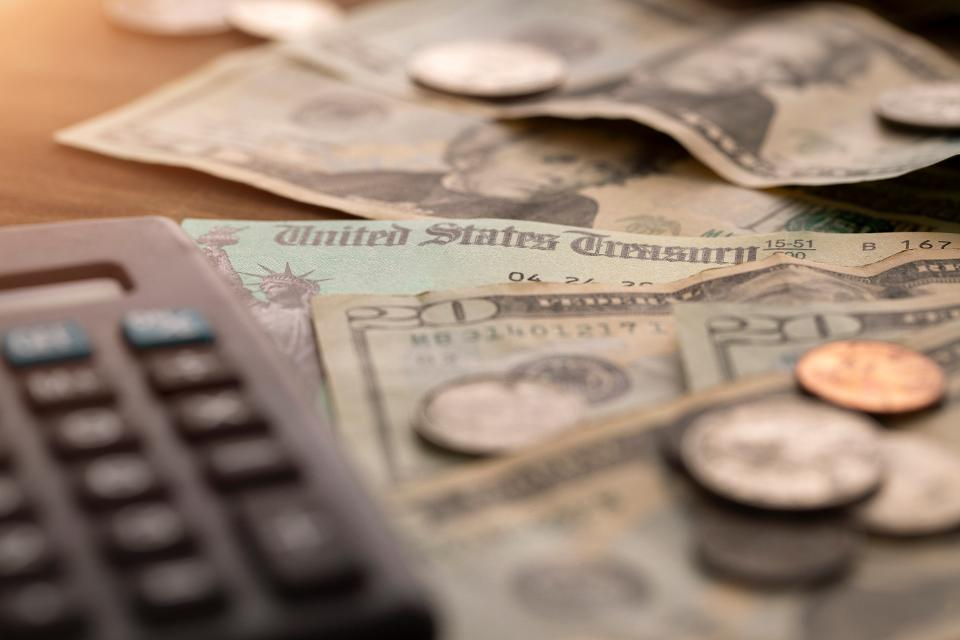 Due to the coronavirus the department of treasury is issuing to US citizens economic impact payments known as a stimulus check. GETTY
The CARES Act provided a one-time, $1,200 Economic Impact Payment. If we see another stimulus payment, it will likely be a similar one-time payment. The IRS did a commendable job getting out the initial batch of stimulus payments, but there are still millions of payments left to process, and some of those could take months.
Starting a new stimulus payment program could potentially have many people getting their first two checks before some people get their first. Add an ongoing monthly check to the mix and you're asking for problems.
The stimulus payments most likely won't be offset, garnished, or withheld for child support
The CARES Act included language that prohibited the stimulus checks from being garnished for back taxes, federal debts, and certain other obligations. However, it did not prohibit the funds from being garnished for child support or certain other debts. The HEROES Act and other current proposals include language that would prohibit future stimulus payments from being offset, withheld, or garnished.
Families May Be Eligible for Larger Checks
The CARES Act provided a $500 payment for eligible children ages 16 and under. The HEROES Act calls for a $1,200 payment per qualified dependent, up to three dependents. This means families could be eligible for up to $6,000 in stimulus payments.
Some of the other proposals, such as the Emergency Money for the People Act would provide a $2,000 monthly check for everyone over the age of 16 making less than $130,000 per year, and an additional $500 per dependent for up to 3 dependents. Other stimulus proposals call for monthly checks with $2,000 for both the taxpayer and dependents. All of the current proposals are more generous for families than the stimulus check passed under the CARES Act.
How to track payment if it's arriving by mail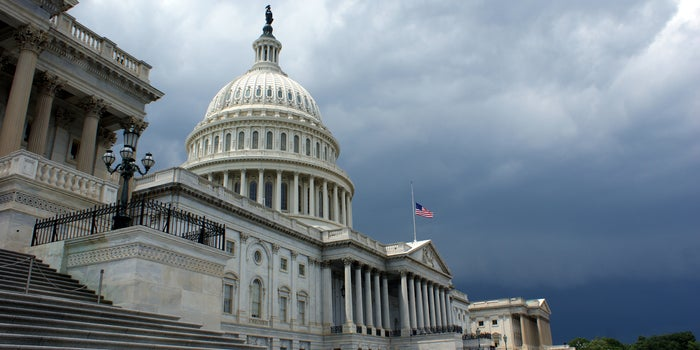 Image credit: Rachael McDiarmid | Getty Images
Advice on how to follow the progress of your coronavirus Economic Impact Payment if the IRS is sending it to you in paper-check form, AS informed.
If the Internal Revenue Service (IRS) has the recipient's bank details, this payment is being deposited directly into their account; if not (and the deadline to enter direct-deposit information in the IRS' Get My Payment portal passed on Wednesday 13 May), the US tax office will send a paper check to the postal address it has on file for that person.
Receiving paper stimulus check slower than by direct deposit
Those receiving a paper check are likely to face a significantly longer wait than those being paid by direct deposit: indeed, the US House of Representatives Ways and Means Committee said in April that the entire rollout of snail-mail payments was expected to take a total of 20 weeks to complete.
Get My Payment tool
You can use the IRS' online Get My Payment tool to find out the status of your check. After accessing the portal, enter your Social Security Number (SSN) or Individual Taxpayer Identification Number (ITIN), plus your date of birth, address and ZIP code, and you'll see your payment status and info on the scheduling of your check.
It is also worth pointing out that the IRS says it will send a letter to the recipient within 15 days of payment, providing "information on how the payment was made and how to report any failure to receive the payment".
• Go to the IRS' Get My Payment tool
Note: If you are not required to file a US tax return, your check is processed via the Non-Filers: Enter Payment Info Here tool, rather than Get My Payment.
• Go to the Non-Filers portal
There is also another way to follow the progress of your paper check: the US Postal Service (USPS) offers a free mail-tracking service called Informed Delivery, which lets subscribers know when letter-sized post is on its way to their address.