Stepping up establishment of ASEAN Centre at major university in Kiev
Recently, the Ambassadors to Ukraine of Vietnam, Malaysia, and Indonesia held a meeting at the Taras Shevchenko National University of Kyiv to discuss the establishment of an ASEAN Centre at the university.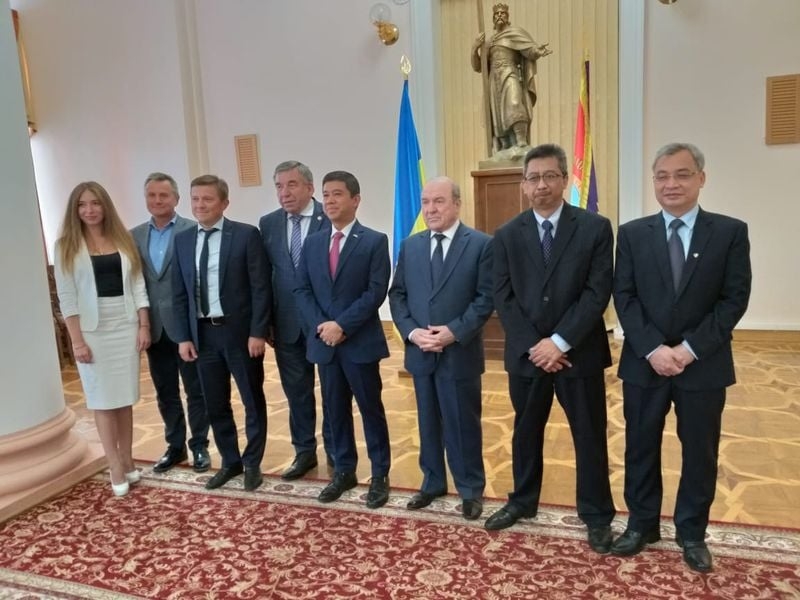 Ambassadors to Ukraine of Vietnam, Malaysia, and Indonesia hold working session with Ukrainian side. Photo: VNA
The Vietnam News Agency reported that the meeting was attended among others by the Ambassador of Indonesia to Ukraine Yuddy Chrisnandi, Ambassador of Vietnam accredited to Ukraine Nguyen Anh Tuan, Ambassador of Malaysia to Ukraine Raja Dato' Reza Raja Zaib Shah, Prof Dr Leonid V. Hubersky, Rector of Taras Shevchenko National University of Kyiv and Yevhen Pikalov, Director General of the Asia-Pacific region, Ministry of Foreign Affairs, Ukraine.
The Minister of Foreign Affairs of Ukraine has proposed the setting up of the Centre to deepen ASEAN-Ukraine relations. The proposed ASEAN Centre will be a catalyst to promote people-to-people contact and create awareness about ASEAN among Ukrainians.
University rector Leonid Huberskyi underscored the importance of the project in his remarks, and pledged his support and the venue, equipment, and resources needed for the centre to become operational shortly.
It will introduce ASEAN's political situation, socio-economy, and culture, and connect Ukraine and the bloc's member states, he added.
Yevhen Pikalov, Director General of the Directorate General for the Asia-Pacific Region at the ministry, committed to working with relevant parties to draft a memorandum of understanding on the university and ASEAN nations carrying out specific steps for the centre's establishment.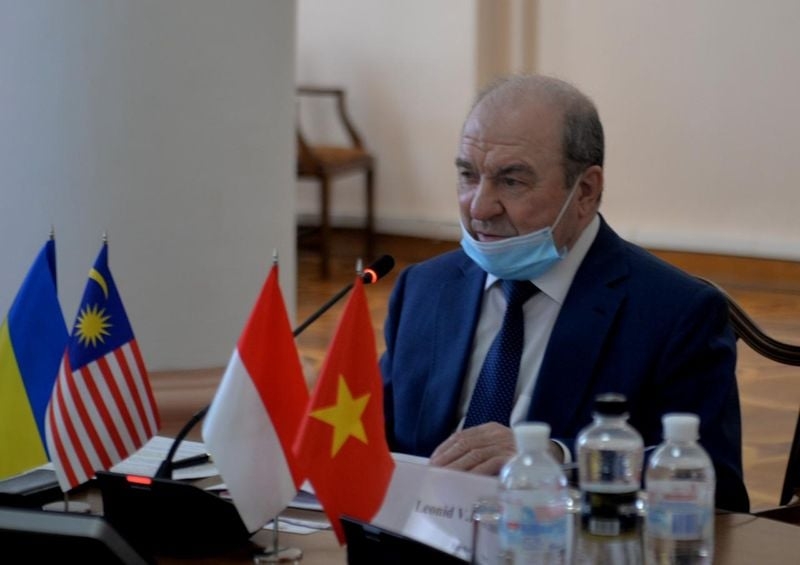 Both host and guests agreed that establishment of an ASEAN Centre at a major university in Kiev to disseminate information about ASEAN.
Ukraine is aware of ASEAN's regional and global importance, he affirmed, noting that the opening of the centre aims to boost relations between the two sides via cultural, knowledge, and information exchanges.
Participating ASEAN member nations said the centre would open up a new chapter in ASEAN - Ukraine ties via enhancing mutual cooperation and understanding.
They said the centre will be a venue for workshops, conferences, and research, creating opportunities for educational and cultural exchange.
The embassies and the university agreed to appoint representatives for further detailed discussions on the establishment, including on infrastructure, equipment, and socio-political and educational publications.
Both sides noted that specific steps must be implemented so the centre can be open this year, during Vietnam's ASEAN chairmanship.
Founded in 1834, the Taras Shevchenko National University of Kiev is the leading contemporary academic and educational institution in Ukraine. Its Institute of Philology offers programmes in over 30 languages worldwide, including Vietnamese and Bahasa Indonesian./.
ASEAN-China resume COC talks

The China Embassy in Manila stated that China and ASEAN countries have resumed their expert meeting on Code of Conduct (COC) in the South China ...