Stock price today: Global stocks move higher as OPEC meeting soon to launch
Global stocks
posted small gains on Thursday on hopes that the coronavirus outbreak may be slowing in the United States and Europe. Oil futures, meanwhile, are rising ahead of a meeting between Russia and OPEC to discuss production cuts.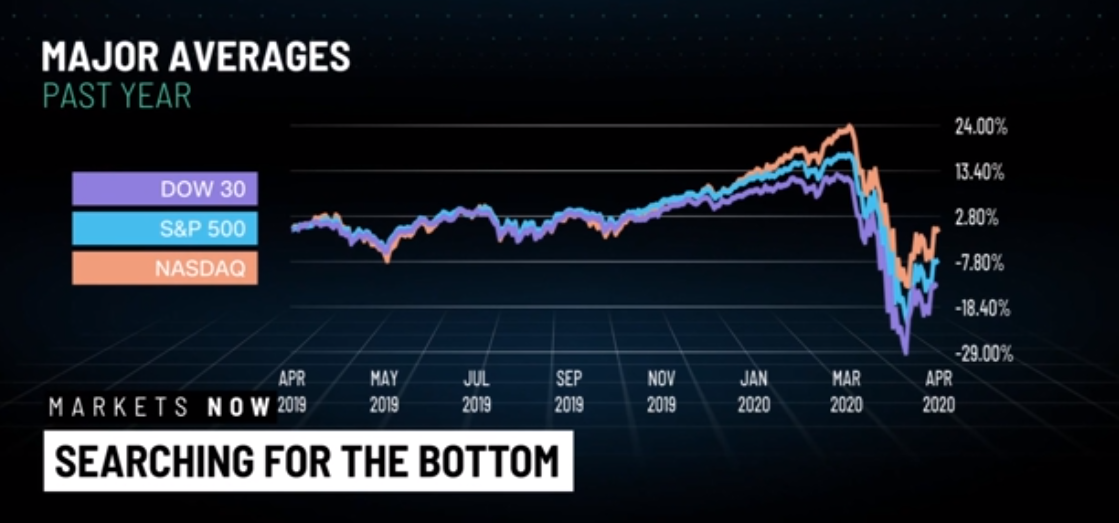 The diagram shows major averages within one year by CNN Business.
Positive outlook ahead OPEC (The Organization of the Petroleum Exporting Countries)
CNN cited data, in Europe, London's FTSE 100 (UKX) and Germany's DAX (DAX) advanced by less than 1% in morning trading. France's CAC 40 (CAC40) opened higher but quickly slipped into negative territory.
Australia's S&P/ASX 200 gained 3.5% in Asia Pacific, while South Korea's Kospi (KOSPI) rose 1.6%. Hong Kong's Hang Seng (HSI) added 1.3%, while the Shanghai Composite (SHCOMP) was up just 0.4%. Japan's Nikkei 225 (N225) was the regional outlier, closing 0.4% lower.
US stock futures, meanwhile, were volatile. Dow (INDU) futures gave up earlier gains to trade 64 points, or 0.3%, higher. Futures for the S&P 500 (INX) and Nasdaq (COMP) were marginally higher.
U.S Stock futures pointed to a flat open on Thursday in early morning trading
Futures on the Dow Jones Industrial Average indicated an opening gain of less than 10 points on Thursday. S&P 500 futures and Nasdaq-100 futures pointed to marginal opening gains as well, CNBC reported.
Prices of Stocks surged on Wednesday, with the major averages spending the entire session in the green, fueled in part by Sen. Bernie Sanders dropping out of the presidential race, as well as hopes that the coronavirus outbreak may soon turn a corner.
The Dow Jones Industrial Average gained 779.71 points, or 3.4%, to close at 23,433.57. It was the first time the 30-stock index closed above since 23,000 since March 13. The S&P 500 climbed 3.4% to 2,749.98 while the Nasdaq Composite advanced 2.6% to 8,090.90.
Raymond James' Washington policy strategist Ed Mills told CNBC that Sen. Sanders dropping out of the presidential race "removes the tail risk of some of his policies." The health care sector, which Sanders had vowed to take on, advanced with the XLV, which tracks the sector, gaining more than 4%.
Some of the sectors that have been hit the hardest since the pandemic began — such as airlines, casinos and cruise lines — also led markets higher.
After Wednesday's rally, the Dow is up 29% from its low and the Nasdaq Composite is down less than 10% this year.
"The stock market is at a very uncertain point now. The impact of the coronavirus on future earnings is yet to be determined. We aren't out of the woods," said Quadratic Capital chief investment officer Nancy Davis.
On Thursday the Street will be watching weekly jobless claims, which will be released at 8:30am ET. Economists are expecting an increase of 5 million, which would build on the record-shattering prior two readings of 6.6 million and 3.3 million.
Economists forecast that the unemployment rate will jump into the teens this month, from March's 4.4% level and the 3.5% it was at in February.
Stocks closed slightly lower on Tuesday, but jumped on Monday, bringing the Dow's week-to-date gain to 11.3%. The S&P 500, meanwhile, has bounced 10.5% this week.
Key stocks in the US on the upward trend
Investors' business daily analyzes some key stocks including Apple (AAPL), Amazon.com (AMZN), Microsoft (MSFT), which made positive moves during the last session
Price of Apple stock rose 2.6% and Microsoft stock 1%. Both are Dow Jones, S&P 500, and Nasdaq composite members — and boast trillion-dollar market caps. Shares of Amazon, which recently regained its $1 trillion valuation, nudged up 1.6%. None of those stocks outpaced the major indexes, while Nvidia stock and Dexcom stock lagged the S&P 500 and Dow.
Price of Microsoft Stock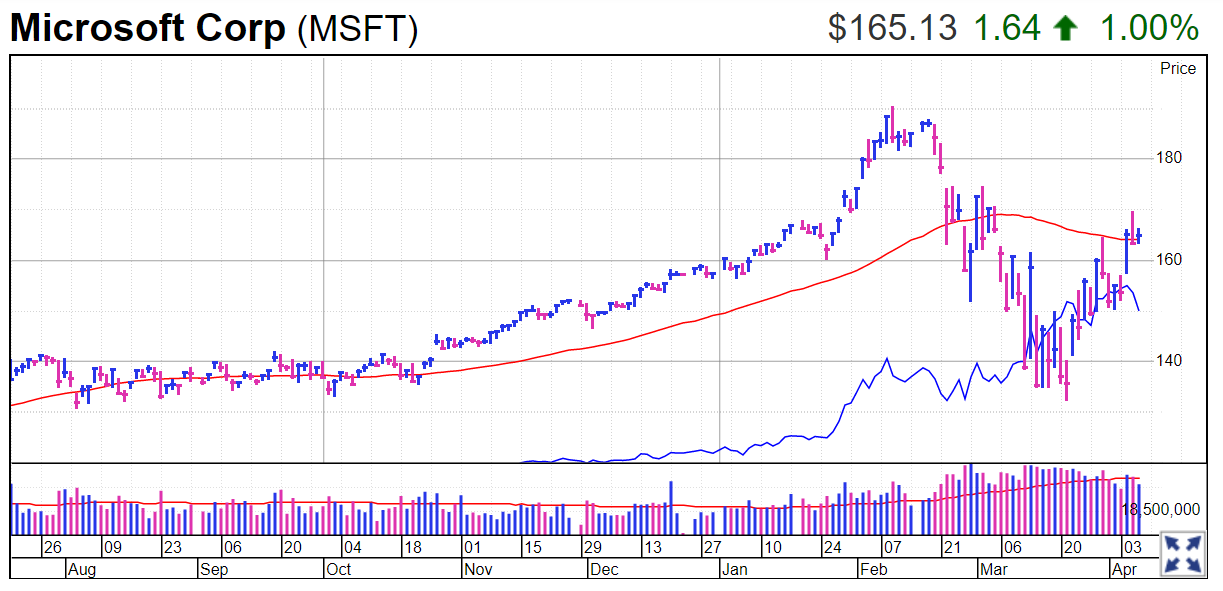 Photo from IBD
Microsoft stock rose 1% to 165.13, nudging back above its 50-day line after Tuesday's reversal. Monday's move above the 50-day line and a March 31 peak signaled an early entry for MSFT stock, an IBD Long-Term Leader. Investors might want to wait until Microsoft clears Tuesday's peak, or wait for the conventional buy point, which is 190.80. Still, Microsoft stock has been outperforming the broader market consistently, with the RS line trending higher for several years.
Price of Amazon Stock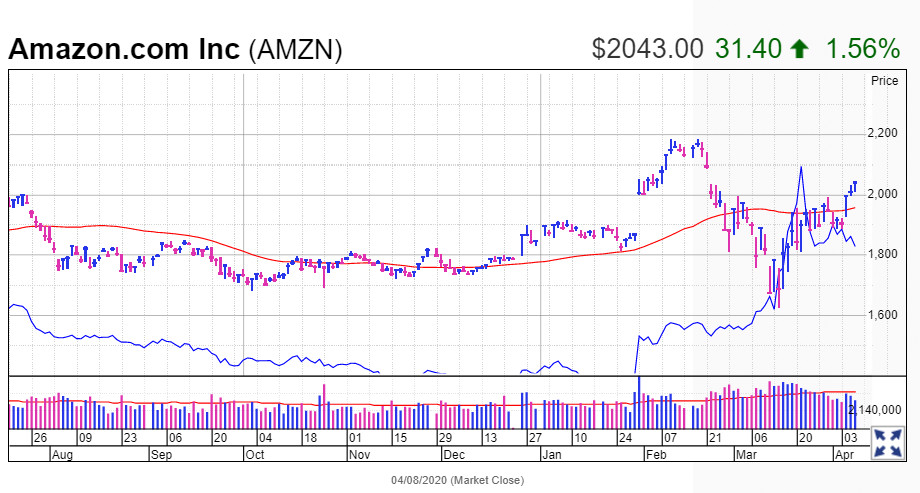 Photo by IBD.
Amazon stock was a huge winner during the coronavirus stock market crash, as e-commerce and cloud-computing demand boomed. Since the coronavirus market rally has gotten underway, AMZN stock has been more muted. But, after hitting some 50-day line resistance, AMZN stock cleared its 50-day line and its March 31 peak on Monday, offering an early entry like Microsoft stock. Unlike MSFT stock, Amazon stock has continued to creep higher, edging up Tuesday, and rising 1.6% to 2,043 on Wednesday. Amazon stock has a conventional buy point of 2186.05.
Apple Stock
Apple stock price rose 2.6% to 266.07 on Wednesday, building on Monday's move above its 200-day line. The RS line for Apple stock has fallen slightly during the coronavirus stock market rally. AAPL stock's RS line actually peaked a few days before the coronavirus stock market crash's bottom, as AAPL stock sold off sharply in those final days. But that followed a strong run of Apple stock outperformance going back to early June.
Economy
Vietnam is the biggest economic partner of Poland in Southeast Asia, and the potential for stronger cooperation remains huge.
June 09, 2023 | 18:45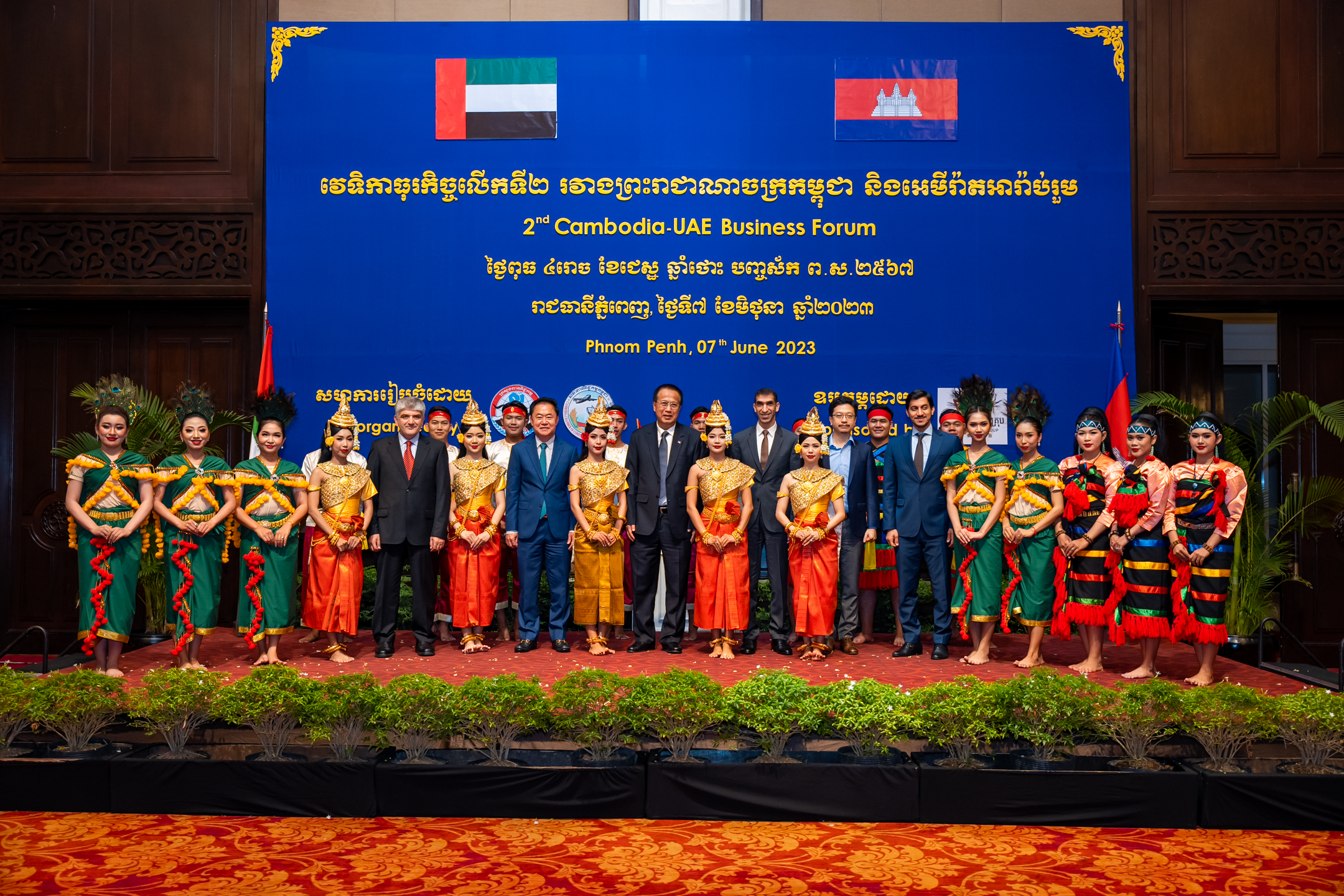 Economy
Prince Holding Group (PHG) recently participated in the 2nd Cambodia-UAE Business Forum, co-organized by the Ministry of Commerce Cambodia and the Cambodia Chamber of Commerce (CCC) at Sofitel Phnom Penh.
June 09, 2023 | 18:10
Economy
Born and raised in the HMT area of Srinagar in Jammu and Kashmir, Taha Mughal, a Cambridge alumnus and winner of the prestigious Fulbright scholarship for 2022-23, stands at the intersection of art, writing, and architecture.
June 09, 2023 | 07:00