Tension in South China Sea: India, Australia sign pacts to strengthen military ties
Military tensions are rising in the Indo-Pacific region, which includes the highly politicized the East Sea (South China Sea). The latest pacts will give Australia and India access to each other's bases for logistical support and make it easier to conduct complex military exercises with other nations in the maritime region.
According to CNN, India and Australia signed two bilateral military agreements Thursday in the "first step in deepening of the defense relationship" between the two Indo-Pacific powers, according to statements from both countries.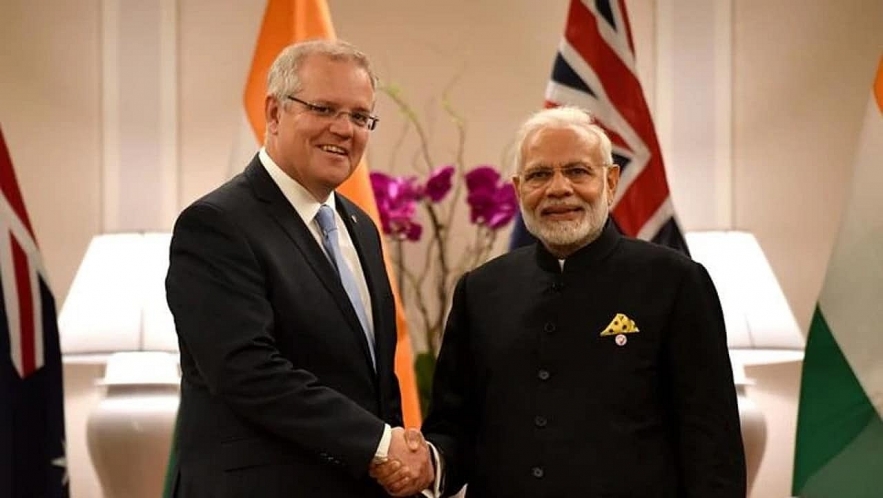 Australia Prime Minister strengthens strategic ties with India. Photo: The Australian
The deals were announced after a virtual summit between prime ministers Scott Morrison of Australia and Narendra Modi of India.
"India is comprehensively and rapidly committed to strengthening its relations with Australia. This is not only important for our two nations but also for the Indo-Pacific region and the whole world," Modi said.
"We are committed to an open, inclusive, prosperous Indo-Pacific and India's role in that region, our region, will be critical in the years ahead," Morrison added.
The new pacts, known as the Australia-India Mutual Logistics Support Arrangement and the Defence Science and Technology Implementing Arrangement, come as military tensions increase in the Indo-Pacific region, which includes in the East Sea (Bien Dong Sea or South China Sea), where China has been fortifying its positions on disputed islands.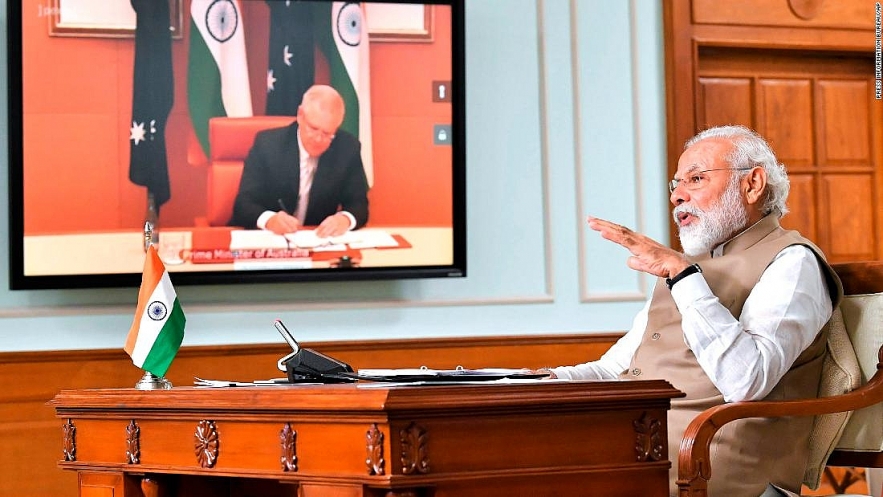 Photo: CNN
According to economictimes.indiatime.com, the long-anticipated pact for sharing of military logistics will strongly step up cooperation and will give Indian warships and aircraft enhanced reach towards the Pacific.
On the East Sea region, both countries made it clear that they support a rules-based maritime order that is based on respect for sovereignty and international law, particularly the United Nations Convention on the Law of the Sea, echoing the views of many SE Asian states and countries in the region.
"India and Australia have common concerns regarding the strategic, security, and environmental challenges in the Indo-Pacific maritime domain. India and Australia will work closely to develop, with all interested partners, the Indo-Pacific Oceans Initiative (IPOI) announced by Prime Minister Narendra Modi at the 14th East Asia Summit on 4 November 2019 at Bangkok," according to the shared vision.
According to CNBC, India has plenty of options to strengthen its diplomatic position in order to counter its tense relationship with China, according to a political analyst.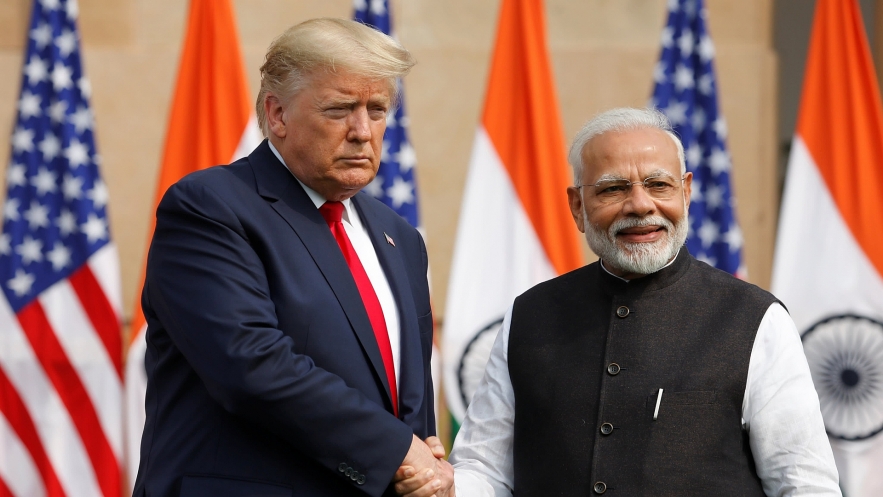 U.S. President Donald Trump, left, shakes hands with Indian Prime Minister Narendra Modi at Hyderabad House in New Delhi on Feb. 25. © Reuters
James Crabtree, an associate professor at the Lee Kuan Yew School of Public Policy in Singapore, told CNBC's "Street Signs" on Friday that New Delhi can give itself leverage against Beijing is by improving its bilateral relationships with other countries that are similarly worried about China's growing influence — such as Australia, Vietnam, Japan, and even the U.K. He warned that India needs to be careful to avoid antagonizing Beijing because it can "create all sorts of trouble."
"Nonetheless, India has lots of options," Crabtree said. "That's the nice thing about this new, slightly chaotic international environment – that lots of other countries want to be friends with India."
India has also become closer to the U.S over the last two decades, both militarily and politically, he explained.