The Best & Worst Passport in the World
Henley Passport Index has just published their 2021 passport ranking, which shows a gloomy outlook even in countries with more advanced Covid vaccine rollouts.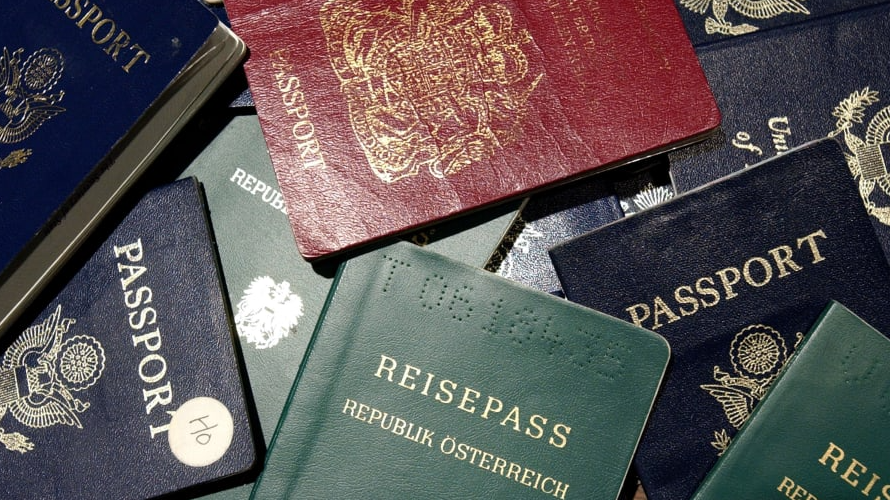 Photo: CNN
Most powerful passports 2021
Japan (193 destinations)
As the Henley Passport Index doesn't take temporary restrictions into account, Japan is once again top of the leaderboard, with its passport offering visa-free or visa-on-arrival access to 193 destinations around the world. However, the Henley & Partners report says, in the first quarter of 2021 international mobility was still only 12 percent of its pre-pandemic levels, meaning "the gulf between theoretical and actual travel access offered by even high-ranking passports remains significant."
In the real world, holders of Japanese passports theoretically have access right now to fewer than 80 destinations - about the same as the index ranking of Saudi Arabia, which sits down in 71st place (while Saudis currently have actual travel access to just 58 destinations), according to CNN.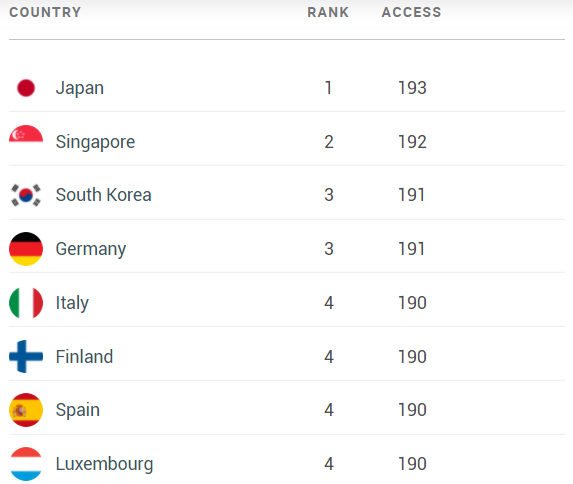 Most powerful passports 2021. (Photo: Henley Passport Index)
Singapore (192 destinations)
Singapore, the second place, may have one of the world's most powerful passports but that's little comfort as Covid curbs travel to many destinations, according to Bloomberg. In fact, under current restrictions, a Singapore passport is less useful than one from Namibia, Belarus, Kazakhstan, or Malawi, said the Henley Passport Index.
In theory, a Singapore passport gets you visa-free, or visa-on-arrival, access to 192 nations, the best score of any country globally after Japan, whose passport ranks No. 1 with hassle-free entry into 193 places. In practice, taking into account coronavirus limitations, it would permit such entry to only 70 destinations, the data show, equal to having a passport from the Dominican Republic.
South Korea, Germany (191 destinations)
Germany's passport was ranked the joint third most powerful in the world in 2021, alongside South Korea. Both passports grant their holders visa-free travel to 191 destinations worldwide.
As of 15 January 2019, South Korean citizens had visa-free or visa on arrival access to 189 countries and territories, ranking the South Korean passport second in the world in terms of travel freedom (tied with the Singaporean passport, and one ranking down from the Japanese passport) according to the Henley Passport Index.
As of 7 January 2020, German citizens had visa-free or visa-on-arrival access to 189 countries and territories, ranking the German passport third in the world in terms of travel freedom (tied with the South Korean passport) as well as the most powerful passport in Europe and the EU according to the Henley Passport Index.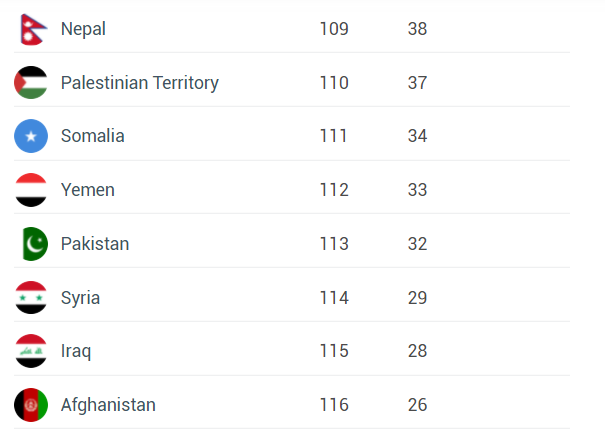 Least powerful passports 2021. (Photo: Henley Passport Index)
Least powerful passports 2021
Afghanistan (26 destinations)
The Afghani passport was ranked the weakest passport in the index as its citizens can only travel without a prior visa to 26 countries only including Cambodia, Maldives, Bangladesh, Comoros, Mauritania, Mozambique, and Comoros.
Iraq (28 destinations)
Iraqi citizens can only travel without a prior visa to 28 countries including Iran, Lebanon, the Maldives, Cambodia, Malaysia, Sri Lanka, Mauritania, Sudan, Somalia, and Uganda.
Syria (29 destinations)
Its citizens can only travel without a visa to 29 countries, bearing in mind that some countries have prevented this. In 2015 Turkey imposed visas on Syrians to enter its lands, and it seems that the asylum crisis has worsened its ranking, according to Albawaba.
Pakistan (32 destinations)
The Pakistani passport has been ranked as the fourth worst passport for international travel by the Henley Passport Index - once again sharing the same spot behind only Syria, Iraq, and Afghanistan. In the previous edition of the index in April, the South Asian country has ranked similar for the second time in a row, Daily Pakistan cited. At present, Pakistani passport holders can travel without a prior visa to 32 destinations, per Henley Passport Index 2021.
Yemen (33 destinations)
In 2016, Yemeni citizens had visa-free or visa-on-arrival access to 38 countries and territories. This ranked the Yemeni passport 97th worldwide according to the Visa Restrictions Index. However, in 2021, it drops to the 112th position.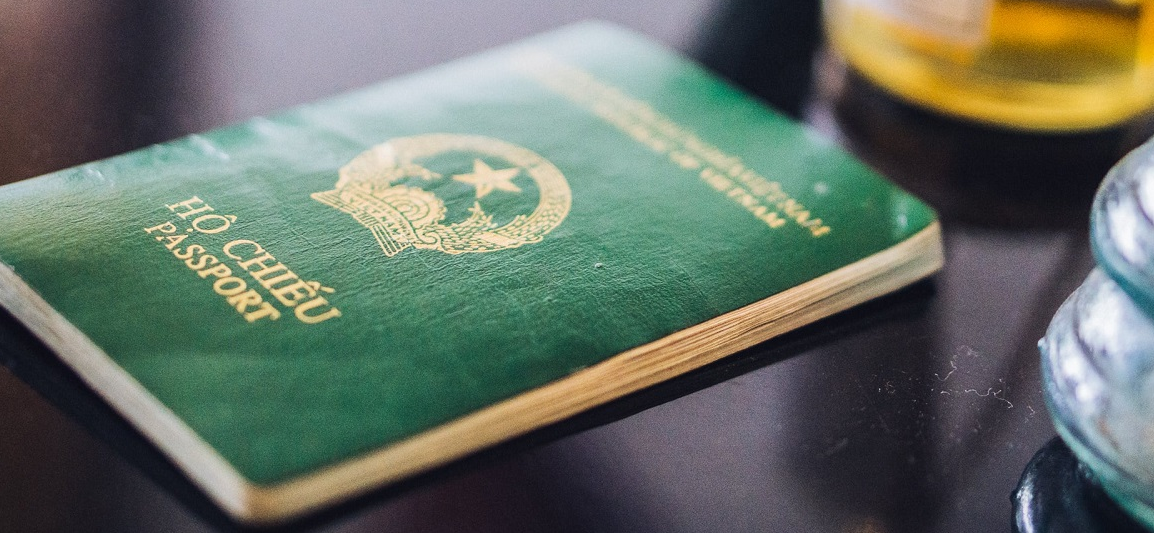 Vietnam passport is ranked 94th. (Photo: Global Education Fair)
Notable trends
China and UAE biggest climbers
As usual, most of the remaining top 10 spots on the index are held by EU countries. Finland, Italy, Luxembourg, Spain are in fourth place; Austria, Denmark is at number five; while France, Ireland, Netherlands, Portugal, and Sweden are together at number six. In terms of travel freedom, the big success stories of the past decade have been China and the United Arab Emirates.
Since 2011, China has climbed 22 places -- from 90th position to 68th -- while the UAE has gone all the way from No. 65 to No. 15. Its work on strengthening diplomatic ties around the world now means that its citizens are allowed easy access to 174 destinations, compared to the 67 destinations of a decade ago.
Passport inequality
Christian H. Kaelin, chair of Henley & Partners, says that while we don't know how long travel restrictions will continue, it's clear that global mobility will be severely hampered for at least the rest of this year. "In many countries, serious doubts have arisen as to the ability to handle a global crisis, with the subsequent embrace of more inward-looking priorities."
He adds, "Increasing isolationism and deglobalization will no doubt have profound consequences, among them further damage to the world's economy (and) a significant reduction in global mobility."
There is also rising passport inequality in this new era, he said. Japanese passport holders have visa-free or visa-on-arrival access to 167 more destinations than citizens of Afghanistan, who are at the bottom of the ranking as they can only visit 26 places without needing a visa in advance. That's the biggest gap between countries since the index began.
Due to the global disparities in terms of vaccine access and rollout programs, "Covid passports will no doubt further widen passport inequality worldwide," says Henley's Kaelin. IATA, the global trade association for airlines, welcomes the move by many countries to let vaccinated travelers skip quarantine, but also warns that the freedom to travel is something that should be available to all.
Ranked in 94th place, Vietnam passport offers visa-free access to 54 destinations. Vietnamese passport allows its bearer to stay up to 30 days visa-free mostly in ASEAN countries. The passport gained its highest ranking in the Henley Passport Index in 2006 and 2007, which are 78, according to VN Express.
With historical data spanning 16 years, the Henley Passport Index is the only one of its kind based on exclusive data from the International Air Transport Authority (IATA). The index includes 199 different passports and 227 different travel destinations. Updated quarterly, the Henley Passport Index is considered the standard reference tool for global citizens and sovereign states when assessing where a passport ranks on the global mobility spectrum.