Vietnam Airlines signs up for digital health passport
The digital health passport IATA Travel Pass can be considered as the key to opening the border, facilitating travel between countries, meeting all entry requirements of the government at the destination.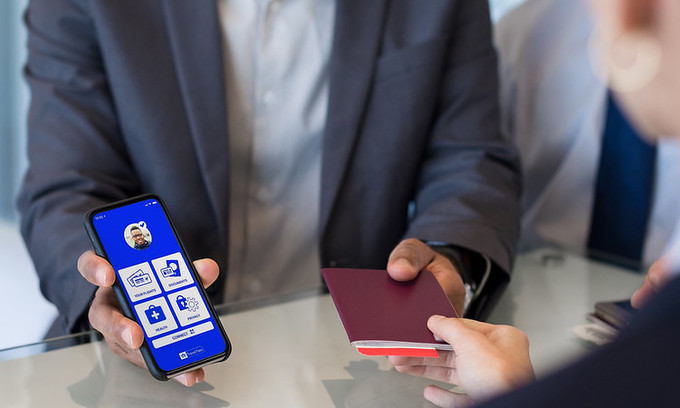 The IATA Travel Pass can be considered as the key to opening the border, facilitating passengers to travel smoothly between countries. Photo: Vietnam Airlines
Vietnam Airlines became the first airline in Vietnam to sign an agreement with the International Air Transport Association (IATA) to test the digital health passport application (IATA Travel Pass) today (May 31).
This can be considered as the key to opening the border, creating favorable conditions for passengers to travel between countries and meeting all entry requirements of authorities and governments at the destination. IATA will support and coordinate closely with Vietnam Airlines throughout the test run.
IATA and Vietnam Airlines will start testing in June. This process includes selected passengers to download the free IATA Travel Pass app to their mobile phones, create a digital profile with their photo and passport information, and fill in their flight details to gain access to update on epidemiological requirements at destination.
Before departure, passengers must make an appointment and go to a Covid-19 vaccine test or vaccination at a facility designated by the host country that is registered with IATA, then share the results electronically and get the flight status with the airline before starting the journey. The application helps airlines and authorities check the validity of certificates and easily identify passengers. All this information is confidential and is only shared with the passenger's permission.
IATA Travel Pass integrates some leading digital solutions such as contactless travel, biometric data, electronic health certificates such as test results, Covid-19 vaccination, replacing normal types of procedures with documents. This is a secure application that ensures consistent information between parties including government, testing facilities, airlines and passengers.
IATA Travel Pass. Video: IATA
According to Le Hong Ha, general director of Vietnam Airlines, Vietnam Airlines became the pioneer airline in Vietnam to test the IATA Travel Pass, creating a great step forward for its passengers and for the country's aviation industry.
Ha believes that Vietnam Airlines' ability to accelerate digital transformation along with IATA's extensive expertise in the aviation field will bring certain successes after this test. Ha believes that a "digital health passport" solution such as the IATA Travel Pass should be widely allowed and recognized by governments, helping to quickly restore regular international passenger transport.
"The most important goal is to restore passenger confidence when flying and ensure a safe and seamless travel experience for everyone," General Director of Vietnam Airlines said.
The digital health passport is one of the most expected solutions for Vietnam to quickly and safely open its border, supporting the tourism and aviation industries after a year of being heavily affected by Covid-19.
Currently, the Civil Aviation Authority of Vietnam has proposed to the Ministry of Transport to report to the competent authorities to deploy this mechanism to accelerate the reopening of regular international flights carrying passengers to Vietnam.
Previously, in February 2021, Vietnam Airlines and IATA started discussing the IATA Travel Pass. Currently, Singapore, Panama and Estonia are the three countries that have officially agreed to allow passengers to use this application upon entry. Additionally, more than 30 airlines have announced the trial, including Singapore Airlines, Qatar Airways, All Nippon Airways, Etihad, Emirates, Korean Air, Virgin Atlantic, Ethiopian.