The use of Johnson & Johnson vaccine halted over rare blood clots
The use of Johnson & Johnson is halted in The US, South Africa and European Union after six women in the U.S. developed a rare blood-clotting disorder upon receiving the vaccine.
All six were women between the ages of 18 and 48, and all developed the illness within one to three weeks of vaccination. One woman in Virginia died, and a second woman in Nebraska has been hospitalized in critical condition, according to NYTimes.
More than seven million people in the United States have received Johnson & Johnson shots so far, and another 10 million doses have been shipped out to the states, according to data from the Centers for Disease Control and Prevention.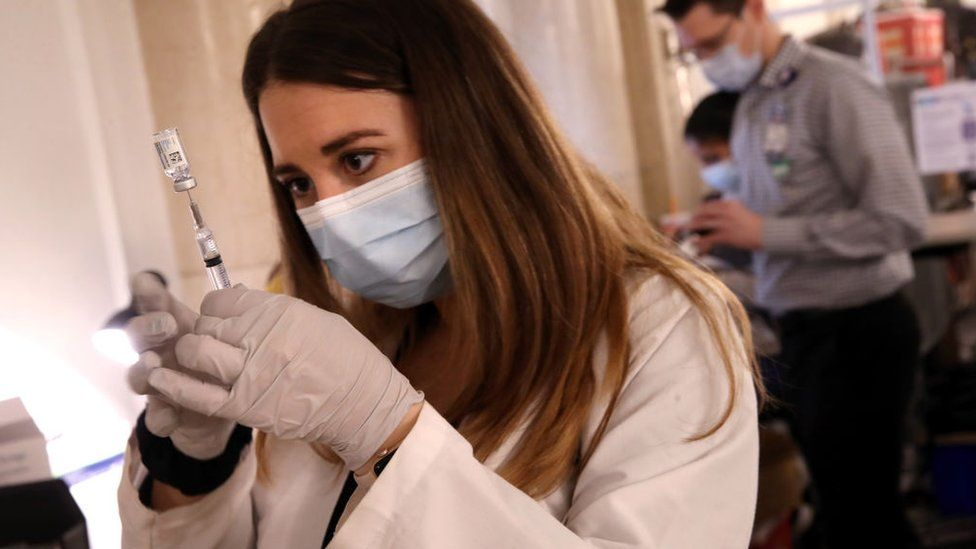 The Johnson & Johnson vaccine was cleared for use in the US in February (Photo: Getty Images)
"We are recommending a pause in the use of this vaccine out of an abundance of caution," Dr. Peter Marks, the director of the Food and Drug Administration's Center for Biologics Evaluation and Research, and Dr. Anne Schuchat, the principal deputy director of the C.D.C., said in a joint statement. "Right now, these adverse events appear to be extremely rare."
People who got the J&J vaccine more than a month ago are at very low risk for developing the blood clots, Dr. Anne Schuchat, the principal deputy director of the CDC, told reporters on a conference call Tuesday.
"For people who recently got the vaccine within the last couple weeks, they should be aware to look for any symptoms," she said. "If you've received the vaccine and developed severe headaches, abdominal pain, leg pain or shortness of breathe you should contact your healthcare provider and seek medical treatment."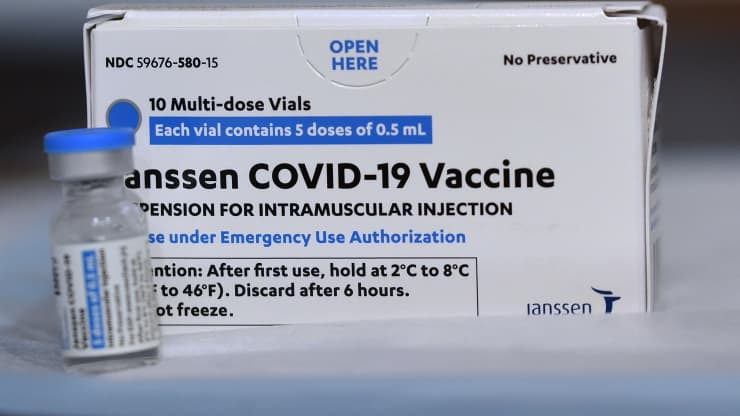 Johnson & Johnson COVID-19 vial and box seen at a vaccination site. Doses of the Johnson & Johnson vaccine are being administered throughout the state of Florida despite a small number of patients who have experienced adverse reactions, including blood clots. Paul Hennessy | LightRocket | Getty Images
The blood clotting generally occurs about a week after vaccination, but not more than three weeks after, with a median timeframe of 9 days, Dr. Peter Marks, director of the FDA's Center for Biologics Evaluation and Research, said on the call, CNBC reported.
"We know that for these vaccines, that for the first several days after vaccination, there are flu-like symptoms that can include headache," he said, adding that those are likely common adverse events. "If someone presented to an emergency room with very severe headache or blood clots," doctors should ask whether they recently got a vaccine before putting together a plan of care. If the patient also has low platelets, doctors should consider that it may be related to the vaccine, he said.
Shares of J&J fell by almost 3% in intraday trading.
Out of the 120 million people in the U.S., roughly 6.9 million have received J&J's vaccine, White House chief medical advisor Dr. Anthony Fauci told reporters in a separate press conference Tuesday, noting that there haven't been any "red flag signals" from the Pfizer or Moderna vaccines that rely on MRNA technology in making their vaccines. Out of the 6.9 million people who got the J&J jab, 6 developed blood clots.
"We are totally aware that this is a rare event. We want to get this worked out as quickly as we possibly can and that's why you see the world pause, in other words, you want to hold off for a bit," Fauci said. "We want to leave that up to the FDA and the CDC to investigate this carefully. I don't think it was pulling the trigger too quickly."
F.D.A. and the C.D.C. to examine possible links between the vaccine and the disorder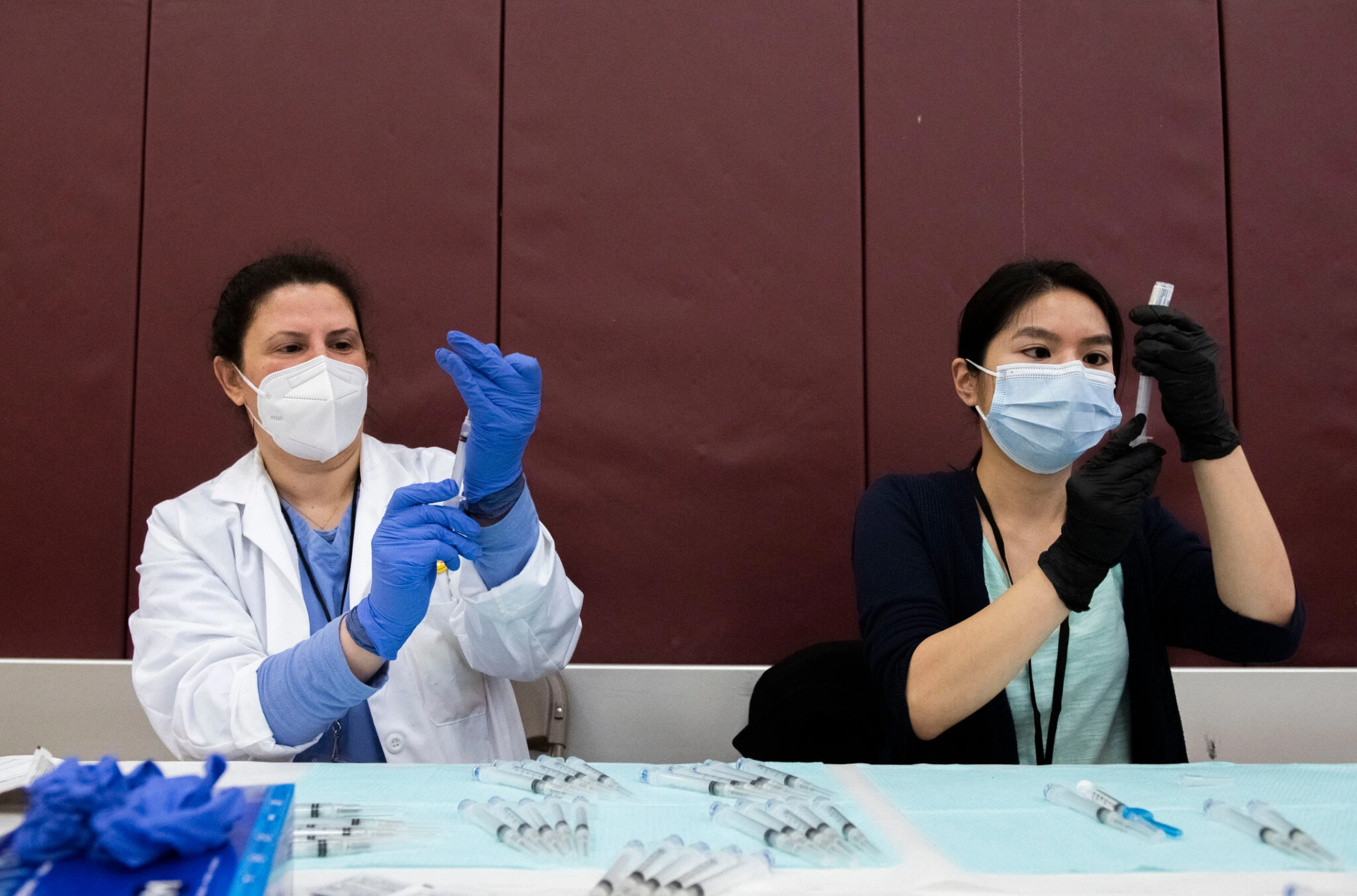 Pharmacists prepared syringes with the Johnson & Johnson vaccine in Detroit on Monday. More than seven million people in the United States have received the vaccine.Credit...Nicole Hester/Ann Arbor News, via Associated Press
The reaction prompted an intense debate among public health experts about whether guarding against such a rare disorder was worth the cost. Scores of vaccine appointments were canceled this week, and some public health officials feared that by fueling vaccine hesitancy and conspiracy theorists, the pause could prompt fewer Americans to get vaccinated — and expose them to far more risk.
Others said the F.D.A. and the C.D.C. simply had no choice.
"It's incredibly challenging, but to ignore it would have been worse," said Rachael Piltch-Loeb, an expert in health risk communication at the N.Y.U. School of Global Public Health. If the public suspected that the government was concealing serious potential side effects, she said, far more people might decide against vaccination.
The CDC will convene a meeting of the Advisory Committee on Immunization Practices on Wednesday to further review the cases, federal health regulators said Tuesday. The FDA is also investigating the cases, according to CNBC.
Last week, Europe's medicines regulator said it found a possible link between the coronavirus vaccine developed by AstraZeneca and the University of Oxford and rare blood-clotting issues. AstraZeneca has not received authorization for use in the U.S.
Isaac Bogoch, an infectious disease specialist who has sat on several drug data and safety monitoring boards, said J&J and AstraZeneca use the same platform for their vaccines. The J&J and AstraZeneca vaccines use an adenovirus, a common type of virus that typically causes mild cold symptoms.
"Clearly we don't have all the information and need to learn more about the mechanism and risk factors," he told CNBC. "But of course we can't sweep any potential adverse events under the rug and it needs to be investigated thoroughly."
Marks told reporters that researchers haven't yet found a specific cause for the blood clotting in J&J vaccine recipients, but they believed it was similar to other adeno viral vector vaccines.
"That is an immune response that occurs very, very rarely after some people receive the vaccine and that immune response leads to activation of the platelets and the extremely rare blood clots," Marks said.
Johnson & Johnson issued a statement saying that it shared "all adverse event reports" with the health authorities.
It added: "We are aware that thromboembolic events including those with thrombocytopenia have been reported with Covid-19 vaccines. At present, no clear causal relationship has been established between these rare events and the Janssen (J&J) Covid-19 vaccine."
In a joint statement, the FDA and the Centers for Disease Control and Prevention (CDC) said they were "reviewing data involving six reported US cases of a rare and severe type of blood clot in individuals after receiving the J&J vaccine".
It said the clotting was called cerebral venous sinus thrombosis (CVST), BBC noted.
The statement said that this type of blood clot needed a different treatment than usual.
The common treatment - an anticoagulant drug called heparin - "may be dangerous", it said.
Pending a further review, the FDA and CDC recommended "a pause in the use of this vaccine out of an abundance of caution".
The joint statement said that "people who have received the Johnson & Johnson vaccine who develop severe headache, abdominal pain, leg pain, or shortness of breath within three weeks after vaccination should contact their health care provider".
Other Covid-19 vaccines have no report of blood clotts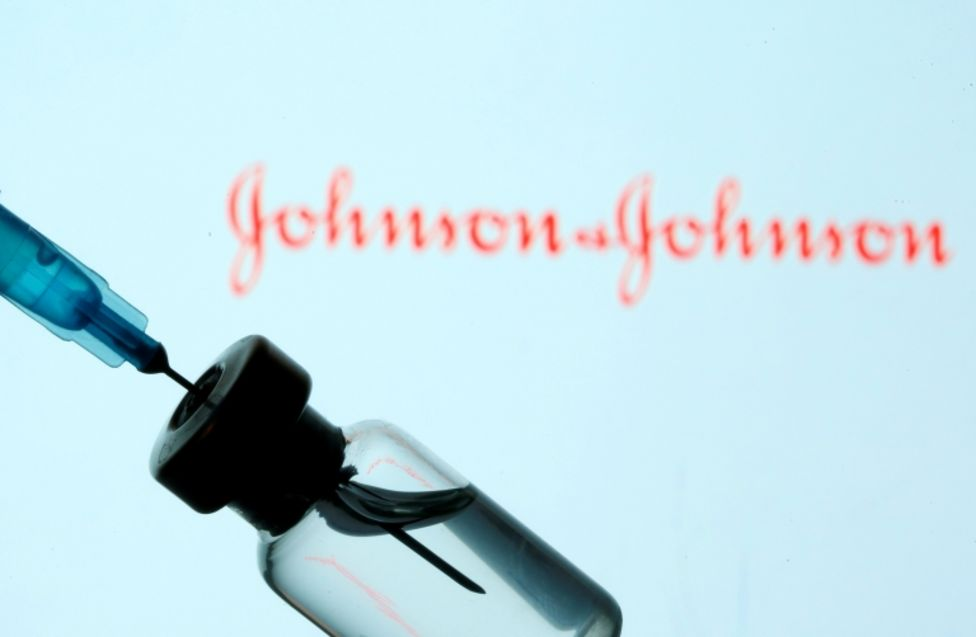 Photo: Reuters
The vast majority of the nation's vaccine stock comes from two other manufacturers, Pfizer-BioNTech and Moderna. Those two vaccines use a different technology than Johnson & Johnson's and AstraZeneca's. More than 180 million doses of Pfizer and Moderna have been administered, according to the C.D.C.'s latest statistics, and federal officials stressed on Tuesday that they had seen no evidence of the blood clots that led to the pause of the Johnson & Johnson vaccine — or of any other significant safety concern.
The decision is a fresh blow to Johnson & Johnson. Late last month, the company discovered that workers at a Baltimore plant had accidentally contaminated a batch of its vaccine, forcing the firm to throw out millions of doses. With federal certification of that factory in doubt, Johnson & Johnson's shipments dropped to one-fourth or less of what had been expected, a severe disappointment to White House and state officials, according to NYTimes.
Jeffrey D. Zients, the White House coordinator of the pandemic response, said that the federal government was still shipping out 28 million Pfizer and Moderna doses this week and that about three million shots were being administered daily.
But the White House had been hoping for an even better showing. At one point this spring, officials were planning on weekly shipments of more than four million doses of Johnson & Johnson vaccine beginning this month.
Because Johnson & Johnson is one dose and easily stored, it was destined for specialized vaccine outreach programs. In Colorado and California on Tuesday, mobile vaccine clinics in rural areas were canceled. In Chicago, vaccination events for restaurant employees and aviation workers were postponed indefinitely. At colleges in Ohio, New York and other states, where the one-dose vaccine offered a chance to quickly inoculate students before they left campus for summer, appointments were called off en masse.
In the United States alone, 300,000 to 600,000 people a year develop blood clots, according to C.D.C. data. But the six cases that led to the pause involved a rare combination of symptoms. The clots occurred in the brain, in a condition called known as cerebral venous sinus thrombosis. The clots were accompanied by low levels of platelets, a component of blood that helps form clots that normally help heal wounds.
All of the women developed the illness within about one to three weeks of vaccination, with a median time of nine days. The hospitalized Nebraska woman is in her late 40s and developed blood clots two weeks after her shot, state health officials said.
The first public sign of concern about Johnson & Johnson's vaccine came on April 9, when the European Medicines Agency announced that it was investigating reports of four cases of blood clots in people who received the vaccine in the United States. One case occurred in the clinical trial that took place before the vaccine was authorized. Three occurred in the vaccine rollout. One of them was fatal, the agency said. The regulators said the cluster of cases required investigation, but that it was not clear whether the vaccine was to blame.