This Vietnamese young man has offered free meals to poor people for almost a decade
After witnessing an old woman picking up wasted food in trash, Loc 'buffalo' decided to feed the poor people with delicious meals cooked by himself. It has been seven years since he's been doing this meaningful work.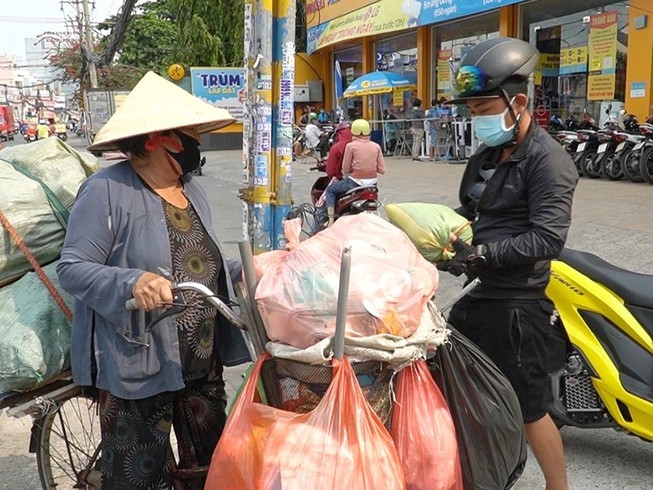 Loc has cooked meals free meals for the poor people in Ho Chi Minh city since nearly 7 years ago. Photo: PLO
Asking residents in Tan Kieng commune, Binh Chanh district, Ho Chi Minh city about Loc 'buffalo', there is nobody who doesn't know him.
Loc 'buffalo' real name is Nguyen Trong Minh Loc, 33 years old. Loc said he got his nickname since he was a child, because he was a naughty boy and as 'hard-headed as buffalo'.
Donating the poor people a ton of rice during the COVID-19
As the Government applied national social distancing measures in early April, the first people Loc thought of were the poor, the manual laborers who made a living with unstable jobs.
Without hesitation, Loc spent his savings on a ton of rice, then divided in into several portions, each consisting of 5 kilos of rice, some packs of instant noodles and face masks which were donated by his friends, to distribute to the poor in person.
"For lots of people, 5 kilos of rice is nothing, however, for the poor people, it can feed them 5-10 days. With my financial capacity, I could only donate 1 ton of rice. Then, I posted on Facebook calling my friends to donate mask and instant noodles", Loc said.
According to Loc, gathering large group of people to do charity work during the epidemic might do not good. Therefore, he rode his motorcycles to distribute gifts to the poor people in person.
As one of the people receiving help from Loc, Mr. Nguyen Van Quang (District 9, Ho Chi Minh city), whose hands amputated, living alone and making a living by selling lottery tickets said:
"Due to the COVID-19, I have no job to earn for living. In such situation, Loc doesn't mind long distances or the weather, coming here to present me the gift from his sincere heart. I am very thankful and pray for his health.''
In a circumstance no better than Quang, Nguyen Van Tai (also residing in District 9), said he run a motorbike taxi to raise his seriously ill wife. On normal days, he earns VND100,000 (about USD 4) but during the COVID-19, he earns nothing.
"Thanks to Loc's help, we could manage to survive through this difficult period. I feel very touched by his work'', Tai said.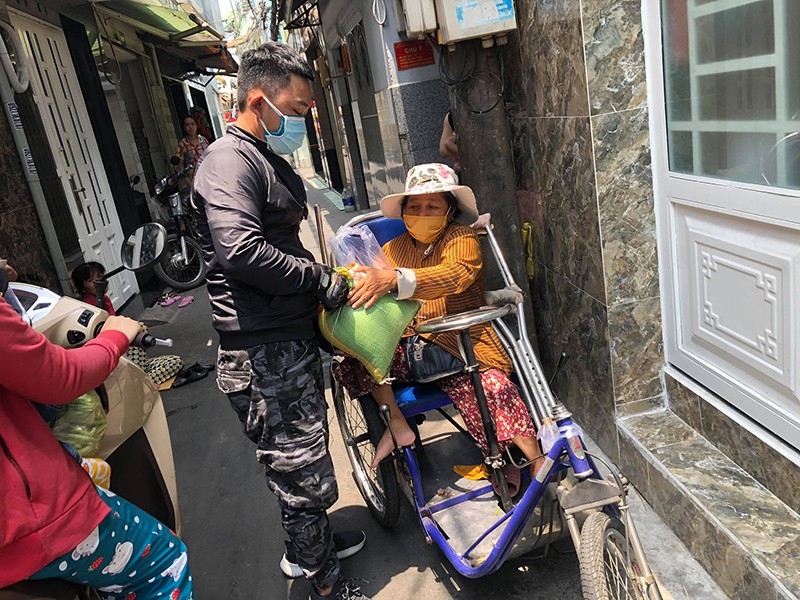 Loc donates rice to those in need during the COVID-19 pandemic. Photo: Nguyen Duoc/PLO
Empathy with the difficulties of the poor
Starting making a living at young age, Loc understands very well the miserable life of the less fortunate. Loc said "I start working at 14 years old. One day, I caught an old lady picking up wasted food in the trash in an apartment complex. That image was haunting in my mind. I told myself to try to earn money to help the poor."
In the old days, Loc worked as a construction worker, not earning much money so he couldn't help many people.
Since 2014 when he had a more stable job, Loc started using his savings to buy meals for the homeless.
There is a memory I remember forever. Once, I went to a rice restaurant and caught of a person in wheelchair picking up leftovers to eat. I invited her to join my meal but she refused. She said, if I gave my meal to her, she would take it. At that time, I thought that the guilt burdening them so that they could not sit down to eat in a decent manner. Since then, I started to cook meals for the poor by myself," Loc said.
Supported by his mothers and relatives, Loc has been cooking meals for the poor and the homeless around Ho Chi Minh city for nearly 7 years now.
Understanding Loc's sincerity and kindness, a number of people join hands with him. Loc has had more companions to do charity work.