Top 10 Best Christmas Markets in Europe
Christmas is the best time in the year for relaxation and fun with your loved ones. Dont forget to visit these biggest and best Christmas markets in Europe, where you can find everything in your list.
The festive season is not complete for many revellers unless they have visited a Christmas market. This year the selections looks set to be bigger than ever after many cancellations in 2020 brought by Covid restrictions now markets are re-appearing in many traditional spots and some new locations.
From the various market stalls selling a variety of local products to giant Christmas trees covered in decorations, festive markets are a perfect way to kickstart the festive celebrations.
Whether you're looking for a UK Christmas market or wanting to make a long weekend out of the festive season, there's a perfect destination within easy reach.
A new study from Christmas Tree World has revealed the best festive markets in Europe - and Edinburgh takes the top spot. The study analysed markets using important factors such as number of days it is open, easy-to-obtain, affordable hotel accommodation and internet search traffic to calculate the best across the whole continent.
Here is 10 best Christmas markets in Europe, where you can enjoy your holiday and have the most perfect gifts.
1. Basel, Switzerland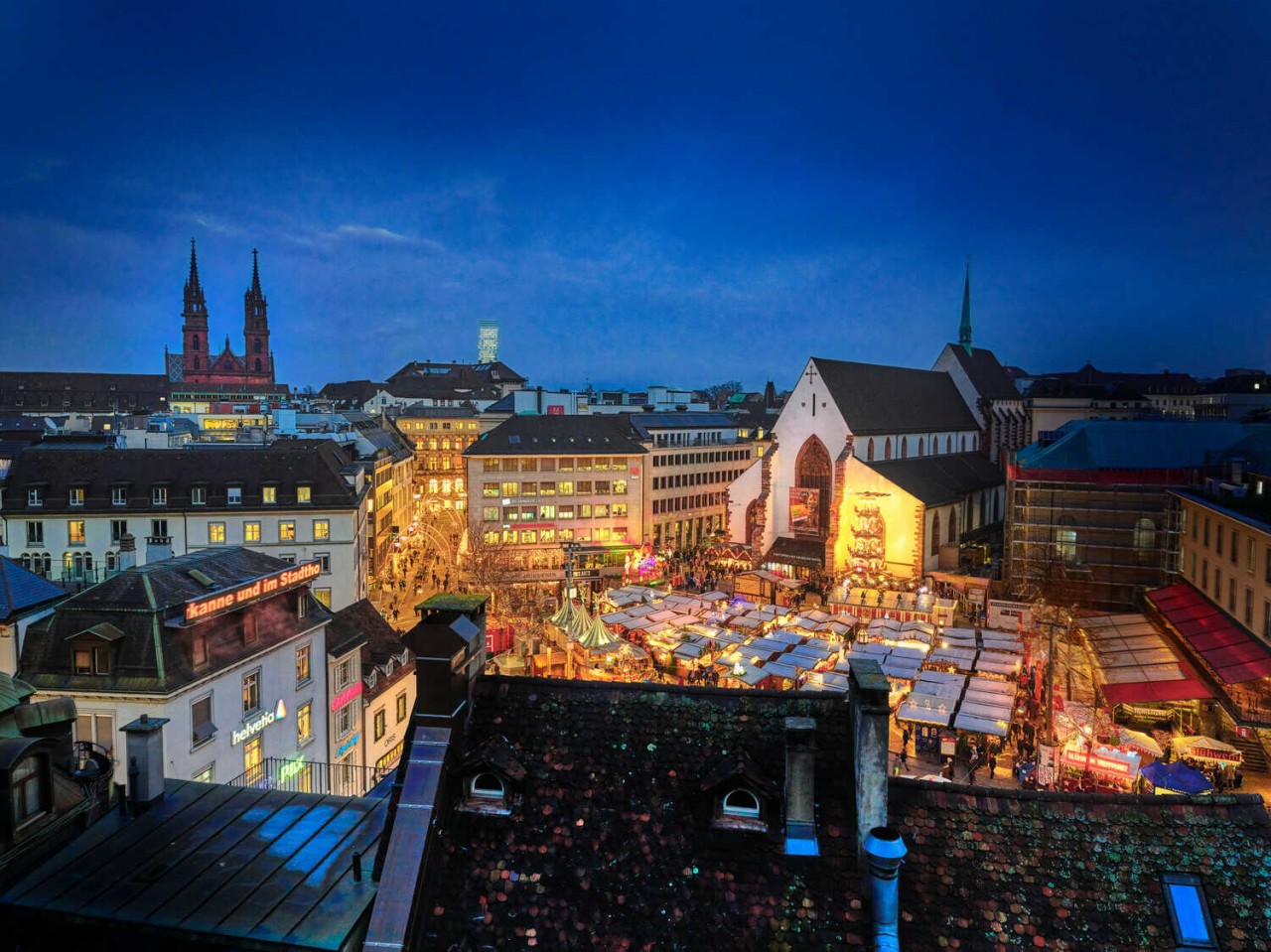 Basel Christmas Market - Copyright basel.com
Basel, nestled on the Rhine river, is Switzerland's third-largest town and, partly because of its proximity to France and Germany, has a strong sense of its own identity. You'll see this in the city's adoration of all things art and in its colourful, raucous yearly Fasnacht festival that is a must-see.
It's official, Basel is not only the best Christmas market in Switzerland, it's also your favourite Christmas market in Europe!
Basel has a deep-rooted tradition as Switzerland's most beautiful and largest Christmas city and is well worth a visit every year. Not only is the well-preserved Old Town radiant in the warm Christmas light, but the shops and facades of many buildings glitter with a golden glow.
Around a hundred tall pine trees line up the streets and stand like brightly lit sentinels guiding the visitor. Particularly recommended is the Christmas market, which is being held not only on Barfüsserplatz, but also on Münsterplatz - one of the most beautiful squares in Basel.
2. Budapest, Hungary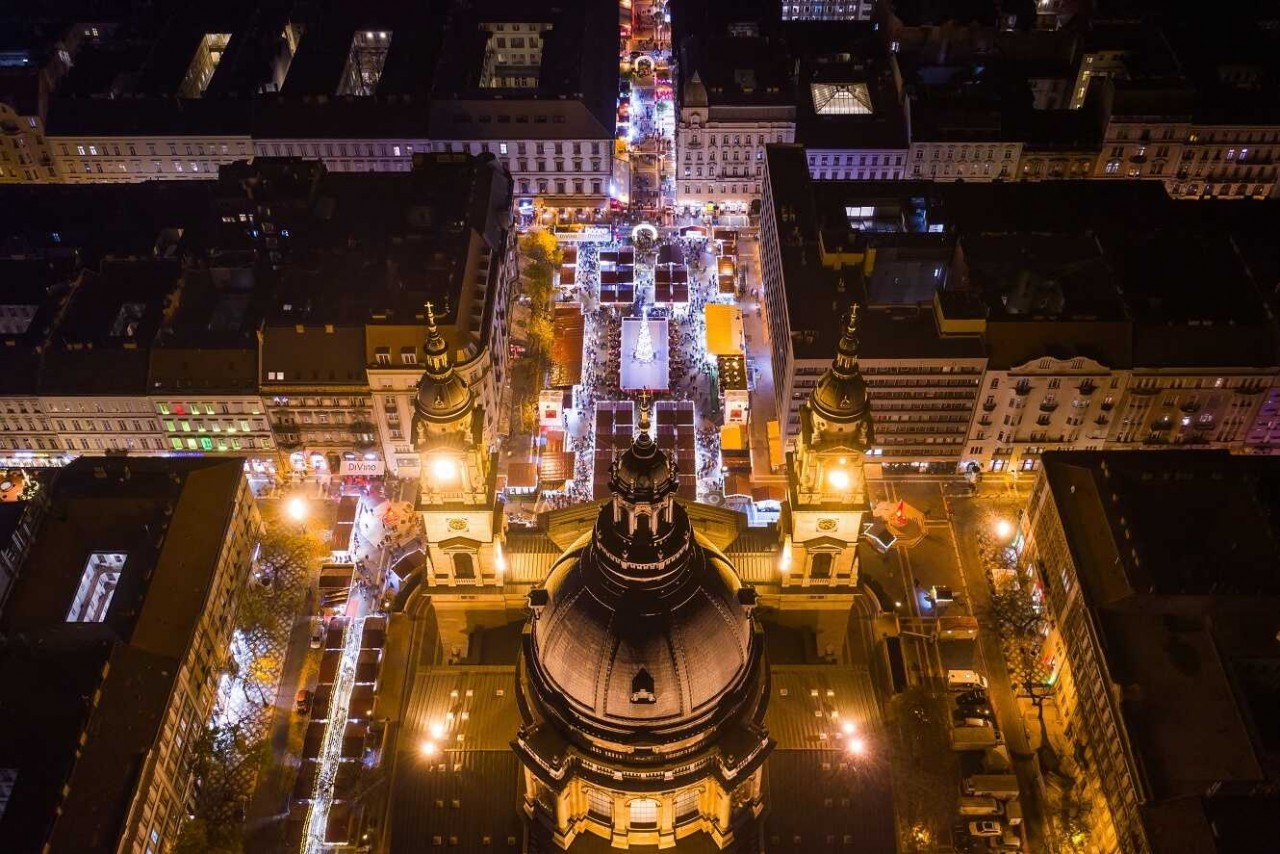 Budapest Christmas Market - Copyright Advent Feast at the Basilica
Budapest has something for everyone – from dramatic history and flamboyant architecture to healing thermal waters and a nightlife that is unrivalled in Eastern and Central Europe.
Budapest's beauty is not all God given; humankind has played a role in shaping this pretty face too. Architecturally, the city is a treasure trove, with enough baroque, neoclassical, Eclectic and art nouveau buildings to satisfy everyone. Overall, though, Budapest has a fin de siècle feel to it, for it was then, during the capital's 'golden age' in the late 19th century, that most of what you see today was built.
In 2021, discover an even more festive, more dazzling, more exceptional Christmas market. Advent Feast at the Basilica in Budapest is your favourite Christmas market in Hungary but also for the third year in a row, one of your 3 favourite Christmas market in Europe! The organizers of this event work hard every year to offer you what is certainly one of the most beautiful Christmas markets in the world. Did you know that Santa Claus himself does some of his shopping during the Advent Feast at the Basilica?
The Christmas spirit sparkles in front of Budapest's grandest cathedral during the Advent Feast at the Basilica. This open-air festive season market welcomes everyone with delightful gift items, delicious Hungarian and international food such as the favourite "flódni" the Hungaricum chimney cake, mouth-watering burgers and a range of fish dishes.
3. Poznan, Poland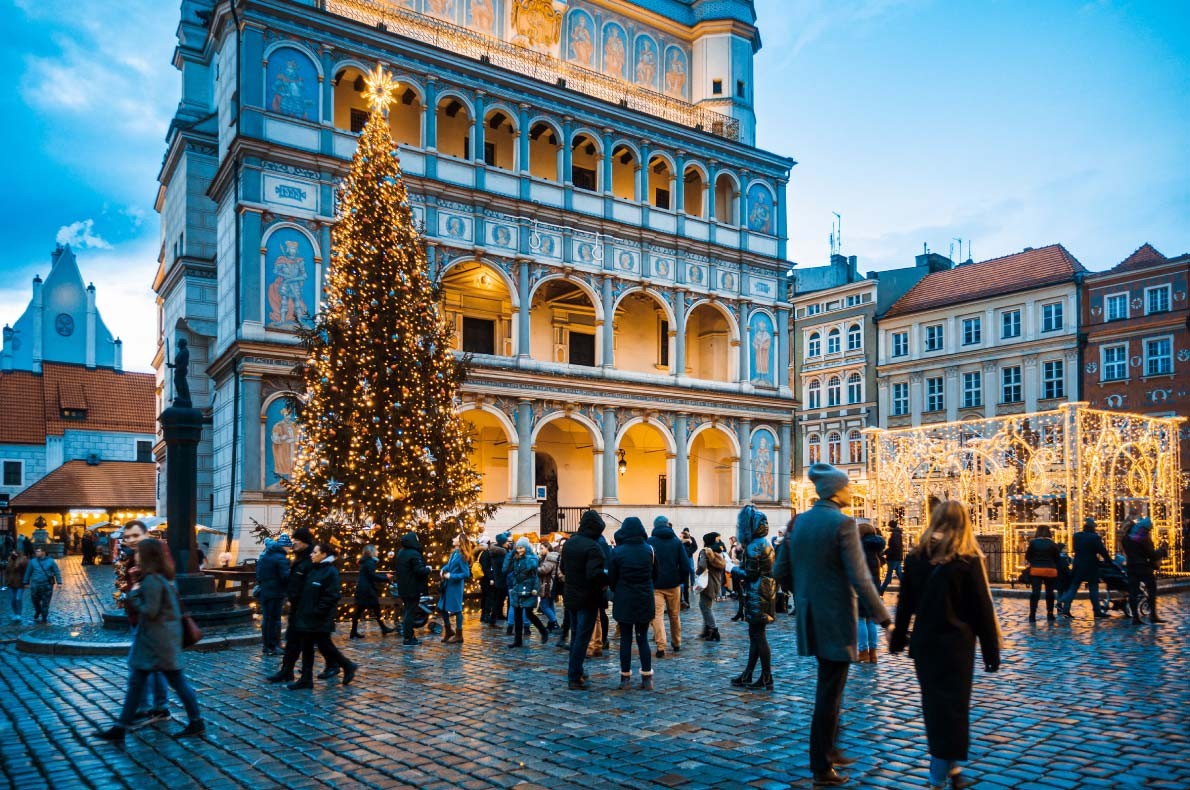 Photo: European Christmas Destinations
Stroll into Poznań's Old Town square on any evening and you'll receive an instant introduction to the characteristic energy of Wielkopolska's capital. The city centre is buzzing at any time of the day, and positively jumping by night, full of people heading to its many restaurants, pubs and clubs. The combination of international business travellers attending its numerous trade fairs and the city's huge student population has created a distinctive vibe quite independent of tourism.
In addition to its energetic personality, Poznań offers many historical attractions – this is, after all, the 1000-year-old birthplace of the Polish nation – and its plentiful transport links make it a great base from which to explore the quieter surrounding countryside.
This is your favourite Christmas market in Poland as well as your best Christmas city break in Europe. The Poznan Christmas Market will take you to a magic winter land of ice, snowflakes and Christmas attractions, and all of it thanks to original arrangements that will be located on the Old Market Square and Plac Wolności (Freedom Square) during this magical time.
Get lost among the wooden stalls, try winter delicacies or look for inspiration for Christmas gifts. Jump on a Ferris wheel on Freedom Square and enjoy spectacular views of Poznań s historical parts.
4. Vienna, Austria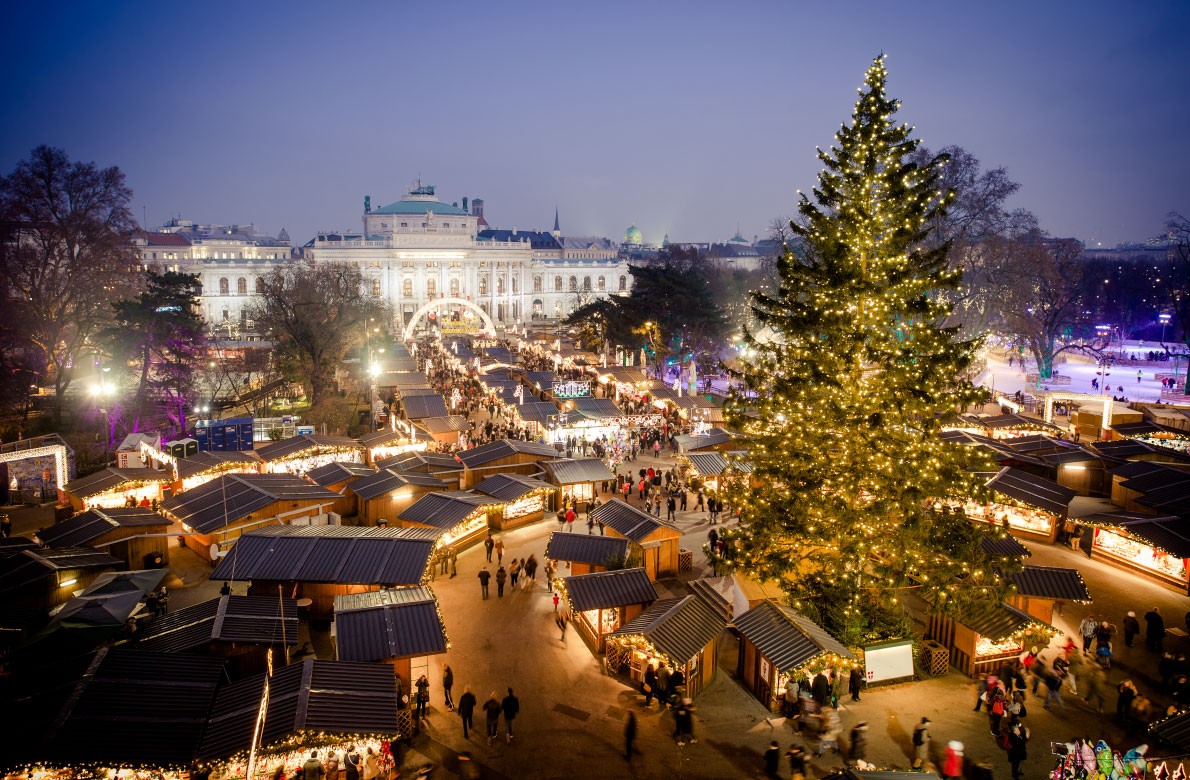 Photo: European Christmas Destinations
Vienna (Wien in German), Austria's capital city, is rich in history, architecture, art, music, food, and wine. Located on the River Danube, Vienna dates back to a Roman era settlement. Most of the city's many Baroque buildings were created under Empress Maria Theresa (18th century) and Emperor Franz Joseph (19th century), and today they stand in contrast to modern glass and steel structures.
Beautiful buildings, walkable streets, delicious food, and lots to do both indoors and outdoors make Vienna a wonderful vacation destination. Voted one of the most livable cities in the world, Vienna's city limits include vineyards, parks, and the forested Vienna Woods (Wienerwald in German), a protected natural landscape. A dog-friendly city, Vienna permits dogs on public transportation as well as in restaurants and shops. The "coffee culture" features prominently in Viennese life, and coffee houses are places to relax, socialize, and enjoy the city's famous desserts.
Like every year, Vienna is at the top of your list of the best Christmas markets in Europe. Vienna is a must-see destination for Christmas. Considered a safe destination for families, it is also popular with lovers and is awarded among the best romantic destinations in Europe but also the best destinations for a marriage proposal.
From mid-November to Christmas, Vienna's prettiest squares transform into magical Christmas markets. The aroma of Christmas baked food and hot punch creates a lovely pre-Christmas atmosphere.
5. Brussels, Belgium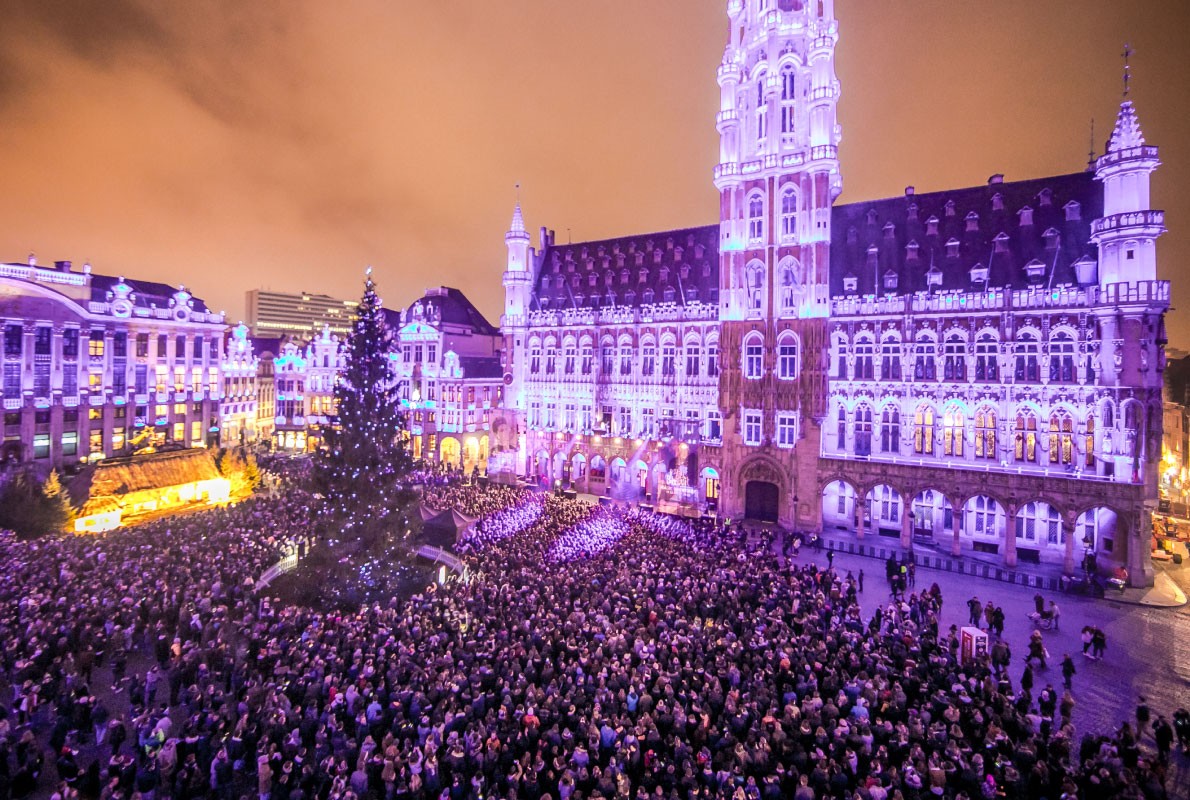 Photo: European Christmas Destinations
Brussels has been the de facto capital of the European Community (and now European Union) for decades, and for a good reason. The city's Gothic- and Baroque-style squares, set between medieval streets, are the playgrounds of international politicians and adventurous tourists alike. Authentic Belgian fare offers hearty comfort food, and daily doses of chocolate and beer are worth every cent. Brussels is cosmopolitan in ways other cities are not – it's truly multilingual (French, German and Dutch). The multicultural influences have led to an explosion of museums, marketplaces, restaurants and boutiques that make it far more than just a sleepy alternative to some of its busier neighbors like Paris or Amsterdam.
Winter Wonders is your favourite Christmas market in Belgium followed by Ghent, Antwerpen, Bruges and Liege. With its 2.5 million visitors, Winter Wonders is the unmissable end-of-year event in Brussels which, for the occasion, dons its festive costume and pulls out all the stops on the menu.
Capital of Europe, Brussels has also for several years been one of the Christmas capitals with Strasbourg, Budapest and Vienna. The teams in charge of this event set the bar higher every year to offer you moments of pure magic. The great classics are all awaiting you: magnificent Sound and Light shows at the Grand-Place, a majestic tree, a life-sized manger, a skating rink, magical lights and many exhibitions which dot the event and, of course, amazing Christmas markets bursting with treasures which will delight the curious and titillate the gourmets' taste buds.
6. Trier, Germany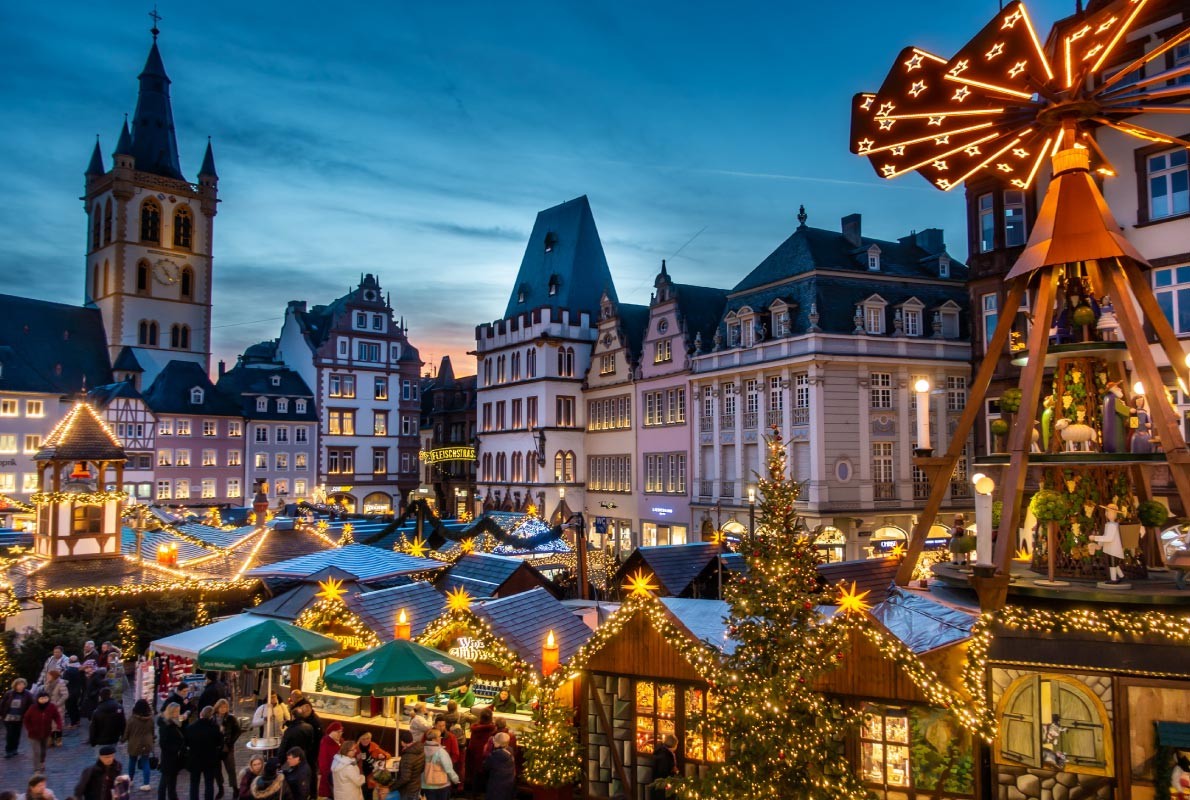 Photo: European Christmas Destinations
With an astounding nine Unesco World Heritage sites, Germany's oldest city shelters the country's finest ensemble of Roman monuments, among them a mighty gate, amphitheatre, elaborate thermal baths, imperial throne room, and the country's oldest bishop's church, which retains Roman sections. Architectural treasures from later ages include Germany's oldest Gothic church, and Karl Marx' baroque birthplace.
Trier's proximity to both Luxembourg and France is apparent in its cuisine and the local esprit, enlivened by some 15,000 students from its renowned university. The mostly pedestrianised city centre is filled with cafes and restaurants, many inside gorgeous Gothic or baroque buildings, while wineries are scattered throughout the surrounding vineyards.
Once again you have classed the Trier Christmas Market among the best Christmas markets in Europe. Now in its 42th year, the Trier Christmas Market will again be one of the loveliest in all of Germany. Set on the medieval Main Market and in front of the imposing backdrop of Trier Cathedral, the 95 attractively decorated booths offer a fitting framework for this wonderful event.
The Trier Christmas Market is often described by travel organizers as being "romantic with wonderful ambience." Germany's only Mulled Wine Queen Sarah Schmitt is looking forward to welcome the international guests in Trier. A large selection with delicious specialties such as the "Original Moselle Vintner Mulled Wine" and festive arts and crafts attracts visitors from the world over.
7. Dresden, Germany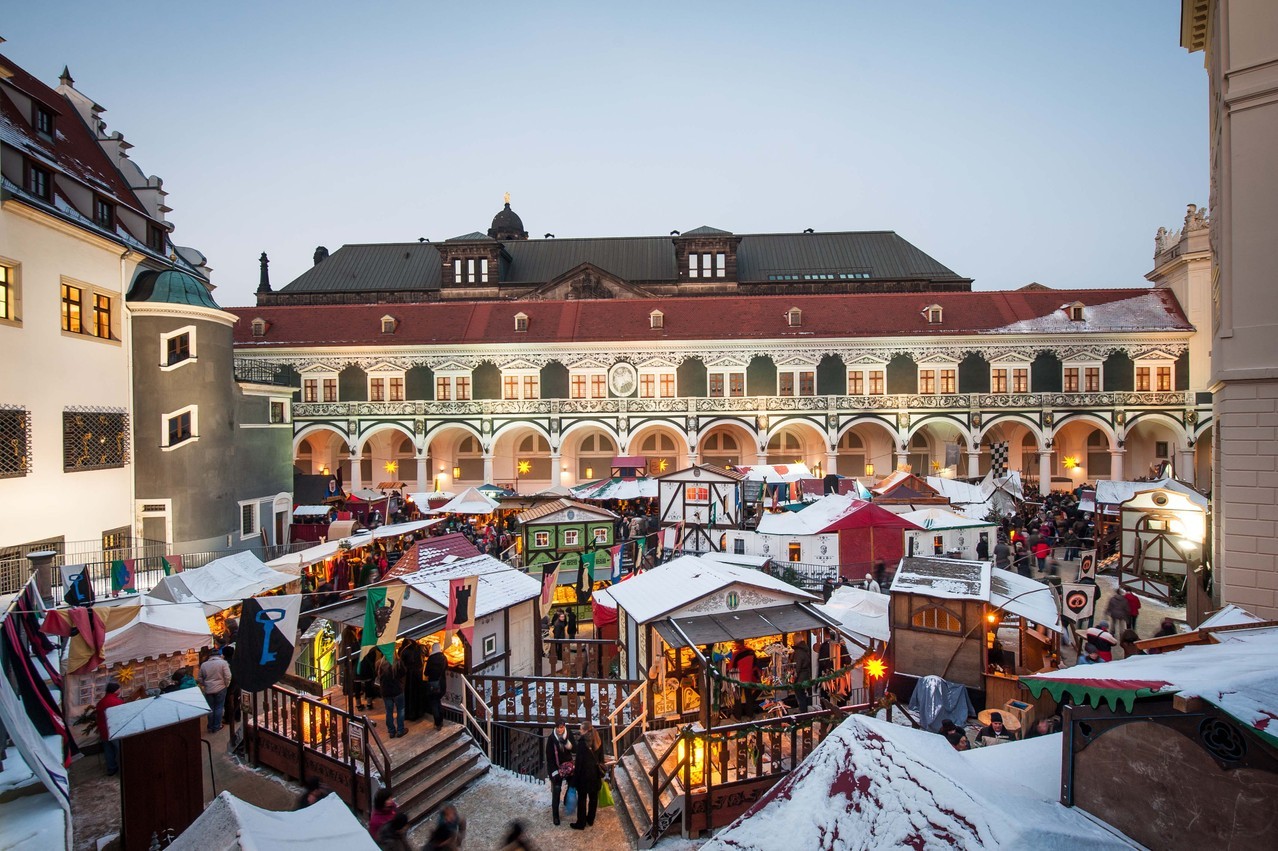 Dresden Christmas market - Copyright Dresden.de
There are few city silhouettes more striking than Dresden's. The classic view from the Elbe's northern bank takes in spires, towers and domes belonging to palaces, churches and stately buildings, and indeed it's hard to believe that the city was all but wiped off the map by Allied bombings in 1945.
Dresden's cultural heyday came during the 18th-century reigns of Augustus the Strong (August der Starke) and his son Augustus III, who sponsored many of Dresden's iconic buildings, including the Zwinger and the Frauenkirche. While the devastating 1945 Allied firestorm levelled most of these treasures, their contents were safely removed before the bombings and now take pride of place in Dresden's rebuilt museums.
It is one of the largest and most authentic Christmas markets in Germany. Each year you rank it among your favourite Christmas Markets in Europe.
It was first mentioned in 1434 when it was held to provide the citizens of Dresden with the meat for the Christmas meal. Since then, it has become a huge event with over 200 stalls which attracts 3 million visitors a year from all over the world.
Christmas tales also come to life in the city's theatres whilst museums host special exhibitions and boats bejeweled with lights glide along the Elbe. If only Christmas could last more than just a few weeks…
8. Madeira, Portugal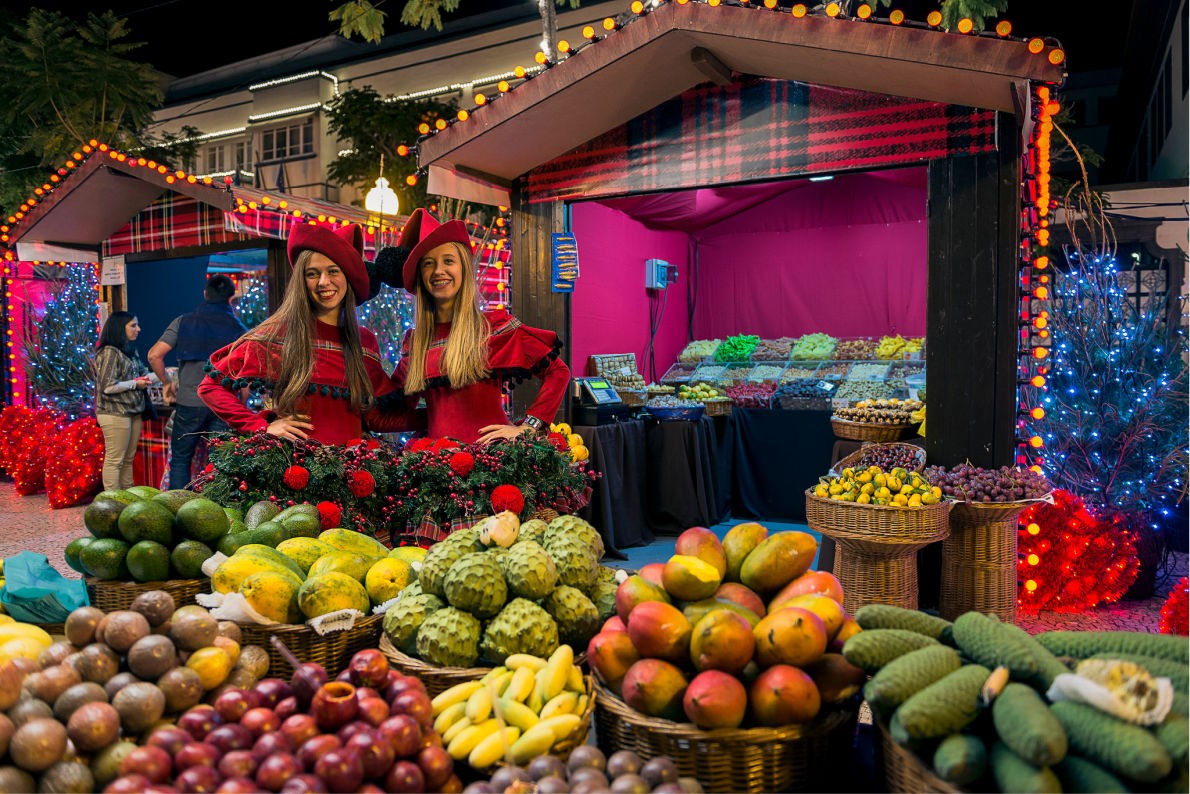 Photo: European Best Destinations
Geologically dramatic, bursting with exotic colour and warmed year-round by the Atlantic sun, Portugal's most enchanting island is a place that keeps all its subtropical holiday promises. Pearl of the Atlantic, island of eternal spring…Madeira well deserves its fanciful nicknames and the affection visitors and locals alike feel for this tiny volcanic island that offers so much.
Repeatedly voted Europe's, and even the world's, top island destination, Madeira is a diverse place when it comes to holidaymaking. Black sand beaches, the frothing Atlantic, towering rock walls and gushing streams and irrigation channels make this an outdoor nirvana. But it's also a place of gentler pleasures such as wine tasting, visiting lush botanical gardens and watching embroiderers and wicker weavers at work. Hiking the levada irrigation channels is the top activity, with tens of thousands pulling on hiking boots to discover Madeira's secret interior.
Considered the safest Christmas destination in Europe (during the Covid-19 pandemic), Madeira is also awarded the title of "Sunniest Christmas Market in Europe" and "Best Winter Sun Destination". Madeira is THE destination for an unforgettable Christmas holiday.
Madeira celebrates to the fullest the arrival of the Christmas season with a splendid traditional Christmas market held in Avenida Arriaga central walkways, at the heart of its main capital Funchal.
A great variety of products are on display, including exotic flowers, traditional souvenirs and, of course, typical delicacies and drinks of the season all adding to the merriment in a very welcoming ambience. Partake in the glee of this season festivities, enjoy the daily activities and entertainment shows, such as Christmas Carols and performances by folklore groups.
9. Tbilisi, Georgia
Tbilisi Christmas Market - Best Christmas Markets in Europe - Copyright Anna Bogush Editorial Shutterstock - European Best Destinations
Few cities are as gleefully chaotic as Tbilisi, the capital of the Black Sea nation of Georgia. A onetime Silk Road capital, this sprawling city of 1.1 million is as eclectic as it is dynamic. The Old Town — also called Kala — with its traditional pastel houses and wooden balconies, flows seamlessly into the Art Nouveau neighborhood of Sololaki, where every ezo (courtyard) seems to reveal a new speakeasy bar or tucked-away café. You can spend the day hitting the museums and theaters housed in the impressive neoclassical architecture along Rustaveli Avenue, or spend your nights dancing until dawn at powerhouse nightclubs like Bassiani, located underneath a historic soccer stadium. While the city is small enough to be covered in a weekend, its architectural eclecticism, thriving restaurant and bar scene, and wealth of cultural offerings make it worth a much longer stay.
The Capital of Georgia is a must-see destination at any time of the year. Awarded among the Best European Destinations but also the Safest Destinations in Europe (Covid-19), Tbilisi must be at the top of your wishlist for Christmas. Christmas markets are held almost in every corner of the capital city, where local entrepreneurs and start-ups sell their handicrafts, souvenirs, Christmas treats, Georgian candies, yummy street food and mulled wine.
Set up on First Republic Square, near Rustaveli Avenue, the place hosts visitors of all ages for theater shows, music performances, puppet theater, open-air movie-show, a gorgeous Christmas tree, wooden huts decorated with colourful bright lights and so much more. The annual Christmas events usually last throughout December.
10. Manchester, United Kingdom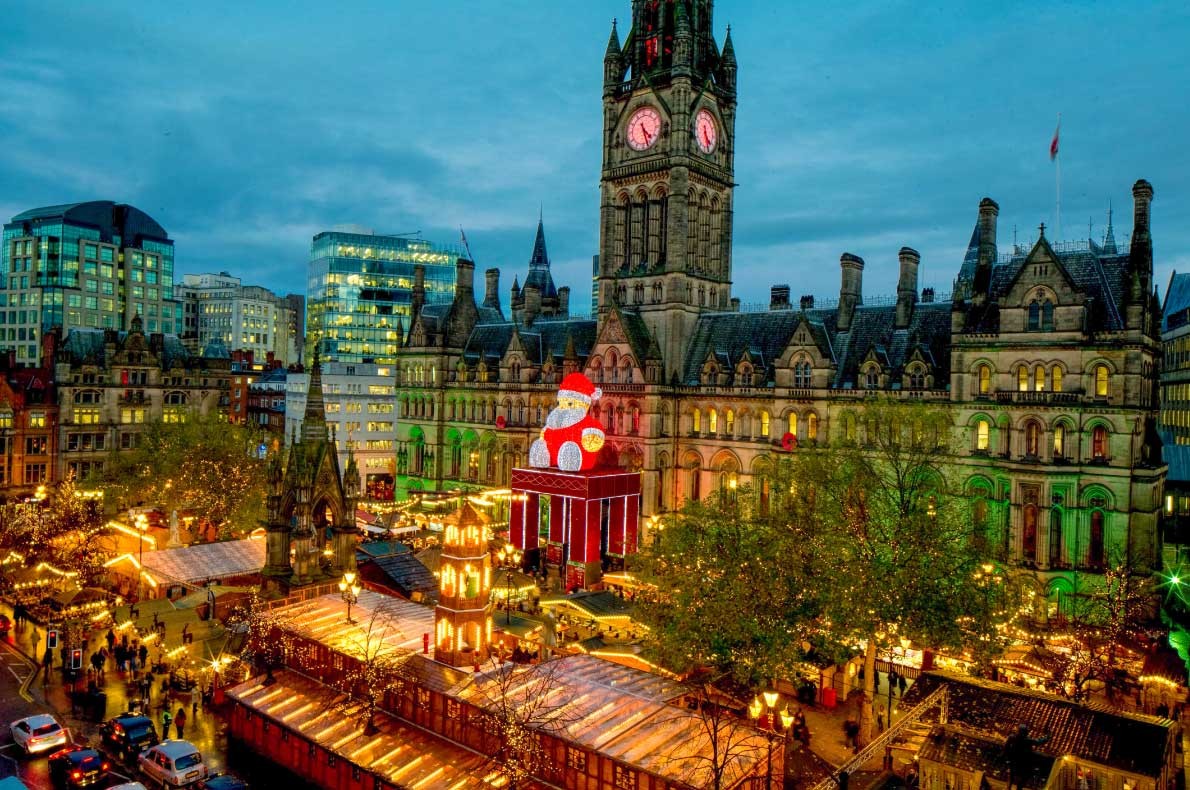 Photo: Europeanbestdestinations
Vibrant street art appeals to art lovers, while Victorian-era structures are great for experiencing the city's colourful past. Try the locals' favourite foods, visit the liveliest neighbourhoods, explore the most iconic landmarks and most remarkable museums, then party the night away in one of the clubbing capitals of the UK.
Manchester is commonly known as England's second city. Once a powerhouse of industry, it is now a major cultural hub, famous for its many fantastic nightclubs, extensive libraries and glorious sporting history. The city's skyline is the perfect representation of the atmosphere, with modern structures enlivening historical streets. You've got no reason to be bored in Manchester.
For your next winter holiday, explore one of the UK's largest and most beautiful Christmas markets. The most original, biggest and - arguably - the best Christmas markets in the country, Manchester Christmas Markets are an ideal destination for a festive outing.
Arriving in the city in 1999, the first Christmas market in the UK has grown every year since, now attracting more than nine million visitors each year. Some 300 beautifully crafted stalls located across the city, offer mouth-watering international food, drinks and finely crafted Yuletide gifts in the heart of the buzzing city centre. Spread across 10 individual sites - each with its own distinctive character, the Manchester Christmas Markets have something to offer every festive visitor.