Twin towers 'Ghenh Da Dia' - new check-in location in Phu Yen
Nghinh Phong 25m high twin towers in Tuy Hoa City has become a popular tourist attraction for over a month now.
Nghinh Phong Tower is part of a coastal public space project in the intersection of Nguyen Huu Tho - Doc Lap street (Tuy Hoa city). Other than the twin towers, Nghinh Phong square area also has other constructions such as protection embankment system, park, granite promenade... with a total area of ​​over 7,000 m2.
The tower is highly impressive with its highlight of the Ghenh Da Dia shape, the core is reinforced concrete and the outside exterior is covered with granite. At night, the place is illuminated with Bobine Tesia technology, 3D mapping and high intensity lasers to create a colorful light dance.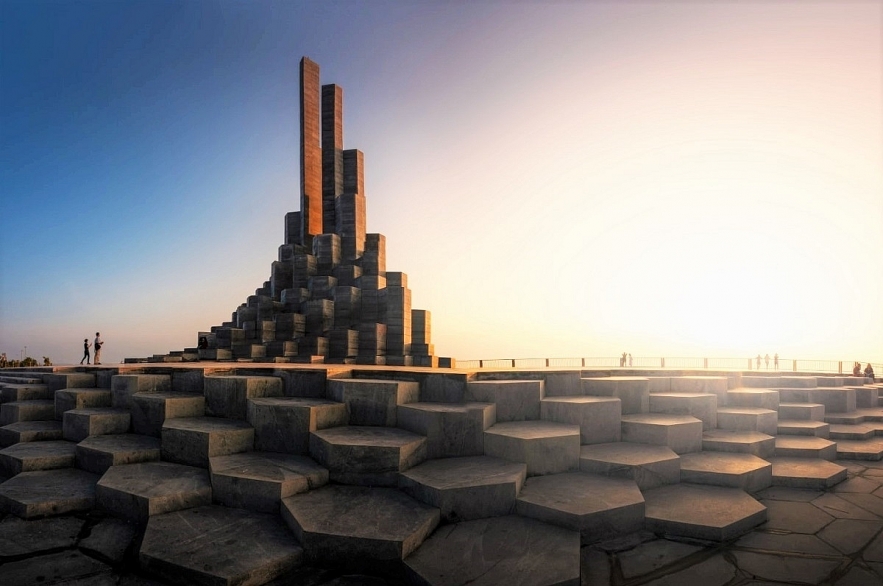 Nghinh Phong tower. Photograph: Cao Ky Nhan
Inspired by the legend of "Children of the Dragon and the Fairy", the two towers on the high side and the lower side represent Lac Long Quan (the Dragon) and Au Co(the Fairy). At the foot of each tower are 50 stone blocks stacked on top of each other, symbolizing "hundreds of eggs" that must follow their parents up the forest and to the sea. Between the two towers is a slit decorated with images of the land of "yellow flowers on green grass".
What makes Nghinh Phong tower special is that the space between the two towers is only enough for two people to stand, every time the wind blows through the slit, it will create a sound like a music from nature.
Since it's currently sunny, it is easy to capture a good photo with clear blue sky and yellow sun ray. Dong Ngo, a tourist from Da Lat city, was quite impressed with this project. According to him, photos that cover the project with a character will look more interesting. "Depending on preferences, each person has a way to choose the right outfit to take pictures, for myself, I prefer clothes with light, dynamic colors and a confident pose.", said Ngo.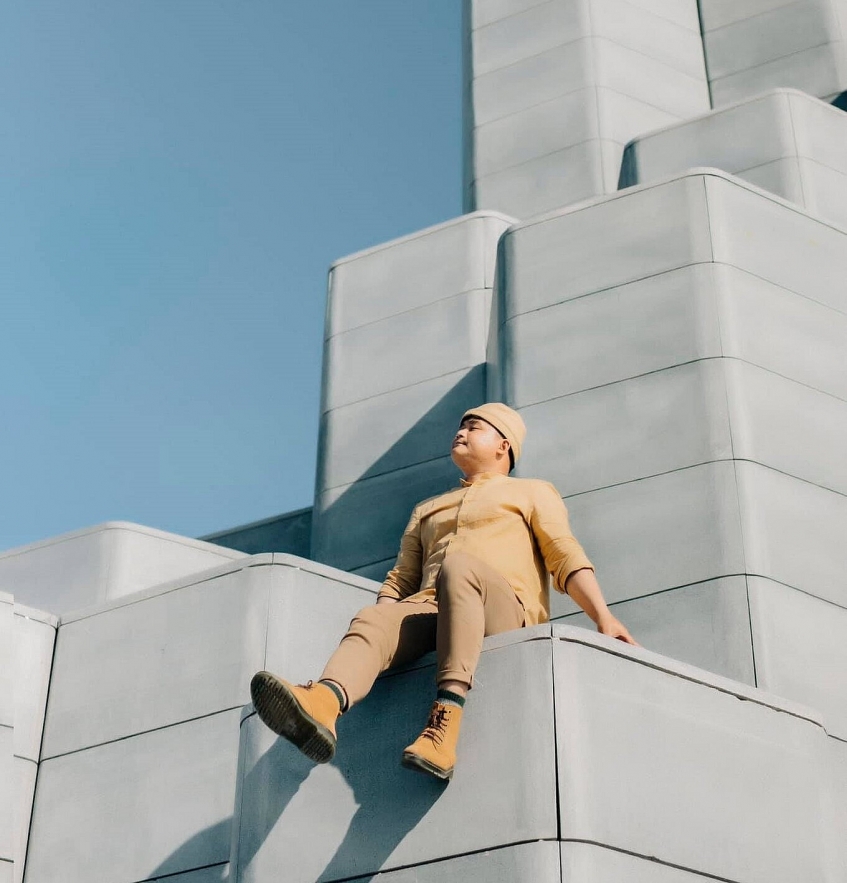 A tourist posing with the tower. Photograph: Dong Ngo
The square gives the impression of an open, airy space but it can be quite hot because there are not many trees around. Some young people suggest the most appropriate time to visit is from 5 am to 8 am to catch the sunrise, and in the afternoon it would be from 4 pm onwards. From Nghinh Phong Square, visitors can visit nearby tourist attractions such as Bai Xep, Hon Chua...