UK and Europe daily weather forecast latest, February 19: Gales and heavy rain to hit as temperatures rise
The UK is forecasted to cope with gales and heavy rain due to a new weather front moving into the country. Meanwhile, fine and warm conditions are expected in Mediterranean, colder ones in Scandinavia and eastern Europe.
UK's weather forecast
BBC Weather forecaster Carol Kirkwood warned a new weather front will be moving into the UK from the East, bringing heavy rain and gale-force winds for most of the country.
BBC Weather forecaster Carole Kirkwood said despite continued mild weather ahead, temperatures will see a drop throughout Thursday. Rainfall is expected to impact eastern areas of the country and north-west Scotland particularly earlier on. Strong winds are set to follow in behind the weather front with gusts as strong as 41 miles per hour. The Met Office has warned drivers of tricky conditions on the roads with the likelihood of there being some brief heavy, blustery downpours as the rain moves through.
The BBC Weather forecaster said: "It is milder than it was last week but today is actually a bit cooler then it was yesterday. That is just a blip, the temperature will pick up again above average for the time of year as we go through the next few days."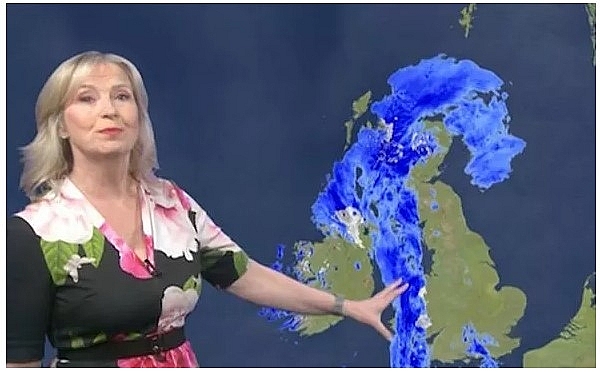 BBC Weather: UK to see wet and windy conditions in large parts of the country (Image: BBC)
"Today is also rather wet for many of us and also rather windy too. That is because we have that weather fronting moving from west to east bringing its rain."
Carol Kirkwood described the weather front as "moving over the North Sea, some early showers ahead of it.
"Then behind it a lot of dry weather, some sunshine, some showers. But still the rain persisting across the north-west of Scotland."
Expecting gusty winds to form across much of the UK on Thursday afternoon, she warned: "Wherever you are, you will notice them. But especially so with exposure in Western areas."
Carole continued: "Temperature, well they are seven to about 10 degrees. Now through this evening and overnight we have a brief lull as the showers fade, it drys up but it's not going to last. Because by the end of the night incomes as the next weather front brings some rain and strong rains with it."
BBC Weather: New weather front sees high winds speeds and strong gusts (Image: BBC)
"It could be cold enough in parts of the Highlands for example, in sheltered glens, for a touch of frost."
On Thursday forecasters also predict the possibility of snowfall in parts of the north-west. Yellow weather warnings have also been issued for parts of Scotland. In addition to this, South Wales and parts of South West England are also set to experience heavy downpour.
On February 19
According to Weather Online, fronts passing eastwards through the UK on Friday bringing plenty of cloud and periods of rain. Most of the rain in Scotland and Wales as well as western England. Drizzly and lighter rain in southern and eastern England. Heavy showers for the west of Ireland but tending to be drier in eastern Ireland once the morning rain clears. Turning more showery in western Scotland later in the afternoon too. Highs at 8 to 11C.
Rain, heavy and persistent in west especially over hills. Mainly dry in central and eastern areas, though outbreaks of rain spreading east through the day. Windy with coastal gales, Met Office reported.
Photo: Weather Online
Outlook for Saturday to Monday
Wet and windy in the west Saturday, drier in the east. Often cloudy with some brighter spells Sunday and Monday, but rain and stronger winds in the west later. Mild.
Europe's weather forecast
Some rain in central Portugal and Spain on Thursday. Fair for the north of Portugal and northwest Spain. Fair too in the east and south of Spain. Warm and sunny through the Balearics and across Corsica and Sardinia. Italy remains warm to with plenty of sunshine here and these conditions continue into Greece. Turkey should be mostly fair although there will be some snow affecting northern coasts.
Heavy rain central parts of France maybe heavy although brighter weather with some showers follows into the west. Cloudy with further rain across the low countries and the far west of Germany. Eastern parts of Germany and Poland will be dry but cool. Dry and cold across Hungary and Austria, brighter in Switzerland.
Windy in Denmark with some rain later. Staying windy across southern Sweden. Cold for the Baltic states but dry with some sunshine. Remaining dry and cold in Finland. Northern parts of Sweden will also be staying cold but dry. Some rain and strong winds in south-western Norway, but dry in the north.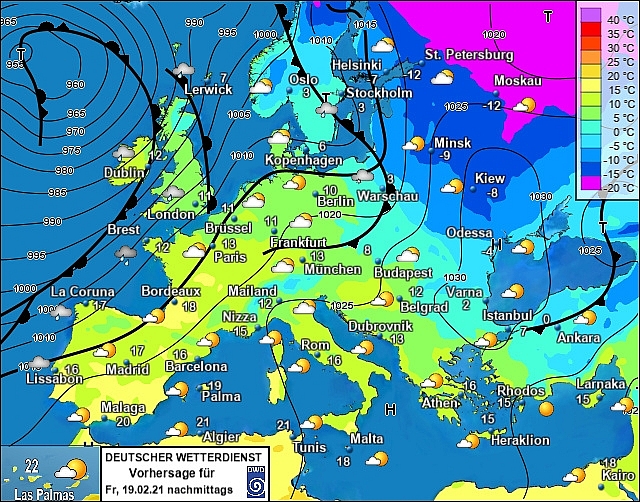 Photo: Stirimeteo
On February 19
According to Weather Online, rain will affect Northwest Spain through Friday as well as parts of northern Portugal. Most of the rest of Spain will be dry with some good spells of sunshine. Staying warm and sunny across the central Mediterranean including Italy. Greece will be dry to although there may be a few showers in the Aegean Sea. Fair for the west of Turkey but some rain in the east.
Wet and windy for the north-west of France. Most of the rest of the country will be fair with good spells of sunshine, although a scattering of showers could affect the south. The Netherlands will be dry as well Germany and they will be mild to with some sunshine. Western Poland will be dry and bright but there will be rain in the east. The Czech republic should be dry. Rain affecting hungry but dry in Austria and Switzerland as well as being mild.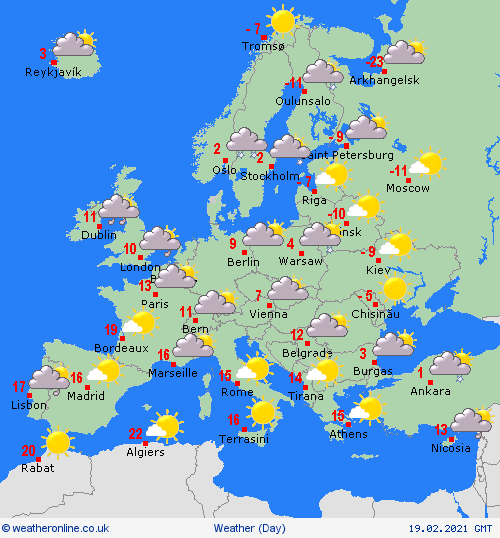 Photo: Weather Online
Another mild day in Denmark. Rain affects much of central and southern Sweden. There will be some snow and sleet later in the Baltic states, with sleet and snow to in Finland. No way will have broken cloud and there will be some showers in the west although it should be mostly dry in the north.