UK and Europe daily weather forecast latest, March 19: Fairly cloudy, less warm with morning rain over central and northern England
The UK is forecasted to be fairly cloudy and less warm on Friday. Morning rain over central and northern England will tend to fizzle out by the afternoon. Meanwhile, cold weather still over much of Europe with heavy showers at some places.
UK's weather forecast
According to Sky News, Friday will be fairly cloudy and less warm as a result. Morning rain over central and northern England will tend to fizzle out by the afternoon.
Western Scotland and southeast England look like having the best sunny spells. It will be a little cooler overall, but should feel pleasant enough in the sunshine. There will be a frost over southeast England on Friday night.
Northerly winds are predicted to blast south eastern regions with wintry conditions over the coming days. Temperatures could plummet to 0C as most of the south of England is engulfed by the freezing cold air on Saturday, March 20, including London, Kent, Southampton and Bath. Further north, Yorkshire and Manchester could be slightly warmer at 2C, while Cumbria in the north west could see 4C on the same day, Express reported.
Scotland should see single figures of a relatively warm 7C. The latest models from WXCHARTS also show blue and white swirls of cold air moving towards the north and east of Britain from a northerly direction from Scandinavia.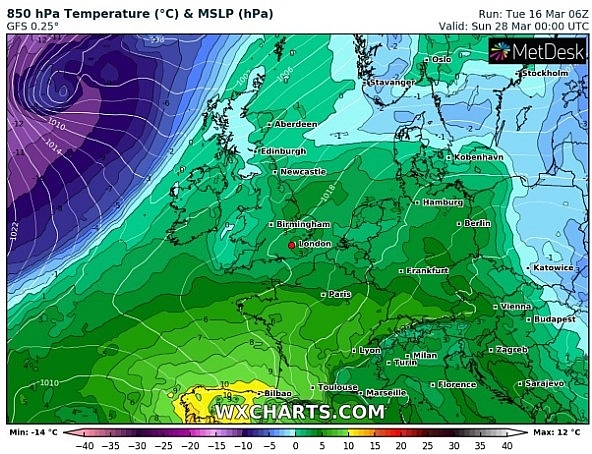 UK snow: A weather system is seen approaching the west of the UK from Sunday, March 28 (Image: WXCharts)
Brian Gaze, a forecaster at Weather Outlook, warned the chillier weather could hit south eastern regions from tomorrow. His forecast for the rest of this week said: "The next few days bring dry weather to much of the UK but central and eastern England have some rain."
"Daytime temperatures in the north and west stay above the seasonal average but it will be chillier near to the east coast and in south eastern counties. Tonight much of the country remains dry but light rain is likely in the north and east."
"In Wales and the south west clear spells could lead to a local ground frost. Tomorrow starts dry with variable amounts of cloud. Much of the UK keeps dry conditions through the day but patchy spells of rain push into East Anglia and the south east. In the evening they could become heavier and more persistent across eastern England. Chilly in central and south eastern England but mild elsewhere."
The BBC's forecast between Wednesday, March 17 and Sunday, March 21, predicted cold air to head over from Scandinavia over the next few days.
The forecast said: "From Wednesday onwards this week the weather will turn drier for most with some sunshine as high pressure builds. However, eastern areas may be clipped by some patchy rain or drizzle moving southwest through the North Sea, especially on Thursday."
"These winds will bring in some colder air from Scandinavia too, but only in the south-east of the UK. High pressure will remain in place throughout the rest of the working week and the weekend, keeping things mostly dry but with plenty of cloud around at times."
"A north-south temperature contrast is likely to develop into the weekend. The the south and south-east of England to see below-average temperatures while the rest of the country is near or a bit above average."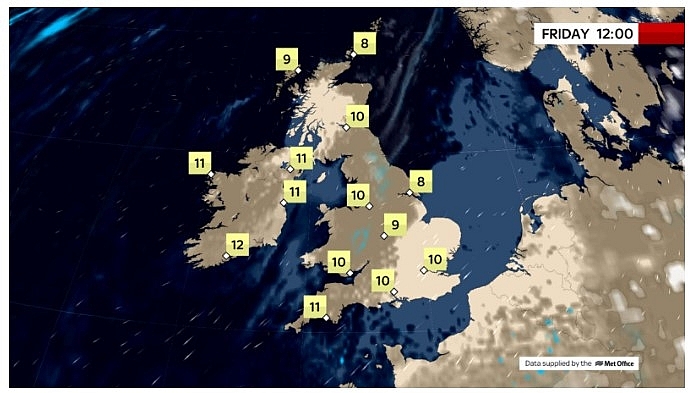 Photo: Sky News
The Met Office added temperatures could be colder in the southeast this week. The weekend outlook said: "Some rain at first in the east, otherwise mostly dry but rather cloudy. Feeling warm, especially in any sunshine, but the southeast colder with some overnight frost. Mostly light winds."
On March 19
According to Weather Online, pressure is going to be staying high on Friday. There will be lots of cloud again across northern England and Ireland as well as parts of the Midlands. Some patchy drizzle in northern England but dry for other areas. Probably turning brighter in East Anglia and southeast England as the cloud breaks. A few bright spells in Scotland, western Wales and western England as well as Ireland, although always a fair amount of cloud. Highs around a cold 7C in East Anglia and the southeast, 13C in southwest England and Ireland.
Rather cloudy for most with patchy rain and drizzle in the east spreading westwards. Best sunshine across western Scotland and also southeast England later, Met Office reported.
Outlook for Saturday to Monday
Often cloudy, but some sunny spells. Feeling warm, especially in any sunshine, but the southeast colder with some overnight frost over the weekend. Mostly light winds.
Photo: Weather Online
Europe's weather forecast
Some heavy showers in eastern parts of Spain. Fair in western Spain and breezy. Portugal will be fine too with more sunshine to come here. Showers for Corsica and Sardinia, some of them heavy. Fair in Greece with sunshine here. Heavy showers in western Turkey, fair in central and eastern areas.
France will be dry with sunny spells, a few showers in northern and eastern areas. Further heavy showers across northern and central Germany and feeling cold here. Cold in Poland with heavy showers in the west. Hungary will be bright and cold. Austria and Switzerland will have further showers and some sunny spells.
A cold day in Denmark with sunny spells. Fair and cold through the Baltic States. Staying cold across Finland with more sunshine to come here. Staying sunny and dry in Sweden. A scattering of showers over Norway.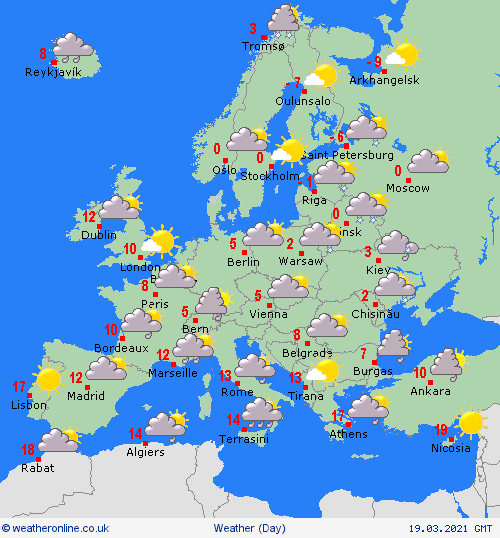 Photo: Weather Online