UK and Europe weather forecast latest, January 5: Freezing temperatures cover with rain, bitter wind and icy surface
The UK is forecasted to cope with freezing temperatures of -8 degree Celsius as rain and bitter winds rip across the country. Meanwhile, low pressure brings heavy rain and snow into Italy and the Balkans.
UK's weather forecast
BBC Weather's Carol Kirkwood has warned harsh frost will grip parts of England amid more weather warnings for snow and ice. The Met Office has issued a yellow weather warning for ice on the east coast of Scotland and North England. Ms Kirkwood said: "We've had some snow as we've gone through the course of the night and it's a cold start as well.
"This gives you an idea of our temperatures -8C in Loch Glascarnoch in the Highlands of Scotland. A cold start, there are some showers and some of those are wintry. Not just this morning but as we go through the day and it's all accompanied by a brisk wind that will add to the cold feel."
"The high pressure is anchored towards the north and lower we're pulling in this northwesterly brisk, gusty wind so that's really enhancing the cold feel."
A band of rain will sweep across the south of England which will be thundery at times.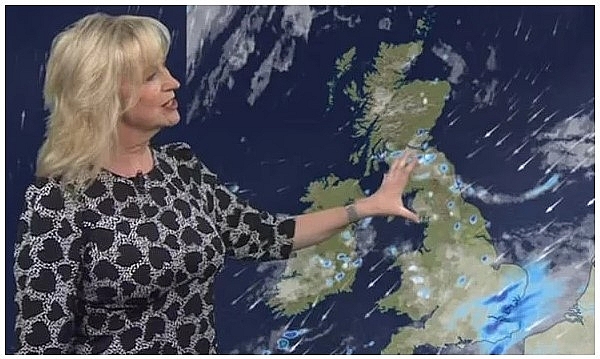 BBC Weather's Carol Kirkwood has warned harsh frost will grip parts of England (Image: BBC)
She added: "The maximum temperatures are between 4C and about 5C. Through this evening and overnight, we will still have rain coming across the southeast."
"Most of the conditions will be on high ground. We could see temperatures fall as low as -4C to -6C Tuesday morning."
"Where we've got the damp surfaces if they're untreated there will be some ice and also some frost to look out for as well."
The chill in the air is due to high pressure to the north of the UK, which is dragging air from the east "which at this time of year is cold", the Met Office said.
The cold easterly winds are set to develop next week, bringing wintry showers - particularly around eastern parts - while hazardous freezing fog, frost and ice risks will all continue, the forecasters say.
Meteorologist Alex Burkill said: "Obviously it's very cold and it's going to stay cold through this week. Whilst there will be some wintry hazards around, it's not really until the end of the week until we see any significant snow."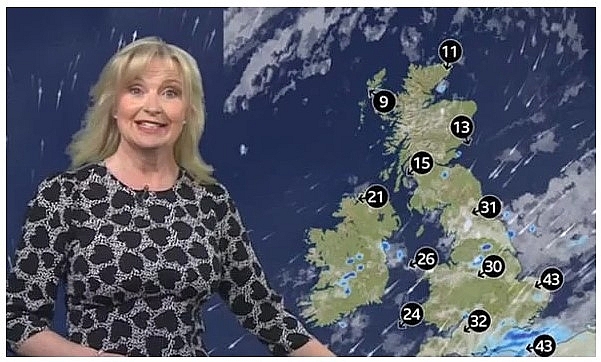 The Met Office has issued a the yellow weather warning for ice (Image: BBC)
RAC Breakdown spokesman Simon Williams said: "The message for those who have to drive is to adjust their speed according to the conditions and leave extra stopping distance so 2021 doesn't begin with an unwelcome bump and an insurance claim. Snow and ice are by far the toughest driving conditions, so if they can be avoided that's probably the best policy."
On December 5
According to Weather Online, low pressure to the south and high pressure to the north keeps a cold northeast to easterly flow over the UK and Ireland into Tuesday. Patchy rain, sleet and snow are expected over parts of England and Wales, but particularly eastern areas, while the north and west stays mainly dry. Some wintry showers will affect eastern Scotland too at times - these perhaps becoming heavier and more persistent to the northeast later. Mist and fog will be a risk over northwestern areas. High temperatures of just 0 to 4C for most, 5 or 6C for coastal areas.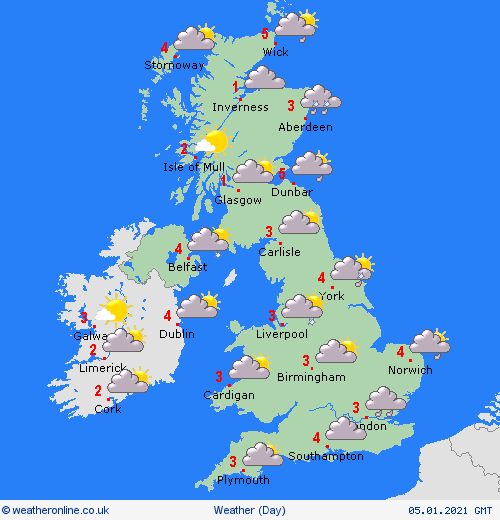 Photo: Weather Online
Europe's weather forecast
Further scattered showers affect northern and western coastal regions of Iberia - these turn wintry over higher ground in northern Spain. Low pressure swirling around near Corsica brings further showers to the Balearic Islands, Corsica, Sardinia, Sicily and western Italy. These locally heavy. Staying dry and bright for eastern Italy. A band of heavy rain edges eastward over Greece and into the far west of Turkey. Showers follow for western Greece while the rest of Turkey stays dry and fine.
Isolated wintry showers affect France, the Low Countries, Germany, Switzerland and Austria where it will be rather cloudy. Wintry showers too affect the Czech Republic, Slovakia and Poland though they tend to fade before an area of heavier and more persistent rain arrives from the south spreading across Hungary, eastern Slovakia and into eastern Poland later.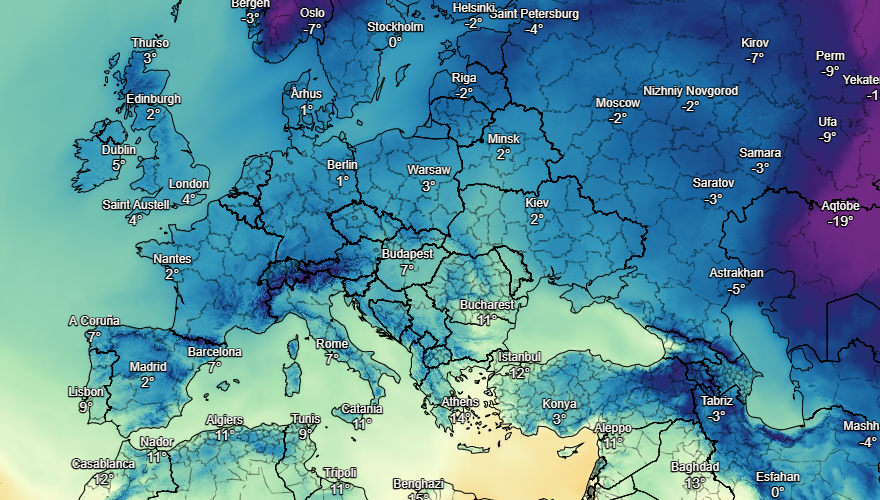 Photo:; Stirimeteo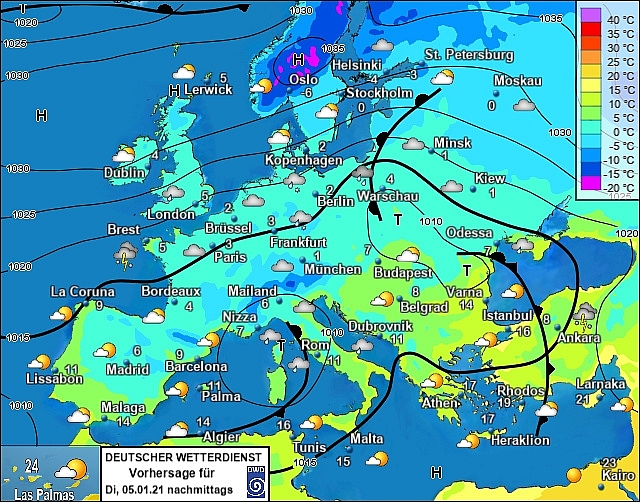 Photo: Stirimeteo
A fair day for Denmark, the Baltic States, southern Finland and southern Sweden. There will be variable amounts of cloud and isolated wintry showers. A brighter day for much of Norway, northern Sweden and northern Finland. Coastal showers affect the far northwest of Norway.
On December 5
Showers tend to fade over northern Spain leaving a dry and fine day here and for Portugal. Showers fade too from the Balearic Islands as low pressure moves over Italy. This brings showers to Corsica and Sardinia and heavy outbreaks of rain and snow across much of Italy and into the Balkans. Staying dry but cloudy to the south and for Sicily. A mostly dry and bright day for Greece with isolated showers to the west while a band of heavy showers makes its way eastward into central Turkey.
Mostly cloudy with isolated wintry showers affecting much of France, the Low Countries, Germany, Switzerland and Austria. An area of low pressure brings heavier and more persistent outbreaks of rain to eastern parts of Slovakia and the Czech Republic as well as into Poland.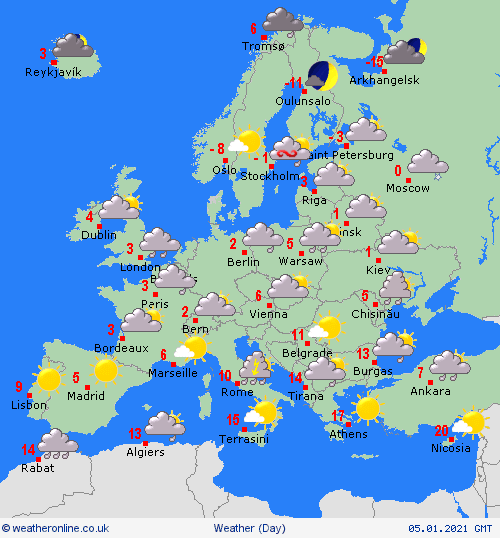 Photo: Weather Online
High pressure remains over Scandinavia bringing a largely dry and bright day to Norway, Sweden and Finland. Cloudier for Denmark and the Baltic States with outbreaks of rain, sleet and snow spreading into Lithuania and parts of Latvia later.