UK and Europe weather forecast latest, October 7: A storm causes torrential rain and unsettled conditions for Britain
The UK sets to face up with a storm battering during a week with torrential rain and unsettled conditions. Meanwhile, heavy showers is forecasted to cover northern Europe but fine to the south with sunny spells.
UK's weather forecast
The Met Office has issued a severe weather warning after Storm Alex brought more than a month's worth of downpours last weekend. Currently in England, the Environment Agency has 11 flood warnings and 37 flood alerts in force.
In Wales, Natural Resources Wales issued 4 flood alerts, urging residents in north and southwest Wales to be prepared.
Met Office meteorologist Aidan McGivern said: "As we start the day on Tuesday in the north of Scotland, where we get some shelter some light, winds and so on."
"A few missed patches across central Scotland and still that persistent rain a damp start there for western areas but that turns to showers as it crosses the country."
"And well by the afternoon most places in the same bag - sunny spells and heavy downpours."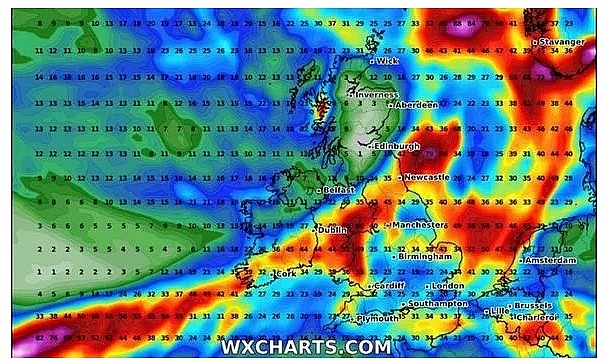 UK weather forecast: Downpours and strong winds to cause flash flood havoc (Image: WXCHARTS)
He warned the heaviest showers will be seen across central and southern areas of the UK with hail and thunder in places.
He added: "A gusty wind making it feel cool 15 to 16 celsius at best but that will help to carry these showers through quite briskly."
"And by the evening most of the showers in the west clear spells in the east."
"And it's another night in which where we get some shelter from the winds, where we'll get some clear spells, we'll get temperatures down to the low single figures across northern Britain".
"But generally, the wind's stirring things up enough to keep those temperatures that's around 9 to 12 celsius."
Mr McGivern said Wednesday will see a bright morning with plenty of sunshine for England, Wales and southern Scotland.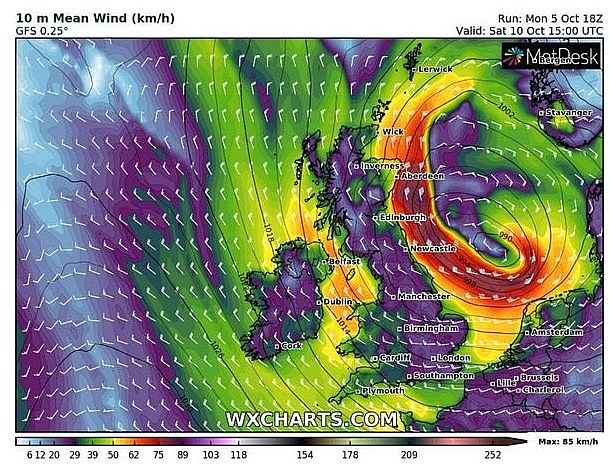 The heaviest showers will be seen across central and southern areas of the UK with hail and thunder in place (Image: WXCHARTS)
But northern Scotland as well as parts of Northern Ireland will see more showers. By the evening, showery rain will travel into areas of western England and Wales.
He added: "There's a strong chance that throughout Thursday and much of Friday will be wet across southern parts of the UK, perhaps windy as well."
"Meanwhile in the north low pressure will bring further showers and mixture of sunny spells and showers through Thursday and Friday."
"And into the start of the weekend the weather front to the south clears improving picture as high pressure builds in from the west."
On Sunday, three caravan sites had to be evacuated in West Drayton after River Colne's banks burst following heavy downpours.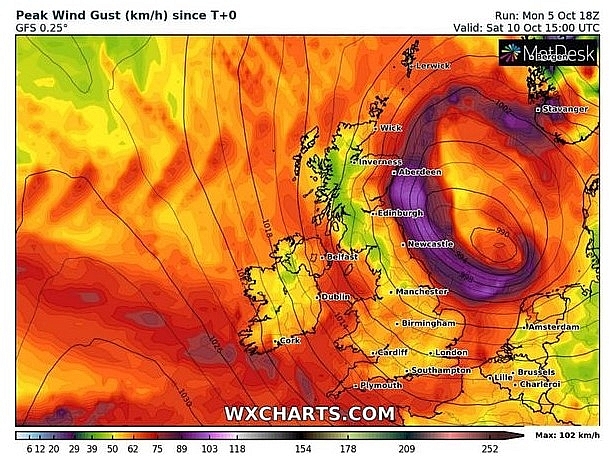 Wednesday will see a bright morning with plenty of sunshine for England, Wales and southern Scotland (Image: WXCHARTS)
London Fire Brigade said in a statement: "Three fire engines and around 17 firefighters have rescued fifty people from their homes on Thorney Hill Road in West Drayton due to flooding."
"Mill Road is closed at the junction with Wise Lane. We advise the public to avoid the area. Fire crews are assisting residents from their homes in two further nearby caravan parks as a precaution."
"Those rescued are being taken to a nearby civic centre."
A weather alert had been in place for the River Colne and Frays River.
On October 7
According to Weather Online, a brighter morning across many areas on Wednesday. The best sunshine is expected across southern and eastern parts of the country. Scattered showers in northern and western Scotland.
Photo: Weather Online
Northwest Wales and southwest England will also have scattered showers. By Wednesday afternoon thicker cloud will be affecting Ireland with outbreaks of rain in the south. he best of any sunshine will again be to the east, western areas tending to be cloudy with a few showers. Rain may affect northern Scotland. Highs at 11 to 14C.
Europe's weather forecast
Largely dry and fine across Spain and Portugal, however, cloudier skies could linger over the northern coastal areas of Spain. Dry and fine for the Balearics too. Some patchy rain affecting the far south of Italy with some showers possible across the surrounding islands as well as mainland Italy but plenty of dry and sunny conditions also. Rain possibly affecting the far northwest of Greece but largely dry elsewhere. Dry and fine across Turkey.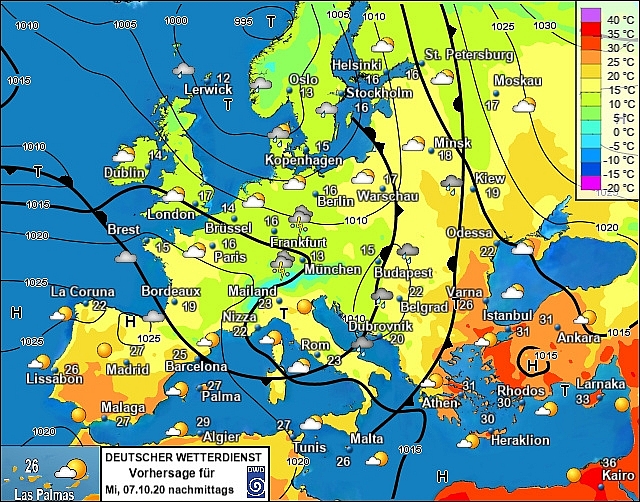 Photo: Stirimeteo
A cloudy day with a band of rain spreading across France, heavy in places. Breezy further north and west too. Unsettled across the Low Countries and Germany with showers or longer spells of rain as well as a brisk south-westerly wind.
Rain pushing into Switzerland early on. Largely dry across Austria and the Balkan States but with some scattered showers affecting this region. Some patchy, light rain in the north and west of Poland but drier elsewhere.
Becoming increasingly unsettled across Scandinavia as a extensive band of rain spreads from south to north through the day. Not particularly cold as winds will be from a southerly direction although they are expected to strengthen, particularly across the Baltic States where there will be sunny spells and blustery showers once the rain clears first thing.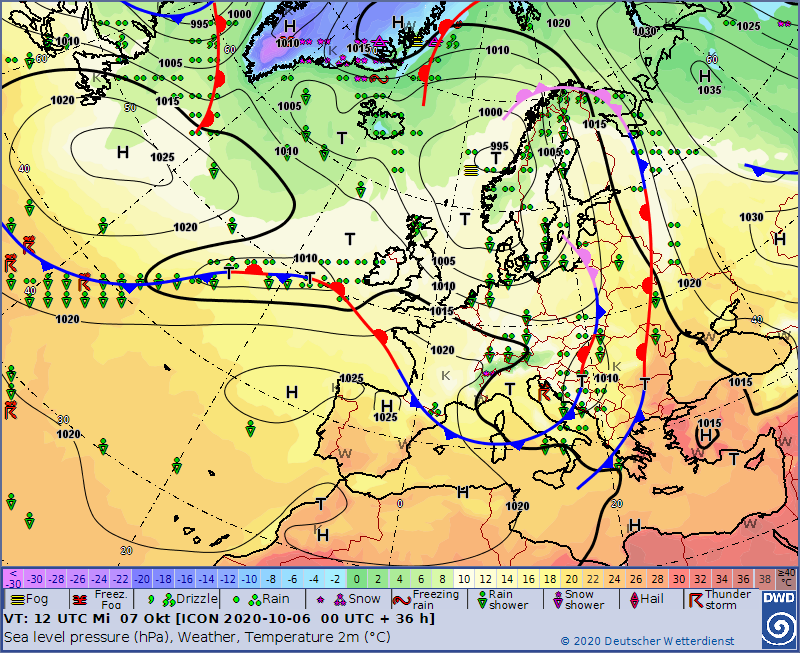 Photo: Stirimeteo
Heavy rain affecting northern Denmark first thing before clearing to see a day of sunny spells but also plenty of blustery showers.
On October 7
A fine day across Spain and Portugal. Plenty of sunshine and dry weather here too, Weather Online reported.
Further spells of sunshine in Corsica and Sardinia. There will be some showers in central and southern parts of Italy, drier to the north. Plenty of sunshine in Greece and Turkey as well as staying dry here.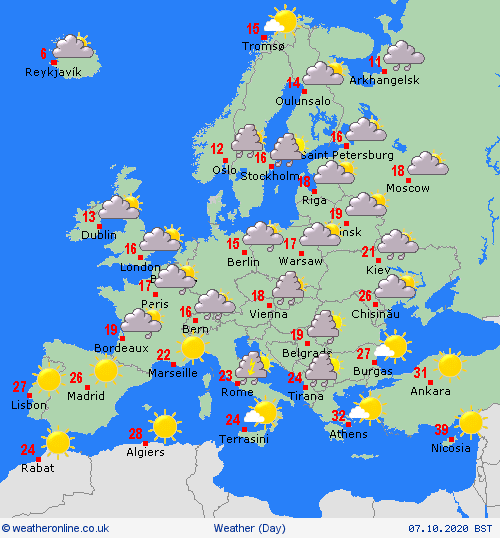 Photo: Weather Online
Rain in northern France but fine in central and southern parts of France. Scattered showers in the Low Countries and across much of Germany. Poland will be dry with sunny spells. A fair day in Hungary and Austria with heavy showers in Switzerland.
Heavy showers in Denmark and breezy too. Scattered showers across the Baltic States and Finland. Sunshine and showers for Sweden. The showers will be heavy in Norway with these merging to longer spells of rain at times.