UK Government Minister: 'Double Vaccination Will be Needed to Travel Forevermore'
UK Government transport secretary Grant Shapps said he hopes people will be able to go on holiday this summer
People will need to be double vaccinated to travel abroad "forevermore" according to the UK Government's transport minister, as reported by Wales Online.
Grant Shapps told Radio 4's Today programme: "I think double vaccination or full vaccination is going to be a feature forevermore. And most countries, probably all countries, will require full vaccination in order for you to enter."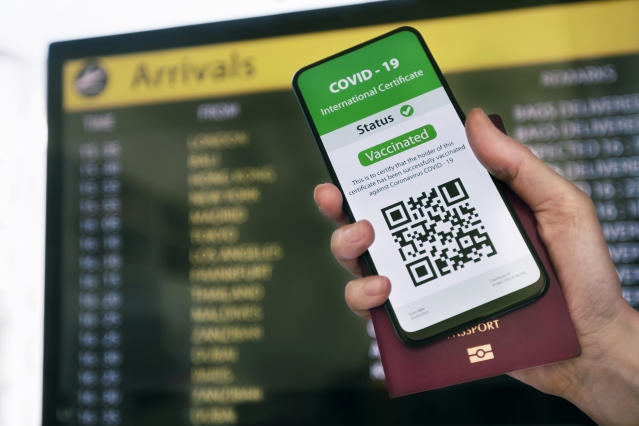 Photo: Yahoo News India
He said he "hoped people will be able to go away under the simplified system and not be looking over their shoulder the whole time". He added: "As long as they follow the processes they can have a great time."
Host Nick Robinson put it to him that the rules could change, especially for those booking holidays for beyond the next few weeks.
Mr Shapps responded: "It is a reality that in this new world we're living with coronavirus and, as we've done domestically with the unlock, learning to live with it, with international travel as well.
He also clarified rules on travel to Spain after being asked if the Government was "worried about Spain".
In an announcement on Wednesday, August 4, the UK Government said people arriving from Spain and all its islands are also being advised to use a PCR test as their pre-departure test wherever possible as a precaution against the increased prevalence of the virus and variants in the country. That is being recommended given the risk to the UK of importation of variants of concern, specifically the B.1.621 and Beta variants, as well as traveller volumes and positivity rates in Spain.
EU opens for fully-vaccinated travelers
As summer season kicks into high gear across the EU and the U.K., the threat of the Delta variant is ever present, with many EU countries reintroducing curfews, quarantines and testing requirements, Forbes said.
On the plus side, travel rules have become increasing competent across the bloc–EU countries are using similar processes at border control and also domestically. Every country is using the EU Digital COVID Certificate to enter and many are requiring 'green passes' to enter cultural venues, restaurants and bars, which require proof of negative Covid-19 health status.
People are able to visit Benidorm in Spain (pictured) with the country on the UK Government's amber list. Photo: Daily Mirror
On the flip side, a further layer of complexity has been added to people's ability to navigate travel restrictions–there are now different rules in place for vaccinated/ unvaccinated travelers, countries are on different traffic light lists (from country to country), and tourists must ascertain how to obtain green passes to eat out and participate in cultural events.
The biggest positive is that more EU countries are opening to fully-vaccinated travelers and from 2 August, this also includes the U.K., (now open to U.S. and EU travelers)–both of which have put increasing pressure on the Biden administration to reciprocate and open U.S. borders soon.
US plans to require COVID vaccine for most travellers
Meanwhile, the US official, speaking anonymously, said the change is part of a plan to reopen the US to travel from several countries, Al Jazeera reported.
President Joe Biden's administration is taking the first steps towards requiring nearly all foreign visitors to the United States to be vaccinated for the coronavirus, a White House official has said.
All travellers to the US, regardless of vaccination status, are currently required to show proof of a negative COVID-19 test taken within three days of air travel to the country.
The new vaccination requirement would come as part of the administration's phased approach to easing travel restrictions for foreign citizens to the country, the official, who spoke on the condition of anonymity to preview the policy under development, told several news agencies on Wednesday.
The official said the Biden administration, recognising the importance of international travel, wants to reopen to visitors from abroad in a "safe and sustainable manner".
The official added there would be limited exceptions to the vaccine requirement.
No timeline has yet been determined, as interagency working groups study how and when to safely move towards resuming normal travel, the official said.
The White House has given no timeline for a change in the current travel restrictions. Photo: AP
On Wednesday, White House Spokesperson Jen Psaki told reporters that a change in policy was not imminent.
"Given where we are today with the Delta variant, we will maintain existing travel restrictions at this point," she said.
Those restrictions have severely curtailed international trips to the US, barring non-US residents who have been to China, the European Schengen Area, the United Kingdom, Ireland, Brazil, South Africa and India in the prior 14 days from entering the country.
The Biden administration has faced pressure to lift some restrictions from affected allies, the air travel industry and families who have been kept separated from loved ones by the rules.
Many have also complained that the travel restrictions do not reflect the current virus situation, particularly as caseloads in the US are worse than in many of the prohibited nations.