US News today, June 30: Coronavirus drug's price sparks affordability questions, concerns
One teen killed and another injured in shooting in Capitol Hill Organized Protest zone, Supreme Court to block controversial Louisiana abortion law, coronavirus drug's price sparks affordability questions, concerns and Arizona orders bars and gyms to close, joining other states in reversing reopening are remarkable news today.
One teen killed and another injured in shooting in Capitol Hill Organized Protest zone
According to New York Post, a 16-year-old is dead and a 14-year-old is in critical condition in the latest of a series of shootings inside the Capitol Hill Organized Protest (Chop), which is known as the police free zone.
Witnesses said they had spotted a white Jeep Cherokee SUV, near one of the makeshift barriers around the protest zone, just before gunfire erupted at around 3 a.m., according to Seattle Police. Callers to 911 reported several people firing into the vehicle.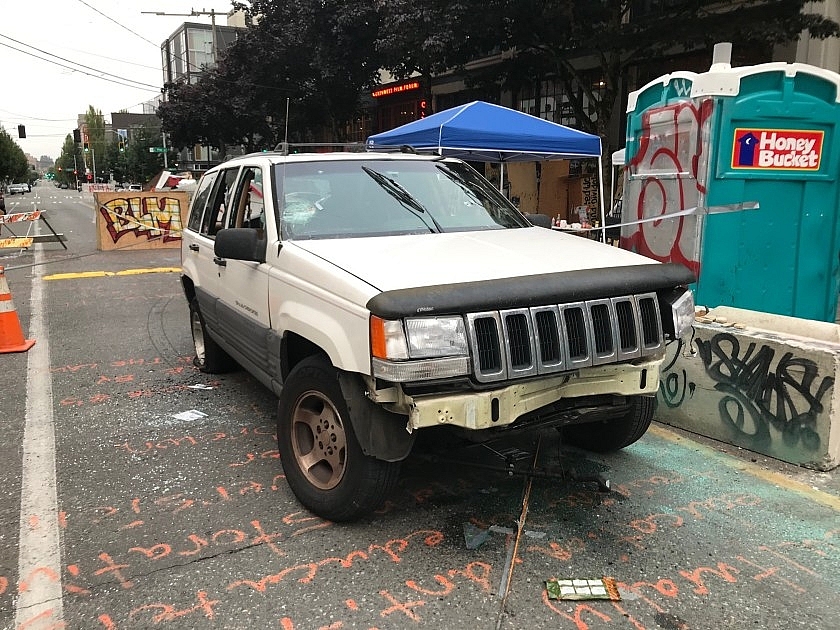 Shots were fired into a white SUV in Seattle's protest zone early Monday, according to 911 callers. Photo: Aron Ranen/Associated Press
Neither the 16-year-old, or, a 14-year-old boy also wounded in the shooting, were immediately identified by name. The 16-year-old was pronounced dead at Harborview Medical Center. The younger teen was hospitalized for gunshot injuries and was reported in critical condition.
It appeared the crime scene was tampered with following the shooting, cops said.
"Our homicide detectives searched the Jeep for evidence but there wasn't much we could find," Seattle Police Chief Carmen Best said.
"It's abundantly clear to our detectives that people had been in and out of the car after the shooting."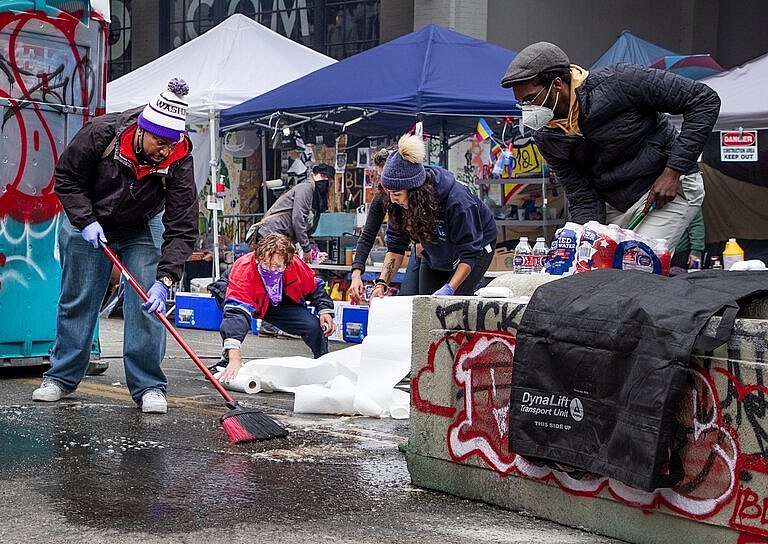 People clean blood off 12th Avenue in front of the Police Department's East Precinct on Monday morning after an early morning... (Mike Siegel / The Seattle Times)
Detectives are relying on witnesses to figure out what happened, but Best said that, as with the other shootings in the area, "people are not being cooperative with our requests for help."
The violence occurred just over a week after another shooting in the zone, dubbed CHOP, left a 19-year-old man dead and a 33-year-old man wounded.
"Enough is enough," Best told reporters. "We need to be able to get back into the area."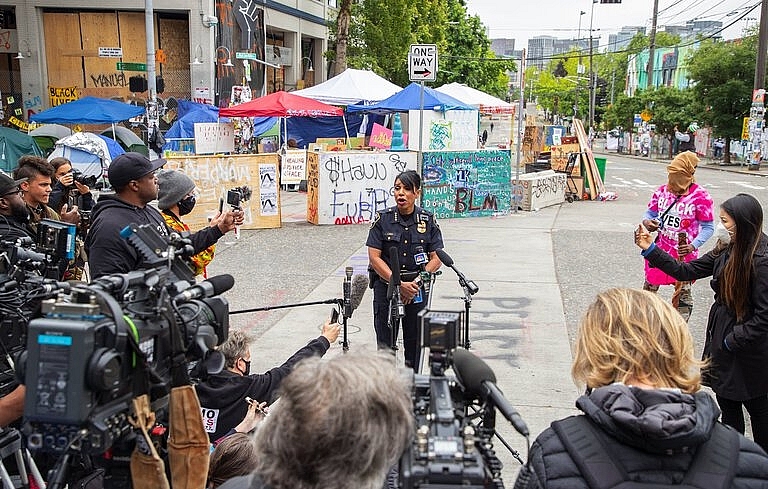 Seattle police Chief Carmen Best holds a news conference in front of the East Precinct on Monday after an early morning shooting... (Mike Siegel / The Seattle Times)
Protesters have occupied several blocks around the Seattle Police Department's deserted East Precinct and a park for about two weeks.
The precinct was abandoned following standoffs and clashes with demonstrators calling for racial justice and an end to police brutality. But the violence is clouding the message the protesters aim to promote, the police chief said.
"Two African American men are dead, at a place where they claim to be working for Black Lives Matter," Best said. "But they're gone, they're dead now."
The daily scene In the CHOP at 12th Ave and E Pine Street, in front of the Seattle Police East Precinct. (Greg Gilbert / The Seattle Times)
Supreme Court to block controversial Louisiana abortion law
The Supreme Court on Monday voted 5-4 to strike down a restrictive Louisiana abortion measure in a major win for reproductive rights activists, with Chief Justice John Roberts siding with the court's four liberals, WCJB reported.
Justice Stephen Breyer, who authored an opinion joined by his fellow Democratic appointees, wrote that the law placed an undue burden on women seeking abortions. Roberts wrote separately to say his thinking was based on the court's 2016 decision to strike down a similar law in Texas.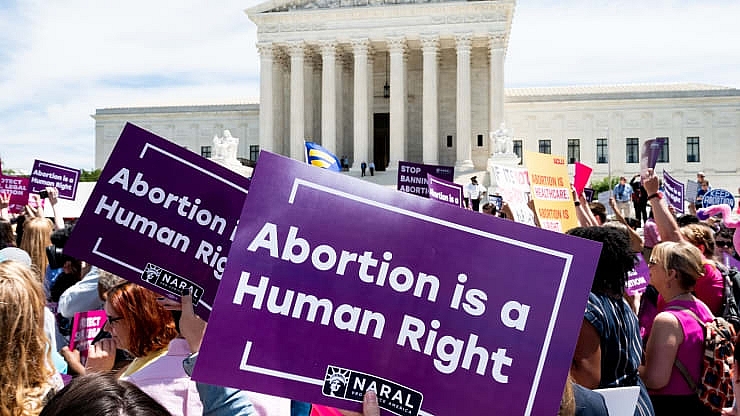 A placard saying, Abortion is a Human Right, is seen during the "Stop The Bans Day of Action for Abortion Rights" rally in front of the Supreme Court in Washington, DC.
The case involved a Louisiana abortion law requiring doctors who provide abortions to have admitting privileges at a hospital within 30 miles of their clinic. Challengers of the law alleged the restriction would limit the state to just one abortion provider at a single clinic.
Breyer wrote that the law posed a "substantial obstacle" on women and provided "no significant health-related benefits," and therefore was unconstitutional.
The dispute was the first over abortion to be argued before President Donald Trump's two appointees, Justices Neil Gorsuch and Brett Kavanaugh.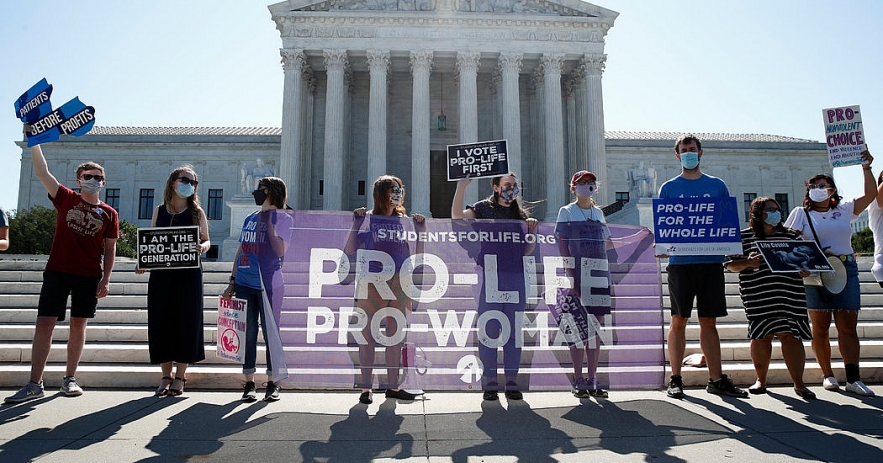 Photo: us.glbnews.com
White House press secretary Kayleigh McEnany called the ruling "unfortunate."
"States have legitimate interests in regulating any medical procedure - including abortions - to protect patient safety," McEnany said in a statement. "Instead of valuing fundamental democratic principles, unelected Justices have intruded on the sovereign prerogatives of State governments by imposing their own policy preference in favor of abortion to override legitimate abortion safety regulations".
Coronavirus drug's price sparks affordability questions, concerns
According to US News, Remdesivir will cost $2,340 for a five-day course in all developed countries except the U.S., where it will cost $3,120 for the typical patient with private insurance, the company announced on Monday. Trial results for the drug showed that it reduced the median recovery time for COVID-19 patients by four days, but it did not have a statistically significant impact on mortality rates.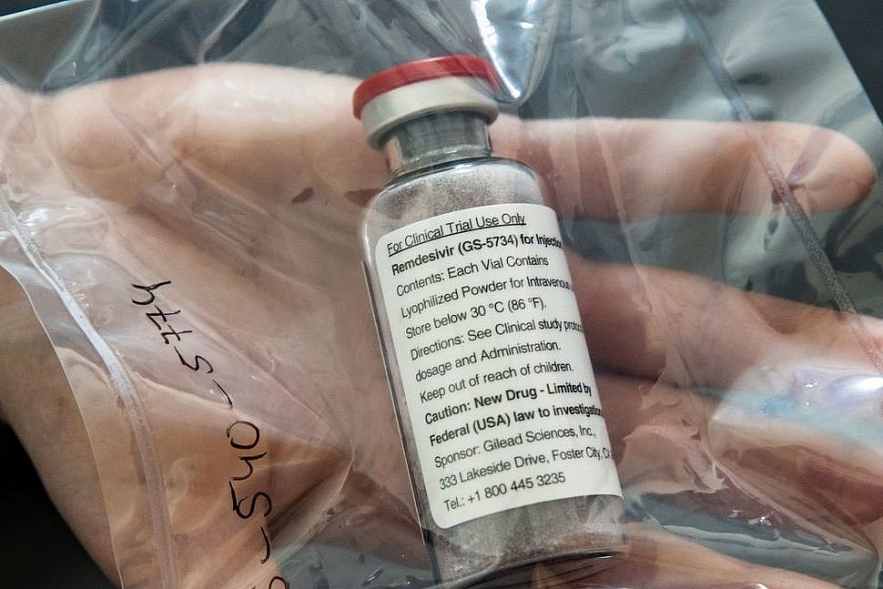 A five-day course of the drug Remdesivir is expected to cost upwards of $2,000, the drug's maker announced Monday.ULRICH PERREY/POOL/AFP VIA GETTY IMAGES
The Department of Health and Human Services announced Monday that it has secured more than 500,000 treatment courses of the drug for American hospitals through September, which is nearly all of Gilead's projected production of the drug for that timeline.
"To the extent possible, we want to ensure that any American patient who needs remdesivir can get it," HHS Secretary Alex Azar said in a statement.
White House press secretary Kayleigh McEnany on Monday said that hospitals would "eat the cost" of the treatment, adding that they would turn a profit if patients were able to leave the hospitals faster than anticipated. She said that patients "would be very unlikely to see the cost of the drug" because of the reimbursement process for hospitals.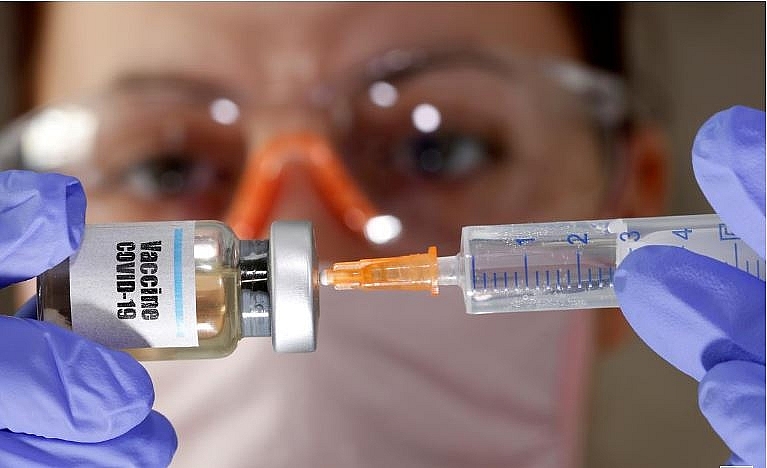 A bottle named Covid-19 vaccine. Photo: Reuters
However, some groups have criticized the price as being too high.
"Today's news proves that Gilead aims to profiteer off the COVID-19 pandemic," Ben Wakana, the executive director of Patients For Affordable Drugs, said in a statement. "Gilead will realize profits far in excess of its cost to develop and produce a drug that has yet to demonstrate it will save lives. Gilead's price for remdesivir shows once again that we can't trust Big Pharma to act responsibly - even in the face of a global pandemic."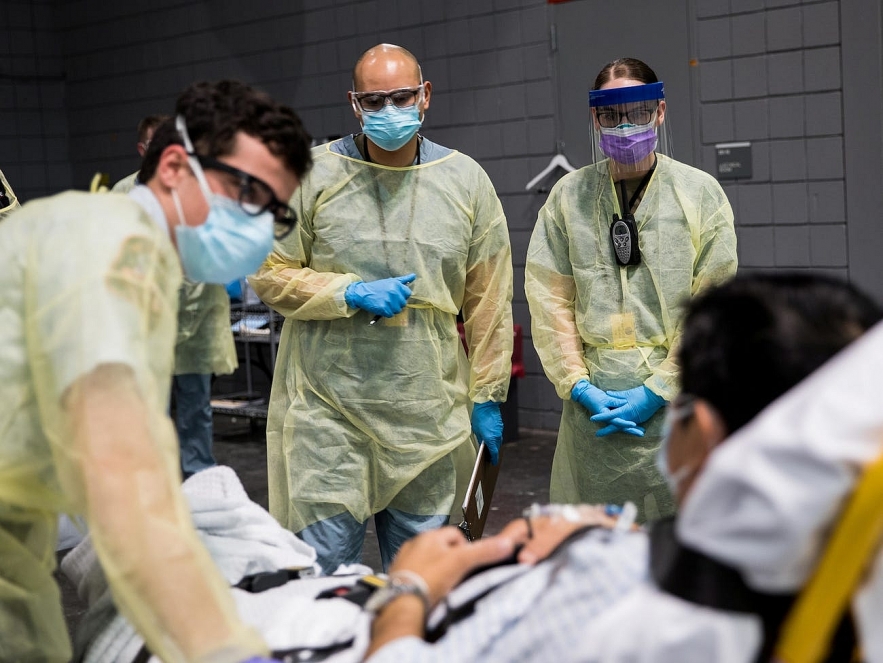 Soldiers assigned to the Javits New York Medical Station conduct check-in procedures on an incoming coronavirus patient with local emergency workers in New York City, April 5, 2020. Photo: U.S. Navy
Peter Maybarduk, the director of Public Citizen's Access to Medicines Program, called the price an "offensive display of hubris and disregard for the public."
Given that remdesivir was developed using some public funding, "allowing Gilead to set the terms during a pandemic represents a colossal failure of leadership by the Trump administration," Maybarduk said in a statement. Besides, lawmakers also questioned the cost.
Arizona orders bars and gyms to close, joining other states in reversing reopening
The governor of Arizona has ordered bars, movie theaters, gyms and water parks to shut down, in a dramatic move that echoed similar efforts by states around the country to roll back plans for reopening, The Guardian reported.
The order from the Republican governor, Doug Ducey, came on Monday and went into effect immediately, and will last for at least 30 days. Ducey also also ordered public schools to delay the start of the classes at least until 17 August.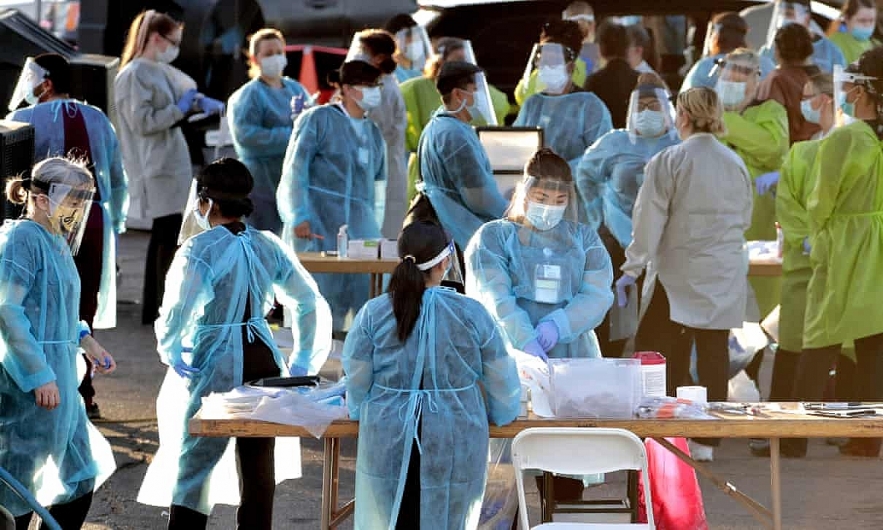 Medical personnel prepare to test hundreds of people for Covid-19 in Phoenix, Arizona, 27 June 2020. Photograph: Matt York/AP
"Our expectation is that our numbers next week will be worse," he said.
Arizona health officials reported 3,858 more confirmed coronavirus cases Sunday, the most reported in a single day in the state so far and the seventh time in the last 10 days that daily cases surpassed the 3,000 mark. Since the pandemic began, 74,500 cases and 1,588 deaths stemming from the virus have been reported in Arizona.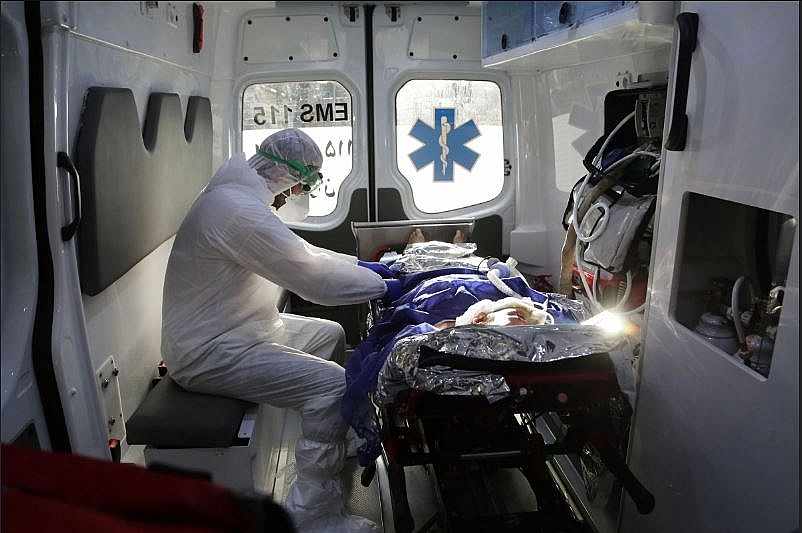 An ambulance transports a patient to the hospital. Photo: Getty
Most Arizona bars and nightclubs opened after Ducey's stay-at-home and business closure orders were allowed to expire in mid-May.
The state is not alone in its reversal. Places such as Texas, Florida and California are backtracking, closing beaches and bars in some cases amid a resurgence of the virus. Oregon and Kansas, meanwhile, announced Monday that everyone would be required to wear masks in public.