US Veteran in Effort to Return Wartime Diary to Vietnamese Family
A US veteran Pater Mathews of Vietnam war has emailed relevant agencies of Ha Tinh province in central Vietnam expressing his desire to fly to Vietnam and return a Vietnamese martyr's diary picked decades ago to the martyr's family.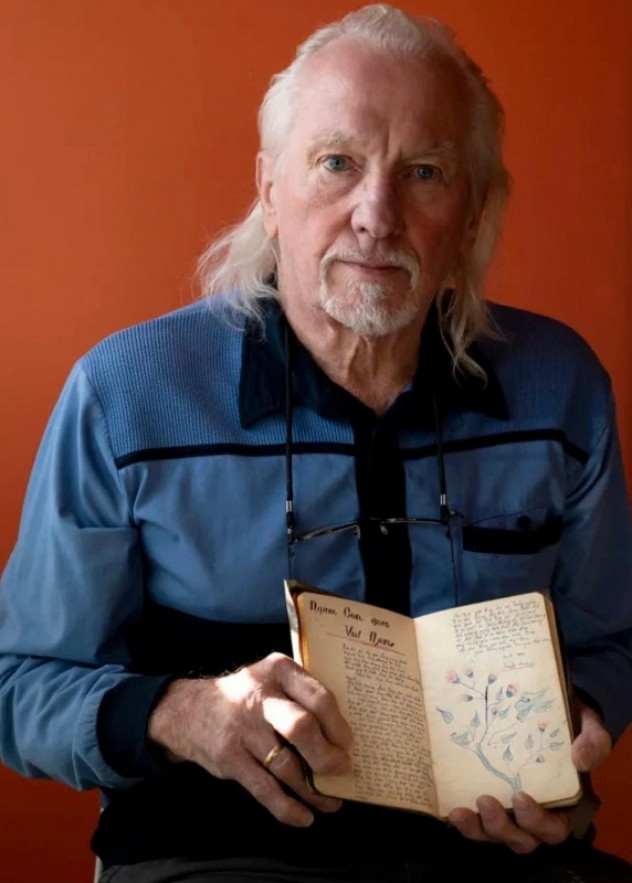 Pater Mathews has kept Vietnamese war martyr Cao Xuan Tuat's diary for more than five decades, and expects to return it to the martyr's family.
Peter Mathews, a 77-year-old U.S. veteran from New Jersey, expected to fly to Vietnam in March to fufill his special wish. Peter has kept a Vietnamese soldier's diary since 1967. Now he's trying to return it to its owner.
In an interview with North Jersey, Mathews said he's had the notebook for 56 years: "Found a north Vietnamese diary, 93 pages, November 1967 during the battle of DakTo on hill 724 while with the 1st Cav. Would like to find relatives and return it," he wrote on his Facebook last month.
During a fierce battle lasting for months in the Central Highlands of Vietnam in late 1967, Peter Mathews, a machine gunner at that time, found a 93-page diary in a backpack at the foot of a hill. The diary was mixed among many backpacks and the bodies of liberated Vietnamese soldiers who had bravely sacrificed themselves after the battle, according to the VOV.
Without information about the owner, Mathews decided to bring the book back to his homeland and kept it carefully for the past 56 years as one of the memorabilia during the Vietnam War.
Recently the 77-year-old veteran asked one of his friends to translate the diary and published some pages on social media in the hope of gathering information about the owner of the diary.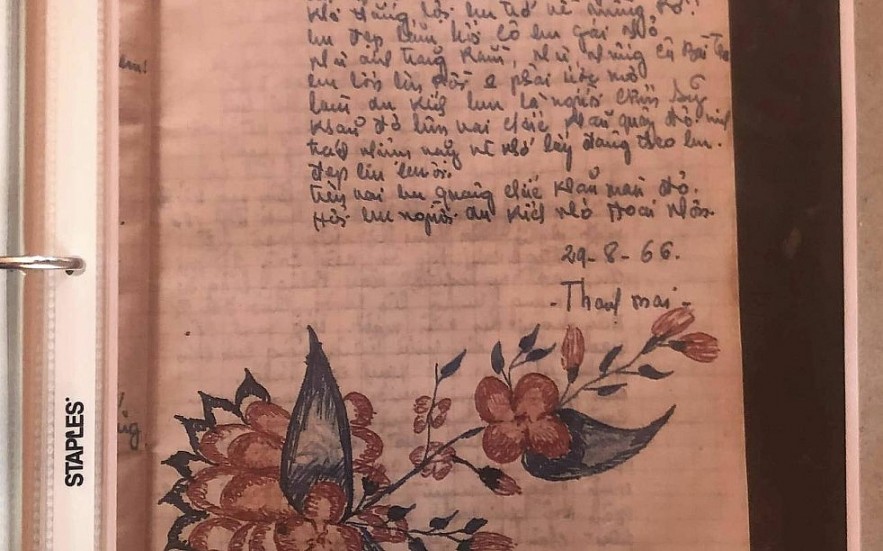 A page from a notebook that U.S. veteran Peter Mathews found during the Vietnam War, as posted on his Facebook page. Photo courtesy of Peter Mathews' Facebook page
Gone are the days being a soldier in the dead battle, Mathews has his normal life with a happy family and founded a small construction company. He kept the notebook and never forgot about it. Over the years, his children often encouraged him to open up more about his time in Vietnam.
Mathews' curiosity about the notebook was piqued when he learned that one of his customers had adopted two children of Vietnamese descent. The customer had traveled to Vietnam multiple times and offered to help Mathew translate a few pages of the notebook.
He said the posts generated interest from a Harvard professor who wanted to help research the book. A collector even offered to buy it for $1,200.
Both Andrew Pham, the translator of the diary of late Vietnamese soldier Dang Thuy Tram ("Last Night I Dreamed of Peace"), and former war journalist Frances Fitzgerald proposed that Mathews consider publishing the notebook.
Hearing about the news in late January 2023, the administration of Ha Tinh province in collaboration with relevant agencies worked hard to verify the information. Tran Nhat Tan, head of the Ha Tinh Fatherland Front Committee in the central Vietnam province, on Wednesday said the committee was cooperating with local authorities to help Mathews with his story.
Authorities of Ky Anh District have verified that there was a deceased soldier who went by the name Cao Van Tuat, similar to the name which appears in the notebook who had sacrificed his life in the fierce battle in the Central Highlands.
In his email, Mathews said he was looking forward to returning the diary to Vietnamese martyr Cao Xuan Tuat's family soon.
On Monday, Mathews posted on his website that he found two of Cao Xuan Tuat's siblings. He posted pictures of two women speaking with Ha Tinh authorities while inspecting a book.
Tan, however, said the verification process was still ongoing because there was other information requiring more verification," and Mathews may be invited to Vietnam to return the notebook and visit the old land but a new destination.