US Willing to Assist Vietnam in Energy Transition, Climate Change Adaptation
The United States and Vietnam determine to accelerate energy transition and enhance cooperation in climate change adaptation.
US Special Presidential Envoy for Climate John Kerry visited Ho Chi Minh City, Ben Tre Province, and Hanoi, Vietnam, September 2 through September 6 to see first-hand the climate impacts in the Mekong Delta and for bilateral climate talks with the Government of Vietnam, building on conversations that started in 2013 regarding Vietnam's energy transition.
Prime Minister Pham Minh Chinh (right) and US Special Presidential Envoy for Climate John Kerry in Hanoi on September 5. Photo: VGP
Secretary Kerry and Prime Minister Pham Minh Chinh expressed their resolve to work together intensively toward an accelerated energy transition for Vietnam and other efforts to reduce greenhouse gas emissions, in support of Vietnam's 2050 net zero emissions goal announced at COP26 in Glasgow, Scotland, and to make Vietnam a leader in the region in combating the climate crisis.
Vietnam determined to undertake the significant policy and reform efforts necessary to implement Vietnam's 2050 net zero emissions commitment and to rapidly transition to an efficient and clean energy economy and to phase down coal power, including through accelerating the development of large-scale renewable energy.
The two sides recognized the central importance of a just transition of the workforce, consistent with international best practices, and resolved to collaborate on these topics.
Secretary Kerry expressed the US intention to catalyze global support for Vietnam's energy transition, through technical assistance, and efforts to mobilize public and private investment, including grants and concessional loans.
Secretary Kerry welcomed the intention of Vietnam to facilitate the connection of complete and nearly-complete renewable energy installations to Vietnam's grid.
The US welcomed Vietnam's intention to submit by COP27 its updated NDC to reflect Vietnam's commitments at COP26 and aligned with global efforts to limit warming to 1.5 degrees Celsius.
Vietnam expressed its resolve to finalize as soon as possible the Power Development Plan 8 (PDP-8) to put the country's power sector on a trajectory consistent with its 2050 net zero goal, with ambitious goals for growth in renewable energy, and maximum efforts to limit further development of coal, including tens of gigawatts of additional renewable energy capacity at affordable price, by 2030, and ensuring energy security.
To implement PDP-8, Vietnam intends to make use of its own domestic resources, along with the cooperation and support of the US and the international community, especially from the developed countries, in terms of finance and technology.
Key areas for technical assistance include wind and solar potential assessment, legal consultation, renewable energy and supporting industries development, human resources development, and management skills.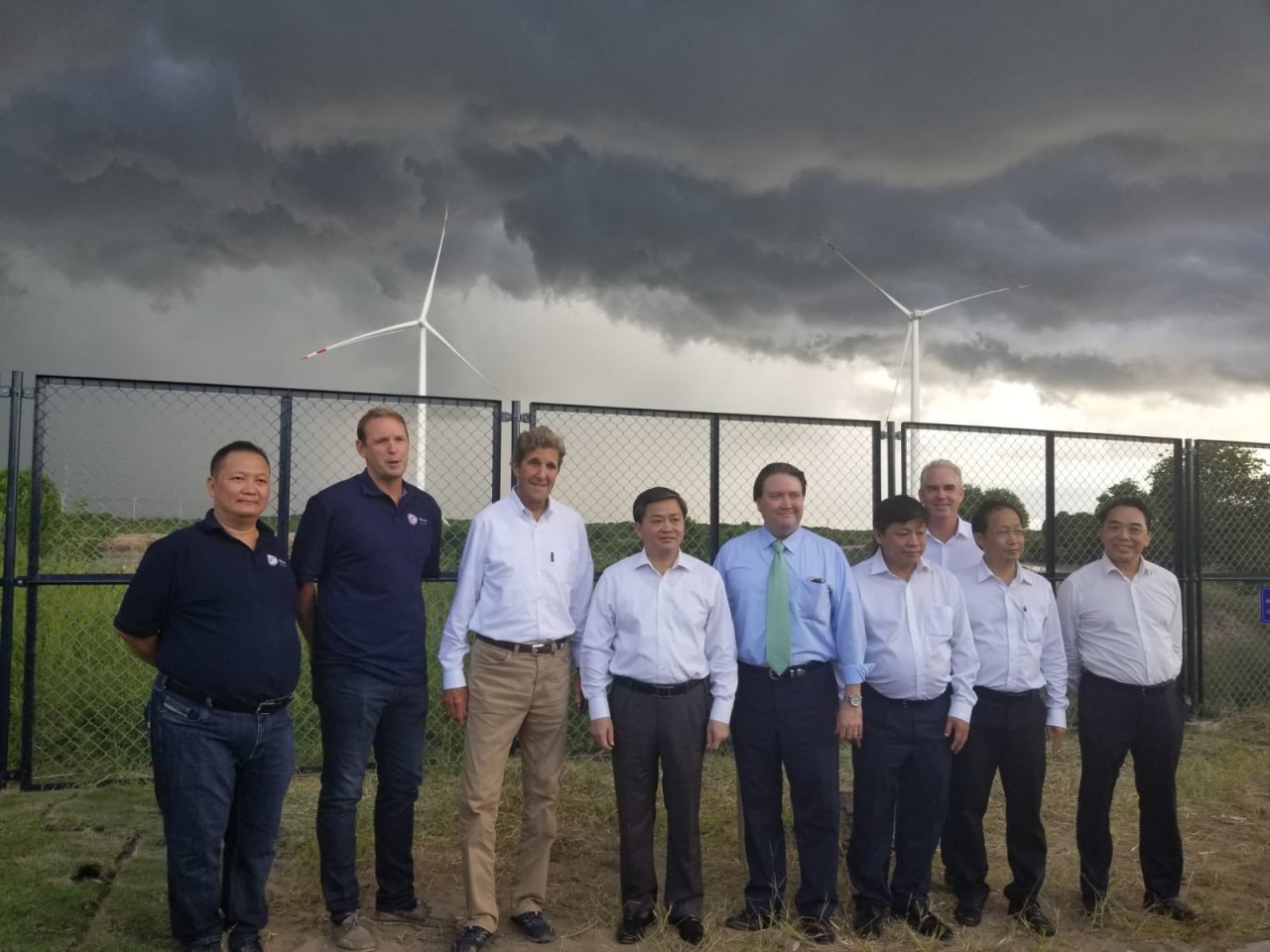 US Special Presidential Envoy for Climate John Kerry had an exceptional visit to Ho Chi Minh City and the Mekong Delta province of Ben Tre. Source: US embassy in Vietnam
Vietnam also determined to significantly increase high-voltage transmission capacity in order to support greater levels of renewable energy, and to take steps toward facilitating the ability of the private sector and development finance institutions to invest in transmission while ensuring energy affordability.
Vietnam stated its intention to implement the Direct Power Purchase Agreement (DPPA) pilot as soon as possible in order to facilitate the execution of power purchase agreements directly between renewable energy developers and power purchasers, helping to catalyze additional growth in renewable energy and the greening of Vietnam's industrial sector. 
Secretary Kerry and PM Chinh noted the impacts of the ongoing energy crisis, and resolved to deepen investments in renewable energy, minimizing exposure to fuel price volatility, enhancing energy security, and maximizing consumer benefits.
Secretary Kerry expressed his commitment to the bilateral relationship and expressed strong support for further enhanced high-level communication between the two countries in the coming months.
US Special Presidential Envoy for Climate John Kerry heard from local ecologists, clean energy experts, and provincial government leaders and saw firsthand the climate impacts to the Mekong Delta and Vietnam's critical river ecosystems.
Secretary Kerry and PM Chinh resolved to launch the US-Vietnam Climate Change Working Group by COP27.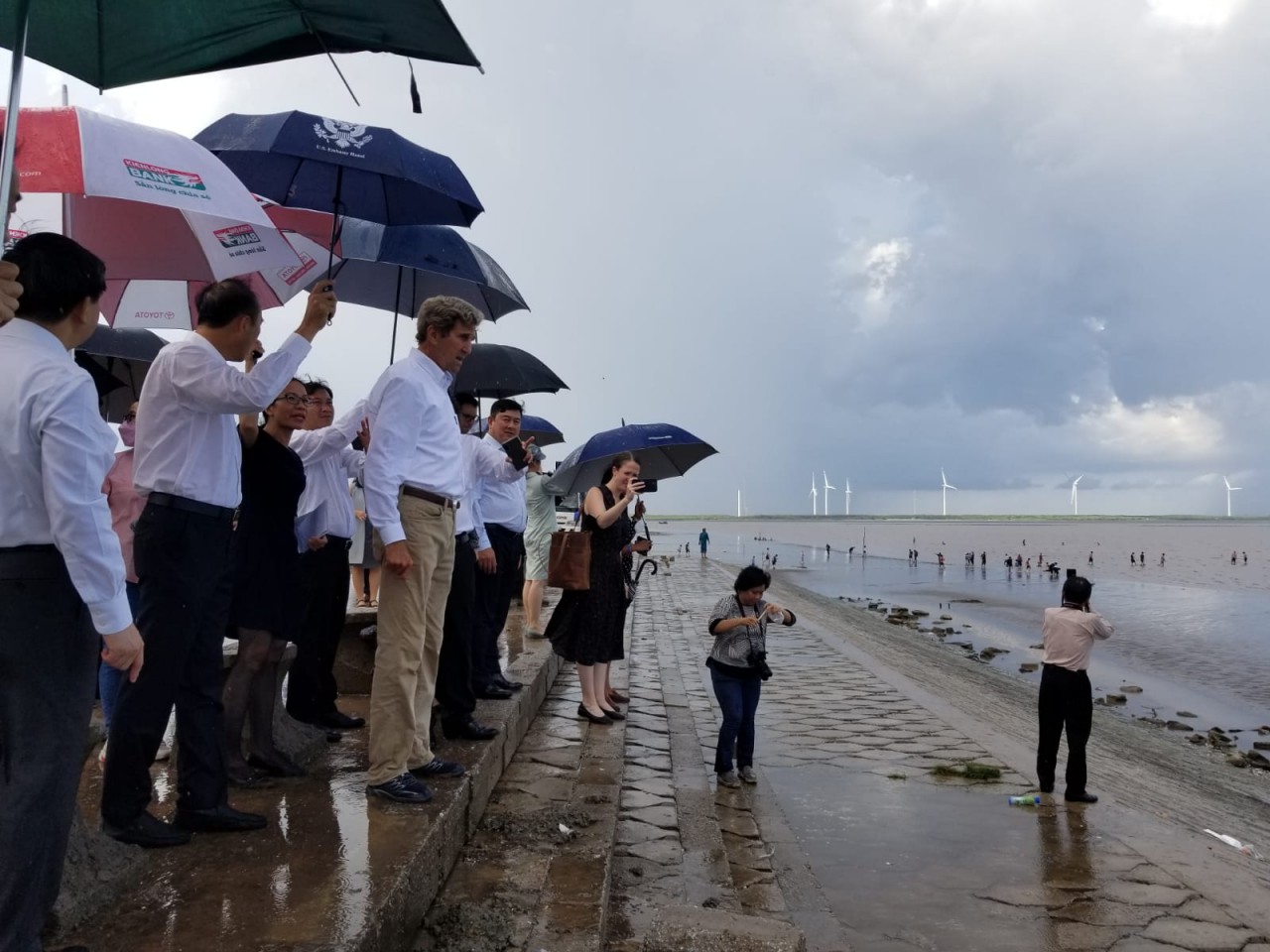 Kerry also welcomed the efforts of Vietnam's National Steering Committee for implementing Vietnam 's Commitments at COP26, including those to further facilitate private investment in renewable energy and transmission. Source: US embassy in Vietnam
Secretary Kerry shared with PM Chinh the desire of the US to elevate the bilateral relationship, with cooperation on combating the climate crisis as a pillar of the relationship.
Secretary Kerry said: "The US is committed to working with G7 countries and others to support an ambitious and just energy transition and climate change adaptation in Vietnam."
PM Chinh said: "Climate change is a global issue, so a global approach is required. As this issue affects every person, an inclusive approach is necessary. Vietnam calls for justice and fairness in the fight against climate change. Vietnam is committed to rapid implementation of the 2050 net zero emissions pledge through speeding progress toward renewable energy growth and to working closely with international partners including the US in doing so.
Vietnam calls for concrete international support in wind and solar potential assessment, technology development and transfer, renewable energy and supporting industries development, concessional financing, human resources development, management skills, and enhancing the resilience of vulnerable communities in Vietnam, including the Mekong Delta, he added.
During his visit to Vietnam, Kerry also met with Minister of Foreign Affairs Bui Thanh Son; Head of the Party Central Committee's Economic Commission Tran Tuan Anh; Minister of Public Security Gen. To Lam; Politburo member, and Secretary of Ho Chi Minh City's Party Committee Nguyen Van Nen; and Secretary of the Ben Tre province's Party Committee Le Duc Tho.
In Ben Tre, Kerry and his entourage surveyed a landslide site in Con Nhan and Bao Thuan sea dyke in Ba Tri district.
They also visited Pacifico Sunpro Ben Tre Wind Power Plant in Binh Dai district's Thoi Thuan commune and a cocoa production and processing facility in Chau Thanh district.
Ao Dai On The Heritage Path

With the theme "Ao Dai along the heritage path", the designers inspired and brought the natural landscapes or unique culture of the world heritages to ...
Focus
Brazil is Vietnam's largest trading partner in Latin America and in the top three of Vietnam's largest markets in the Americas.
June 07, 2023 | 14:29
Economy
The deputy chief minister praised the literary contributions of Dai and stressed the importance of promoting literature and education in the state. He also highlighted the achievements of individuals from various sectors, including sports, education, and business, who brought laurels to the state.
June 07, 2023 | 07:00