Various Autumn Dishes Around The World for Food Lovers
Now countries around the world are immersed in autumn colors, besides the beautiful scenery, the culinary specialties of this season are equally attractive to tourists.
Depending on each country and climate, autumn dishes are diverse and have their own characteristics. It can be a traditional dish associated with a long-standing culinary culture or seasonal dishes or dishes associated with festivals taking place in the autumn.
Boeuf Bourguignon (France)
French traditional, Boeuf Bourguignon. @javligtgott
Origins of this dish go way back to the 19th century when it was documented for the first time, but it is believed that the dish goes even further in the past. This dish was a standard dish in Paris region bistros but it later became known as Burgundian special.
Boeuf Bourguignon is a beef stew braised in red wine, usually red Burgundy, and beef stock flavored with carrots, onions, and garlic. Typical garnish for this delicious dish is bacon, mushrooms, and pearl onions. The best part of the dish is a tender piece of braised beef, and it's usually served with boiled potatoes or noodles.
Pumpkin Soup (Germany)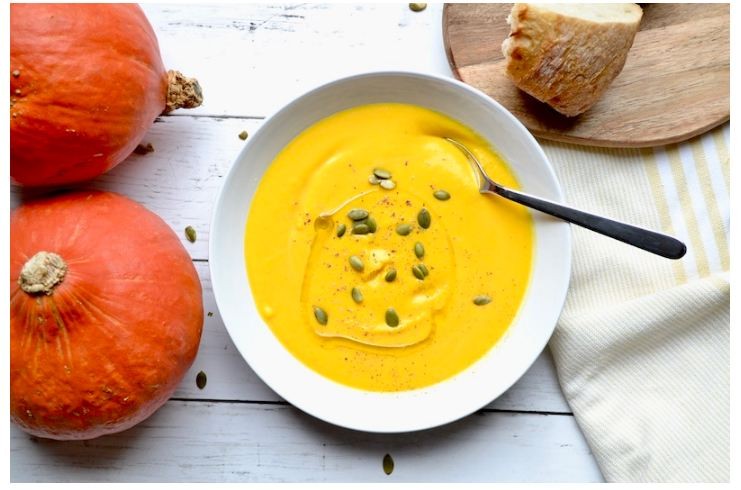 Pumpkin Soup is called "Kürbissuppe" in German.
An easy pumpkin soup recipe like this is a great fall tradition to start. Like in many cultures, there are some foods that are used much differently in German cooking. Pumpkin is one of those foods. Although you would be hard pressed to find a pumpkin pie while traveling around Germany, a delicious pumpkin soup like this one will be on many Gasthaus menus.
There's also that huge pumpkin festival over in Ludwigsburg. It feels like it's becoming part of new traditions with seasonal foods from homemade pumpkin jams to pumpkin soups available as an appetizer at this time of year in most restaurants.
Apple Pie (The US)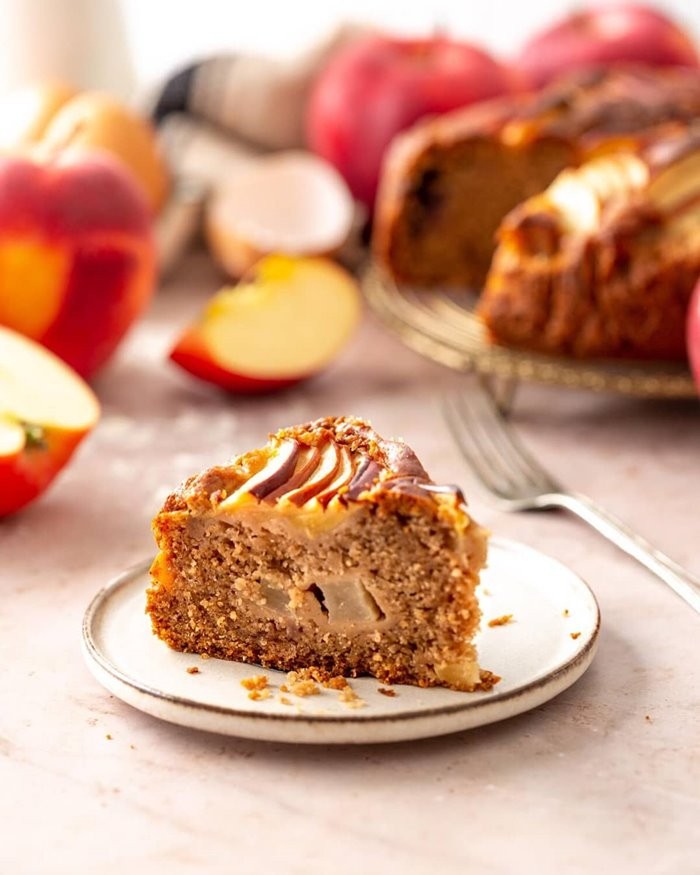 Discover the authentic American Apple Pie, packed with fall flavors. It features a sweet apple filling and a flaky butter crust with a shimmering lattice pie crust. @ff_fashionflavors
An Apple Pie is a deep pie, consisting of several layers of apple slices packed in between two layers of crust. The apples are combined with several spices (cinnamon, nutmeg, all spice) and coated in some sugar.
As for the pastry dough casing that contains the filling, there are two option here. The upper part can either cover the entire pie or it can be woven into a shimmering lattice pie crust.
This simple apple pie is as delicious as it sounds: some wonderful sweet flavors, fall spices, and a butter crust that holds its shape beautifully. The perfect pie for fall, Thanksgiving, or every other occasion year-round.
Chiles en Nogada (Mexico)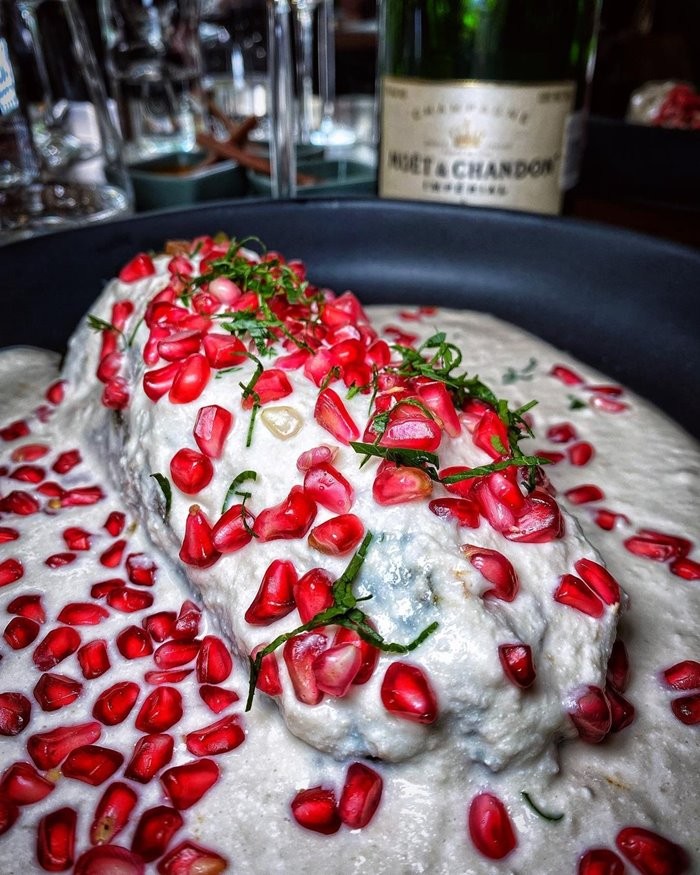 Considered by many to be the national dish of Mexico, chiles en nogada showcases the colors of the country's flag: green, white and red. @comidistasmx
It is believed that Chiles en Nogada, a traditional dish of poblano peppers stuffed with a fruit and nut filled picadillo that is then covered with walnut sauce (nogada) and pomegranate seeds, was invented by nuns in Puebla in the 18th century.
It is a festive dish typically served in the month of September to celebrate Independence Day because the colors of the dish are said to resemble the colors of the Mexican flag, green, white and red.
Chiles en nogada is not a difficult dish to prepare but it does require you to dedicate some time for preparation. Your time will be rewarded with a sophisticated, deeply satisfying dish with knockout presentation perfect for a special occasion.
Love and attention to detail matter. For a truly special dish, you must make the effort to chop all of the ingredients into uniformly sized pieces which will give you the most beautiful presentation.
Crayfish (Sweden)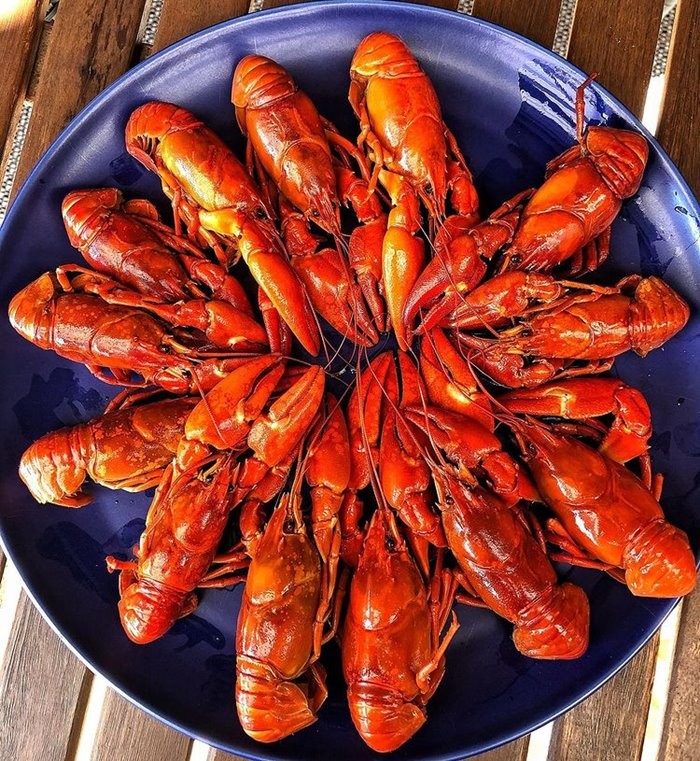 Eating freshwater crayfish in August is one of Sweden's most cherished food @lenachhakansson
Back in the early 1900s, Sweden introduced restrictions on river crayfishing. This was due to the risk of over-fishing, and the season was then limited to a couple of months from August. Crayfish thus became an exclusive and much sought-after delicacy.
Crayfish have been eaten in Sweden since the 1500s. For a long while, only the aristocracy enjoyed these delicacies, as popular suspicion of shellfish was widespread. Originally, crayfish meat was used for sausage, ragout, patties or puddings.
Once a preserve of the moneyed classes, the crayfish party is today an occasion for all. Over the years, certain aspects of it have become a tradition.
Crayfish are to be eaten outdoors, and gaily coloured paper lanterns should be hung round the table. People eat crayfish cold, with your fingers. Sucking noisily to extract the juices is perfectly acceptable behaviour. Bread and a strong cheese such as mature Västerbotten are eaten on the side. People mostly drink beer and the inevitable schnapps.
Grilled Octopus (Spain)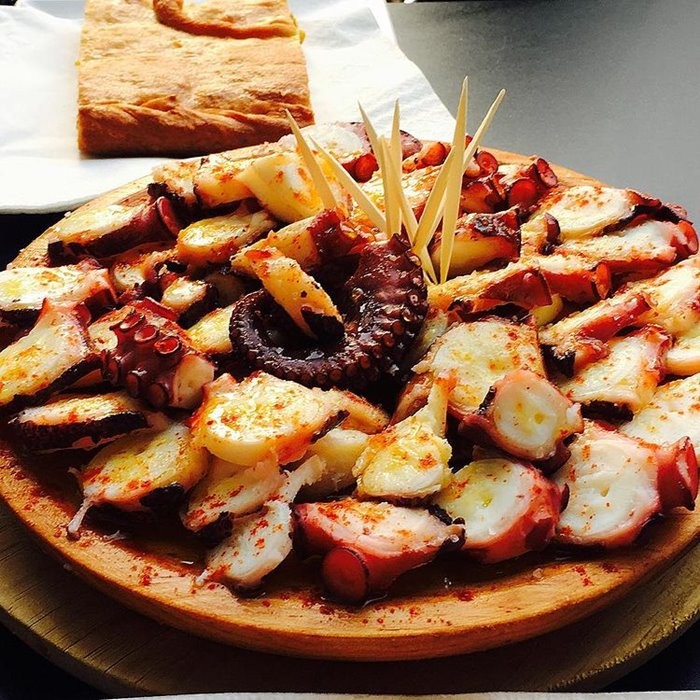 Pulpo, grilled octopus in the style of Galicia, is tender and savory. Octopus is served in Spain as a tapa or an appetizer. @alberto_coch
The Spanish octopus recipe is known for being one of the most delicious seafood recipes in the world. The octopus itself is not different than the one you will find in other countries, what makes it be so tasty is the way it´s done.
In Spain there are more than 50 ways of cooking octopus, but two of them are very popular: Galician style octopus and Grilled Spanish octopus.
The octopus from Spain is one of the best Galician dishes. Although it is originally from Galicia, now a days it´s served all over the country. The Galician octopus it´s also known as polbo á feira in Galician or pulpo a la feria in Spanish, and It´s not only the simplest way to cook the octopus, but also the preferred by the Spaniards.
Another of the ways to eat octopus in Spain is grilling it at the grill or the barbecue. There are many people who always choose grilled food instead of the braised ones, that´s why the grilled octopus is also very popular in Spain.
Seafood (Sourth Korea)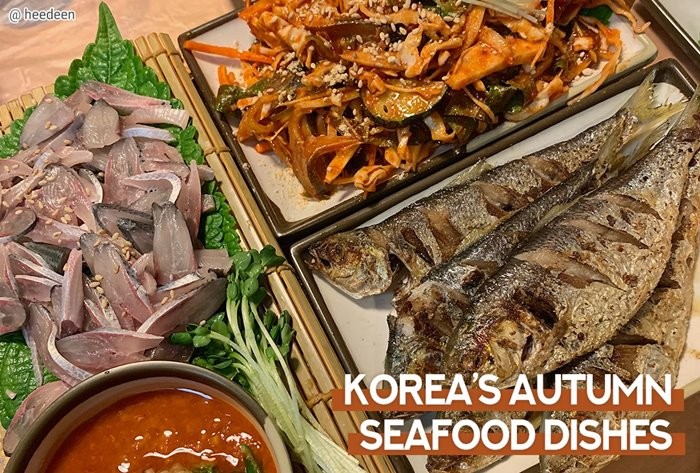 Visit Korea during the fall season and you will be treated to the three best types of seafood: blue crab, jumbo shrimp, and gizzard shad. @Heedeen
For each of South Korea's four distinct seasons, a different set of foods takes center stage in Korea's culinary scene. Autumn marks the season of three of the nation's most popular kinds of seafood: blue crabs, jumbo shrimp (prawns), and gizzard shad. Plump blue crabs are cooked in savory soup or steamed, while gizzard shads are enjoyed either raw as sashimi or grilled. Succulent and fleshy prawns are also great eaten raw or grilled, and the most common method for eating prawns in Korea is to peel them and dip them in a vinegar and red chili-pepper sauce.
On land, the best fall seasonal foods include flavorful and nutritious pine mushrooms and sweet persimmon. Pine mushrooms come in stewed, grilled or steamed dishes. They are great with beef or abalone. Persimmons are particularly sweet in the fall and are widely enjoyed as a dessert item. The dried version, called gotgam, is dried under the autumn sun and in the wind; it has a different texture from the fresh, undried version.
Traditional Dish (Russia)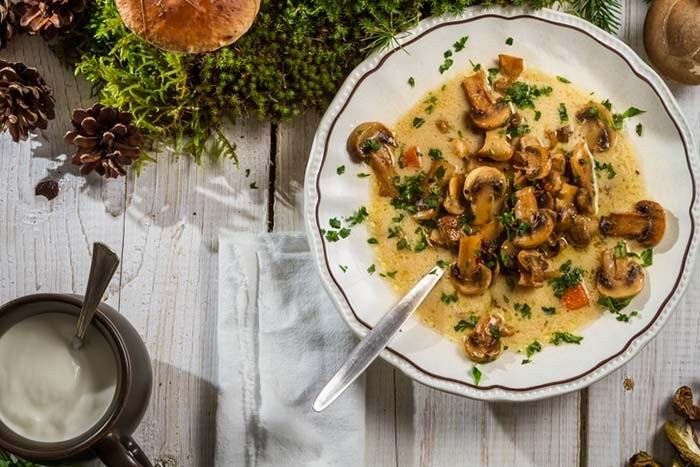 Dried mushroom soup.
Russian cuisine has historically been very seasonal and affordable for peasants, full of fresh produce during summer and fall months and storable goods during winter and early spring.
In autumn, it is time for gathering harvest, hunt, fish, slaughter cattle and store food for the winter. For Russian, autumn is the most abundant season.
In the autumn, people start to ferment the cabbage. It is the best season for vegetarians to visit Russia. The vegetable are fresh and delicious. By those vegetable, they make varied of food, such soup (dried mushroom soup; borscht - a sour beetroot soup).
Solyanka is made from fresh or sour cabbage. Solyanka is called as Russian stewed cabbage or Russian braised cabbage. The cabbage is mixed together with smoked pork, mushrooms and herbs.
Burger is made from potatoes. It mixes with beef, red onion, salt and parsley. The potatoes are baked. In the serving, mayonnaise or ketchup is added to give more taste. It will make you more enjoy in the autumn in Russia with receipt of autumn foods.
Lobster and chicken wings are the option to cook in autumn. Both of them are cooked in oven and added by special ingredient. Those are super simple dish to make.
Chicken wings or called as Buffalo wings in Russia are enjoyed in a tasty sauce. The taste of chicken wings is sticky, sweet and tender. Lobster is oven with mustard, mayonnaise, olive oil, salt, and pepper.
Baltic Herring (Finland)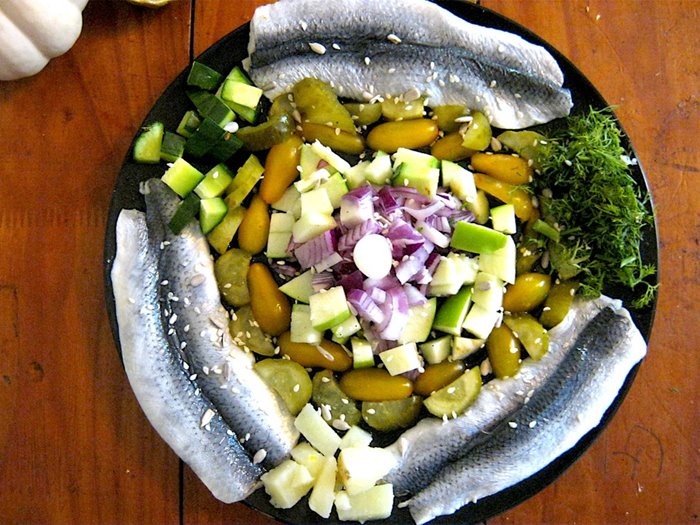 Small Baltic herring, called silakka in Finnish, is the key ingredient of this traditional fish specialty hailing from Finland. @Lookingatcooking
Baltic herring (Clupea harengus membras) is a species of herring found only in the Baltic Sea. It is smaller than the common herring (Clupea harengus) found in the North Atlantic or North Sea, and contains less fat.
Although Baltic herring is relatively small in size and has a low market value, it is the most economically important species fished in Finland. It contains healthy fatty acids and minerals and is a vital source of protein and vitamin D.
Besides eaten freshly salted, fried, baked or smoked, Baltic herring is also salted, pickled or marinated in numerous ways, being one of the most popular fish species consumed in Finland. Herring and Baltic herring dishes are an indispensable part of the Nordic smörgåsbord.
Finnish smoked herring, as indeed all domestically produced smoked fish products, like salmon, is always naturally smoked and never artificially coloured, like smoked fish often is in countries like Britain, Ireland, the U.S.
In the central Market Square of Helsinki, the capital of Finland, a Baltic Herring Fair is held annually, a Finnish tradition dating back to the 16th century. The fair has been organized during the first week of October since the year 1819.