Valentine's Day 2023
Viet-Ukrainian Family Share Secrets for Making Everyday Valentine's Day
According to Phan Vu Son and Sophia Koshelna, love is the secret ingredient for a sweet multicultural family dynamic.
The energetic couple is famous as Phan Family, earning more than seven hundred thousands TikTok followers. If you click the hashtag #vợtây_chồngviệt on TikTok, you can enjoy hours of entertaining content made by Son and Sophia, sharing their life as a Vietnamese - Ukrainian couple. Their most famous video has almost 7 million views, in which Sophia was adored by fans for her fluency in Vietnamese and funny reactions.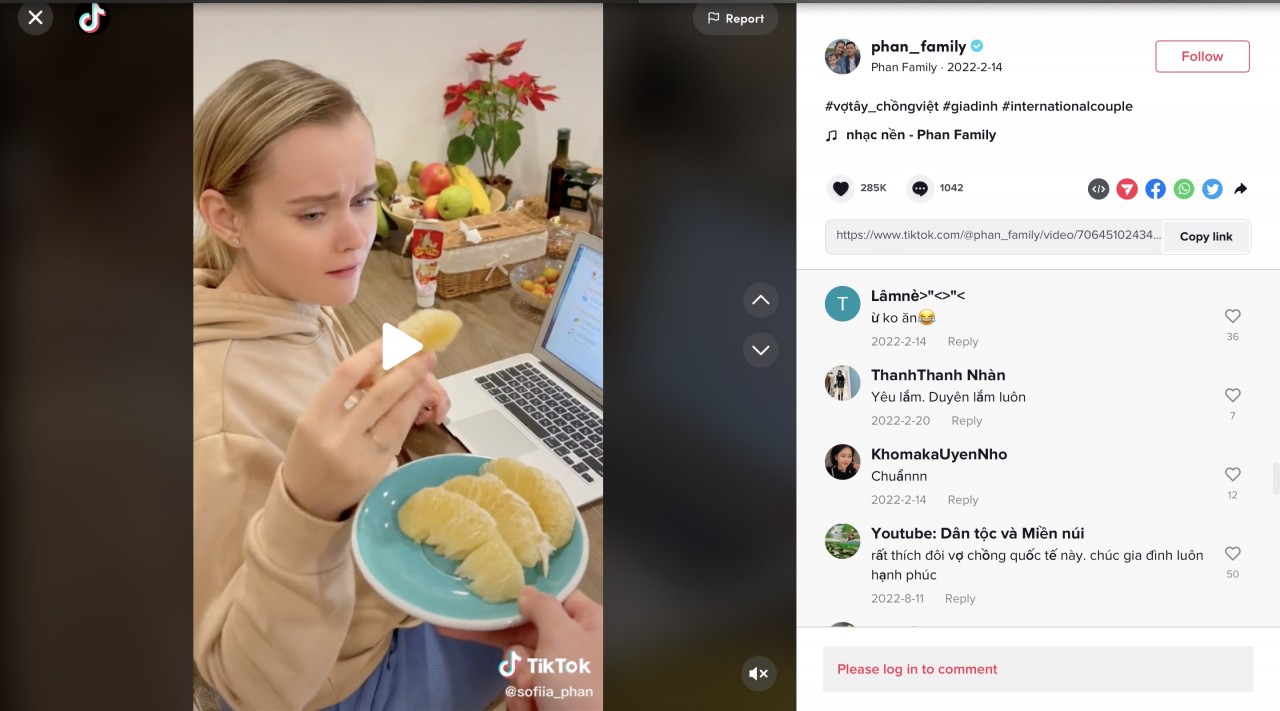 Their most famous video has almost 7 million views, in which Sophia was adored by fans for her fluency in Vietnamese and funny reactions (Screenshot from TikTok).
An international romance with a happy ending
Both Son and Sophia were very young when they first met. Son and Sophia met while studying together at Kiev State University (Ukraine). Sophia studied Vietnamese, while Son studied Diplomacy. Son was attracted by the Ukrainian girl's pretty appearance and sunny smile, while Sophia liked the Vietnamese boy for his kindness and thoughtfulness.
"When I entered the school, I wanted to study an Asian language because I had already studied European languages. Therefore, I decided to learn Vietnamese. Son has helped me a lot in my life and also in understanding Vietnamese culture. Being together a lot, he and I realized there was a lot in common," recalled Sophia.
For many foreign couples, language and cultural differences are barriers, but Son was born and raised in Ukraine and they didn't have trouble with communication. Vietnamese study sessions soon became delightful chatter between two lovers.
They faced their first big challenges after two years of dating. Son went to study abroad for a master's degree in the UK and Germany, and Sophia went to study for a master's degree in Vietnam. They decided that in the middle of all the chaos, they will tie the knot, proving that an international, long distance relationship could work out.
But the families were not completely supportive of the young couple's decision
"When I took Sophia to break the news, my parents thought that our decision to get married was immature. On the other hand, Sophia's family is worried that differences in customs and distance and their precious daughter will suffer. But maybe it is s because of that pressure that makes us try even harder to be together."
Son and Sophia's love story reached the most special milestone when they got married after they both completed their master's degrees. The couple's wedding was held in both Kiev (Ukraine) and Nam Dinh (Vietnam). After getting married, they now live in Hanoi.
"In 2016, Sophia flew to Germany to celebrate Valentine's Day with me. We took the opportunity to make it romantic and meaningful, travelled around Berlin together, dinner with candles, flowers and gift. It is our favorite memory for Valentine's Day," said Son.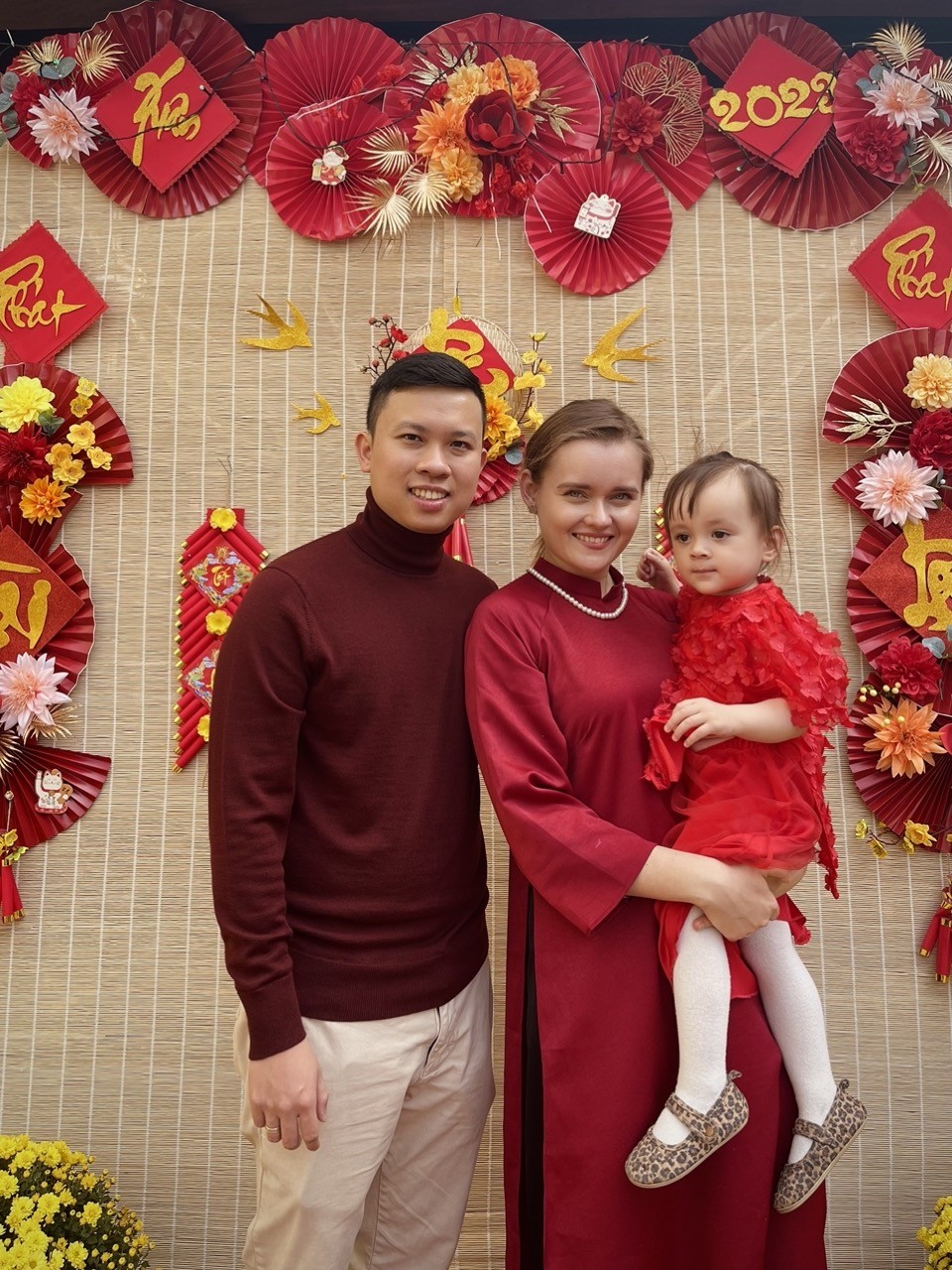 Photo coutersy of Phan Vu Son
Everyday is Valentine's Day
Son and Sophia think that is the biggest difference in the way they celebrate Valentine's Day is the gift. Before marriage, it was important for the interracial couple that they give each other romantic gifts. After getting married, the gifts become more practical.
Still, for the Vietnamese husband, every day is now an opportunity to express his love and gratitude to his wife who decided to travel more than 8,000 km to be with him.
Every morning, Son tries to get up early to prepare hot coffee and croissants, Sophia's favorite breakfast. Despite his busy work, Son still finds time to help her relax with feet massage.
Their channel, Phan Family, started as a way to preserve family memories, and for Sophia to connect with Vietnamese viewers. These videos of Vietnamese couples - Western wives attracted millions of views because they are entertaining and bring a lot of laughters. People also like that Sophia always shows interest in the lifestyle and customs of Vietnamese people.
The memories of celebrating Tet in her husband's hometown, how to make Vietnamese dishes such as spring rolls, bamboo shoot soup, were also shared on their channel, showing how she adapt and overcome challenges. Their adorable daughter is also making more frequent video appearances. She is always praised for a cuteness and the resemblance of both mom and dad.
The family of three will move to Ho Chi Minh City with dreams of starting a children's fashion business. As they continue to create new memories as a happy family, they continue to make their family-friendly content.