Vietnam and India Further Promote Cooperation Through Innovative Startup Ecosystem
The Vietnamese Embassy in India, working in co-ordination with authorities of Bangalore, the capital of Karnataka state, held a Vietnam-India investment and startup forum on August 18 both in person and online.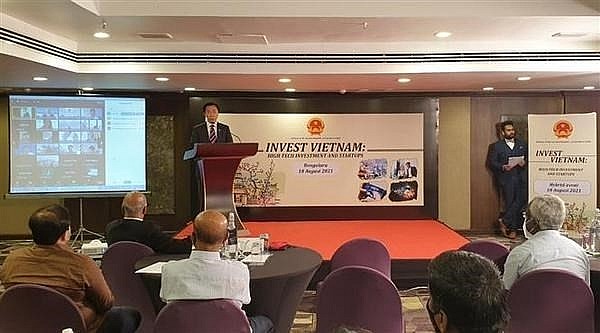 An overview of the forum (Photo: VNA)
The Vietnam-India investment and startup forum was held on August 18 by The Vietnamese Embassy in India in coordination with authorities of Bangalore, the capital city of Karnataka state of India, with the theme of "Invest Vietnam: High-tech investment and startups" and featured the participation of representatives of local authorities, investment, science-technology, and startup ecosystem management agencies. This is in addition to investment funds and startup companies based in Karnataka.
Vietnamese representatives attending the forum included those from the Office of the project to support the national innovative startup ecosystem to 2025 (Project 844) under the Ministry of Science and Technology. They were joined by members of the Da Nang Department of Science and Technology and a number of startup incubators and centres, such as BKHoldings and SaigonTel.
Participants used the event to exchange information on the situation and development of innovative startup ecosystems of both sides, as well as their respective experiences in the area.
Representatives from Karnataka highlighted various policies and the experience of the state in developing startup ecosystem. In return, Vietnamese startup incubators and centres expressed their hope that they could co-operate with their peers in Karnataka.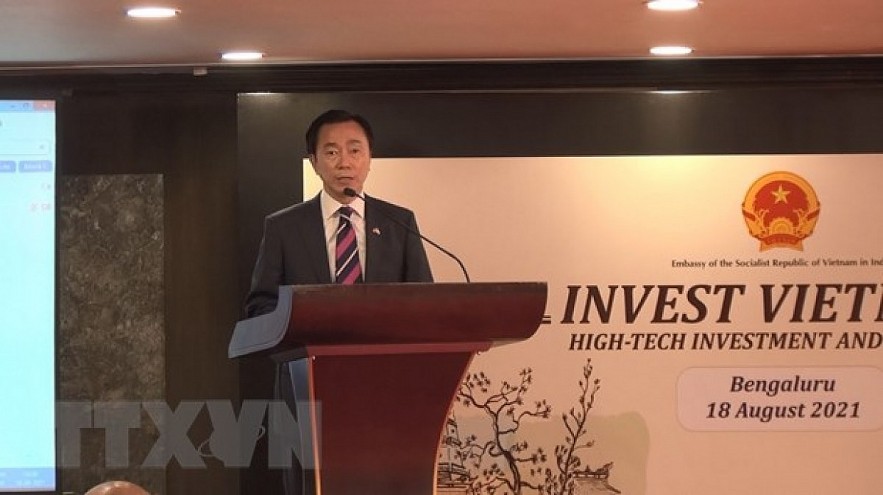 Vietnamese Ambassador to India Pham Sanh Chau addresses the forum. Photo: VNA
Addressing the event, Vietnamese Ambassador to India Pham Sanh Chau said that science-technology is one of important pillars of the Vietnam-India comprehensive strategic partnership.
The Vietnamese Embassy and the Vietnamese Science-Technology Office in India have recently carried out various activities aimed at promoting bilateral collaboration in the field, he said, affirming the great determination to strengthen the connection of both sides' innovative startup ecosystems, according to the VOV.
Following this event, the embassy will strive to support the innovative startup communities of both sides in implementing specific co-operation activities, he said.
Through Project 844, the nation is aiming to assist more than 2,000 startup companies, 600 of which are expected to grow into giants, whilst simultaneously transforming the country into an innovative startup centre in Southeast Asia.
Karnataka represents India's leading innovative startup hub and is home to 14 out of more than 30 Indian unicorn startups which have a value of over U$S1 billion.
Speakers from Karnataka outlined their willingness to work closely with the nation in developing the innovative startup ecosystem, along with sharing their experience in the sphere to help firms from both sides to seek partnership and boost market expansion.
India cooperates with Vietnam to test and produce Nanocovax vaccine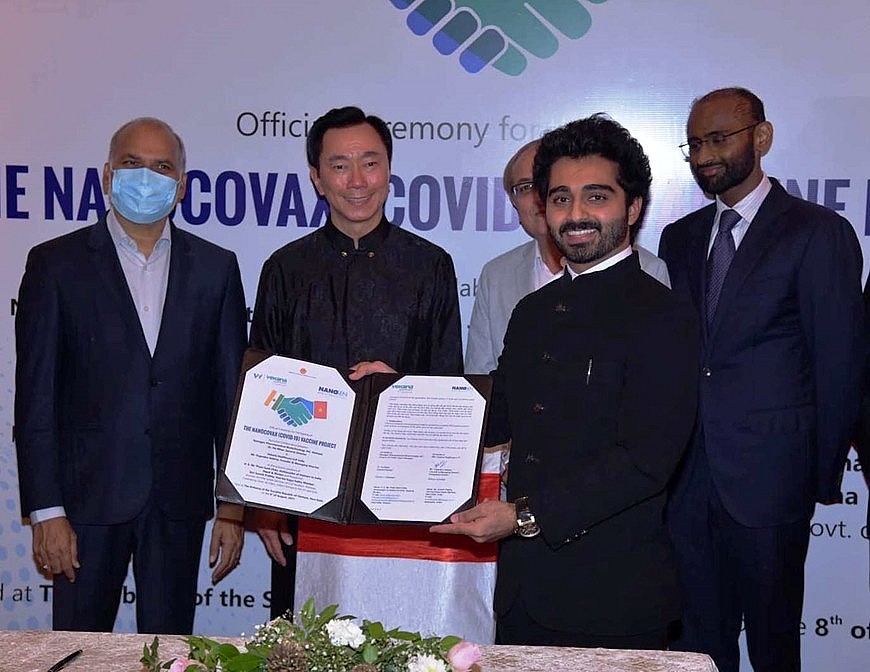 Mr. Yogendra Vekaria signed the contract with the witness of Ambassador Pham Sanh Chau and guests. Photo: qdnd
On August 10, the Vietnam Trade Office in India (Ministry of Industry and Trade) informed that Vietnam and India would transfer technology, produce and distribute the Nanocovax vaccine. Accordingly,at the Vietnamese Embassy in India, a non-disclosure agreement signed between Mr. Yogendra Vekaria - CEO of Vekaria Healthcare LLP Company of India and Mr. Ho Nhan - General Director of Vietnam's Nanogen Company to serve the technology transfer, production and distribution of Nanocovax vaccine.
Besides, on August 12, Vietnamese Deputy Minister of Foreign Affairs Nguyen Quoc Dung highlighted effective cooperation between Vietnam and India at international and regional forums and within the frameworks of ASEAN and Greater Mekong Sub-region at a virtual workshop.
The workshop was held by Indian Ambassador to Vietnam Pranay Kumar Verma to mark his nation's 75th Independence Day (August 15).
Addressing the event, Dung congratulated India on its significant socio-economic achievements during the period and reviewed Vietnam – India relations from traditional friendship to strategic partnership in 2007 and comprehensive strategic partnership in 2016.
The diplomat proposed measures and orientations to enhance the ties in the post-COVID-19 period and amid the ongoing 4th Industrial Revolution.
On the occasion, Dung expressed his gratitude toward the Indian Government and people's valuable assistance for Vietnam in the fight against the pandemic.
Participants exchanged their views on the formation and development of India since it obtained independence and the history of Vietnam – India relations originated from cultural and religious exchanges dating back more than 2,000 years ago.
They analyzed the two nations' conditions and strengths and recommended specific measures to further bolster their bilateral comprehensive strategic partnership in the time to come.