Vietnam aviation industry in 2021 faces more further difficulties due to Covid-19 pandemic
The aviation industry in Vietnam is forecasted to face more challenges despite a recovery in the final months of 2020.
Aviation industry expected to face further difficulties in 2021 despite a recovery
According to Vietnam News, the recent recovery was thanks to a complete restoration of domestic routes and the continued good performance of freight transport.
As of November, the total number of flights decreased by 23 per cent compared to the same period last year but strongly recovered from a decrease of 92 per cent in April.
The most effective route was HCM City - Hanoi with 540 flights per week, reaching an occupancy rate of about 90 per cent.
However, commenting on the prospects of the aviation industry, Mirae Asset Securities Vietnam Co (MASVN) believes 2021 will still be a difficult year for the industry as it has no room for further recovery until international flights are reopened.
MASVN explained the current low fares are helping push up the demand for air travel on domestic routes. However, airlines can't further cut the fares as they are too low. If airlines continue to reduce fares, it will be difficult to make profits.
"In the context of a fiercely competitive domestic market, we believe that the business situation of Vietnamese airlines will hardly improve further until the international routes are reopened," MASVN experts told vietnamfinance.vn.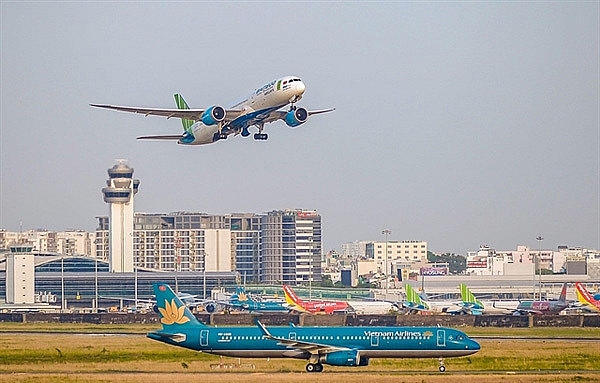 2021 will still be a difficult year for the industry as it has no room for further recovery until international flights are reopened. — VNA/VNS Photo
With only domestic routes operating, the competition in the aviation industry next year will be fiercer. All aircraft are now converging on domestic routes to improve cash flow. Meanwhile, Vietjet Air has received 11 new aircraft, bringing the total number of aircraft in operation to 88. Bamboo Airways reduced two A320s but received four small aircraft E195, bringing its fleet to 26. There were 3,286 flights in November 2020, increasing by 35% year over year. Vietnam Airlines and Pacific Airlines decreased their operational aircraft compared to May 2020, from 105 to 99 and from 18 to 15, respectively.
In addition, the aviation industry also has to compete against other transportation means like passenger cars and trains which have also applied fare discounts from 15 per cent to 50 per cent, reported Vietnamnet.
The biggest challenge to airline recovery in 2021
Airlines face a myriad of challenges in 2021. But above them all is the question: when will travelers return in significant numbers? Once flyers do, the industry can exit crisis mode and look forward again.
"We expect next summer to be a lot better than this year but not normal," said Andrew Nocella, chief commercial officer for United Airlines, told Bloomberg earlier in December.
What is unclear is when inoculations will translate into more butts in seats. Wall Street analysts expect the U.S. vaccination campaign to translate into a notable increase in air travel somewhere between March and June - in other words, sometime in the second quarter. Leisure flyers and those visiting friends and relatives are likely to dominate this early uptick as they have the recovery to date.
A broad travel recovery, however, will take longer.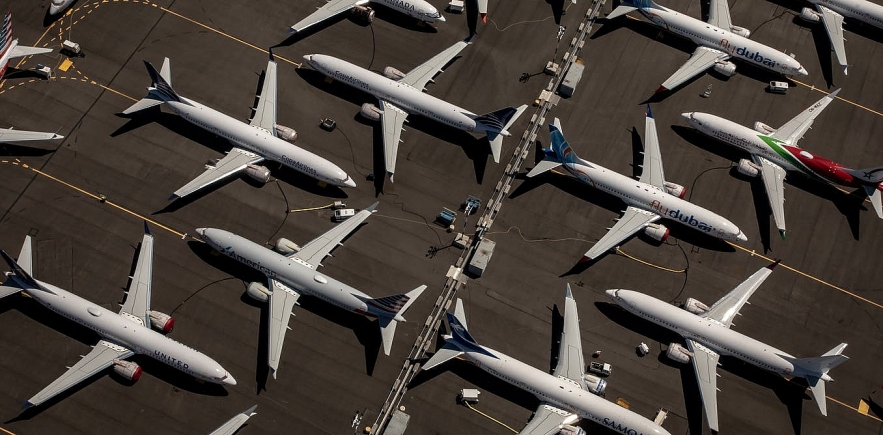 Photo: The Conversation
"There's a scenario where the U.S. reaches herd immunity by fall 2021, but we believe it's a stretch," wrote Cowen analyst Helane Becker in a report earlier in December. Herd immunity is generally defined as 70 percent of people either having gotten the vaccine or gained natural immunity.
Business travel is not expected to pick up until the final three months of the year or in early 2022, according to analysts at Raymond James. These lucrative travelers are key to the resurrection of major carriers like American, Delta Air Lines and United that rely more on corporate bookings than their budget peers, think Allegiant Air and Spirit Airlines.
Trade group the International Air Transport Association (IATA) only forecasts a 2021 recovery in air travel to about half of 2019 levels. The organization does not expect a full recovery until at least 2024 with the resumption of much international flying lagging domestic by at least a year.
"The expectation is that we will see a significant rise in travel next year, a 50 percent rise," IATA chief economist Brian Pearce said in November. This forecast was based on the wide availability of vaccines in the second half of the year.
According to Skift.com, the return of travelers cannot come soon enough for airlines. Few anticipate turning daily losses into positive cash flow — not to mention a profit — until demand recovers more. Additional flyers will also allow carriers to recall furloughed staff, or in the U.S. minimize potential additional furloughs once the latest round of payroll support expires on March 31.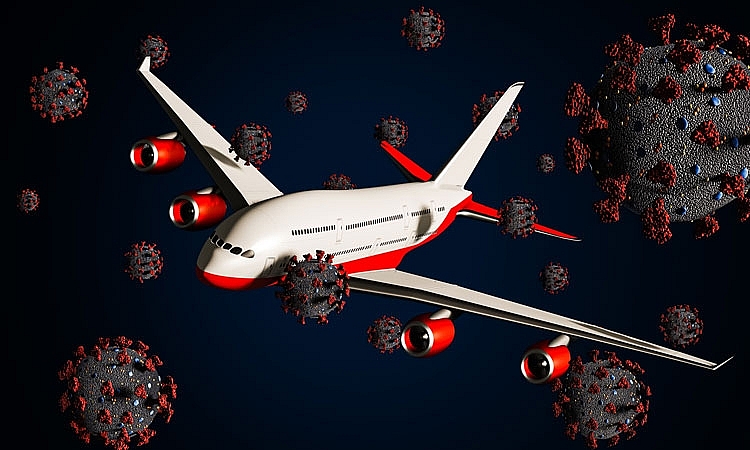 Photo: International Airport Review
A broad travel recovery solves much of what ails airlines. It will allow them to, finally, exit crisis mode and look forward again.
But forecasting when those flyers will return is among the industry's biggest challenges in 2021. As Delta Air Lines senior vice president of flight operations John Laughter told the carrier's pilots recently: "The road to recovery will be a long [and] uneven one."
Possible strategies to overcome challenges
According to MASVN experts, international flights are likely to be reopened when the COVID-19 pandemic is repelled. The international passenger traffic will begin to recover accordingly. However, the recovery rate would be quite slow due to isolation and quarantine regulations, economic recession, and decreased tourism demands.
To overcome the challenges caused by the pandemic, Vietnamese airlines have actively mobilized more capital and reduced costs. The airlines have boosted pre-sale campaigns by focusing on promotions. Especially, Vietjet Air offers an unlimited pre-sale with the economy class Ho Chi Minh City - Hanoi ticket of only VND 85,460 (3.7 USD) for the entire year of 2021. Vietnam Airlines and Bamboo Airways offer shorter and more limited sale-offs, reported Vietnam Credit.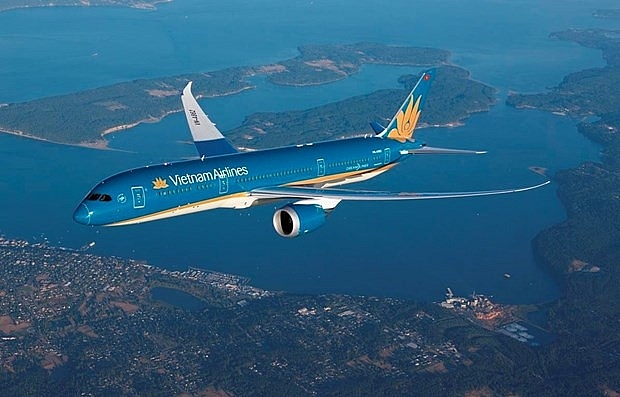 Wide-body aircraft is used on the Hanoi-HCM City route (Photo: VNA)
Recently, Vietnam Airlines has planned of mobilizing VND 8,000 billion from issuing additional shares to existing shareholders (the expected price of VND 10,000 per share) and VND 4,000 billion from concessional loans with an interest rate of 4% p.a. in three years.
Besides, both Vietnam Airlines and Vietjet Air had a policy of sharply reducing cost from the first quarter of 2020. Regarding employee policy, both of the airlines did not apply compulsory layoff. However, Vietnam Airlines' employees stay home without salary; meanwhile, Vietjet strongly cuts down on staff salaries and adjusts salaries to revenue.